Hola a todos :3 espero que esta llegada de diciembre los encuentre muy bien, en Argentina hace calor, pero el mundial nos está dando fuerzas y alegrías jajaja en general no miro fútbol ya que no entiendo mucho pero el mundial es una ocasión especial así que me uní a la ola y la alegría está siendo grande.
Estoy trabajando en mis proyectos de fin de año y apareció uno nuevo con fecha límite, resulta que mi pequeño sobrino necesita un disfraz de murga para un acto de carnaval en fin de año y como soy la tía que cose compre materiales y puse manos a la obra.
Hello everyone :3 I hope that this arrival of December finds you very well, in Argentina it's hot, but the World Cup is giving us strength and joy hahaha in general I don't watch football since I don't understand much but the World Cup is a special occasion so I joined the wave and the joy is great. I am working on my end-of-year projects and a new one appeared with a deadline, it turns out that my little nephew needs a murga costume for a carnival act at the end of the year and since I am the aunt who sews, I bought materials and got down to it construction site.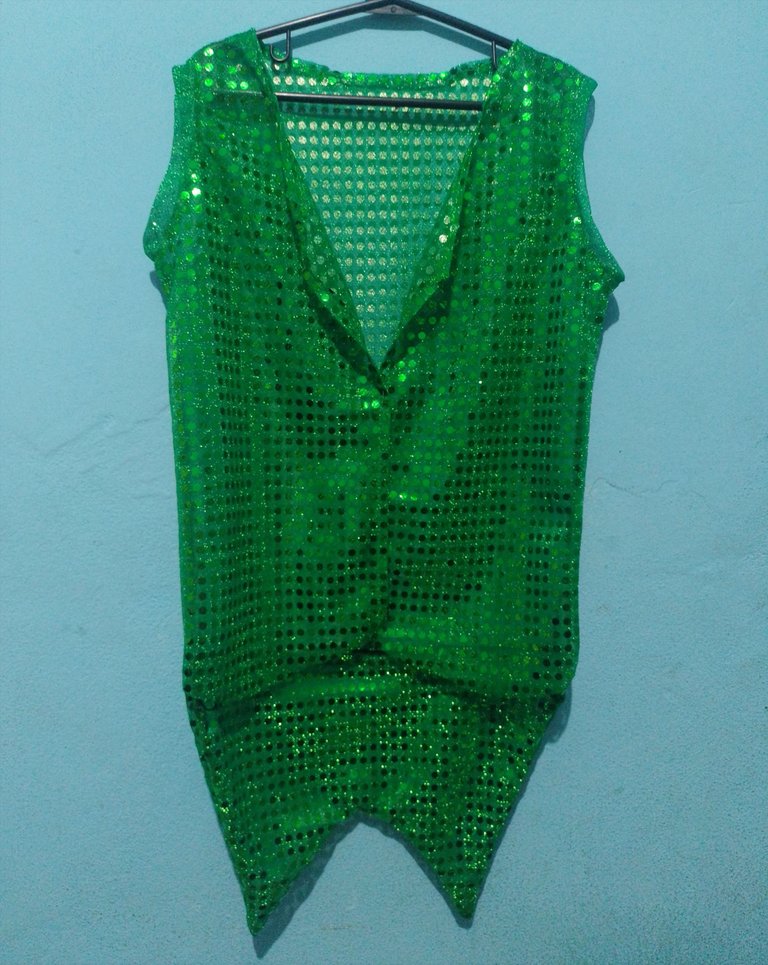 Este disfraz se conforma de 3 partes, un sombrero, un chaleco y un pantalón quizás con flecos, aún no definimos detalles de eso, para hacerlo voy a usar esta tela fantasía en tono verde esmeralda, se llama falso paillet, tiene una especie de lentejuela falsa sobre una base de tul, es realmente muy económica, si bien es un disfraz es algo que usará como máximo 2 horas así que decidimos con su mamá no gastar tanto dinero.
This costume is made up of 3 parts, a hat, a vest and pants, perhaps with fringes, we have not defined the details of that yet, to do it I am going to use this fantasy fabric in an emerald green tone, it is called false paillet, it has a kind of sequin false on a tulle base, it is really very cheap, although it is a costume it is something that she will wear for a maximum of 2 hours so we decided with her mother not to spend so much money.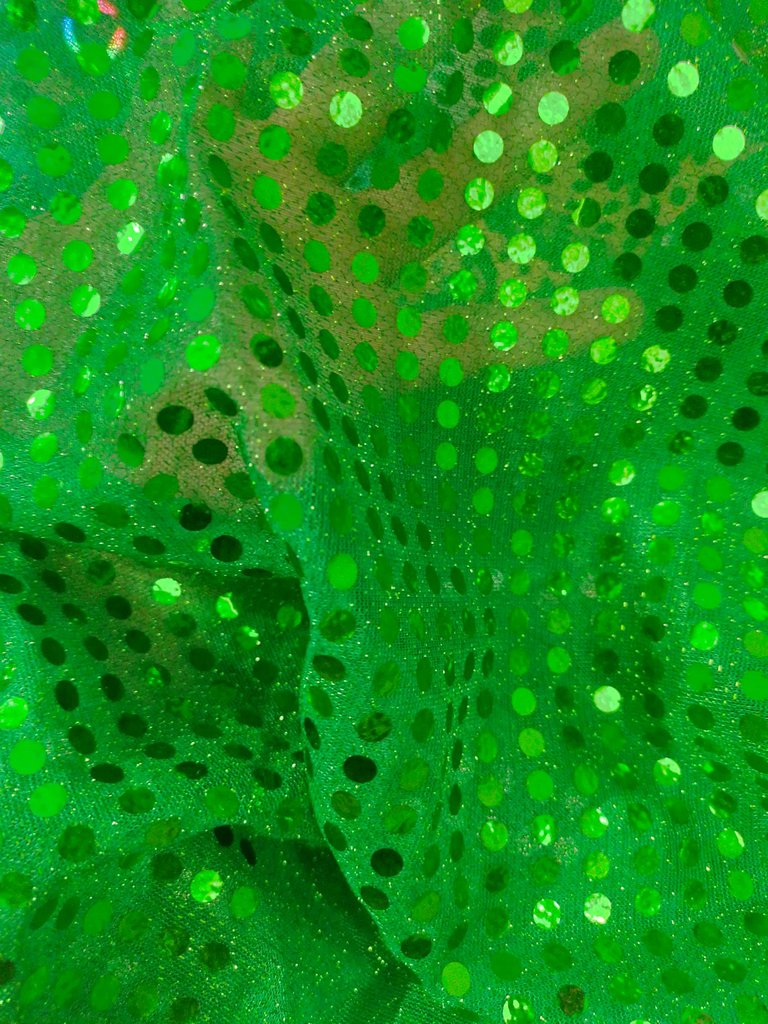 Para el chaleco lo que hice fue utilizar una remera para extraer el molde base, marque el contorno y el cuello, cuando son cosas simples no utilizo un molde trasero y delantero, sino que hago todo en el mismo molde, además no tuve tiempo aún de reponer papel y estoy usando hojas de antiguos cuadernos jajaja, hay que acomodarse a la situación como sea. Para la cola trasera del disfraz medí la mitad del largo total y crucé una diagonal hacia el centro y separé la pieza.
For the vest, what I did was use a T-shirt to extract the base mold, mark the outline and the neck, when they are simple things I do not use a rear and front mold, but I do everything in the same mold, also I have not yet had time to replace paper and I'm using pages from old notebooks hahaha, you have to adjust to the situation as it is. For the back train of the costume I measured half the total length and crossed a diagonal towards the center and separated the piece.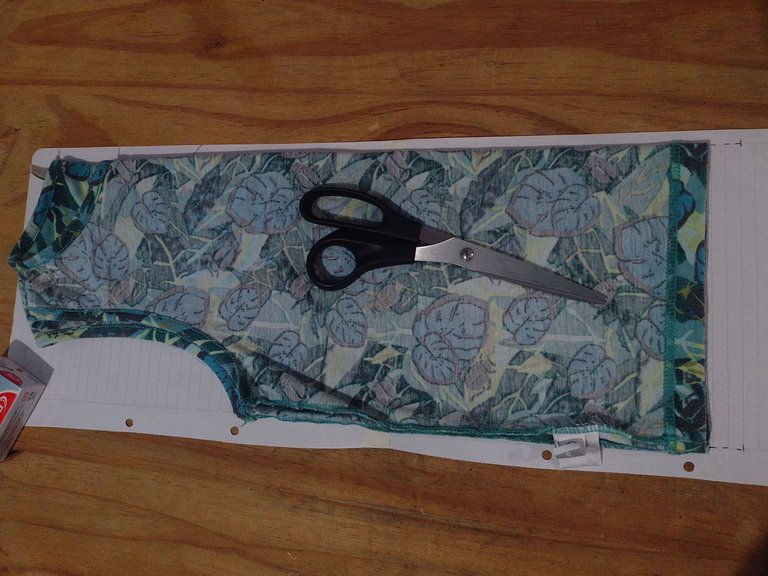 Corte un trasero, dos delanteros y la cola, que está cortada dos veces con el doblez de tela, esto es para que tenga un poco más de estabilidad y no se suba.
Cut one back, two front ones and the tail, which is cut twice with the fabric fold, this is so that it has a little more stability and doesn't ride up.
Primero casi la cola, empecé por los costados y luego la v central, utilicé maquina overlook porque me daba miedo que la tela se atasque en la máquina de coser por ser muy fina, con todo cosido le di la vuelta y listo.
First almost the tail, I started on the sides and then the central v, I used an overlook machine because I was afraid that the fabric would get stuck in the sewing machine because it was very thin, with everything sewn I turned it around and that's it.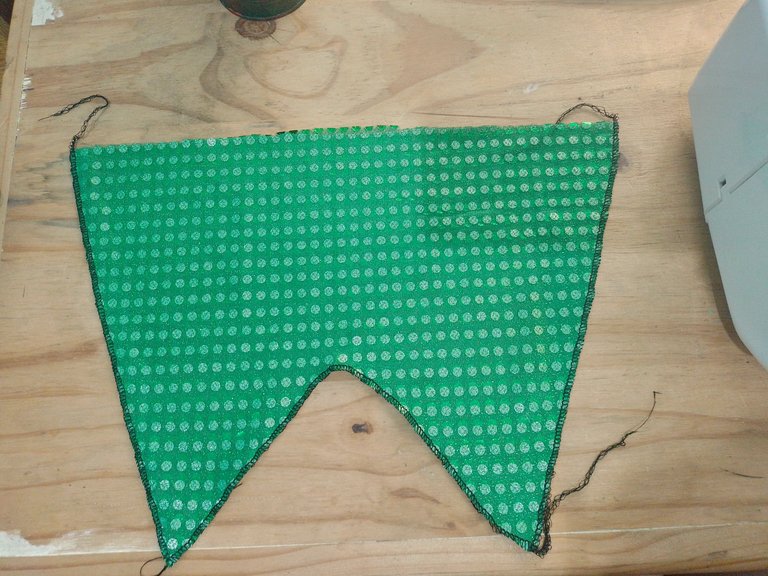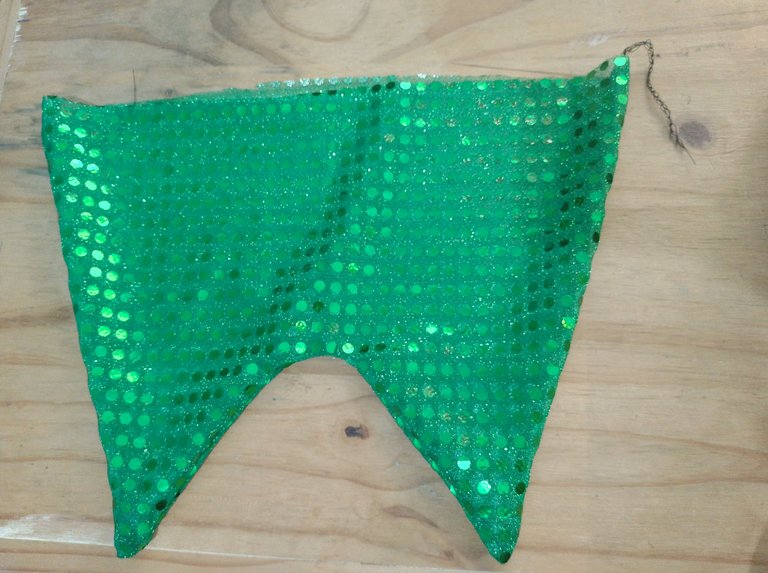 Para armar el chaleco cosí primero los hombros y luego los costados, si bien estoy utilizando hilo negro no es algo notorio del derecho de la prenda, así que eso no fue un problema.
To assemble the vest I first sewed the shoulders and then the sides, although I am using black thread it is not something noticeable on the right side of the garment, so that was not a problem.
Uní la cola al trasero del chaleco y acomode todo para que se viera bien, que los anchos sean lo más similares posibles, es probable que haya olvidado darle a la cola margen de costura jajaja pequeños olvidos.
I attached the tail to the back of the vest and adjusted everything to make it look good, so that the widths are as similar as possible, I probably forgot to give the tail seam allowance hahaha little oversights.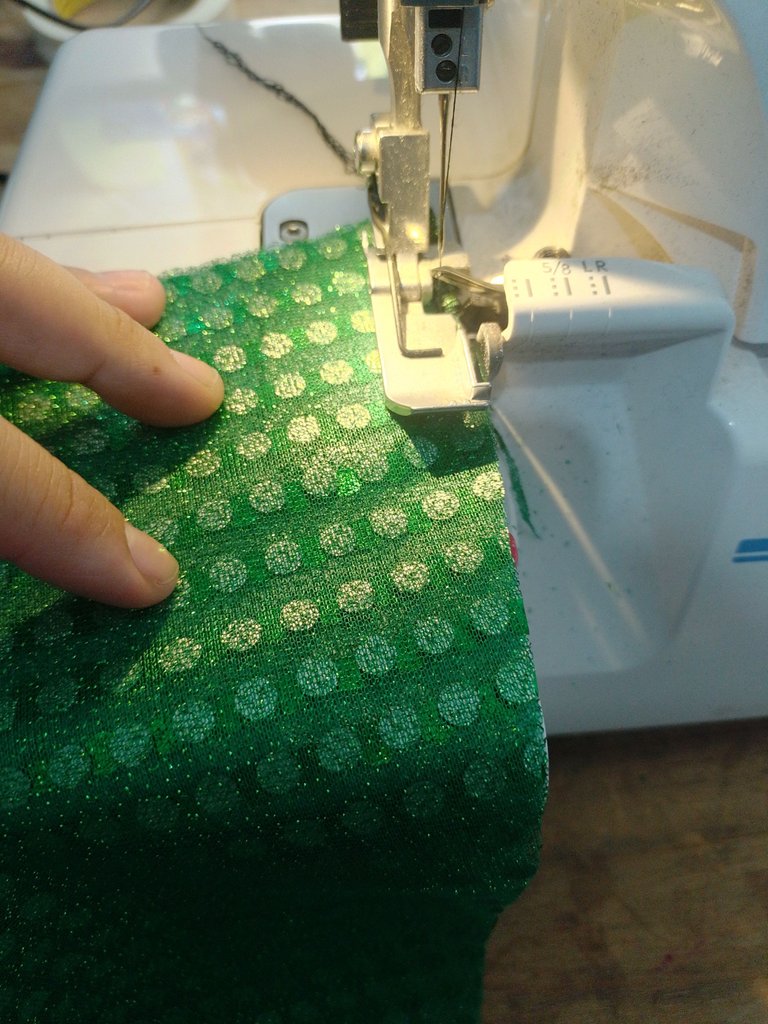 Para hacer el cierre del cruce simplemente doble la tela y cosí, para esto si use máquina recta, sorprendentemente la tela no dio problema alguno, la juzgue mal.
To make the closure of the crossing, simply fold the fabric and sew, for this if you use a straight machine, surprisingly the fabric did not give any problem, I misjudged it.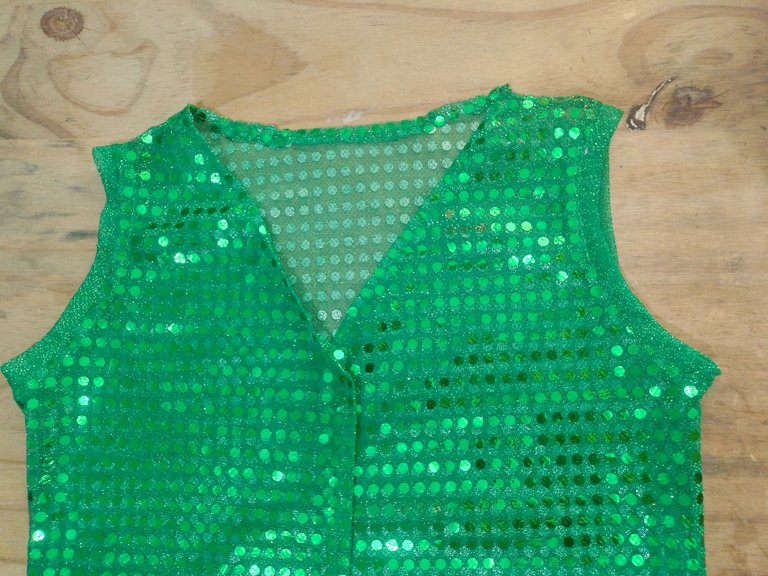 Para las sisas utilicé una tira de la misma tela que no tenía lentejuelas e hice una tira, simplemente rodeé la sisa con la tira sin estirar como si fuera un bies, por suerte pude aprovechar parte de la tela que no tenía lentejuelas porque no tenía nada cercano a ese tono de verde.
Con la sisa termina una de las partes del disfraz estaba lista, es una menos para hacer, y aun tengo 9 días para hacer el pantalón, lo cual me da bastante tiempo, pero no voy a dejarlo para último momento.
For the armholes I used a strip of the same fabric that did not have sequins and I made a strip, I simply wrapped the unstretched strip around the armhole as if it were a bias bias, luckily I was able to take advantage of part of the fabric that did not have sequins because I had nothing close to that shade of green. With the armhole finished, one of the parts of the costume was ready, it's one less to do, and I still have 9 days to make the pants, which gives me plenty of time, but I'm not going to leave it to the last minute.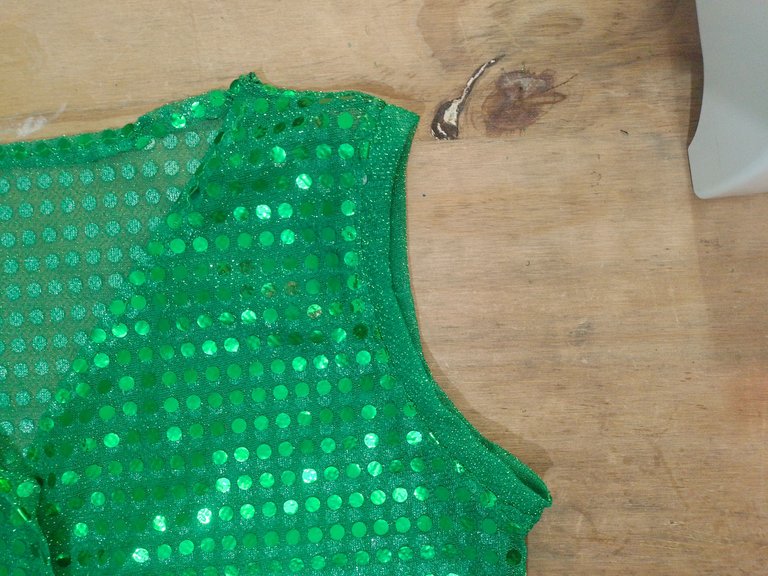 También decore el sombrero que es una galera de cotillón en color negro, no es la forma más cercana a un carnaval, pero era más barato y más rápido que fabricar uno y decorarlo era bastante simple de hacer.
I also decorated the hat which is a black cotillion top hat, it's not the closest way to a carnival, but it was cheaper and faster than making one and decorating it was quite simple to do.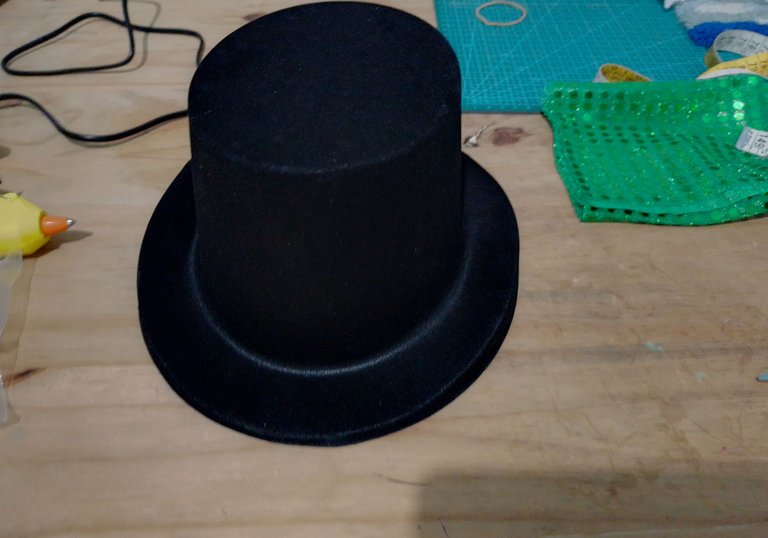 Lo que hice fue revestirlo con la tela, corte un ovalo para la parte de arriba, una tira para la altura y pequeños cuadrados para el ala del sombrero, estos fueron pedazos sobrantes de la tela del chaleco.
What I did was cover it with the fabric, I cut an oval for the top, a strip for the height and small squares for the brim of the hat, these were leftover pieces of fabric from the vest.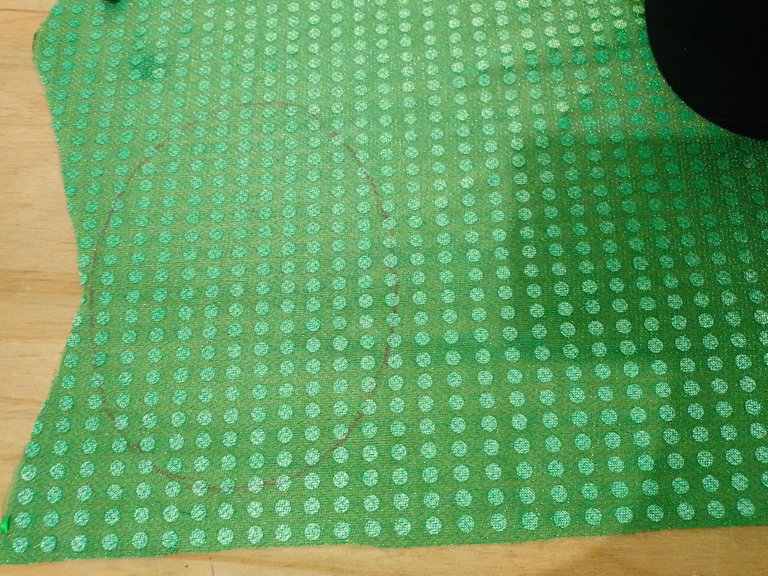 Para pegar todo esto utilicé mi pistola de silicona, hace un tiempo pensaba que comprarla no había sido tan buena inversión ya que la utilice unas 3 veces, pero sin ella este trabajo se hubiera complicado un poco así que agradezco tenerla.
To glue all this I used my silicone gun, a while ago I thought that buying it had not been such a good investment since I used it about 3 times, but without it this job would have been a bit complicated so I am grateful to have it.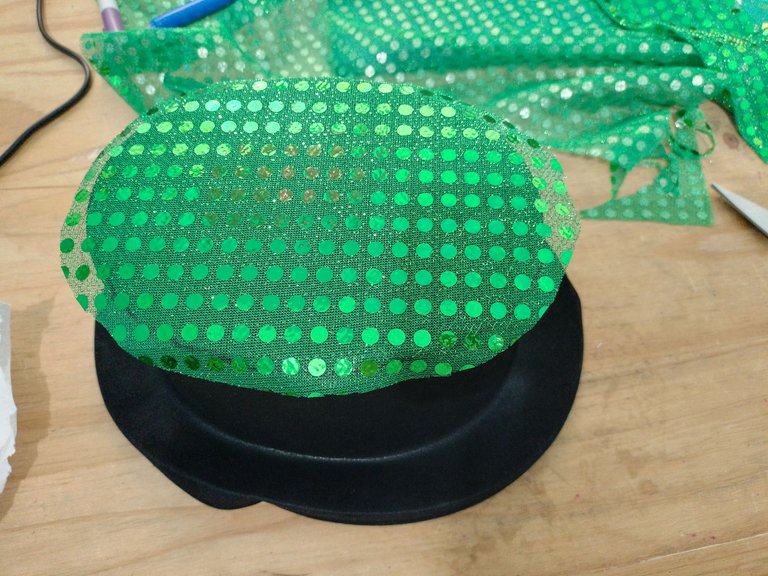 Escondí la unión de pegar los cuadrados con una cinta que tenía en mi tarro de cintas, a veces me sorprende lo mucho que tardo en usar algo, pero siempre sirve, compré estas cintas en 2019 para un ejercicio de costura y guarde el sobrante por que iba a servir y llego su momento al fin.
I hid the seam from gluing the squares together with a piece of tape I had in my tape jar, sometimes I'm surprised how long something takes to use but it always works, I bought these tapes in 2019 for a sewing exercise and saved the leftovers because He was going to serve and his time finally came.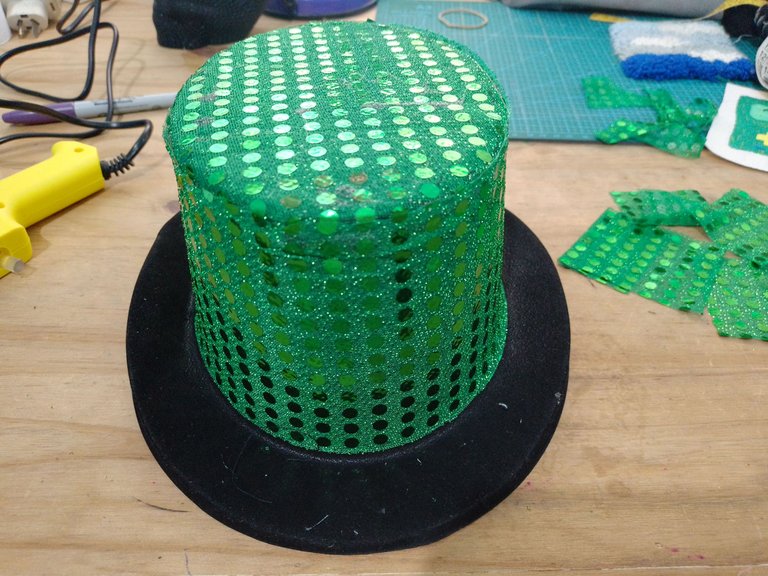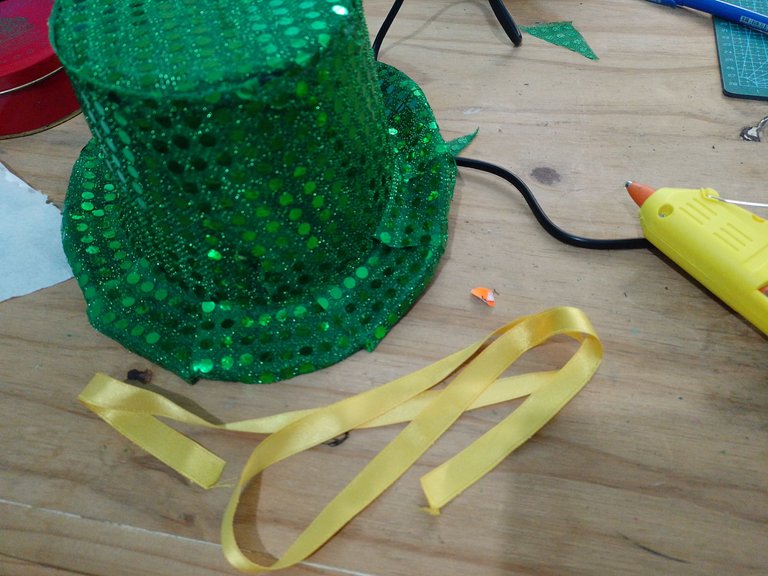 Con esto listo tengo el chaleco y el sombrero, aún falta el pantalón que no tengo mucha idea de qué forma va a ser, pero se resolverá porque al final todo se resuelve, hasta la próxima.
With this ready, I have the vest and the hat, the pants are still missing, I don't have much idea how it will be, but it will be resolved because in the end everything is resolved, until next time.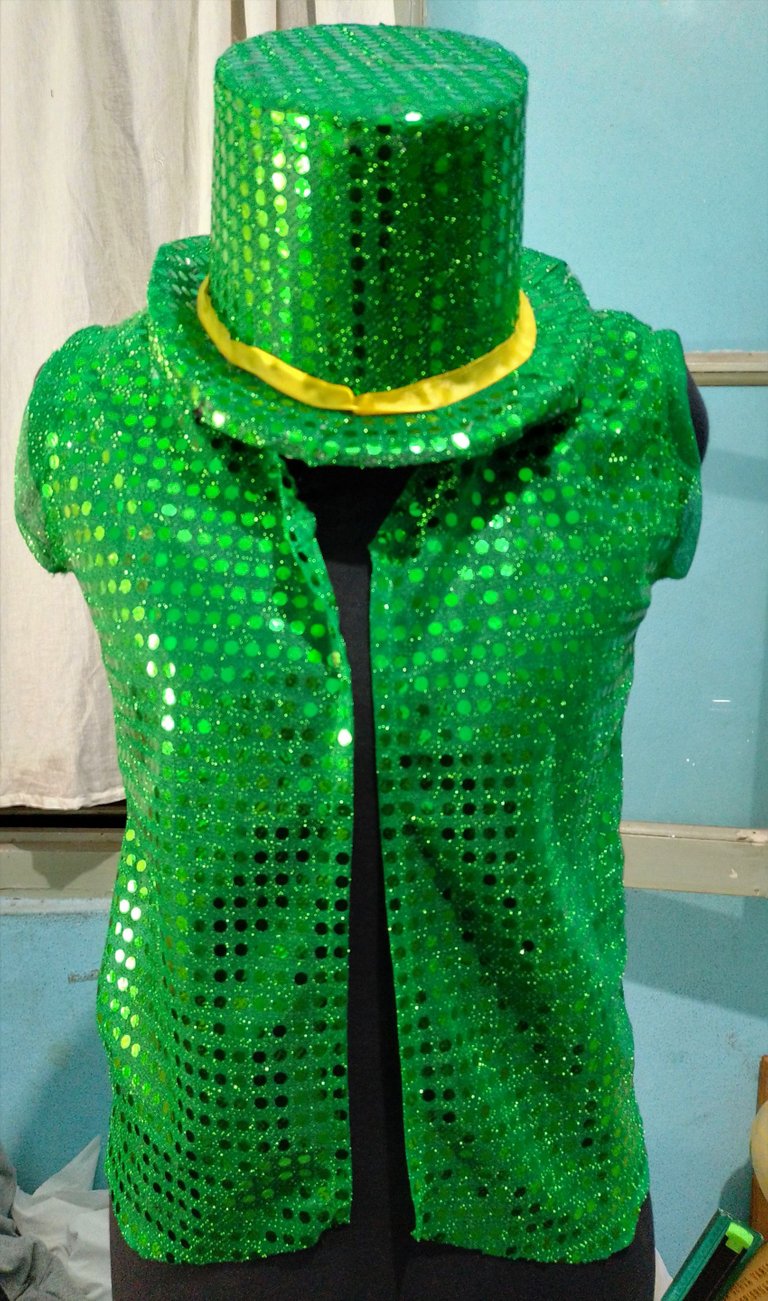 Todas las fotos fueron tomadas por mí
All photos were taken by me