Auto Rentals is done being tested and comes out soon so we thought we'd share more information about how it will work to get you ready
RENTALS WILL NEVER BE THE SAME
We believe this update will fundamentally change Splinterlands Card Rentals system for the better. We have been testing it for many days and the testers seem to also believe the same. It has saved them TIME and MONEY. Though it has been tested we still encourage you to share any problems you may find and share on #peakmonsters-support over on our discord server. https://discord.gg/NhW4ucNvV5
FROM EXPERIENCE
We have seen how the BID BUY system on PeakMonsters.com has impacted the price and stability of buying and selling cards and we think Rental Bids will do the same for the rental market.
WHAT IT WILL SOLVE
No more racing to get a great deal only for it to always be gone before you get it.
No more head pounding frustration specially end of season.
We are also giving owners more information to help them understand the value of their cards in the rental market
We will develop a quick way to match the bids that are out there when you try to list cards for rent.
POSSIBLE IMPACTS
More and more users will have an easier and faster way to move up leagues... thus we will likely see more upward movement by players.
More players will have an easier time getting the cards they need to make them more competitive ... thus competition will be harder.
There is a high likelihood that crazy priced card listings may be less and less common as owners understand the value better. That means we will see less really really low priced rentals (which bots get anyway) and see less really high priced rental listings. (Which sit there and do nothing)
We will likely see a closer aligned spread of prices and less dramatic movements during the season.
We think that the number of cards being rented will increase and we think even more people will be willing to rent because they will have a better system to help them know the price for rentals.
Fair warning Prices may go down as easy as they go up. People will outbid other people... but an important thing to know is that as soon as we match their bid it is no longer the top bid. (On buy market people bid for hundreds of cards but on rental market they only need one of that card)
If owners list hundreds of cards at a time on peakmonsters.com then hundreds of bids may be completed in minutes.
There is also a very high probability that buyers will use the stats of renters and bids to help them find cards in the market to buy and then list for renting.
AUTO IS CHEAPER THAN MANUAL
This will be the overarching impact: If a card is visibly still listed in the manual market on peakmonsters.com or splinterlands.com it's because it wasn't a good deal for one side or the other. Most all good deals will probably be filled via auto rentals.
So yes we understand that it will be a huge disadvantage to rent on Splinterlands.com and this was understood by us and Splinterlands/yabapmatt from the very beginning of our combined planning early this year. Splinterlands.com knew we were going to do an Auto Rental system and this is a big part of why they agreed to create a new protocol for rental system, because they were interested in what we could do to automate this experience.
We believe it will be a fair and orderly way for everyone to get their cards and provide a lot of order to the chaos and save time and make sure people don't get taken advantage of. (Owners and renters)
BUT... that order comes with rules that govern it...
MORE RC IN THE HANDS OF USERS
Each BID listing will require Hive RC (via Hive Power) by the user however when the rentals listings are searched for and acquired by PeakMonsters for the user PeakMonsters pay the RC price for all rentals acquired by auto renting. That means we are helping our users save on RC every day.
But don't forget if you want to make 80 bids or 80 changes to bids make sure to have enough Hive Power in your account to cover the cost of doing all those blockchain transactions.
To do auto rentals you have to give our accounts RENTAL AUTHORITY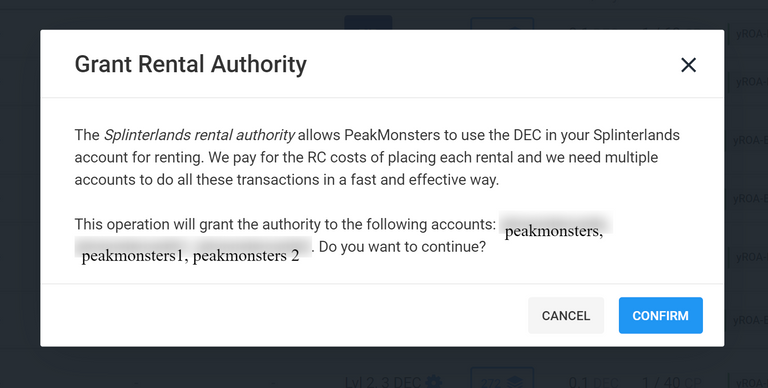 AutoRentals earns you more on your SPS airdrop
You put to the side less DEC for rentals and thus you will have more in your account each day which you can earn SPS airdrop from.
If you run out of DEC in your splinterlands account we will not be able to renew your active bids nor fulfill new ones.
Each rental we create for you is 2 days and at the end of 2 days we extend it for 2 more, if still available and your bid is still active we will renew it. (1 day was just too expensive for us to handle for HP and RC)
If the card is ever removed from rental system or price changed we will start looking for a replacement card 3hours before your previous card is removed. This hopefully gives enough time to find a replacement and let you increase your bid if necessary while not giving too much overlap on cards.
Manually extending an auto rental will not be an issue if you like to set aside the DEC and not earn SPS on it.
If you do a manual rental for the same card we will still try to complete your auto rental we do not check to see if you have the card we simply check to see if we have fulfilled your bid.
---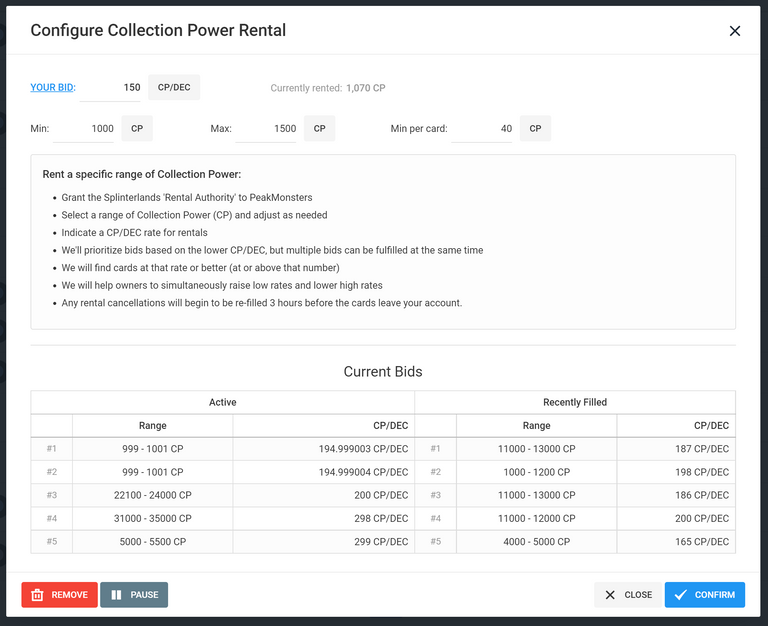 COLLECTION POWER BIDS
You can tell us how much Collection Power you would like us to rent.
For example if you are at 5000 CP but want to be at 15000 CP then you would do a bid for 10000 CP
For these bids you will use the CP per DEC metric or (CP/DEC) the lower that number means the higher the bid. A 199CP/DEC bid beats a 200CP/DEC bid.
For example if you wanted to get 10k CP and your bid was 200CP/DEC then you would get all 10k CP for 50 DEC or LESS each day.
You are required to give a range because getting the exact amount is almost impossible and the larger the range the faster and easier it is to complete.
Remember this is a bid for any and every card out there you don't have a way to specify when using this to get specific cards you should use the individual card rentals.

INDIVIDUAL CARD RENTALS
You will bid in DEC for a monster at a particular level and the highest bid is first in line to get any card that is equal or less than that bid. Once that bid is filled we will work to fill the next bid.
Keep in mind that you are also competing against the Collection Power bids... which ever bid is higher will have that card awarded to their account.
If a higher level is available that matches or is better than your bid it also will be used.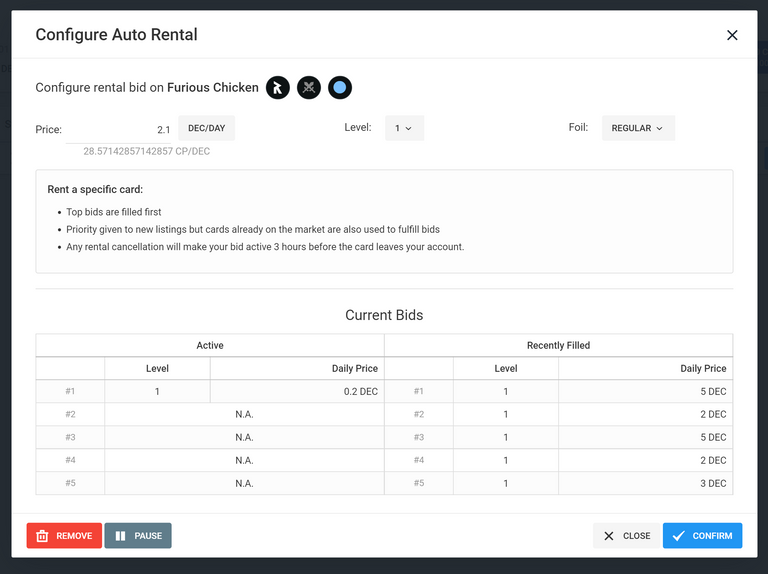 TIMING OF BIDS
When you make your bid AND you are the top bid we immediately look at the blockchain at every card that gets listed and if a new listing qualifies you will get the rental this can happen very quickly. However simultaneously we will also begin searching past listed cards to see if there are matches... this process is much slower and may take a few minutes to match you with these cards.
We suggest making your bids before you need these cards as it can sometimes take a bit of time to get your bids matched. But also time for Owners to see the bids and perhaps lower their prices to match your bid
FAQ
When? - If all goes well... tomorrow.
Please ask your questions in the comments and we'll add them here.