EDIT: The count is still valid. Just a different variation in wave 4 of c of y of 2 is now playing out. Looking for a low between 37k and 36k. Count is invalid below $36020. If we get a strong reversal in this range, I will buy a big long postion.
There is a good chance now, that we saw an ending diagonal triangle (EDT) in this wave c of y of 2, with seller capitulation!
IF correct, it means BULL MARKET was just ACTIVATED for the next 9-12 months.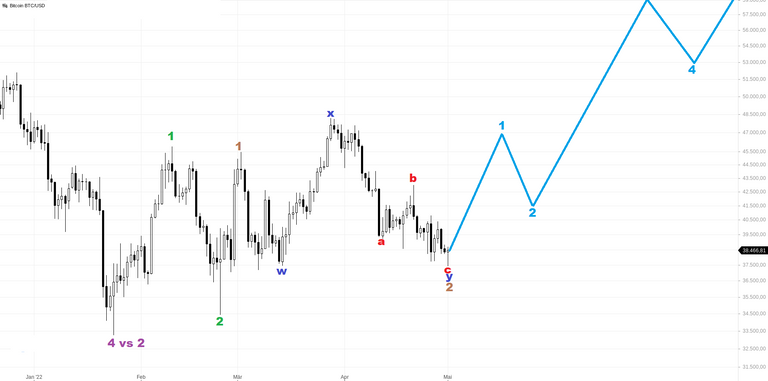 This is the dream scenario I had hoped for, but the chance was small... We did not get a new low, which means a lot of shorts are currently trapped. If we pump hard now, all these shorts will get liq'd, which means they have to buy longs to close the position. This increases the upward momentum even further.
This pattern has a clear invalidation of $37400, so it is very easy to calculate your risk on long positions. That is the power of EWT.


Feel free to use and share my charts, but please mention me, @ew-and-patterns as the author. Otherwise it is considered plagiarism and I will flag you and advise my friends to do the same.




Please consider leaving a comment, like or rehive, if this post entertained you or helped you see things differently...
Have a nice day :-)


#bitcoin #btc #crypto #cryptocurrency #cryptocurrencies #steem #sbd #ethereum #eth #ripple #xrp #bitcoincash #bch #eos #litecoin #ltc #stellar #lumen #xlm #digibyte #dgb #cardano #ada #iota #tether #neo #tron #trx #omg #verge #xvg #bitshares #bts #nano #monero #xmr #dash #ethereumclassic #nem #binance #binancecoin #vechain #tezos #omisego #steemit #money #life #altcoin #altcoins #trading #investing #investment #investments #forex #forextrading #market #finance #gold #silver #commodity #commodities #stock #stocktrading #stockmarket #facebook #fb #apple #aapl #spx #xau #xag #usdjpy #usd #amazon #amzn



Updates will only be posted on HIVE !!!