Ecency mobile app for Android and iOS just got another update. In this update, we have fixed number of bugs as well as adding couple neat features which we think you will really love.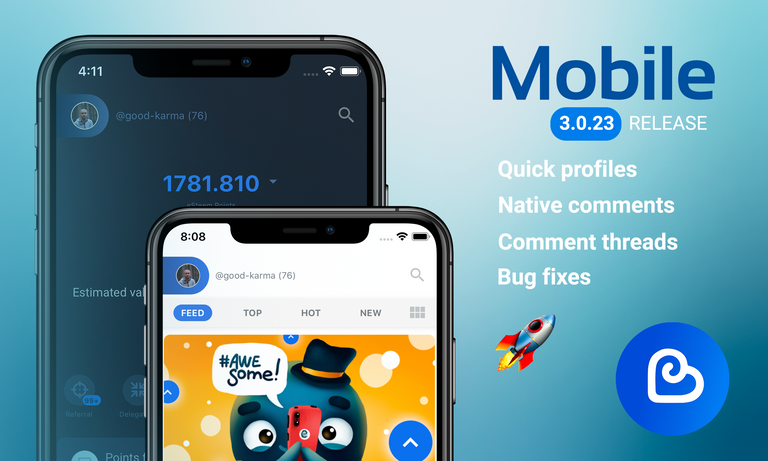 What's new
Quick profiles - Ever wanted to check profile/account details without leaving post or page you are in? We got you covered, with latest version of Ecency mobile app, you can tap on avatar or username, you will quickly get to know basic information about account. You can add them into favourite or follow them, check full profile as well.
Native comments - We have shifted back to rendering comments/threads/discussions in native, we gained performance boost and obtained much better discussion experience in comments.
Comment threads - discussions and threads are important part of communication and we always wanted to make sure you enjoy commenting and jump into discussions easily. For that reason, we are happy to bring you better and improved experience.
Muting accounts - muting and muted accounts also got upgrade for better handling content from muted accounts, give you peace of mind.
Changed order of Boost and Promote buttons on 3 dot menu, no more accidental clicks on Report...
Select thumbnail image, now you can select what image should be your thumbnail when creating post.
Video playback update for comment embeds
Clickable rebloggers
Search trimming to exclude some characters so search is still relevant
Language and Currency selection dropdown list improved
Many other minor fixes
How Quick profiles work on Ecency?
If you are React Native developer, feel free to join and help developing features we all love using, our mobile application is opensource.
Join mobile translation team: https://translate-mobile.ecency.com
30 languages already enabled on Ecency mobile app, thanks to our awesome contributors.
Stay tuned, stay excited, stay united! Don't forget to share news with your friends.
Download
Ecency.com | Desktop app | iOS app | Android app | Direct Android APK file
---
Support us
Delegate HP now and earn Ecency Points + HIVE rewards daily + help us onboard more people.
50 HP | 100 HP | 500 HP | 1000 HP | 5000 HP | 10K HP | 20K HP | 50K HP | 100K HP
Support our proposals