( EN / DE ) Why crazy? Well, because I'm crazy ;-) and also because the rules are a bit crazy, since there aren't really any. Basically you just have to be lucky with your comment and catch me in the right mood ;-)
Warum verrückt? Naja, weil ich verrückt bin ;-) und auch weil die Regeln ein bisschen verrückt sind, da es nicht wirklich welche gibt. Im Grunde müsst ihr einfach Glück mit eurem Kommentar haben und mich in der richtigen Laune erwischen ;-)
And this is how it works:
Until Christmas I will choose one daily winner from the comments on my advents calendar posts of the previous day. (8pm CET the next day after the posting day) The one comment that I love the most, that makes me smile, that was very interesting or whatever pleases a woman like me at that moment ;-)
As prizes for the one daily winner this year:
1 HSBI share,100 ecency points and 1 !LUV vote from me.
Und so funktioniert es:
Bis Weihnachten werde ich jeden Tag einen Gewinner aus den Kommentaren auf meine Advents Kalender Postings des vorigen Tages auswählen. (20h MEZ am nächsten Tag nach dem Posting Tag) Der eine Kommentar, den ich am meisten liebe, der mich zum lächeln bringt, der sehr interessant war oder wonach auch immer einer Frau wie mir in diesem Moment der Sinn ist ;-)
Als Preise für den täglichen Gewinner gibt es dieses Jahr:
1 HSBI share, 100 ecency punkte und ein !LUV vote von mir.
Here you can find the entire 2021 Advent calendar recap:
Hier seht ihr den gesamten Advents Kalender 2021 Rückblick:
https://ecency.com/hive-121566/@beeber/recap-and-summary-beeber-s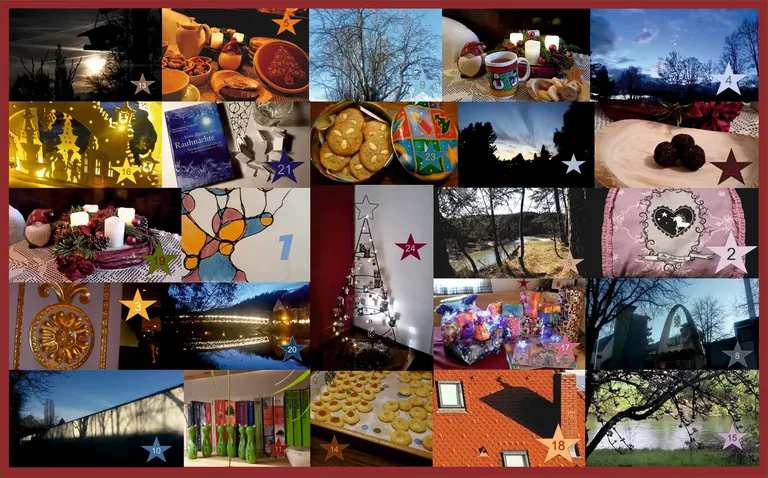 I've been thinking for a few weeks now whether I should do it again this year or not? Will I have time for a daily post in December? There's quite a lot going on in my life right now, yet last year I promised to do it again, so: yes!
@my-senf-dazu @werkseber @eddwood @dragon-ti were the ones who specifically requested it at the end of last year and herewith your wish comes true.
Ich denke jetzt schon seit ein paar Wochen darüber nach, ob ich es dieses Jahr wieder tun soll oder nicht? Werde ich im Dezember Zeit haben für einen täglichen Post? Es ist gerade ziemlich viel los in meinem Leben, trotzdem hatte ich im Vorjahr versprochen, es wieder zu tun, also: Ja!
@mein-senf-dazu @werkseber @eddwood @dragon-ti waren diejenigen, die es sich zum Abschluss des letzten Jahres ausdrücklich gewünscht hatten und hiermit geht euer Wunsch in Erfüllung.

Since my childhood, I look forward every year again from 1st - 24th December to open a door of the calendar. It is a nice ritual and also this year I have again found a very simple but totally nice calendar that sweetens the time.
Seit meiner Kindheit freue ich mich jedes Jahr wieder darauf, von 1. - 24. Dezember ein Türchen des Kalenders zu öffnen. Es ist ein schönes Ritual und auch dieses Jahr habe ich wieder einen sehr einfachen aber total netten Kalender gefunden, der mir die Zeit versüßt.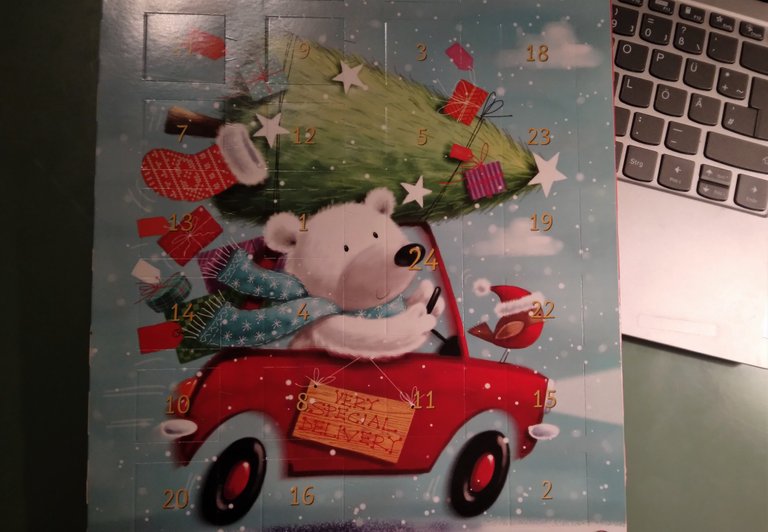 The teddy bear with the bright red car had immediately catched my love and touched my childlike soul. What I found a little pity from the designers, is that of all things the 1, the first door to open, goes over the face of the polar bear :-( that would have been differently nicer, but well, think along is not every designer's thing!
Der Teddybär mit dem knallroten Auto hatte es mir sofort angetan und meine kindliche Seele berührt. Was ich von den Designer ein wenig schade fand, ist dass ausgerechnet die 1, das erste Türchen, über das Gesicht des Eisbären geht :-( das wäre doch anders schöner gewesen, aber nun ja, mitdenken ist nicht jeder Designermanns Sache!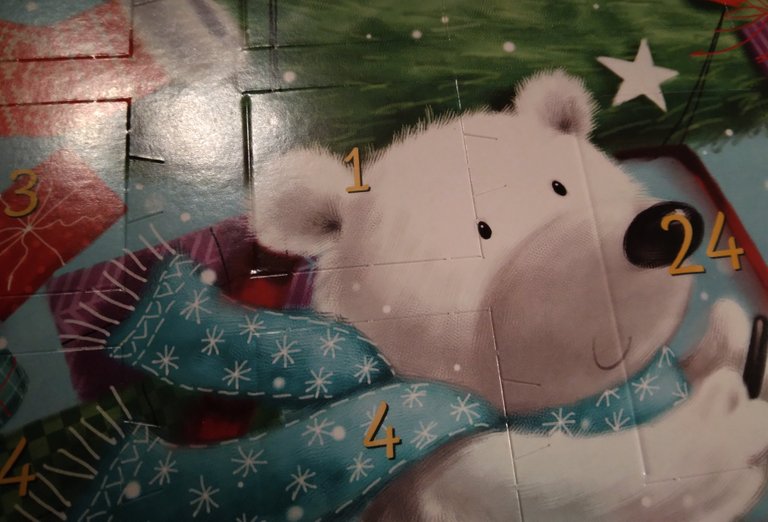 Behind the door was a small piece of chocolate with a picture behind it, which also has the motif of chocolate.
Hinter dem Türchen befand sich ein kleines Stück Schokolade mit einem Bildchen dahinter, das ebenfalls das Motiv der Schokolade hat.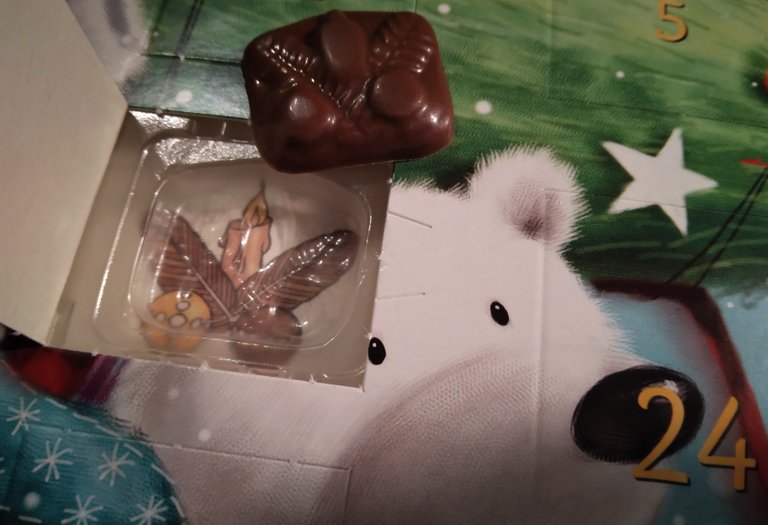 That is the 1st Advent Calendar Post and you have from now on roundabout 20 hours time (until 8pm CET) to leave a comment and thus the chance to win the small daily prize.
But the whole thing is mainly just to have fun, maybe I see some engagement among you readers here?
Das ist der 1. Advents Calendar Post und ihr habt von jetzt an ungefähr 20 Stunden Zeit (bis 20h MEZ) einen Kommentar zu hinterlassen und somit die Chance auf den kleinen täglichen Gewinn.
Das ganze soll aber hauptsächlich einfach Spaß machen, vielleicht sehe ich ja auch ein wenig Engagement unter euch Lesern hier?
"Advents Calendar" is also the recent weekly #edtopic - ecency discord weekly posting topic - and now I will have to watch out, wich other advents calendars I will find on hive :-) Yours, B.
---
all photos by @beeber edited with canva (free version)