I'm happy to go looking for flowers sometimes, but it is even better when they come to me! What a surprise I had a few weeks ago when a faint flash of red appeared across the yard amongst a sea of green grass. I walked over to it to see what it was.
A rush of delight filled my heart when I saw what it was: a Spider Lily! I had never seen one of this color before, as most of the ones around here are white with tinges of purple. I've seen them growing along the roadside, and one magically appeared in my yard a few years ago, but again, they were all white with purple fringes. This red one was such a lovely change from the usual fare!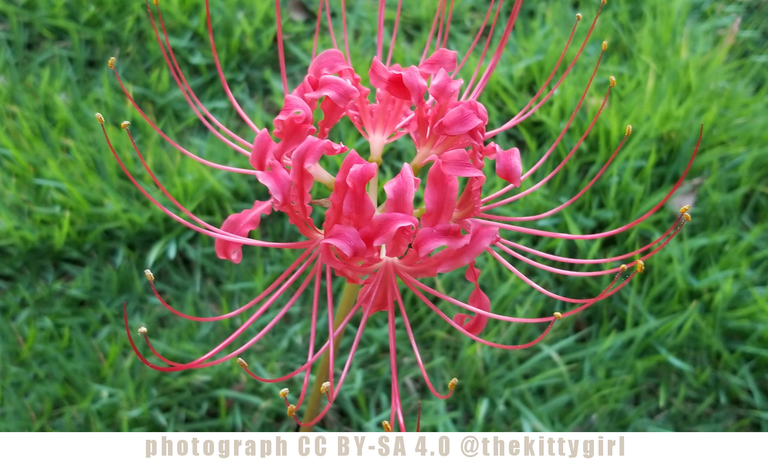 According to Wikipedia, the Red Spider Lily (Lycoris radiata) is native to a swath of the earth stretching from Nepal, through China, and ending in Korea. However, someone took plants to Japan and they thrived there. Then, in 1854, a certain Captain William Roberts dug three flower bulbs in Japan and transported them to the US where their progeny can be found in temperate southern areas.[1] In colder regions, they must be brought indoors for the winter, or perhaps grown in a greenhouse, as they do not tolerate frost.
At first, I thought this 'volunteer flower' (because it grew on its own, as I did not plant it) came from a seed which a bird might have dropped. However, Wikipedia reports that the flowers of most cultivars of this plant are sterile and the plant must be propagated by digging up the bulbs and dividing them.
OR... perhaps this is actually Lycoris radiata var. pumila, the "original form" [1] of the plant that has fertile flowers...?
OR... perhaps someone planted this flower many years ago, but conditions weren't right for it to grow and bloom, until this year...? Perhaps it lay dormant in the soil and then conditions were right this year for it to spring to life, as happened with another flower a few years ago.
However it came to my yard, I was happy to see it and it put a bright spot in my life for a few days. 😊
Captain William Roberts' niece discovered that the flowers of this plant don't bloom "until after the first good rain in the fall season" [1] which is exactly when this one bloomed for me! There had been rain every day or every-other-day for over a month and then this beauty appeared!
FlowerAdvisor.com also reports that this flower is associated with death in Japan, and among Buddhists anywhere it grows. The bulb is poisonous, so the plants are sometimes placed around houses and graveyards to keep vermin and other animals away. Because of this graveyard connection, the flowers are seen as a tribute to the dead and perhaps guiding the spirits in the afterlife.
Anyone who lives in Japan or plans to visit might enjoy reading FlowerAdvisor.com where parks are mentioned where thousands — and even millions! — of these flowers have been planted together to create dazzling displays!

 😊
SOURCES
   1 Wikipedia: (Lycoris radiata)
   2 FlowerAdvisor.com: (Lycoris radiata)









LTC: MQD2S95muSMGw7kfYcyXBUaUX4NdGx4dau

25-Oct-2022