I wasn't expecting such a kind of Christmas this time but it is what it is. Honestly, I had no specific plan for Christmas this year, I haven't even decorated my house. I wanted to but somehow I declined the plan of decorating my home.
In Ukraine, on 25th December and on 7th January, people celebrate Christmas. Most people here in Kharkiv celebrate Christmas on 7th January, basically in the new year. I have noticed some different events and situations here this December. Every year, I see a lot of happy faces and festival moods in Kharkiv, I mean no matter how cold the outside temperature gets, people love to go out to see Christmas lights and the big Christmas tree. This year the hype was not there even during the pandemic, I saw people celebrating Xmas, gathering together, and having a fun time. But this year the entire scenery was different, I haven't seen many decorations like before even I noticed some kind of sadness on people's faces.
I don't know whether you guys are aware of this or not but the whole of Ukraine including Kharkiv is dealing with some political issues with Russia. Kharkiv is close to Russia so there is a fear of future impact besides also economic crisis started so I think most of the people now dealing with their life situations. I assume that's why I haven't seen much crowd yesterday on Christmas eve even it was the weekend too.
Merry Christmas And Happy Holiday Everyone
---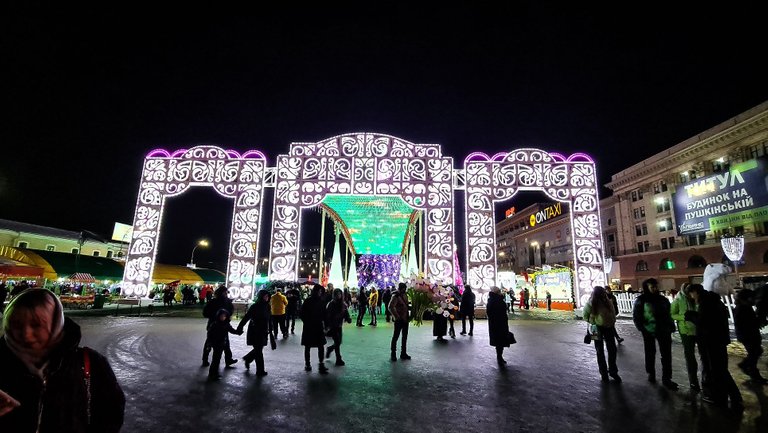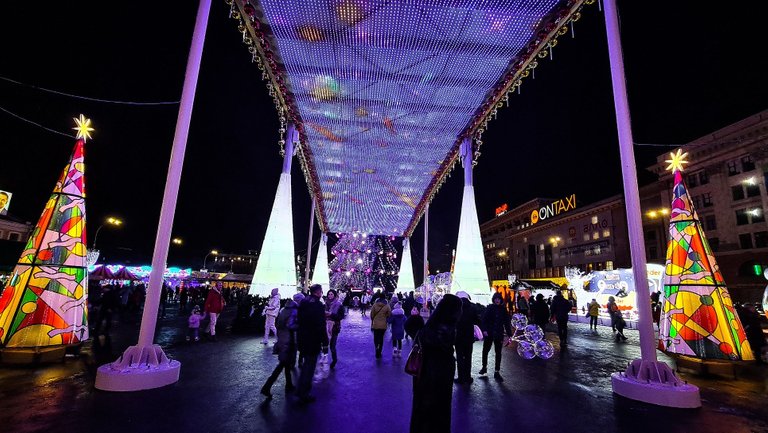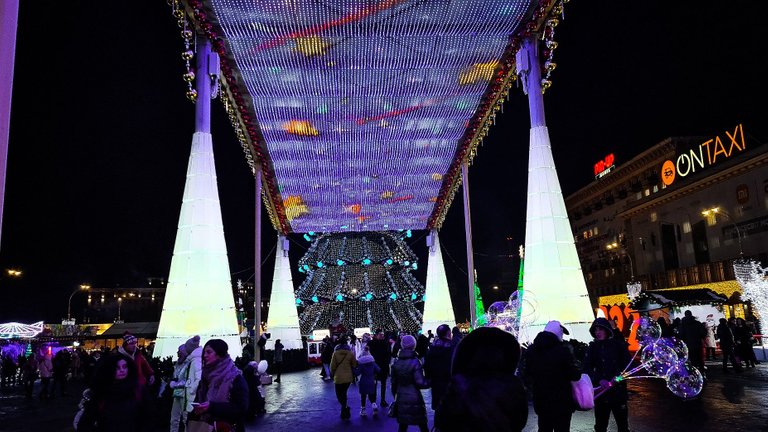 Anyway, instead of living in fear and stress, I decided to go to the city center of Kharkiv where most of the people gather to see the biggest Christmas tree of Kharkiv. We had a nice snowfall a day before Christmas so I was hoping that this year is going to be snowy Christmas but yesterday the snow almost melted due to temperature. But it was nice weather to explore around as I am not a fan of cold weather.
The location is called Freedom Square which is located near Shevchenko Park. Every year people come here to see the biggest Xmas tree in the city and spend time in the Christmas market with friends and family. This year the crowd was lesser than before even less than last year. Maybe people are just bored of seeing the same decoration every year...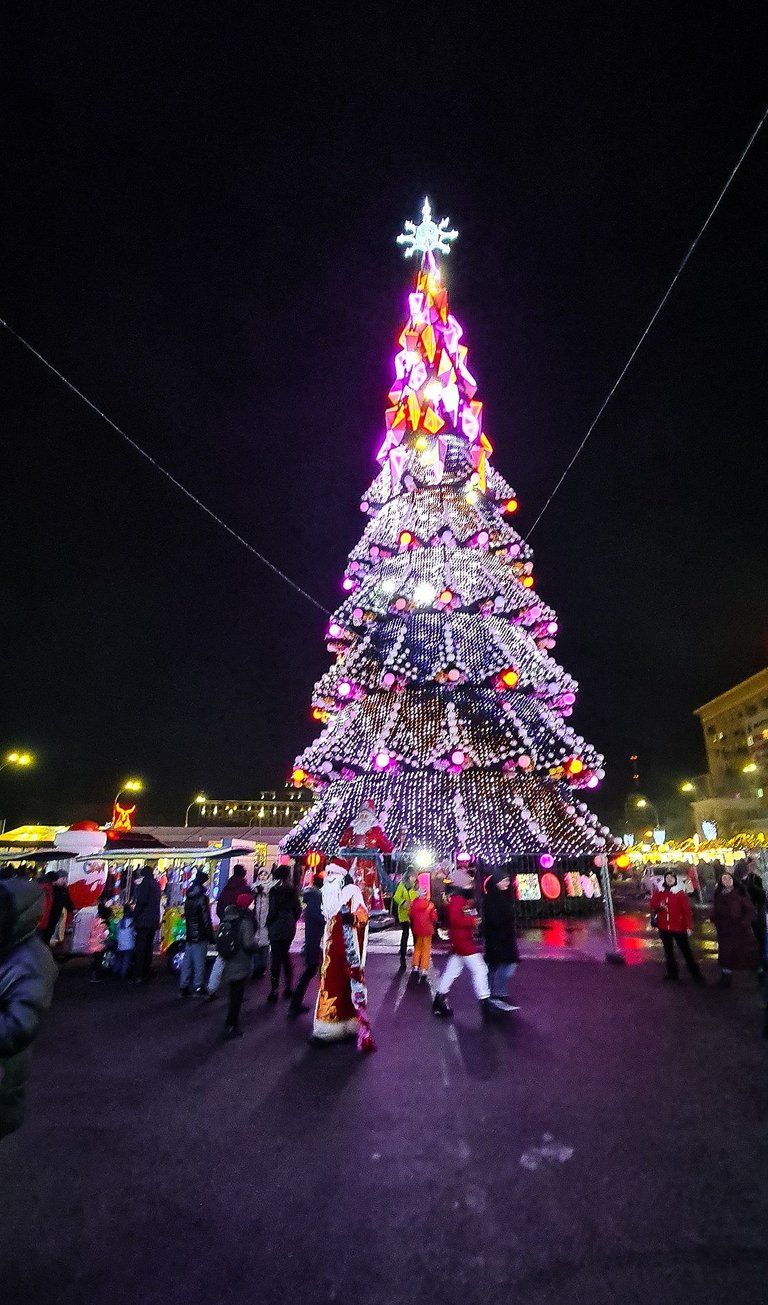 ---
And this was our biggest Xmas tree which was around 44 feet in height. This tree is located at the center of Freedom Square and from far away it looks so beautiful. Every year many people gather here to take photos in front of the tree and kids love to meet Santa here.
Unfortunately, I have noticed fewer lights and a less festive mood this year, the tree was okay like usual with other decorations. I haven't seen anything new or attractive this year, all were the same and so simple.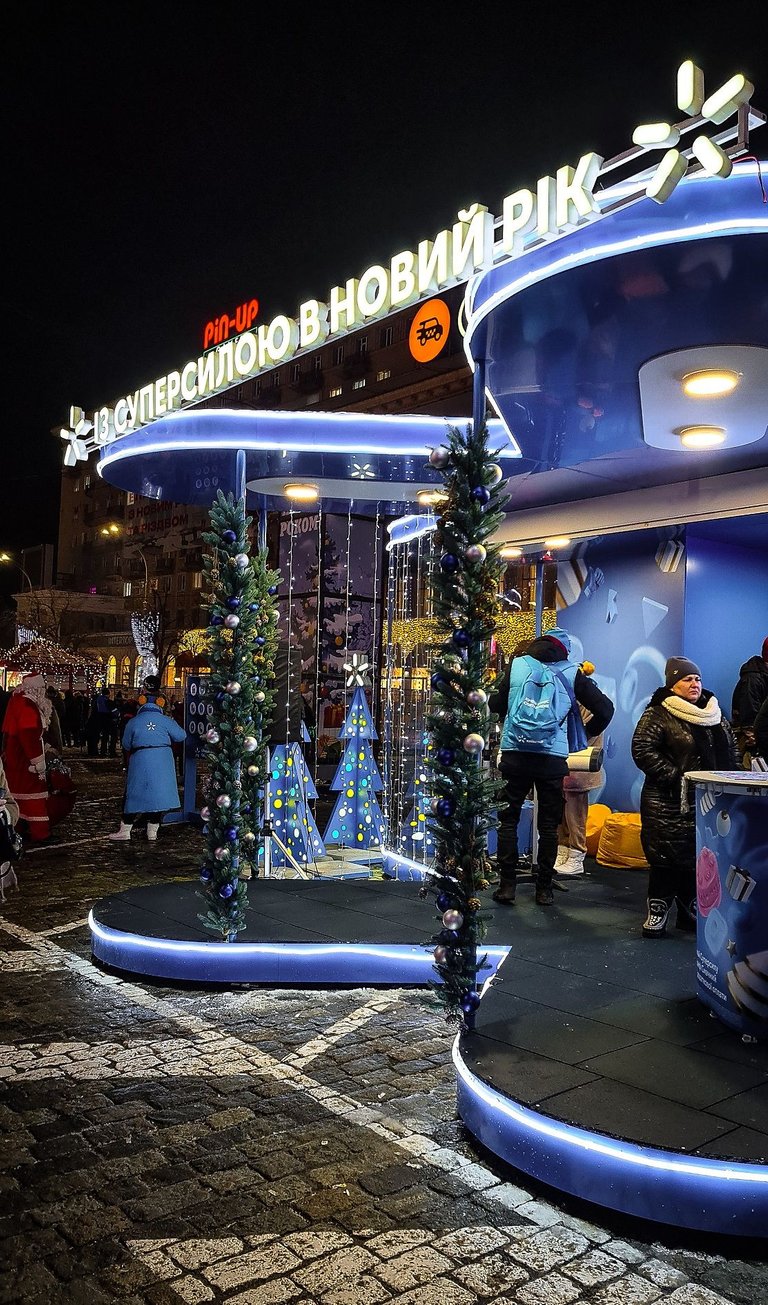 I have only found one photo booth in the entire area, usually many photobooths had been placed before but this year I have only found one so it was pretty disappointing. Some people were buying tickets for the ice-ring and ice skating. So the crowd you are seeing in the picture, they were buying tickets for ice-skating.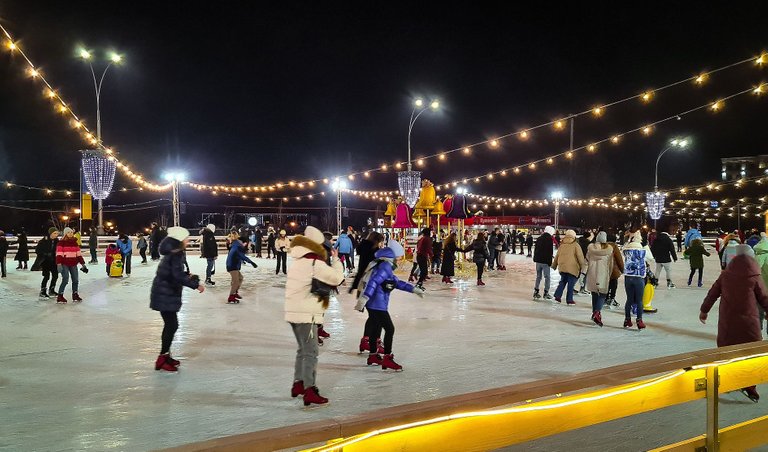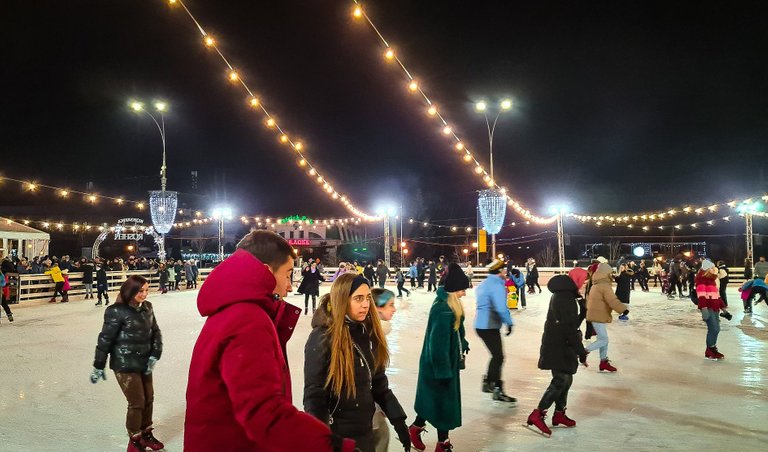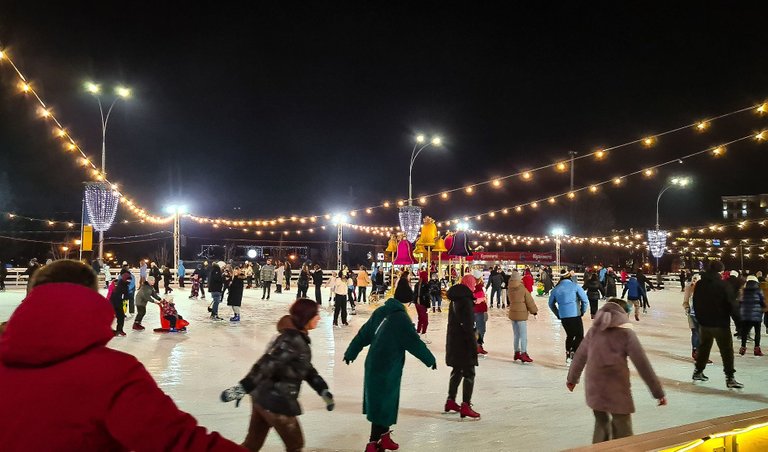 This was the most crowded and interesting spot in the entire Christmas Market. I felt all of the people are just gathered here to do ice-skating and were enjoying their moment. It was good to experience such a festive and joyful atmosphere.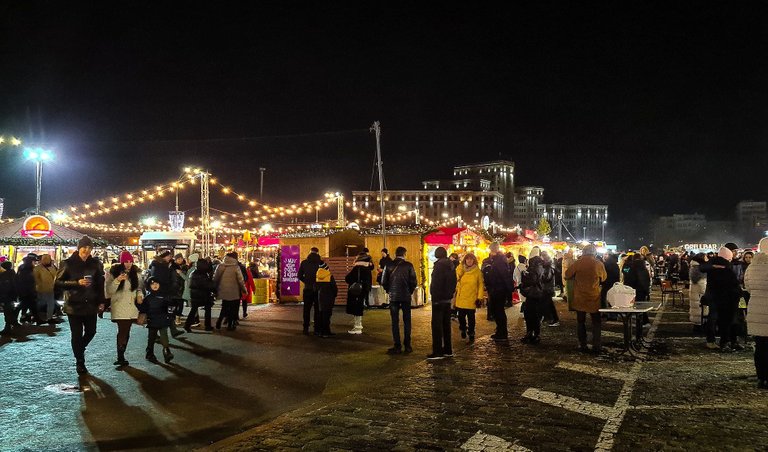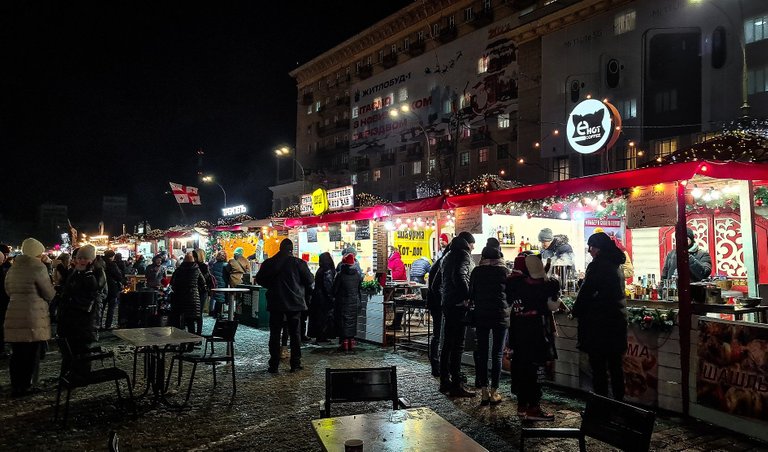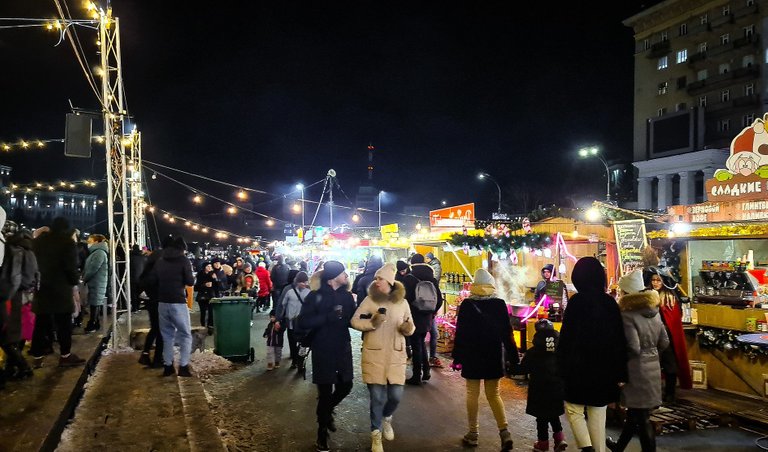 The Christmas market area was crowded and there was no snow at all, in fact, I was starting to feel warm while entering the market. People were busy buying food and drinks. The fragrance of different alcohols was everywhere and I was breathing several fragrances together. For me it was hard to understand where the smell was coming from, was it from food or alcohol?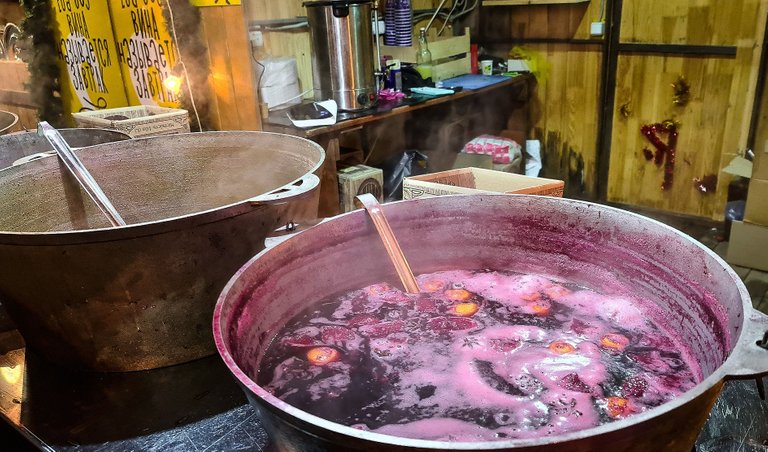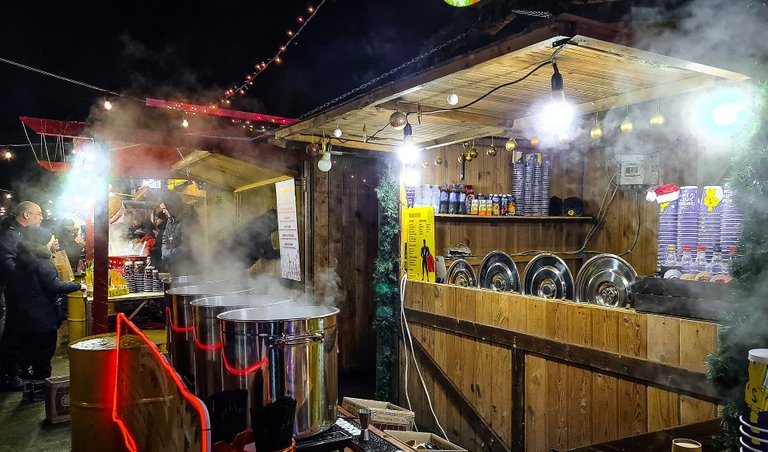 The pot of hot wine was cooking in front of me, people were buying it and I have heard that people love hot wine here. I think they are known as Mulled wine, sorry I don't know much about wine to be honest. I don't drink much but I will definitely taste it next time.
I really wanna know why it is popular here.
You can smell the fragrance of mulled wine from far away...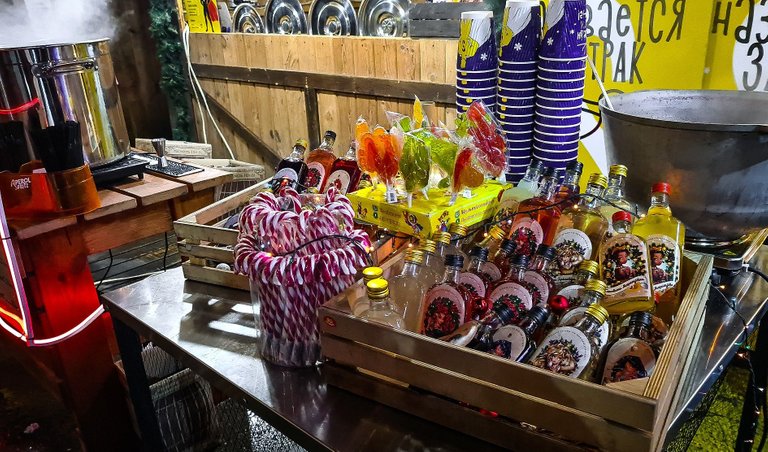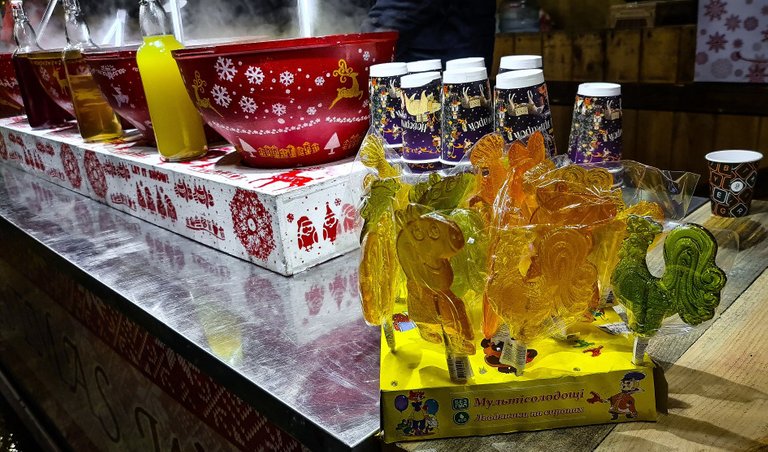 I also have found traditional candy shops, they sell cookies as well. Last year I have bought some candy cane from here, they were too sweet for me. But kids love these sugar candies.
---
While exploring the market, this shop caught my eye, this girl was wearing a witch costume and was serving hot wine to the customers. I was surprised suddenly to see the scene because it was not Halloween and her costume and look reminded me of a witch who was serving potions. When I was starring at her, she gave me a smile, I guess she understood that I was surprised.
There were many other small shops selling different types of food, sweets, and candies but most of the shops were selling alcohol. These people (shopkeepers) come here every here from different parts of the country to sell their products here.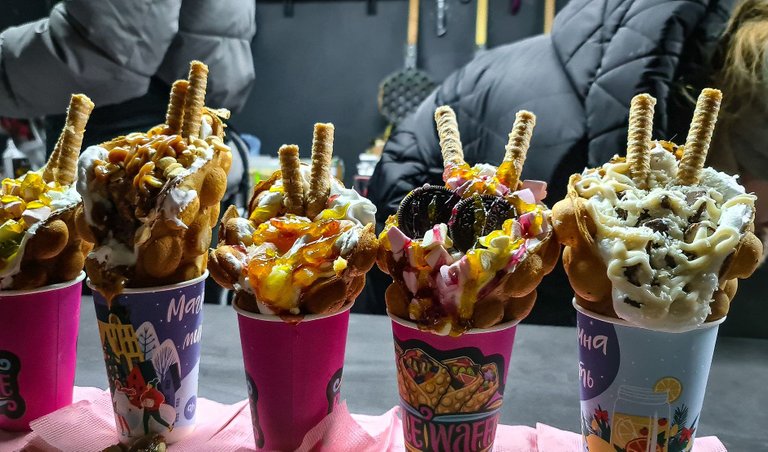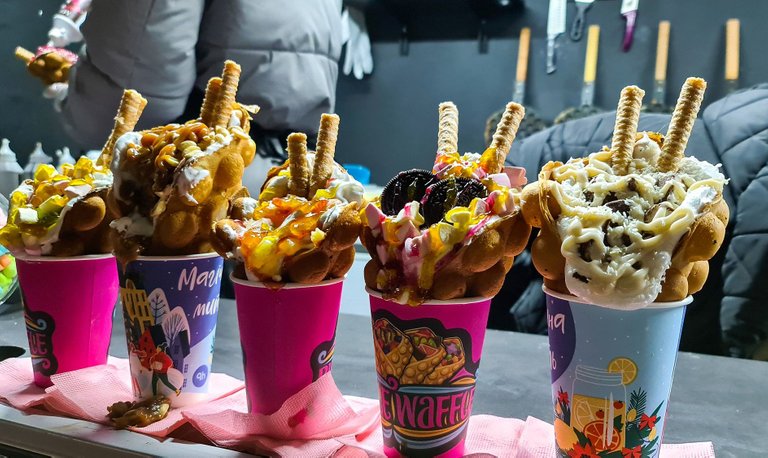 This was the best part of my entire Christmas day "Waffle Cone with generous toppings". There were five types of toppings and among them, I have chosen oreo with marshmallows and cream for myself. They have also added strawberry syrup with it, it was delicious.
The waffle was so good, not too hard, crunchy and the taste was really good. I haven't tasted this type of waffle with toppings before, it was a great experience.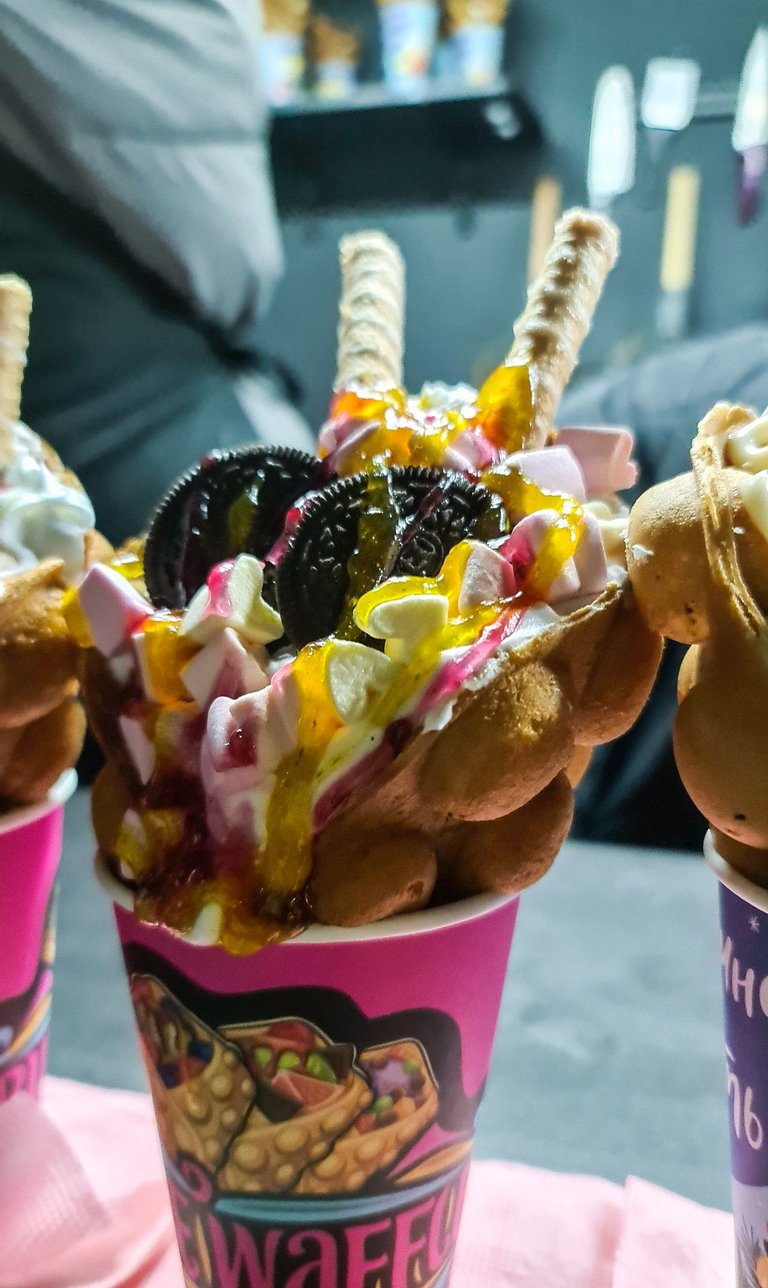 ---
The price of the food was expensive and this time I haven't tasted anything else except the waffle cone. I have spent over an hour there walking around while seeing the shops.
Initially, when I first saw the atmosphere of the market, I was a little disappointed but I gradually realized the less is good though.
It was a well-spent day...
That's all for today, folks...
Until next time... Have a nice day everyone...
Thanks for reading my blog...
---
Love
Priyan
---

---
Explore Life with Priyan...
---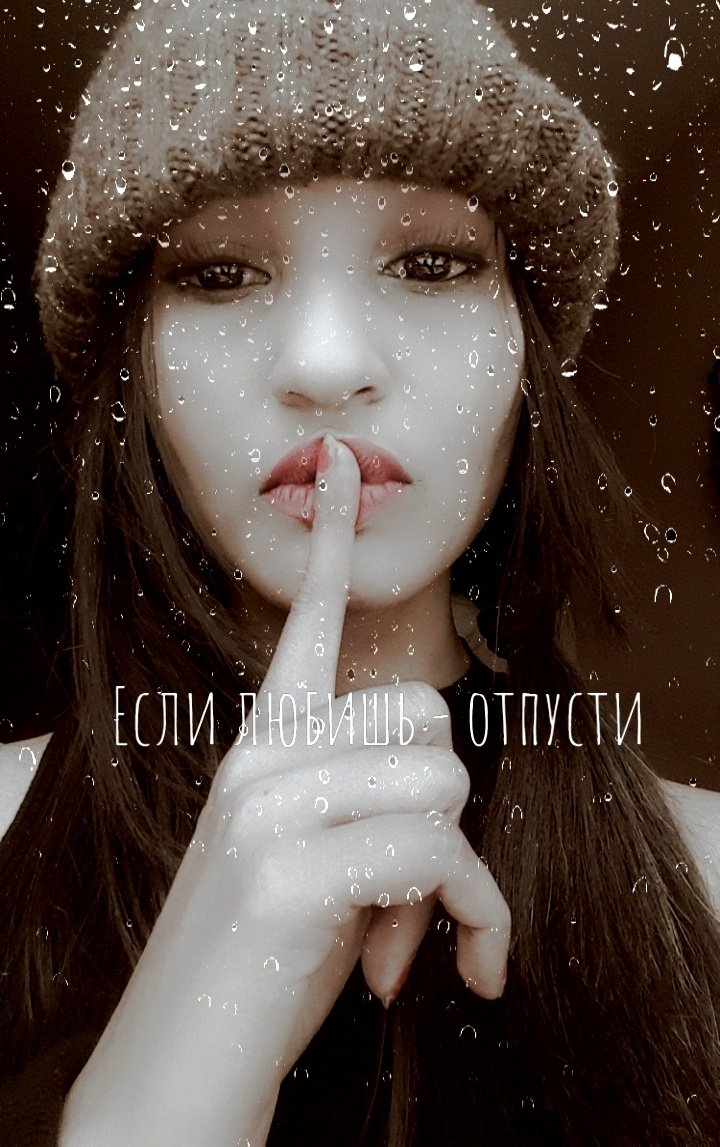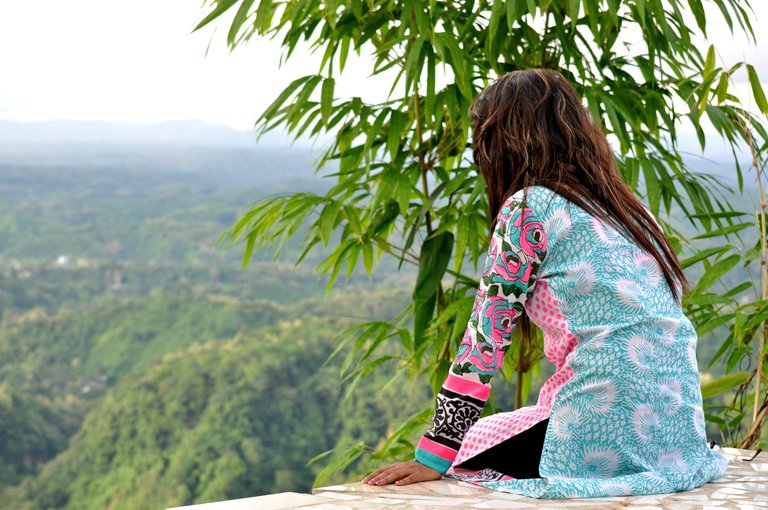 "I am @priyanarc... An architect, a dreamer, and a passionate writer who loves to write about life. I try to present my own perspective and experiences. Please leave your feedback and criticism because it's the only way I can know and reach your mind and thought easily..."

---
Find me on youtube...
Don't forget to subscribe to my channel...
You can find me on Twitter...
Original post is written by @priyanarc (author)...
All the pictures used are captured by the author...


If you want this kind of GIF for yourself, Let me know...
---