Hi all 👋🏻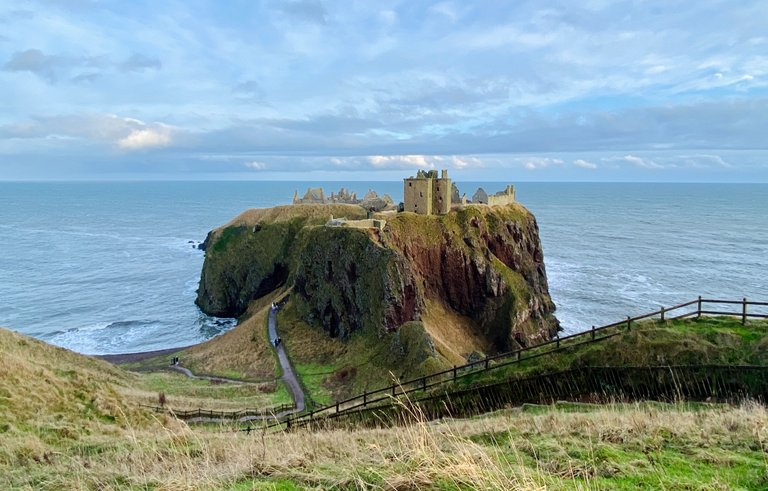 With this post in our lovely #community I will show you what I have done a few days ago, during our THIRD PART of our long #Journey that lies ahead 😎
We started our next trip in Balquhidder - Lochearnhead in Scotland 🏴󠁧󠁢󠁳󠁣󠁴󠁿 and drove about 200 km /124 Miles further NORTH. The entire trip wasn't as far as the other 2 trips this time 😎 but of course we stopped for some sightseeing along the way and the necessary food and drinks.
We reached Aberdeenshire now in Scotland 🏴󠁧󠁢󠁳󠁣󠁴󠁿
We are staying here 3 nights and this will end tomorrow morning (I know… already? 😳 time flies for sure when having fun) when we drive further again. Yep… much further… 😂 😉
I will show you the next trip soon as we are staying in the next location also 3 nights… so I have again more time to write a post 😉😁 so stay tuned for part 4 of 6 in the next days.
The 35 photographs in this post are all taken with my #iPhone 🤓 Sunday 8 January 2023 📱and I will follow the time stamps so it looks like you are coming along with me on my #journey #north and see what I saw… 😎
Some of you already know what I was doing during the last weeks… since 19 December 2022, if you don't know yet;
We are moving and are still in transit of our country move. (This will be the case until mid January…)
We left Spain 🇪🇸 see this post: ✈️ Our flight out of Spain 🇪🇸 ~ 📦🚛✈️
I made an update in this post: Update, Things are not always going as planned ~ "Market Friday in Stamford UK" 📦🚛✈️
We started our next adventures on 5 January 2023, our journey towards our final destination after we visited the in-laws and friends in England 🏴󠁧󠁢󠁥󠁮󠁧󠁿 for the holidays.
Part 1 of my adventures you find here: PART 1 of 6 ~ "ROAD TRIP NORTH - 305 km" 📦🚛✈️
Part 2 of my adventures you find here:
PART 2 of 6 ~ "ROAD TRIP NORTH - 304 km" Visit to the KELPIES close to Falkirk 📦🚛✈️
I counted the DISTANCE together, what we have traveled towards the place we are staying in right now. So from Stamford (-ish) England 🏴󠁧󠁢󠁥󠁮󠁧󠁿 to Aberdeenshire Scotland 🏴󠁧󠁢󠁳󠁣󠁴󠁿 we drove +/- 809 KM NORTH 🚗🚗🚗🚗🚗 (3 road trips)
Ok… 🤓 I think we should add at least about 50 more km to it… so let's say 859 km, as we went more over the country roads… so about 528 Miles. Our explorations locally I won't count.
But; Let me not forget our drive to Malaga 🇪🇸 what was 116 KM
Then our flights from Málaga Spain 🇪🇸 to Birmingham UK 🇬🇧 was 1765 KM
And the drive Birmingham to Stamford area was 112 KM
🚗✈️🚗✈️🚗 So the traveled distance so far is about: 2852 KM, this is 1772 Miles. 🤓😎
Pretty cool when you think about it. I will continue to add the distance while we travel further towards our destination. As you might know… I am not done traveling yet 😉
Will we continue over the road? Who knows… hehehe 🤭 ok, yes, I know…😇 but you have to wait and find out later 😉😎 we can end up anywhere 🗺
Let me show you now PART 3 of our journey from last Sunday 8 January 2023 😉 without diverting much more 🤓
We took the following route north with a detour to visit a castle in Stonehaven, we didn't go through Perth or Dundee.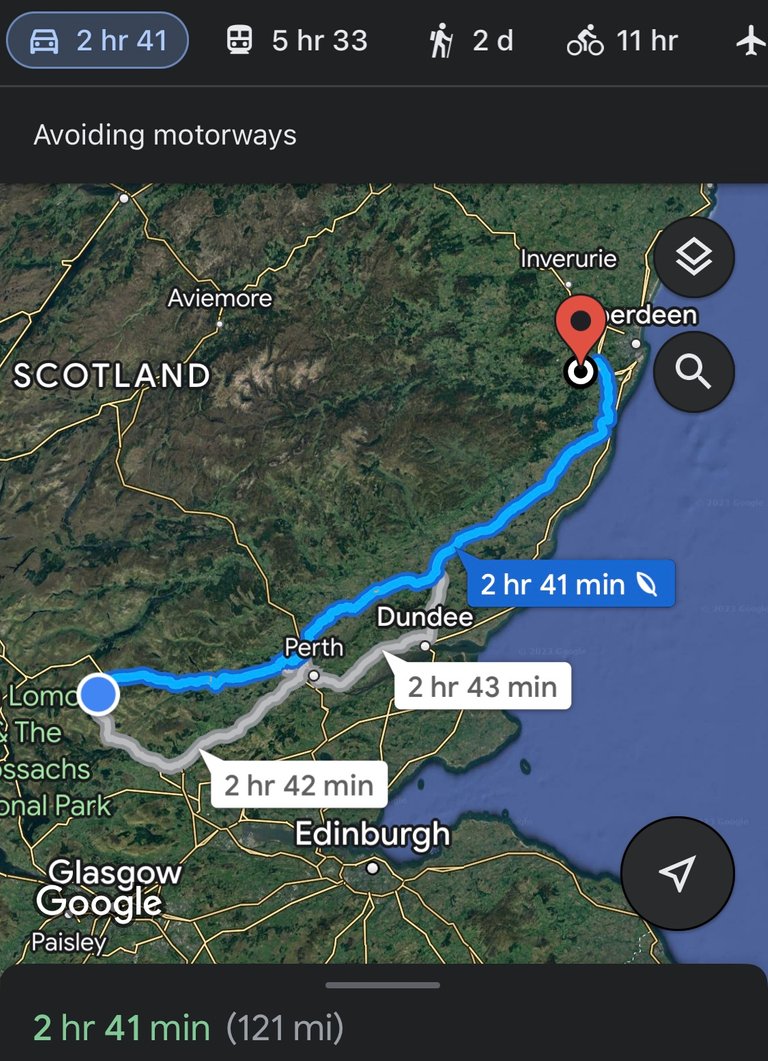 Did you think I would go up this side in Scotland? 😎
So as I woke up in the Motel, this was the view I had in the Lake District. Beautiful isn't it?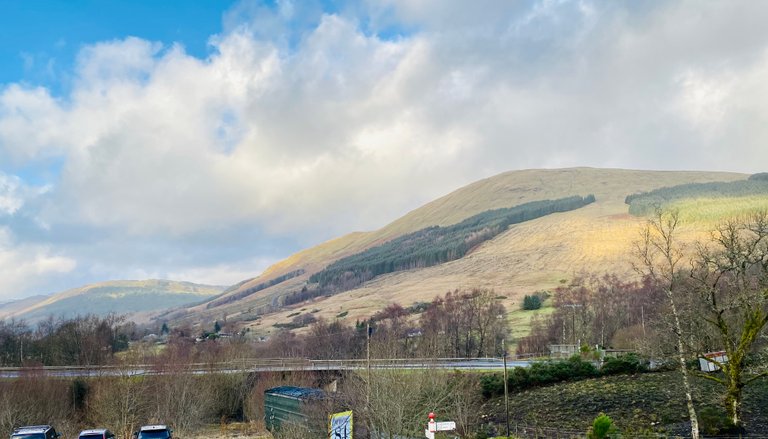 We left about 10:30h in the morning after some breakfast.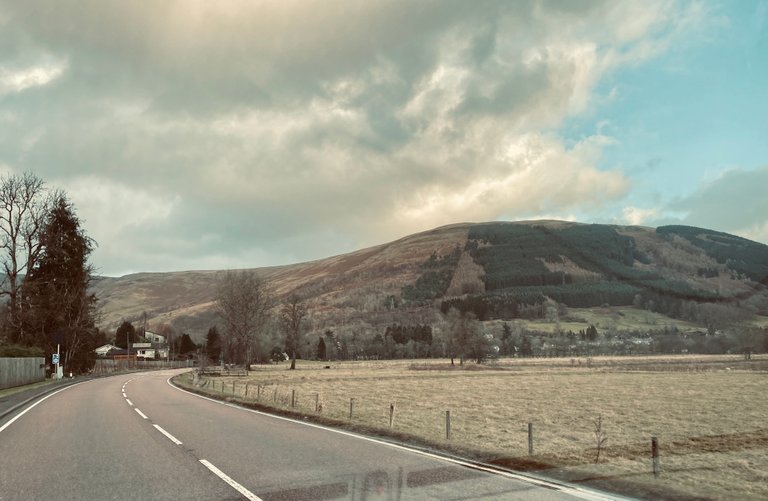 Through the village of Lochearnhead Scotland 🏴󠁧󠁢󠁳󠁣󠁴󠁿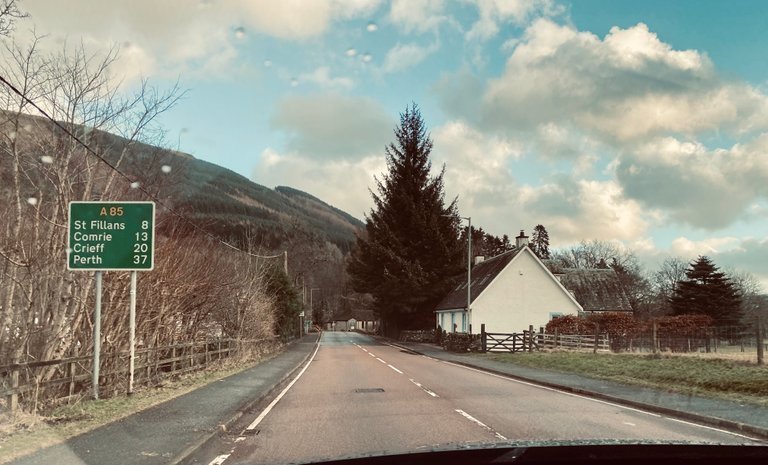 Passing by lakes.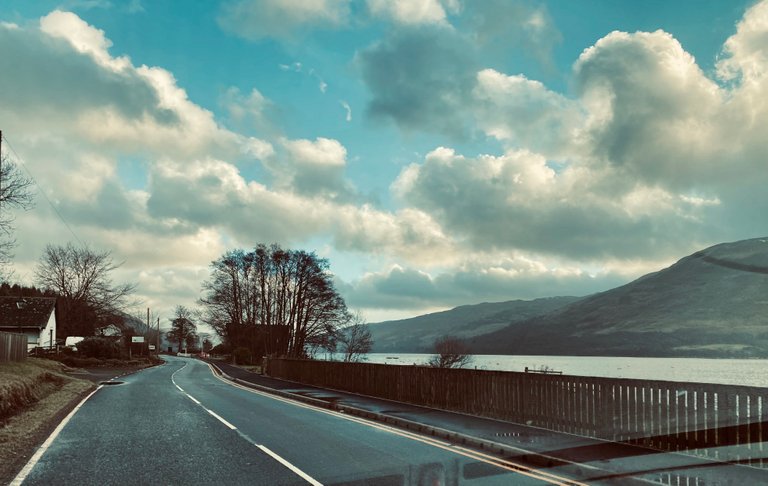 I saw a statue of a deer 🦌 and was fast enough to capture it 📸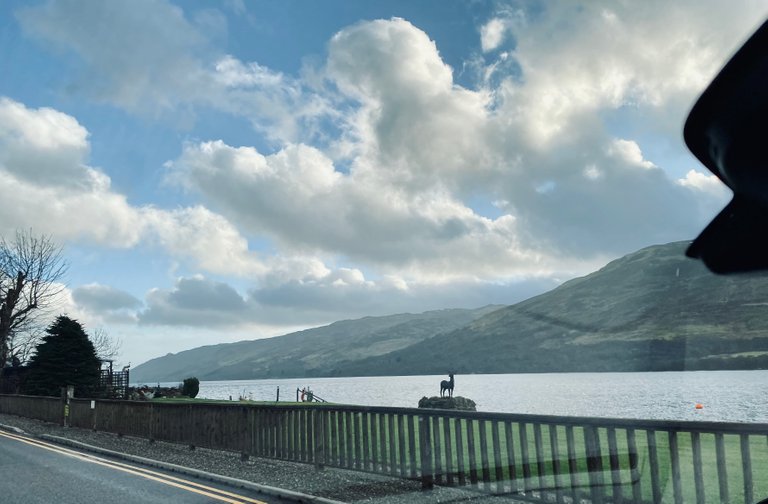 Driving further over small roads along the lakes and through forests 🌳 luckily it was dry this day. 😊 What makes a long journey even better.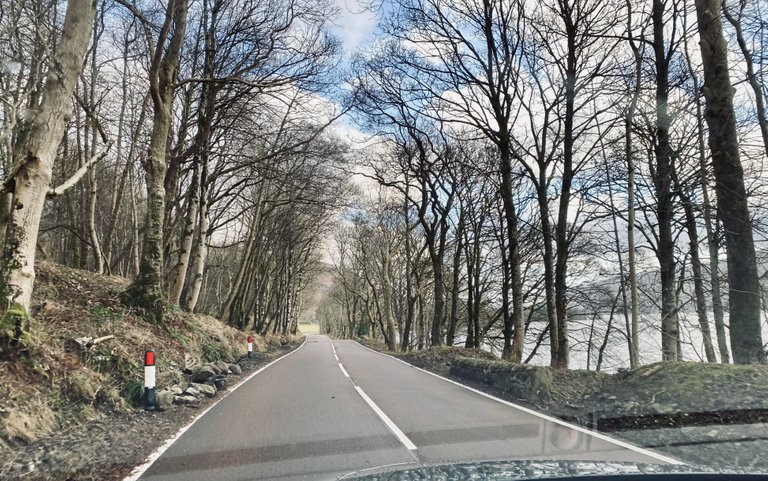 Of course I can't forget to capture some cute sheep 🐑🐑🐑🐑 in the fields.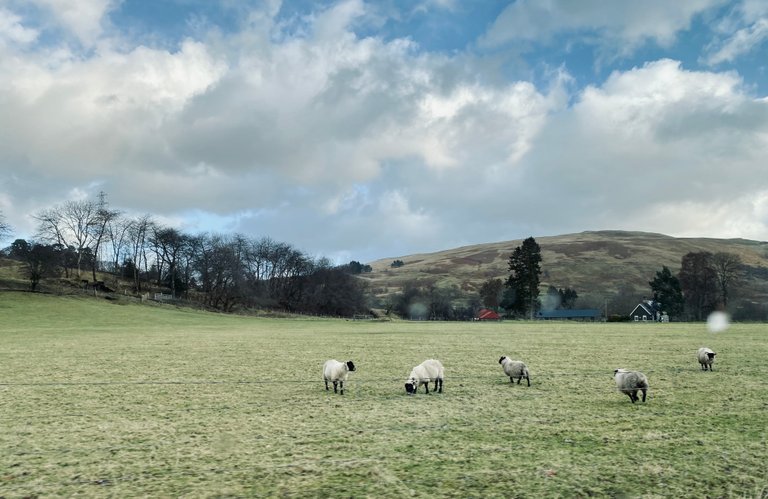 Passing by more villages like Crieff…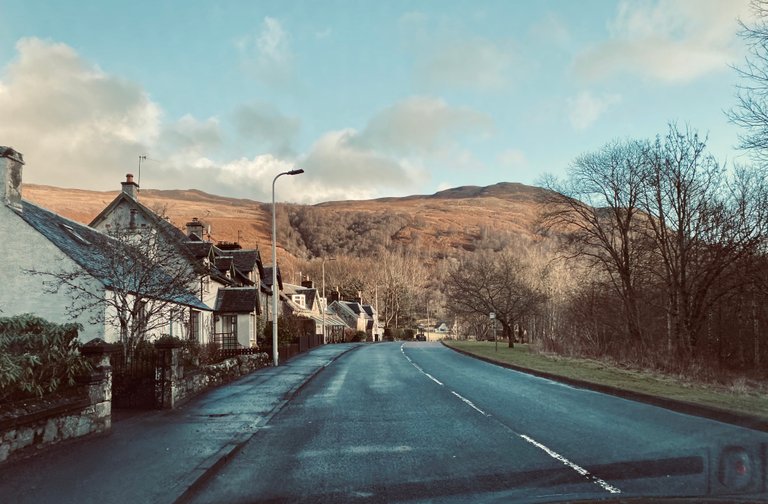 …and Comrie, twinned with Carleton Place Ontario #Canada 🇨🇦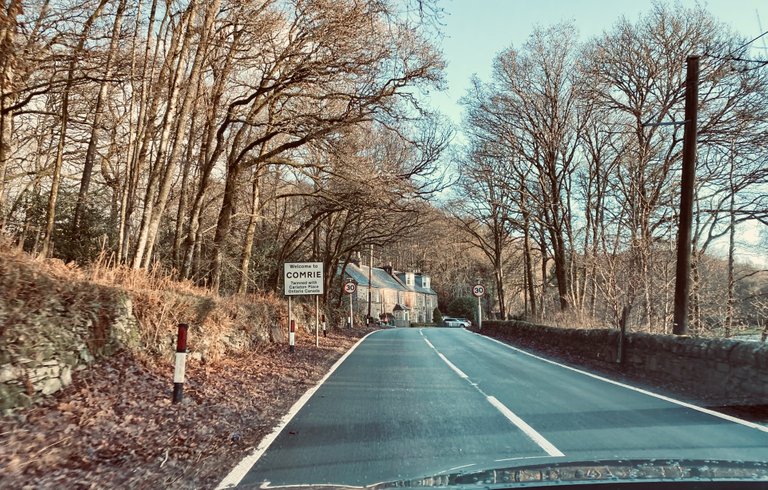 Going along more countryside roads, the light is stunning this day. 😊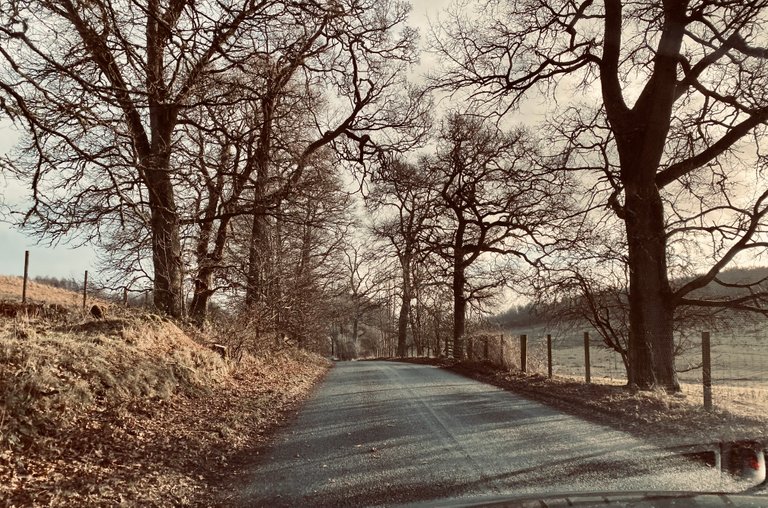 Driving around the countryside of Perth now…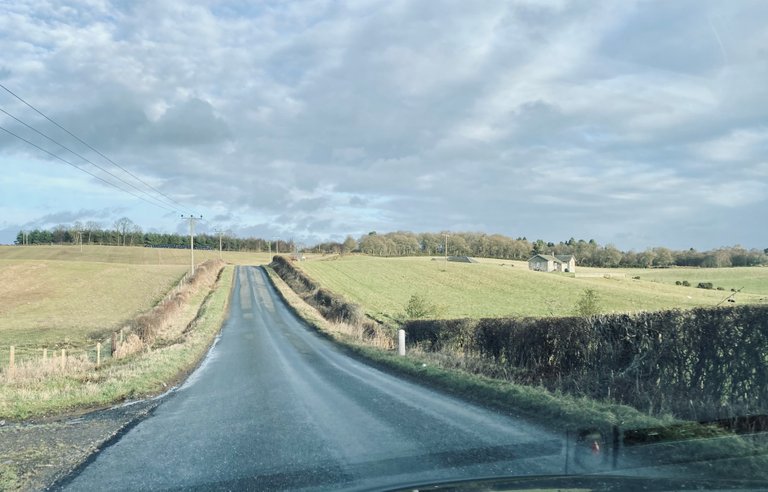 We are seeing the Cairngorms in the far far far distance.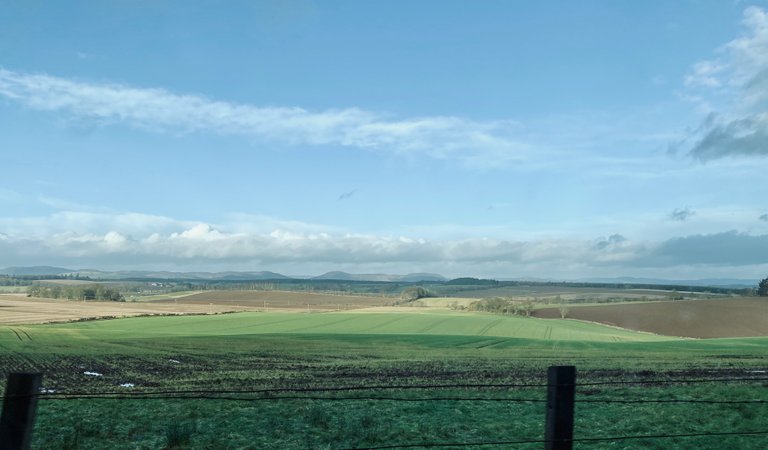 Crossing small bridges… to go over the RIVER TAY.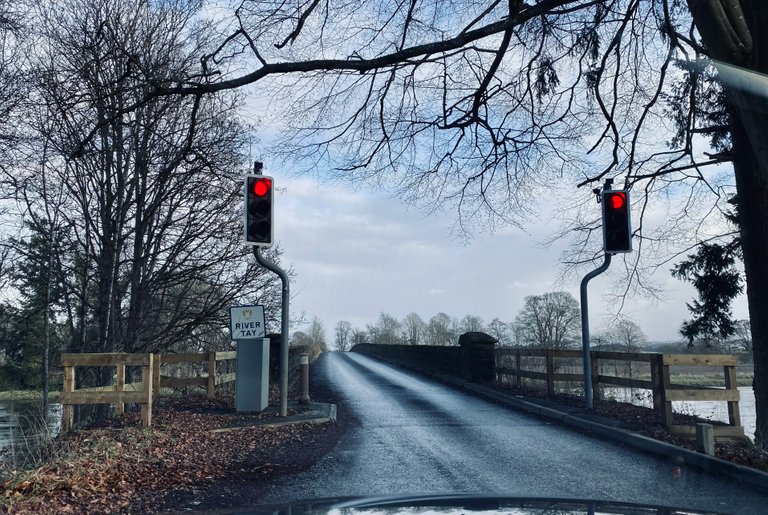 And hop… we are going over a large river 😎🚗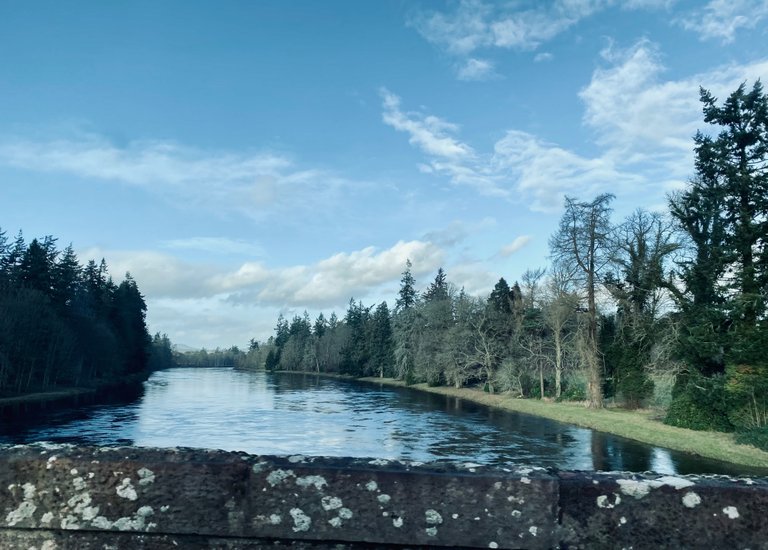 As we are eating kilometers… we see the most stunning views. 😊I love it 🥰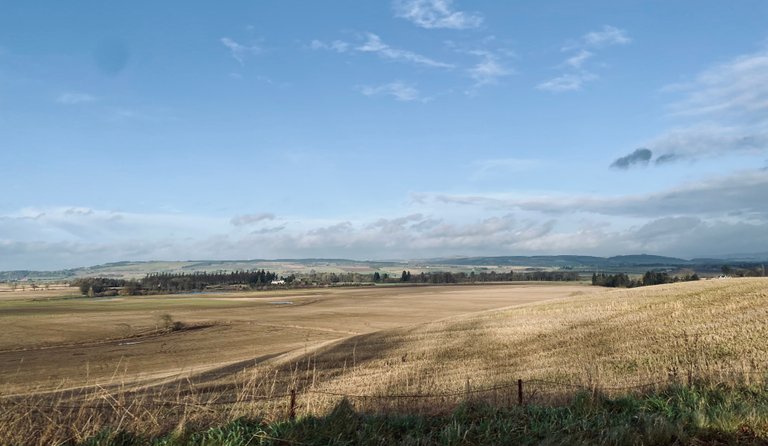 Pretty right?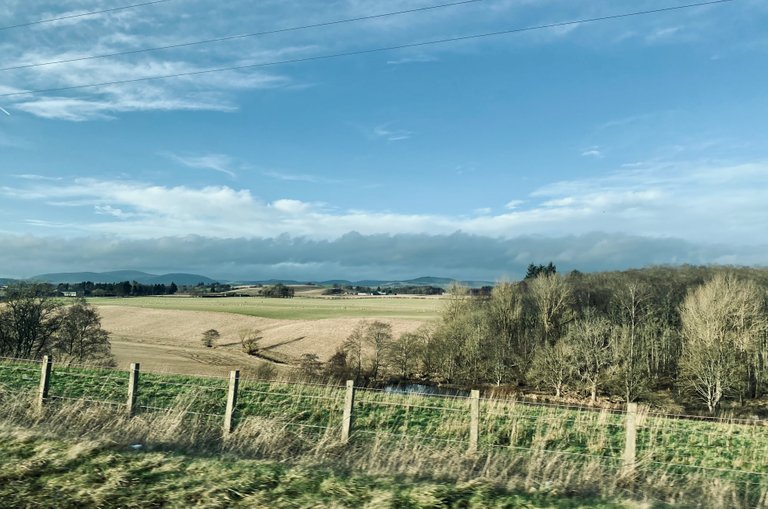 And do you know what I love the MOST: It is green! 💚💚💚 🥰🌳I sooooo missed this living 7 years in Southern Spain 🇪🇸
Also the crisp and fresh air… yep… I love the little things that others take for granted 😉
Now we come closer to Aberdeen city… we decide to drive a little bit on the A90 🤓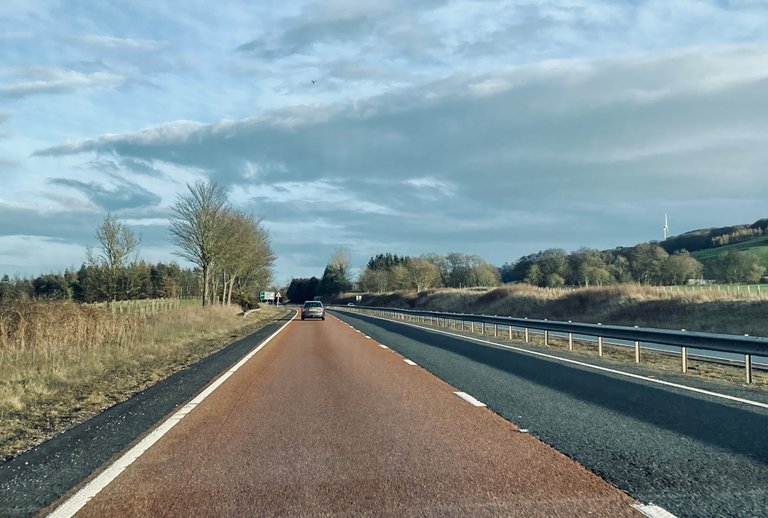 A little bit further…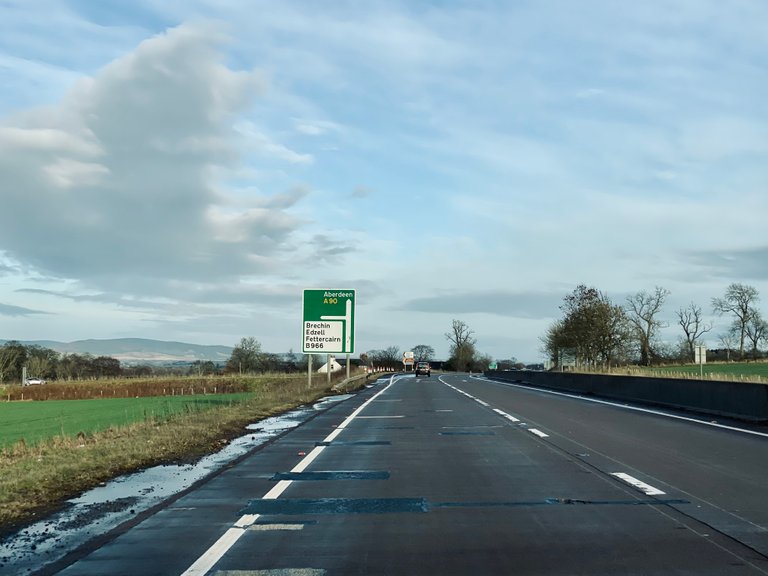 I see the mountain layers in the distance ⛰🏔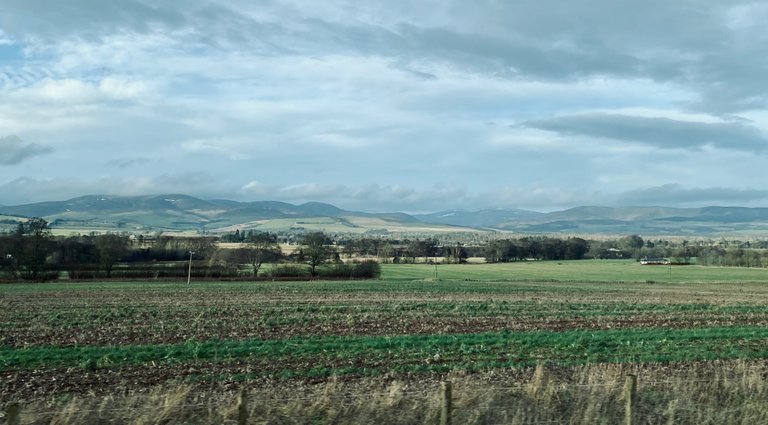 We cross this sign from ABERDEENSHIRE.
It says: "FROM MOUNTAIN TO SEA THE VERY BEST OF SCOTLAND"
Nice 😎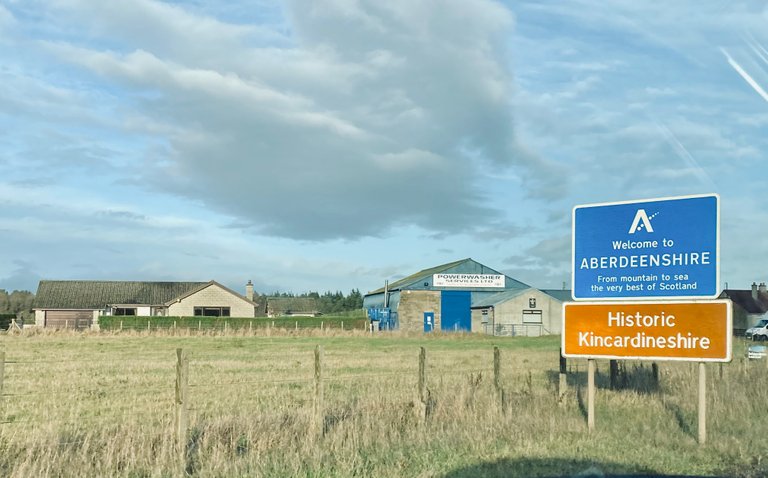 More green 💚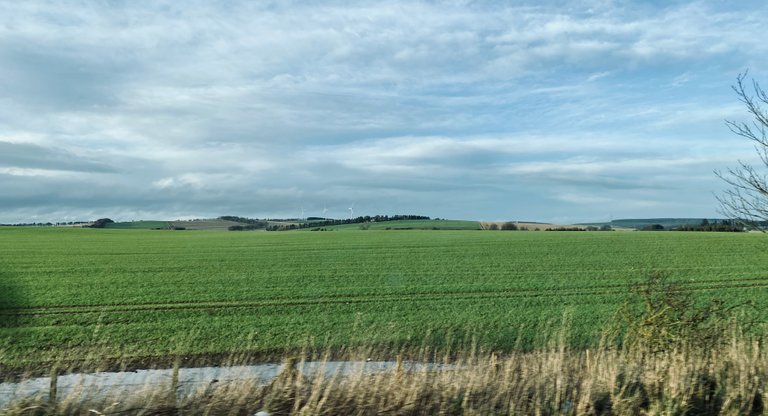 And we are on a coastal tourist route now for just a little bit…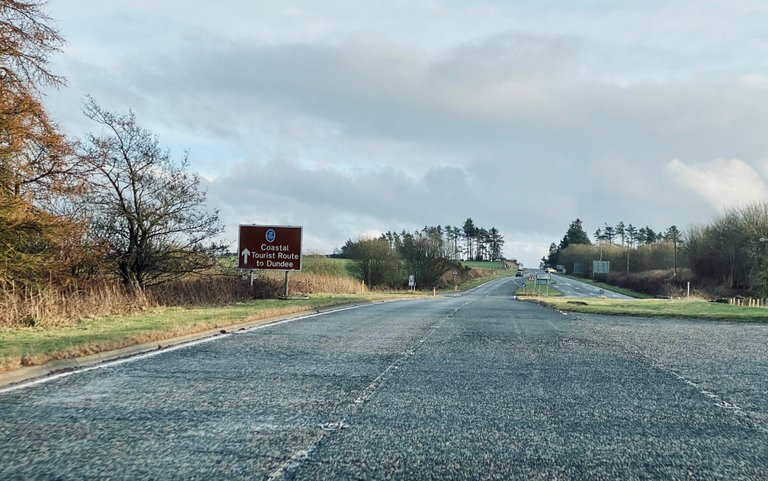 As we are heading for a CASTLE 🏰
Let me show you DUNNOTTAR CASTLE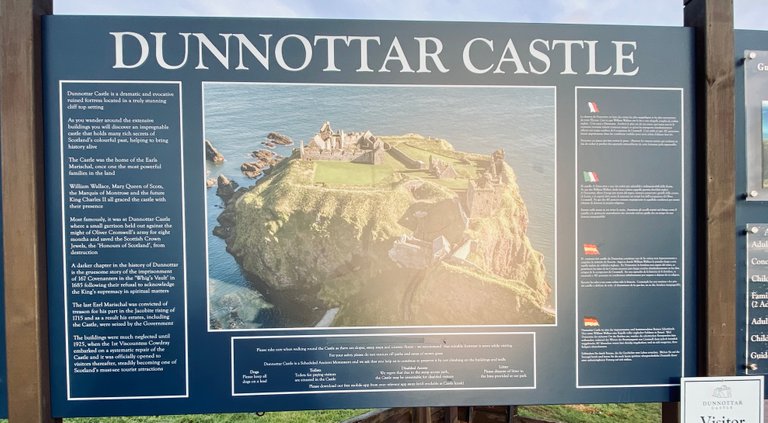 Walking towards it we see: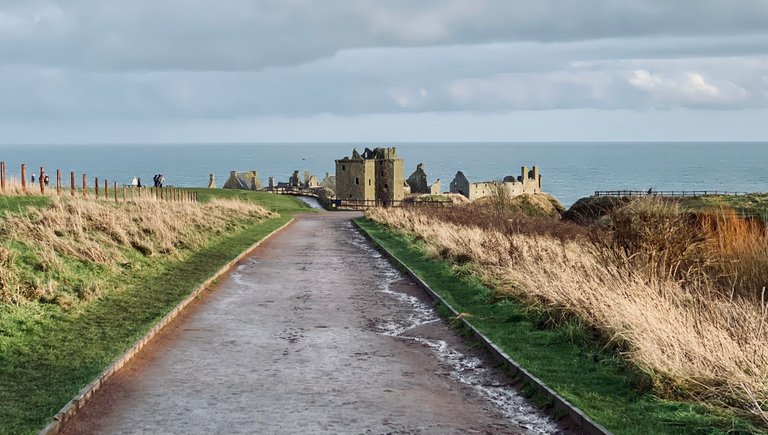 At the first lookout we see on the right a waterfall 😎 and the castle in the distance.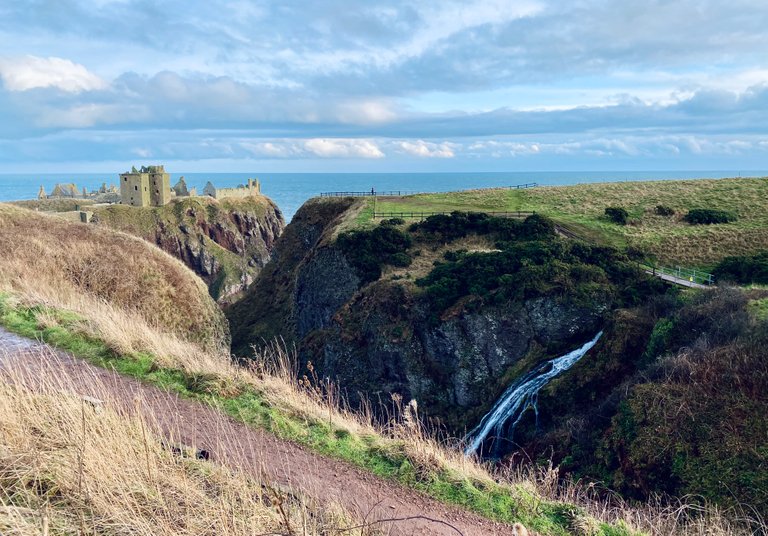 Close up of the waterfall.

Walking towards the edge we see this impressive castle 🏰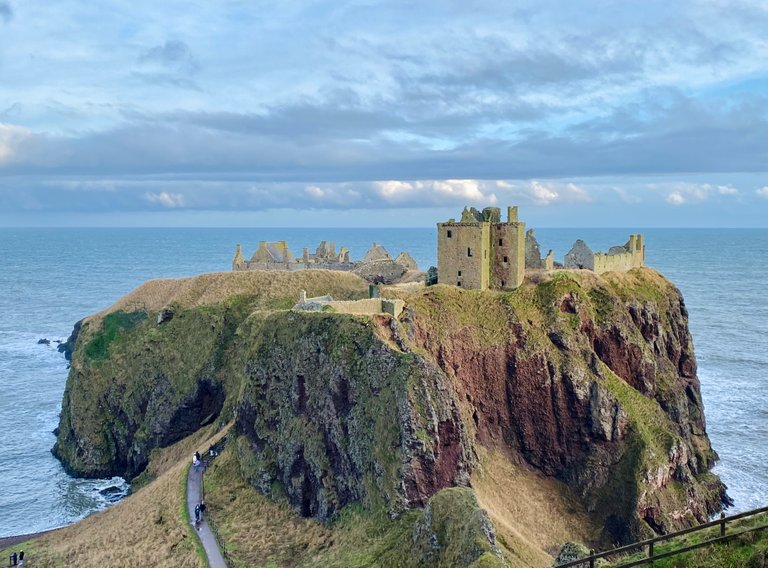 More information you find in Wikipedia here: Dunnottar Castle
It states in this website:
"Dunnottar Castle (Scottish Gaelic: Dùn Fhoithear, "fort on the shelving slope") is a ruined medieval fortress located upon a rocky headland on the north-eastern coast of Scotland, about 2 miles (3 kilometres) south of Stonehaven. The surviving buildings are largely of the 15th and 16th centuries, but the site is believed to have been fortified in the Early Middle Ages."
Read a bit more about it 😉
🏰🏰🏰🏰🏰🏰🏰🏰🏰🏰
Wow 🤩 just amazing… I'm speechless at the view of it. What a beauty, the location... everything! Imagine when it was still in use.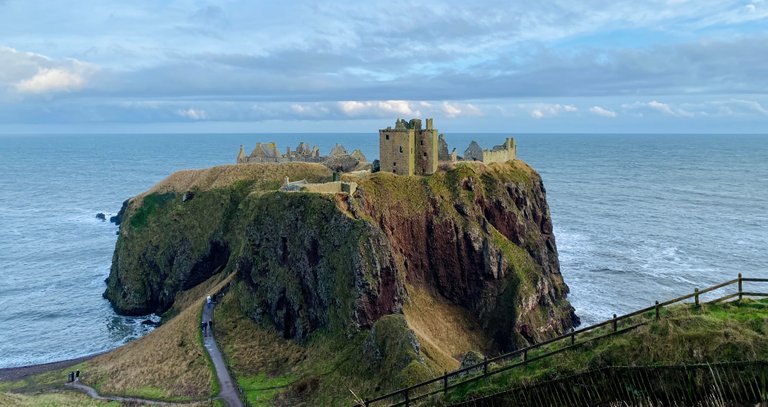 Sadly it wasn't open due to weather conditions. I will come and visit it again in the future for sure. 🥰🏰
We didn't explore more as the wind was biting cold 🥶 that day. And we had to check into the next accommodation soon.
What do you think of this Castle and it's location 🌊 ?
Let's drive further… the last km's.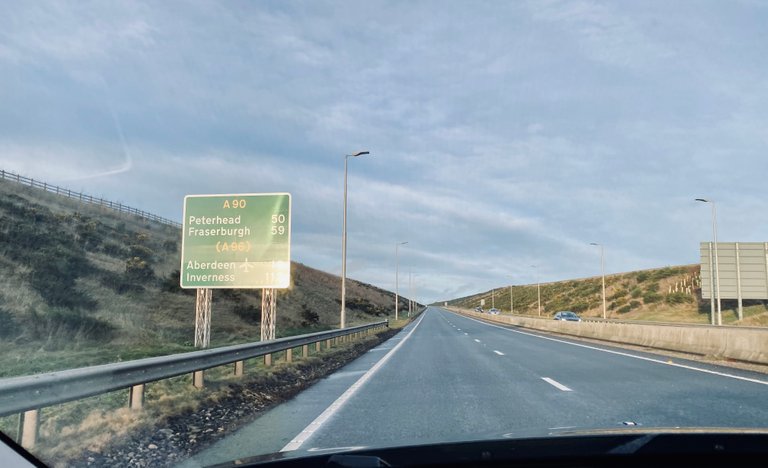 We see fields… more details… 😎🤓 you may know by now, I love details 😉

Finally we arrive at a small cute cottage for the next days. Funny my phone focussed on the raindrops and heating lines in the window 🧐

Living room with fireplace 🥰 this will do for a little bit. Actually… tomorrow morning we travel further.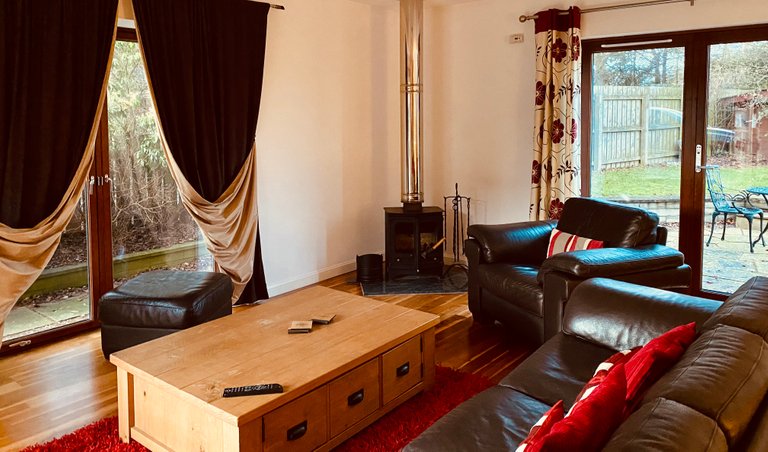 I captured this photo in the morning yesterday… frost on the ground.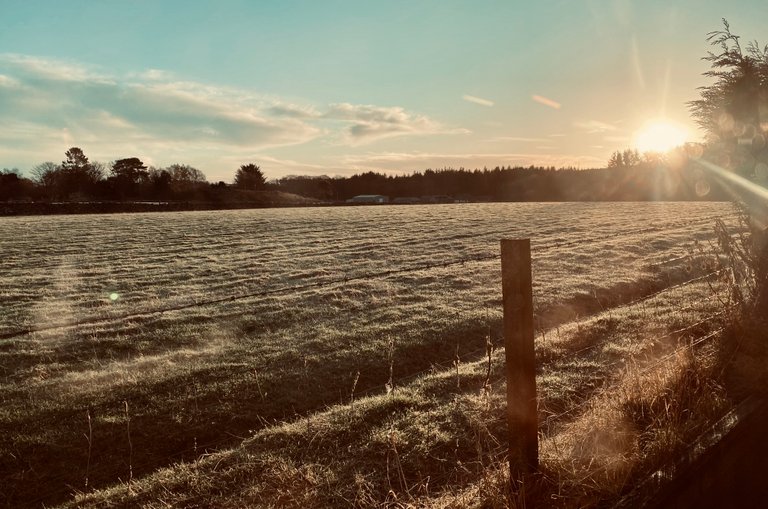 Beautiful light again 📸

UNTIL WE TRAVEL FURTHER 😉🤓
And that's all for today's post. Hope you enjoyed seeing another update of the road trip that is part of our transit between moving countries 🗺 Spain 🇪🇸 and …?
Until my next Post! 👋🏻😎 are you joining me again soon? 😉💃🏻
Thank you for looking and reading 😊 🙏🏻
Any questions or comments, let me know. Always happy to help.

Gif by @irisworld
Have a great #Tuesday all 😎 enjoy your week!
Grtz Jackie
The divider is Created by SilverFish / @ mondoshawan
Unless stated otherwise: All art and photos used in my posts are taken, created and owned by me. If you wish to use any of my photographs, please contact me first. As I have used some commercially myself. We don't want that you or somebody else gets into trouble 😉 So please don't use them without my consent.
🖼 My PRINTSHOP: for the purchase of all kind of prints in many sizes from my Artworks 🎨 and Photography 📸 Which come on different objects too. Have a look in My Prints Shop!
!pinmapple 56.94599 lat -2.19790 long 🏴󠁧󠁢󠁳󠁣󠁴󠁿 Dunnottar Castle, Stonehaven 🏴󠁧󠁢󠁳󠁣󠁴󠁿 - PART 3 of 6 ~ "ROAD TRIP NORTH - 200 more km" let's move countries 📦🚛✈️ d3scr