Hi all 👋🏻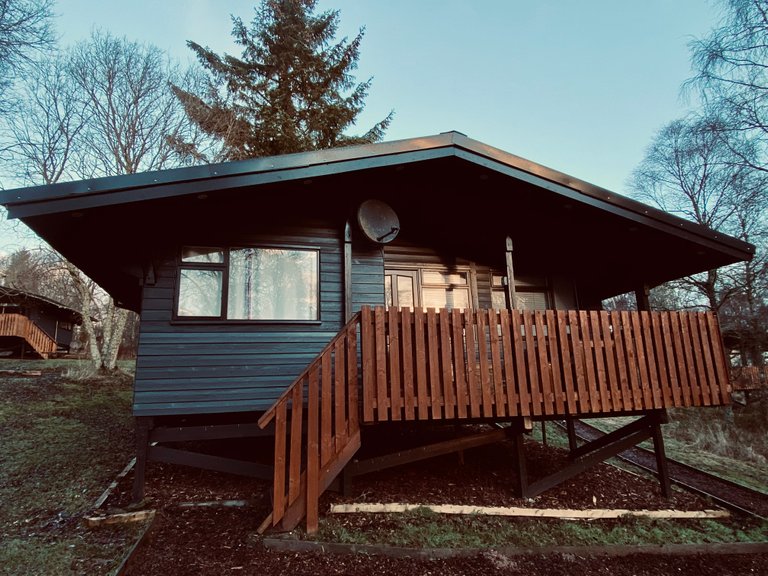 With this post in our lovely #community I will show you our FIFTH PART of our long #Journey of moving countries a totally different way. 😎
FINALLY you must think… believe me, I think the same. 🫣😆 I wanted to share so badly the next parts and tell you where I am now, but you know, having no internet is such a struggle. This is luckily resolved now and I can post my updates 🎉🥳 and catch up on everything…. I am so happy about that.
So a quick recap… we drove through the Cairngorms and encountered some snow. ☃️☃️☃️ We stayed in Grantown on Spey 3 nights in a cottage right next to the forest. 🌲🌲🌲With no internet… but the little squirrels on the terrace made up for it. 🥰 We explored the area while we were there and I will show you all the walks and adventures later.
We start our next road trip in GRANTOWN ON SPEY, in the CAIRNGORMS in Scotland 🏴󠁧󠁢󠁳󠁣󠁴󠁿 and we drove about 85 km / 53 Miles again further WEST. We didn't stop much for "sightseeing" this time, but we drove into INVERNESS for some food and drinks. ☕️🥪🥗 What was about half way.
We reached DRUMNADROCHIT in Scotland 🏴󠁧󠁢󠁳󠁣󠁴󠁿 actually a little place a bit further that is called BUNLOIT. This is in the mountains 🏔️ above the large lake: LOCH NESS.
YEP… WHERE NESSIE 🦕 LIVES. 😉
We stayed 2 nights.
Our stay ended there 16 January when we traveled further… much further again hehehe 🤭
I will show you the next and LAST trip soon 😁 so stay tuned for the last part in the following dayssss.
As some unpacking from the boxes still has to be done too 📦📦📦📦
The 82 photographs in this post are all taken with my #iPhone 🤓 14 January 2023 📱and I will follow the time stamps so it looks like you are coming along with me on my #journey further and see what I saw… 😎
Some of you already know what I was doing during the last weeks… since 19 December 2022, if you missed it;
We are moving countries.
We left Spain 🇪🇸 see this post: ✈️ Our flight out of Spain 🇪🇸 ~ 📦🚛✈️
I made an update in this post: Update, Things are not always going as planned ~ "Market Friday in Stamford UK" 📦🚛✈️
We started our next adventures on 5 January 2023, our journey towards our final destination after we visited the in-laws and friends in England 🏴󠁧󠁢󠁥󠁮󠁧󠁿 for the holidays.
Part 1 of my adventures you find here: PART 1 of 6 ~ "ROAD TRIP NORTH - 305 km" 📦🚛✈️
Part 2 of my adventures you find here:
PART 2 of 6 ~ "ROAD TRIP NORTH - 304 km" Visit to the KELPIES close to Falkirk 📦🚛✈️
Part 3 of my adventures you find here: 🏴󠁧󠁢󠁳󠁣󠁴󠁿 Dunnottar Castle, Stonehaven 🏴󠁧󠁢󠁳󠁣󠁴󠁿 - PART 3 of 6 ~ "ROAD TRIP NORTH - 200 more km" 📦🚛✈️
Part 4 of my adventures you find here: Driving through the ❄️ CAIRNGORMS national park 🏴󠁧󠁢󠁳󠁣󠁴󠁿 - PART 4 of 6 ~ "ROAD TRIP NORTH - 120 km further" let's move countries 📦🚛✈️
I have counted the DISTANCE again that we traveled until DRUMNADROCHIT.
Last total from part 4 was 2972km/ 1846.7 Miles.
🚗✈️🚗✈️🚗 So we have traveled now 3057 km/ 1899.7 Miles and we are still not done yet 😎 let's travel a bit further…. 🚗✈️🚗✈️🚗
(Our adventures out locally around the stays are not counted in the total distance)
Will we continue over the road? Or do we get on a boat… or a plane again…. Nope… I'm still not telling you, you have to have a little bit more patience and find out soon 😉😎 very soon you will know where I ended up 🗺 I PROMISE
Let's go…. Here is PART 5 of our journey from 14 January 2023 🚗🚗
We took the following route west (kinda…) with a stop for lunch in INVERNESS and drove many smaller country back roads but also some main roads this time.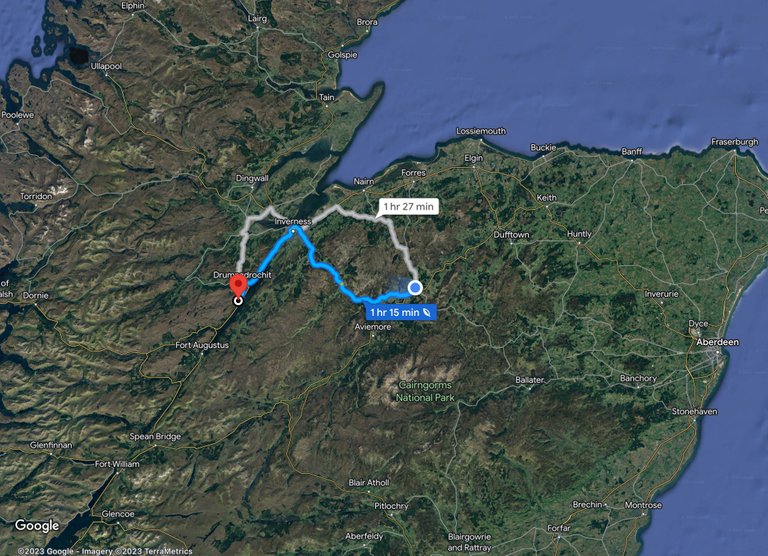 Leaving the little cottage… our road out of the town of Grantown on Spey it was 10:47h in the morning.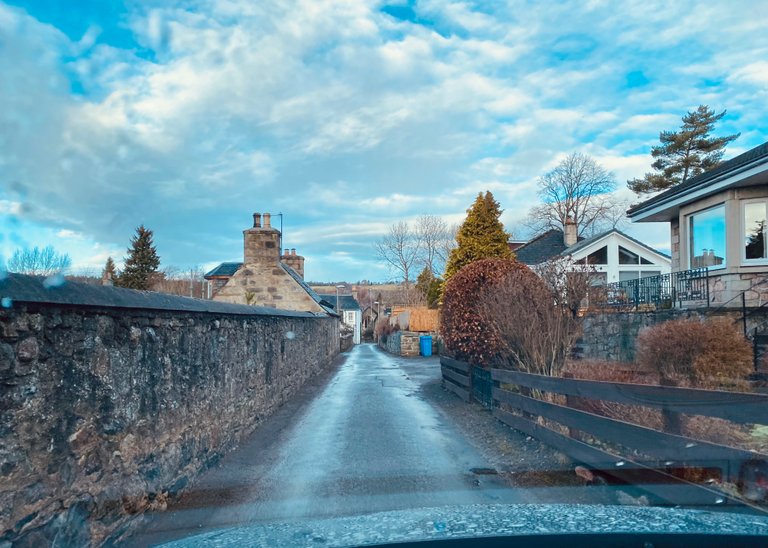 Not much later we saw these views 🤩 Look at the snowy mountains in the distance 😁 WOW so beautiful.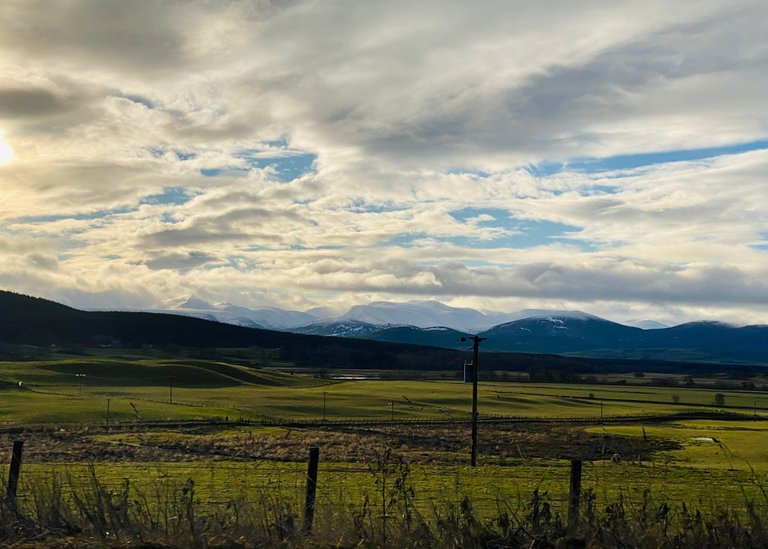 Zoomed out a bit for you. Can you imagine, we are heading straight towards those snowy mountains? 🏔️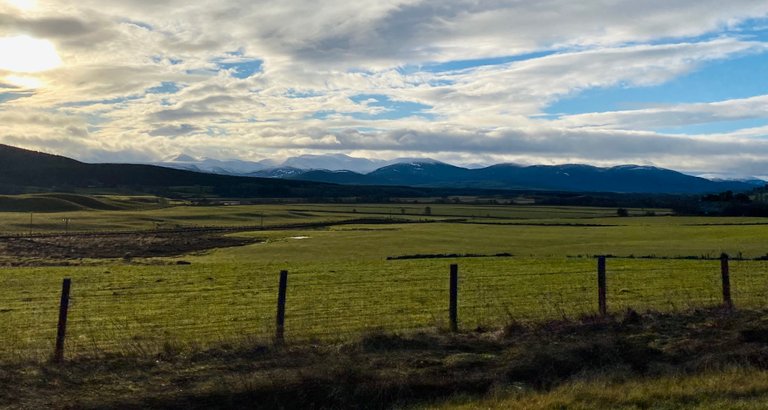 Yep… I'm excited and looking forward to the mountains.
The roads are rather empty. We don't mind 😊

The hills are covered in forests here 🌲🌲🌲🌲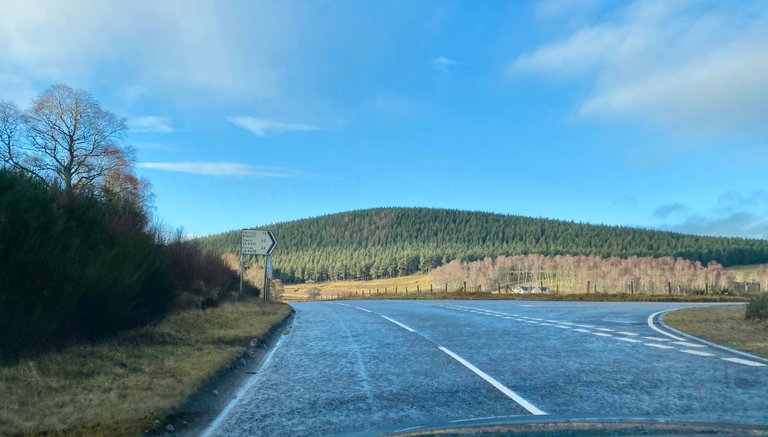 Some farms amongst them.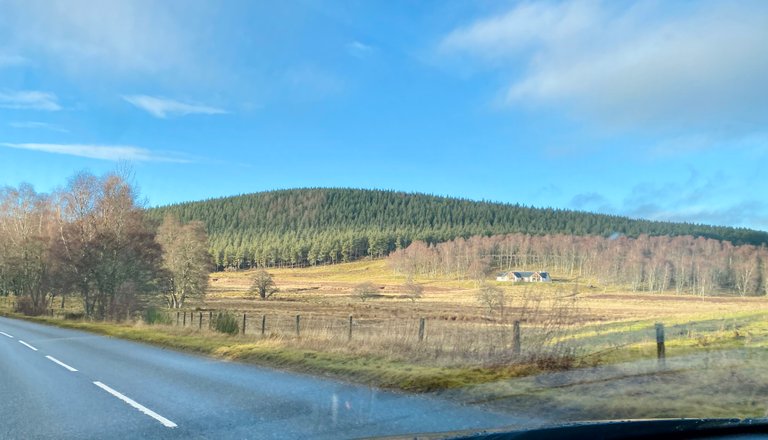 It's a pretty sight when we drive through the forests… the trees bare no leaves at the moment as it's still winter.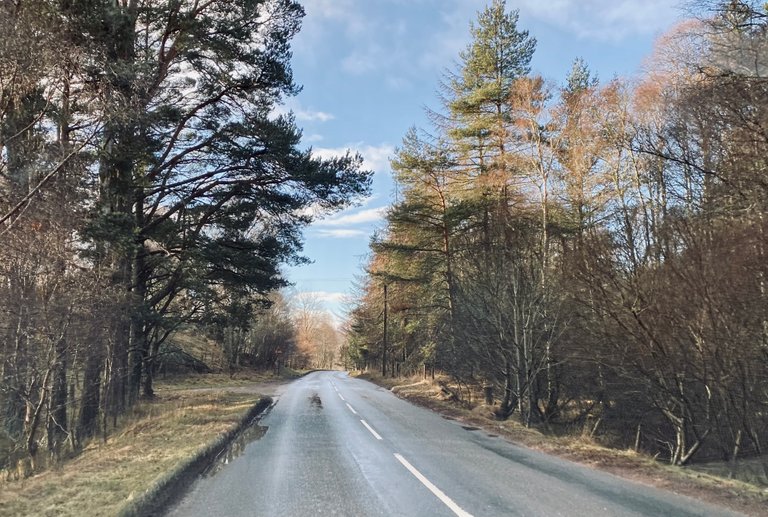 In a moment I saw next to me the light of the sun shining through these trees, and capture against the sun the following photo. The #shadow play is amazing… 😎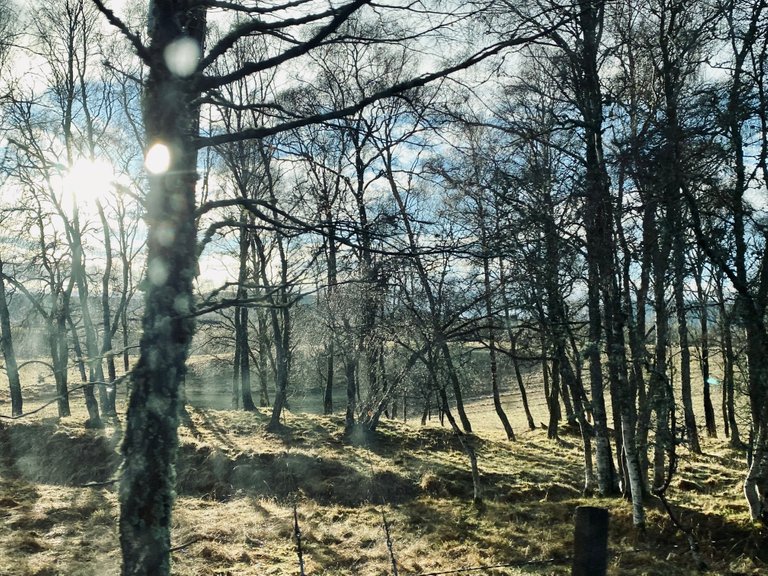 We reached the town of Carrbridge. (Of course we stopped here for some sightseeing… a famous bridge… I will show you another time 😁)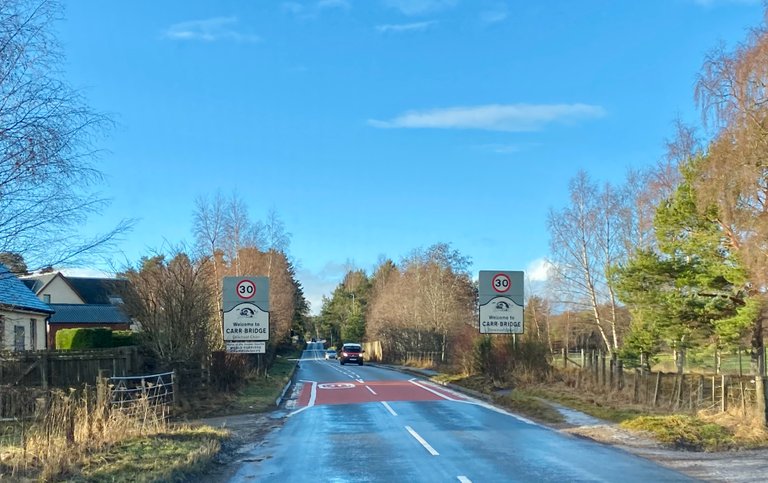 Driving out of the town we follow the road… I love empty roads that seem to go on and on…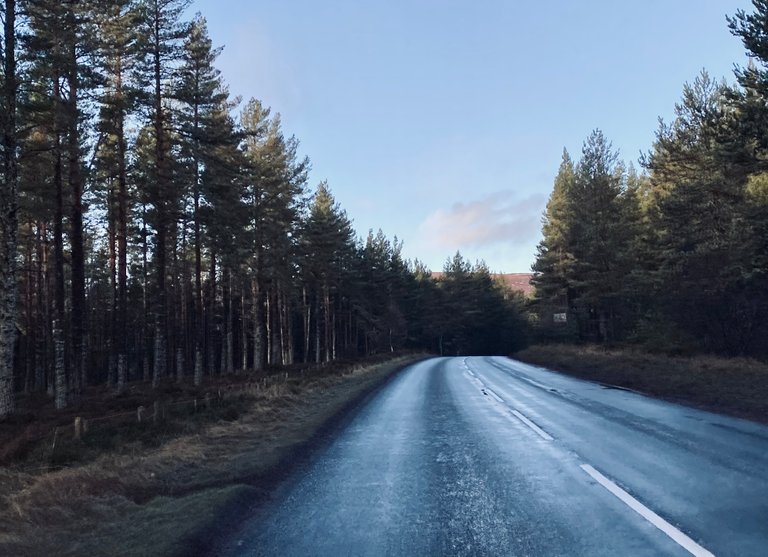 Going under a train track…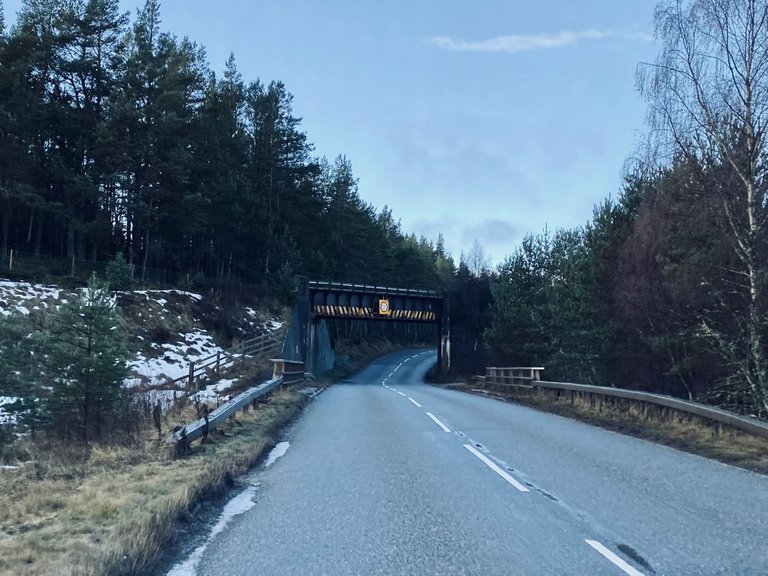 And we go right here to Inverness further. Of course I had to try and capture this photo against the bright sun… see the sheep 🐑 😉 they are still cute and everywhere.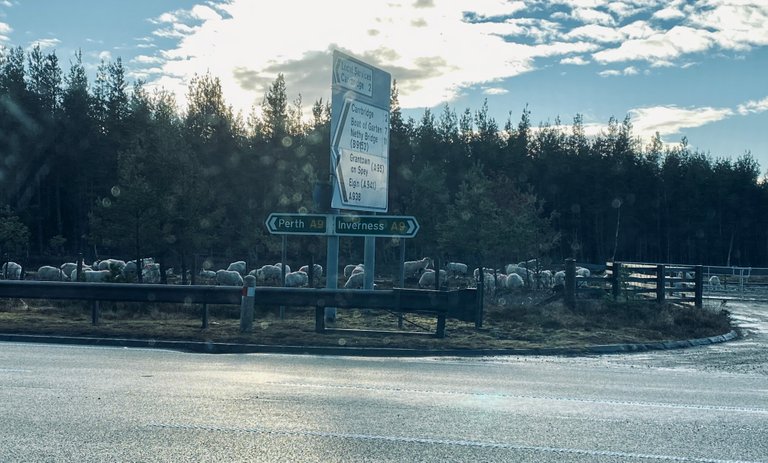 Inverness 23 Miles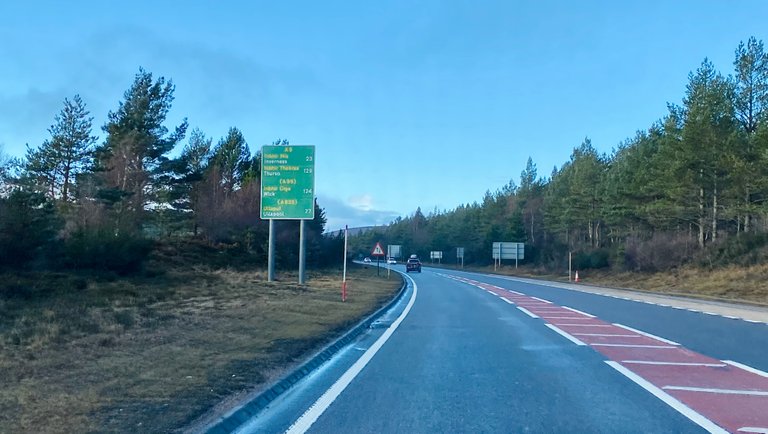 And we continue… 😊🚗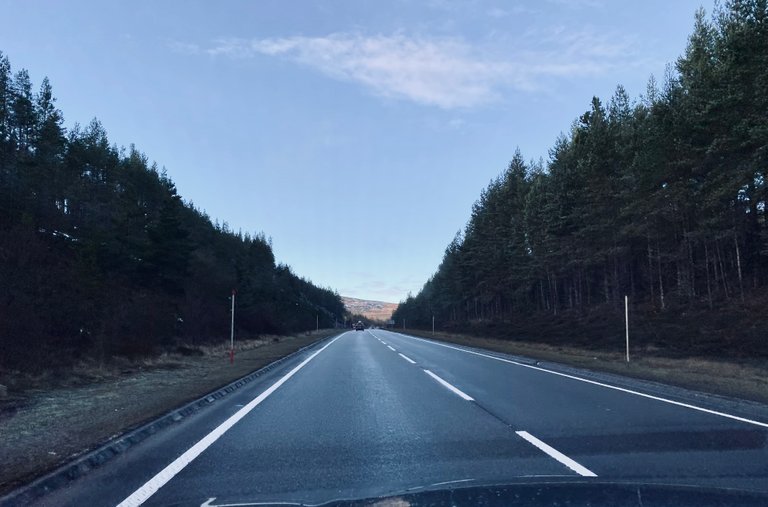 Closer to Inverness the landscape is changing again. It's a beautiful crisp day with clear skies… (at the moment 😉)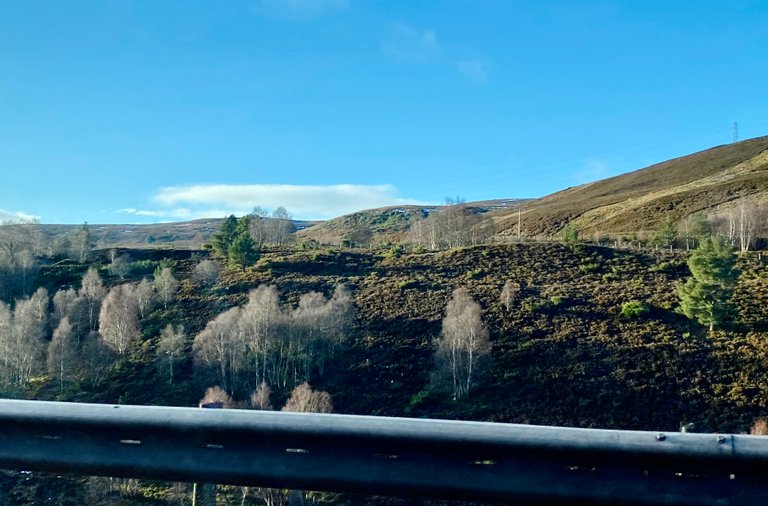 The road becomes double lanes… and more cars appear now.

We pass by this sign that tells us we are at : SLOCHD SUMMIT 1328 feet (405 meters) above sea level.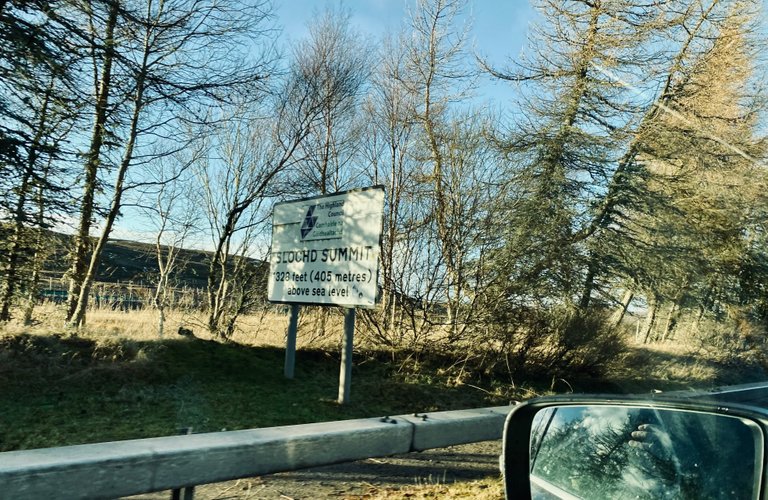 Suddenly road works appear and we have to slow down and only one lane is free to continue… this goes on for a while 🤓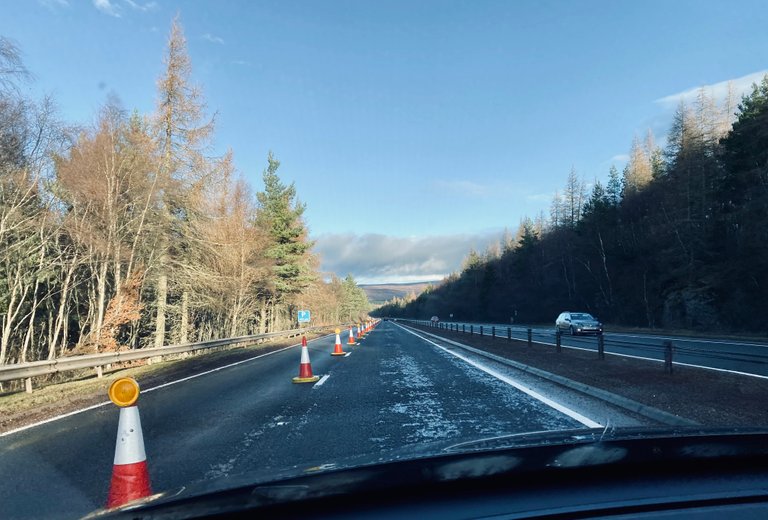 I capture a bridge through the trees, do you see it?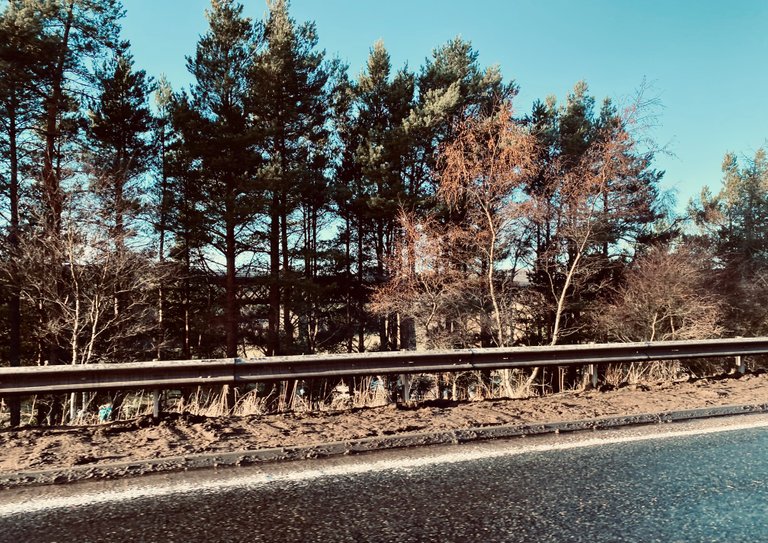 Crossing the river FINDHORN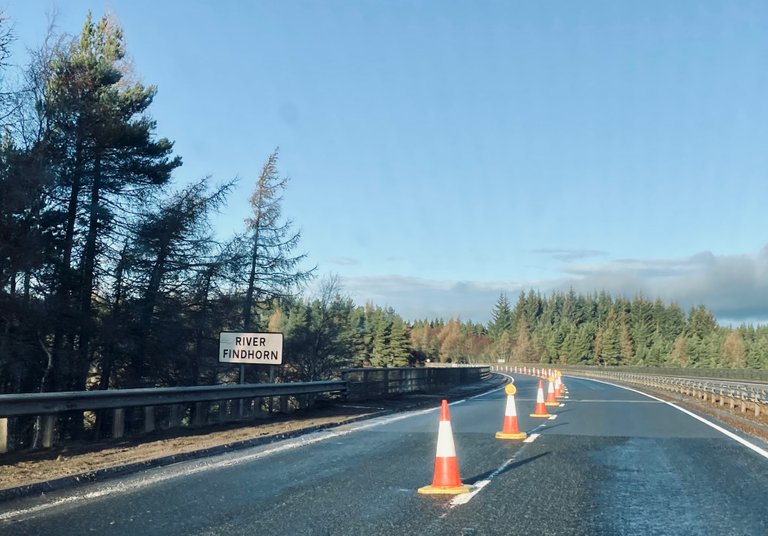 And we see this long bridge next to us.

Zooming out, we see the valley is beautiful and so green 😊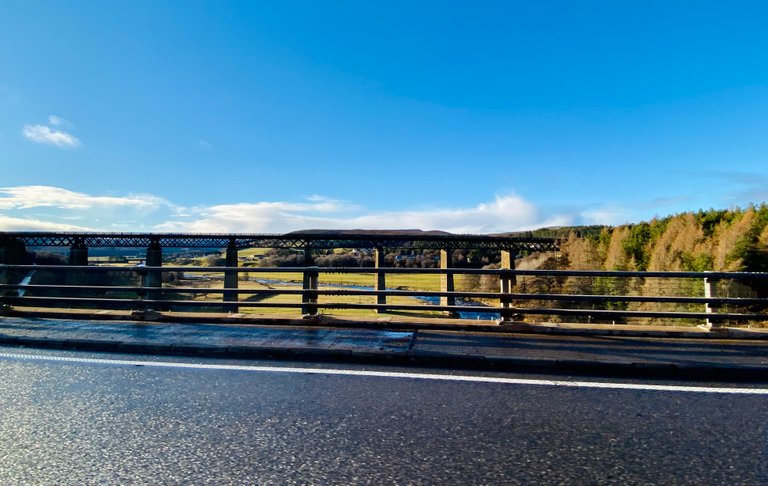 The end of the roadworks.

Let's go to Inverness… it's not much further. Looking forward to stretching our legs a bit. 😎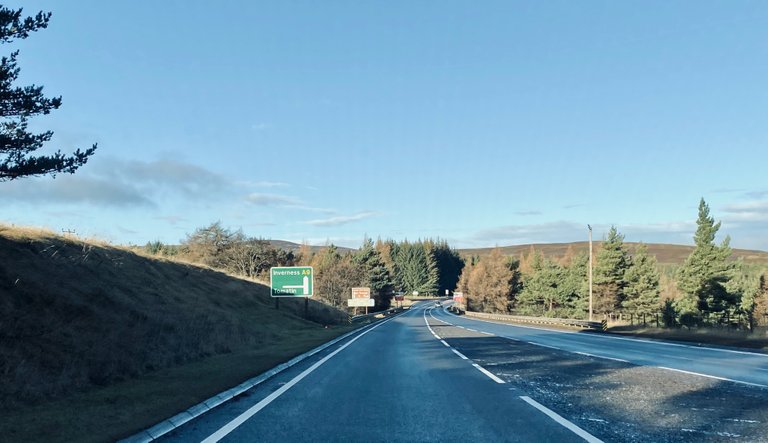 The scenery is stunning…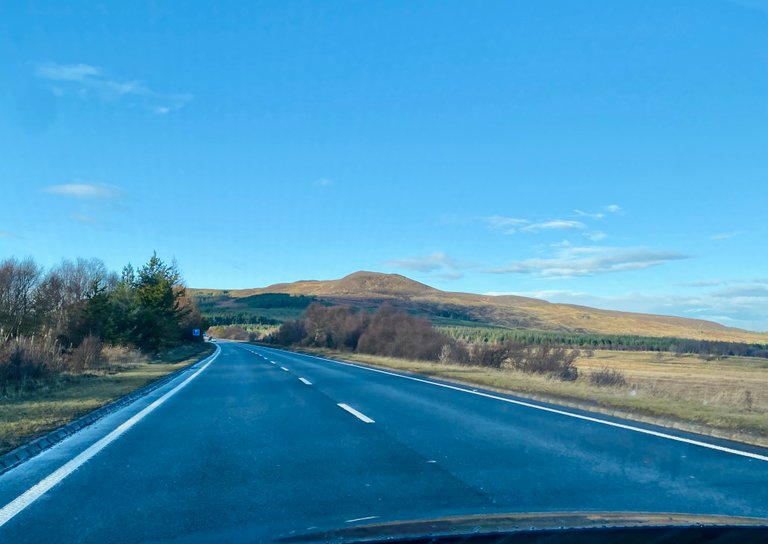 Going downhill…. Wwooohhhooooo 🎢 hahaha 🤣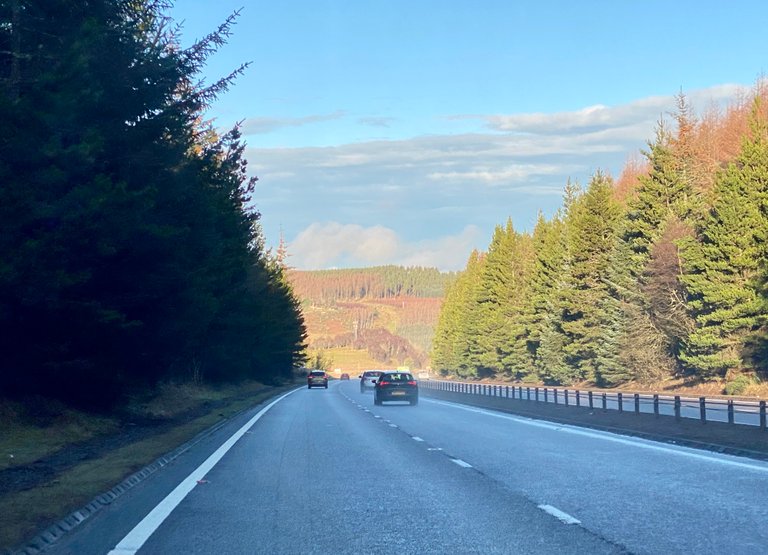 8 miles left…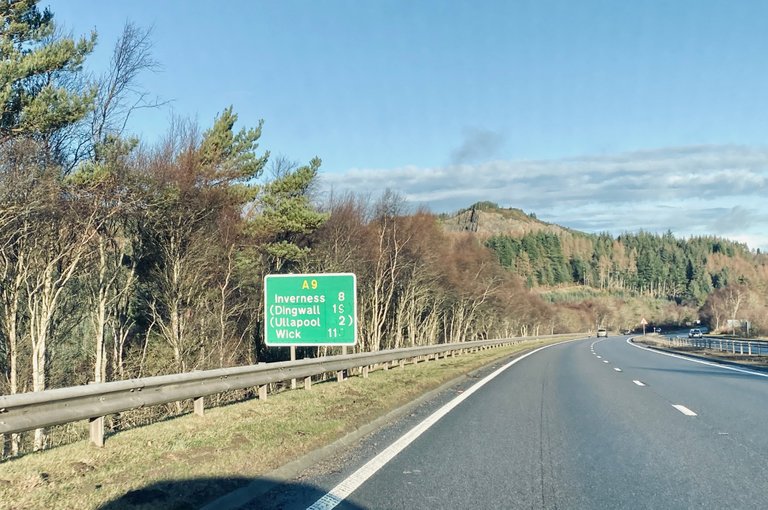 Passing by this beautiful church that pops out off it's surroundings 🤩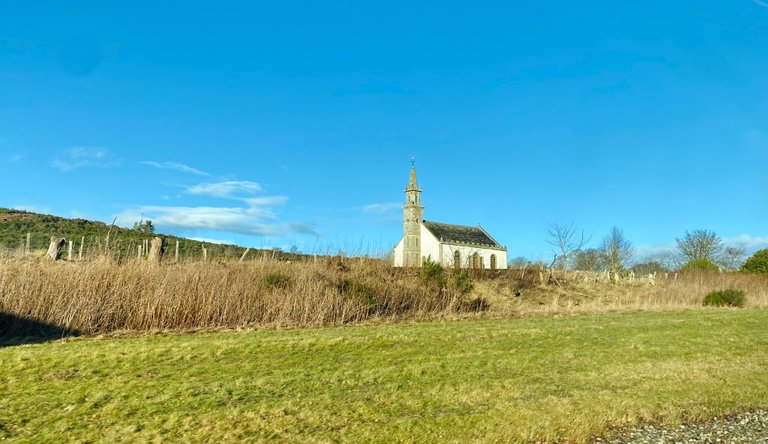 As we are very close by the famous LOCH NESS… it is sign posted already. 🦕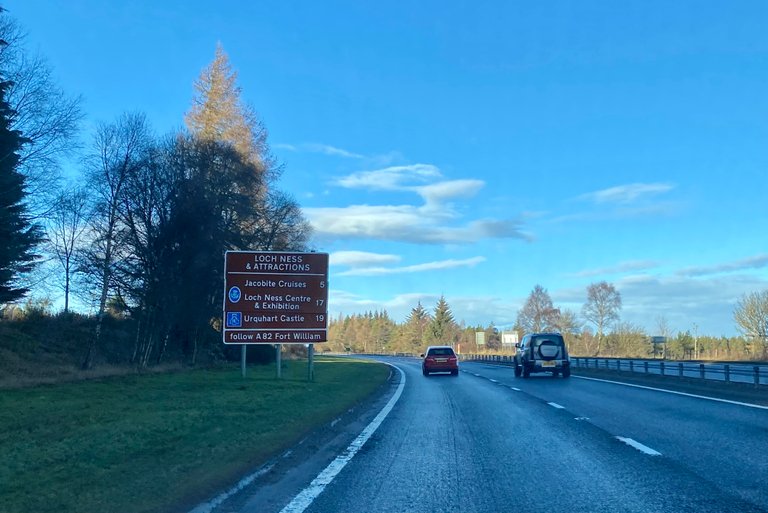 In the distance… snowy mountains 🏔️ do you see them? Yep… it's exciting to see snow after having lived in Spain 🇪🇸 the last 7 years.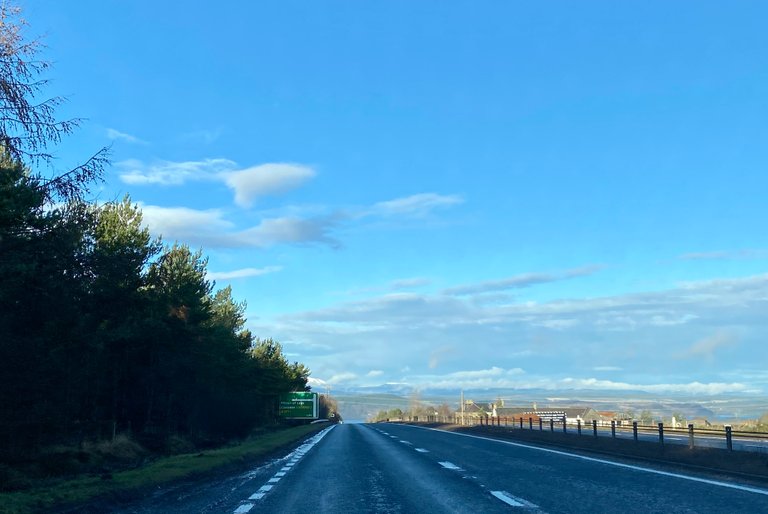 Going down the valley… darker clouds covering the right side.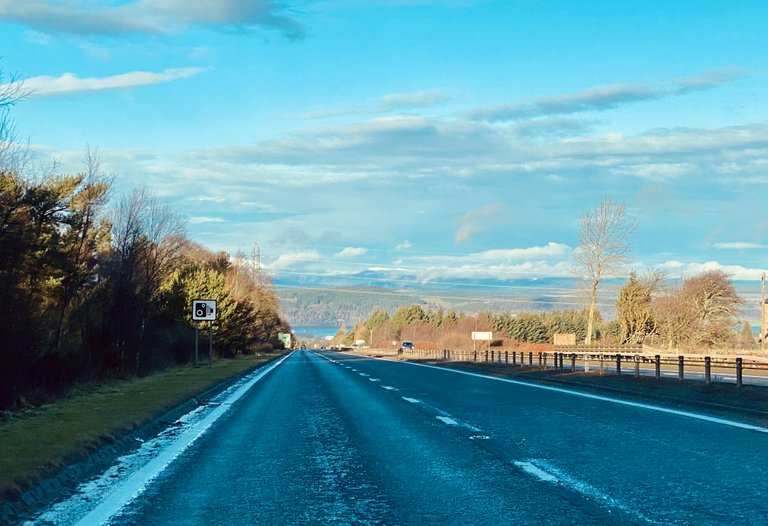 Entering Inverness.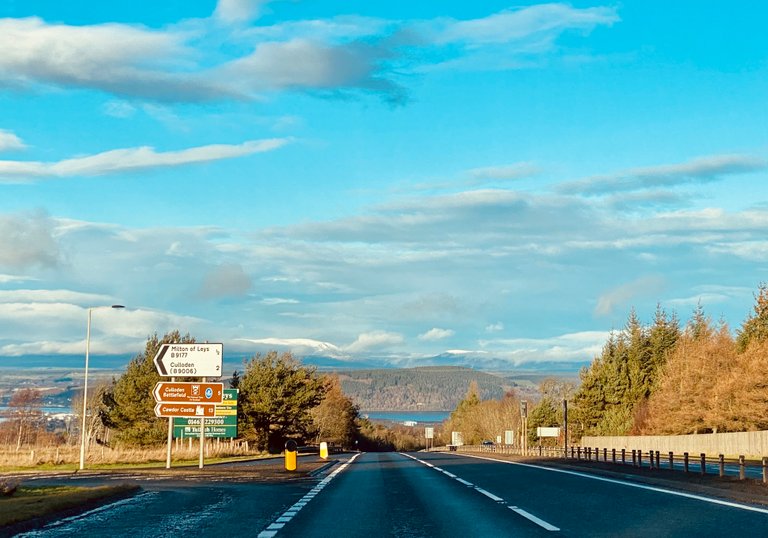 After parking the car 🚗 we start walking a bit. Stretching the legs and in search of a nice restaurant.
We stumble upon this beautiful bridge.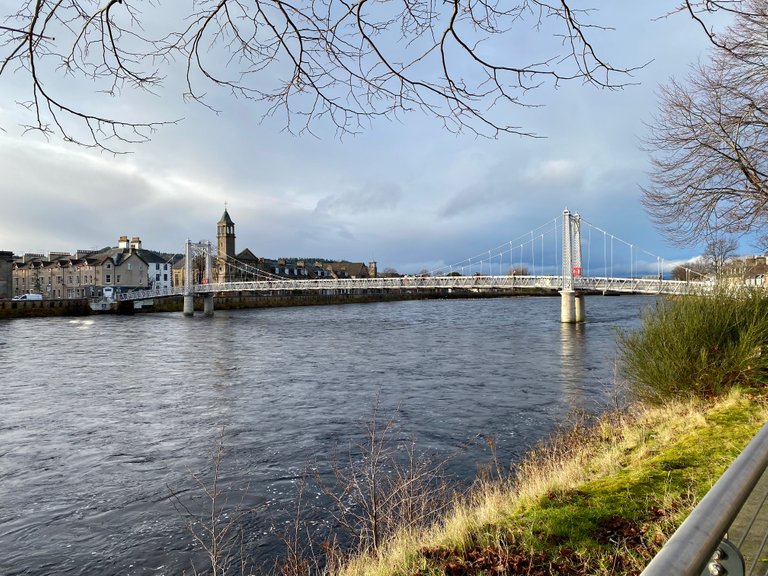 Look at it! It's stunning and goes all the way over the large river. Let's check it out: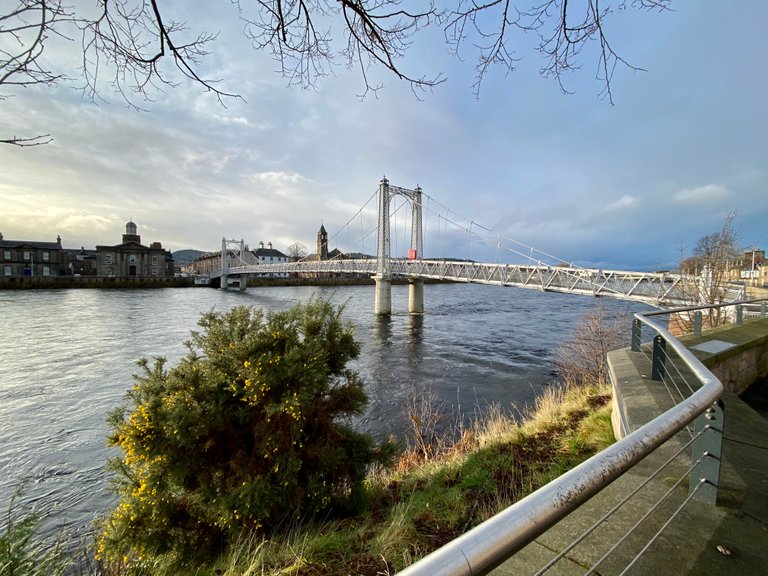 WHAT A MOMENT, don't you think?


Dark clouds on the right, the bridge… stunning 🤩
We walk onto it and it wobbles… hahaha 🤣 Oh my…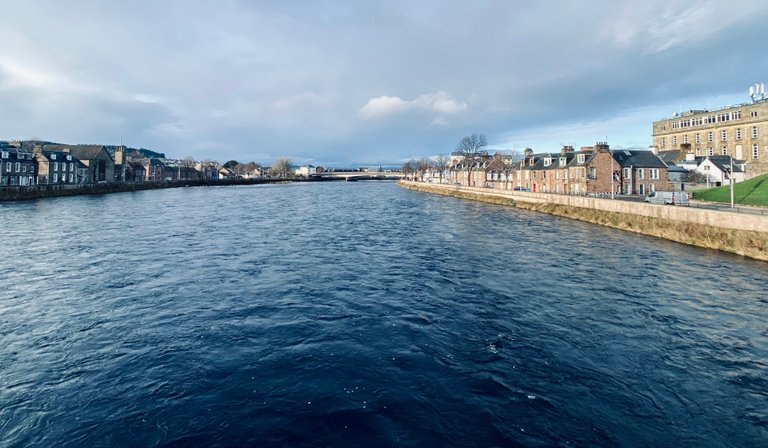 The views around us are stunning…
It's a suspension bridge.
I see the castle of Inverness in the middle of the photo.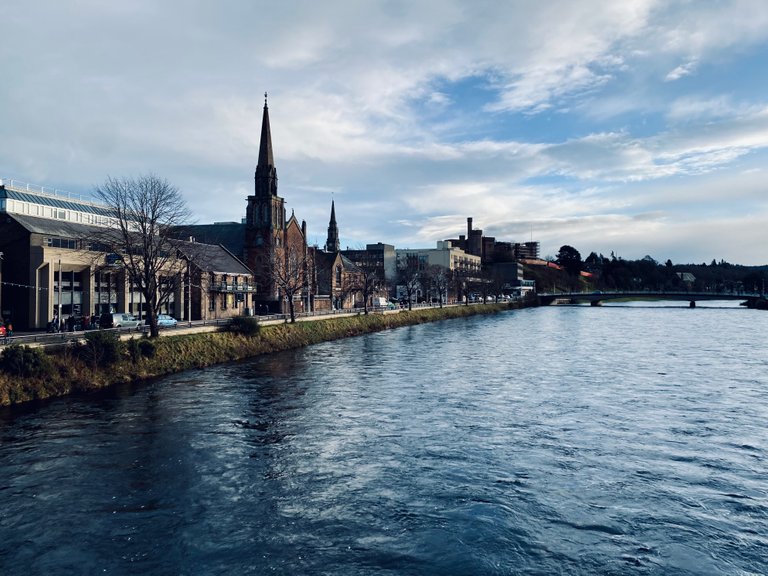 I'm not a fan of wobbly bridges… but it is worth it going on to this one.
See the city of Inverness… 🥰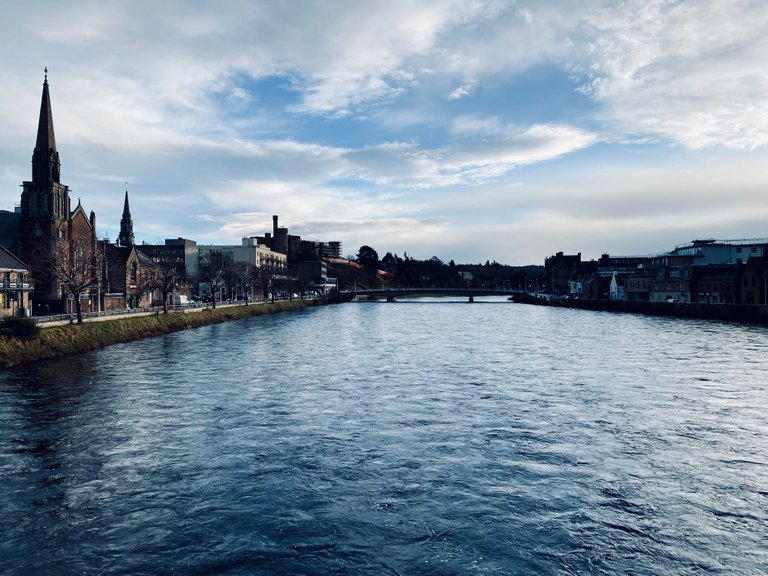 Walking back I capture this shot 📸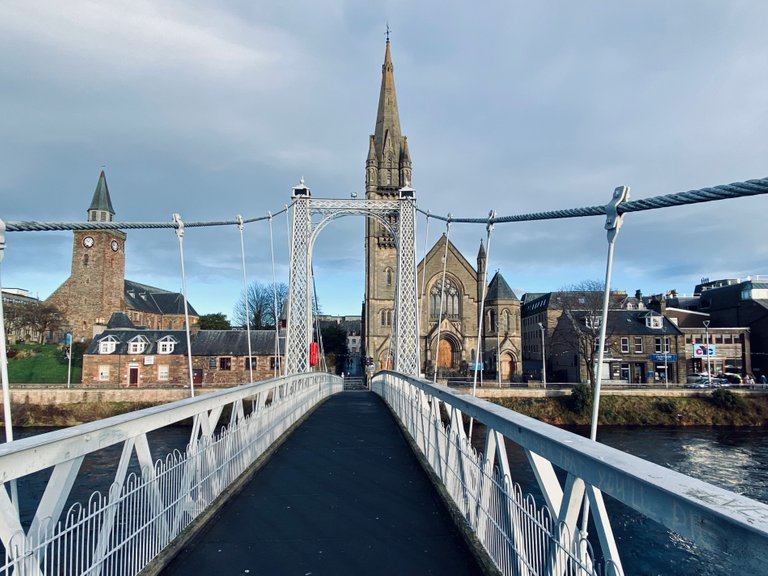 Walking through the centre we pass by stunning architecture and old buildings.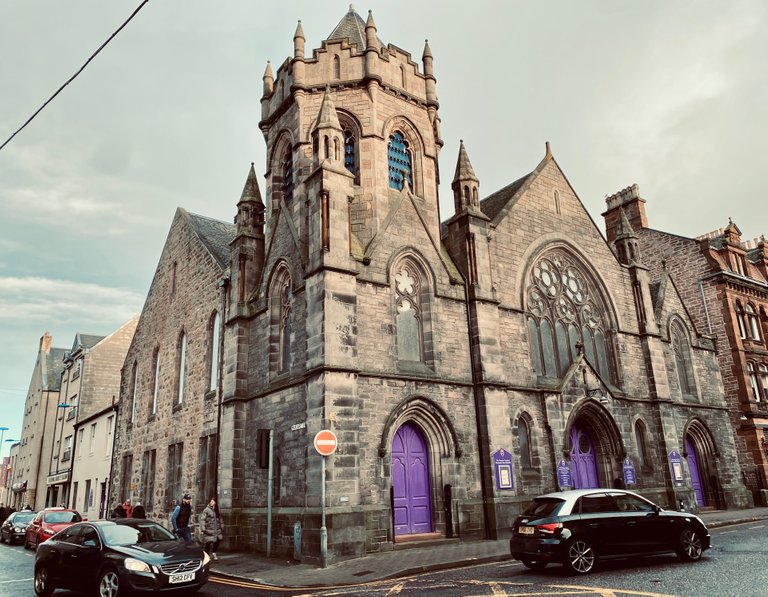 I won't show you too much now… as we still have some km's to drive. We had lunch and walked back to the car… 🚗
On this square we find this statue with an unicorn 🦄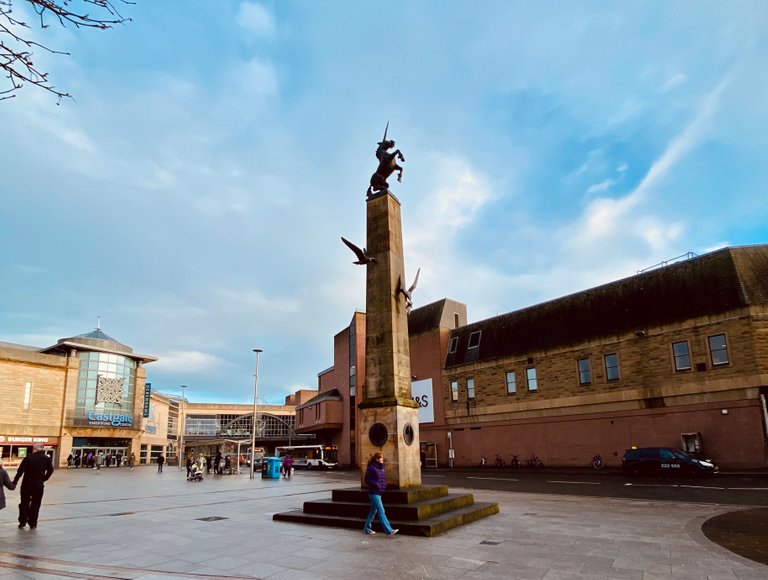 A beauty 🦄😎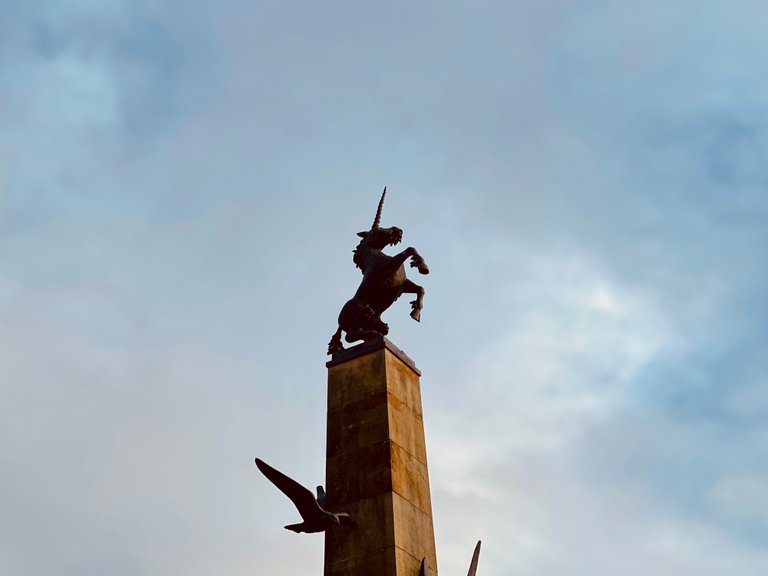 In the car we leave Inverness…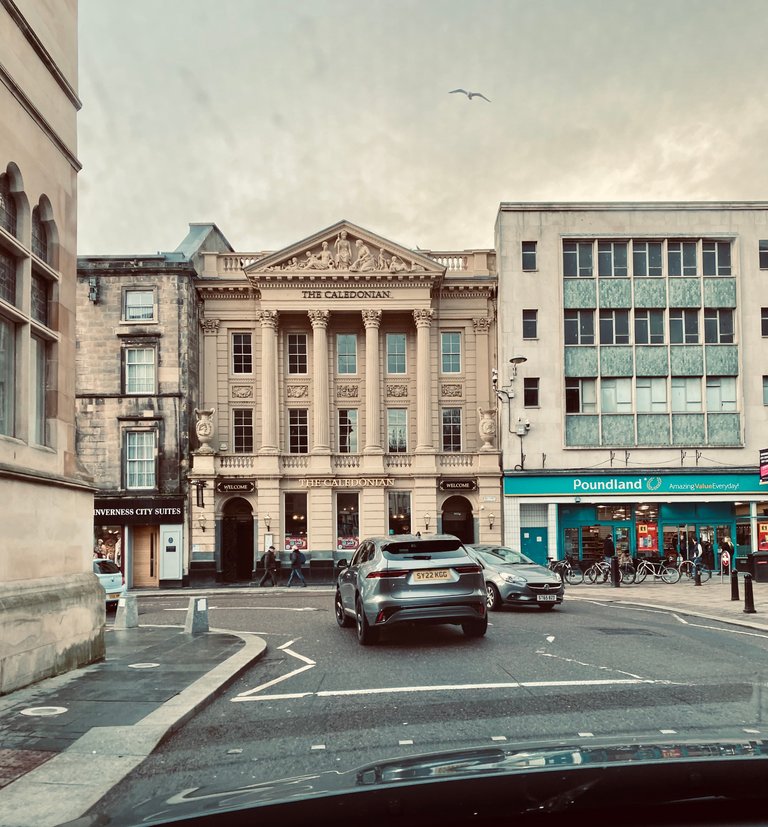 The clouds are getting darker and heavier 🌧️⛈️🌨️ we go straight on here and follow the Fort William sign.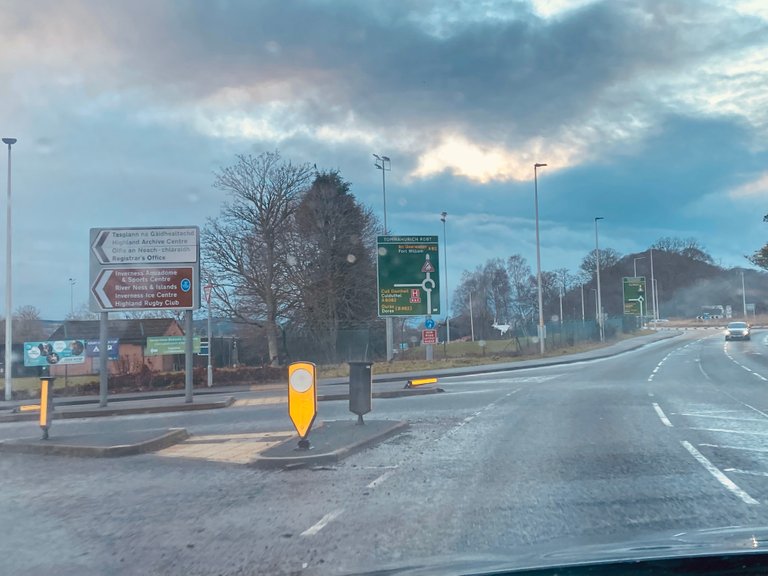 Crossing the CALEDONIAN CANAL.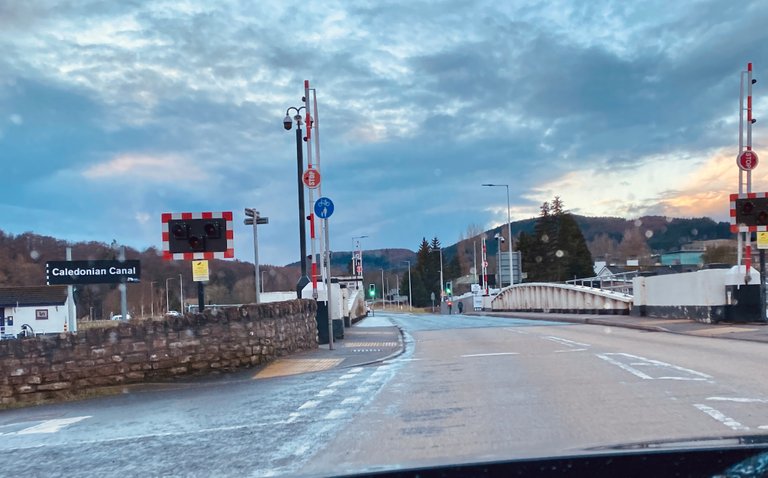 Here we go…

Drumnadrochit 13 Miles… so a bit further…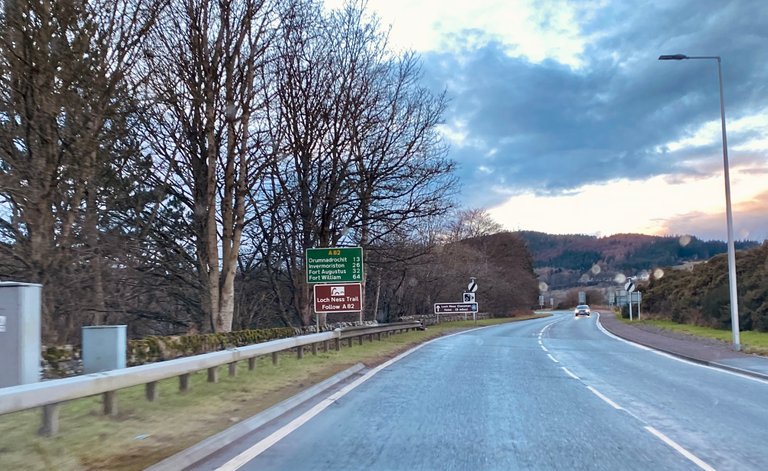 We start to see empty roads again…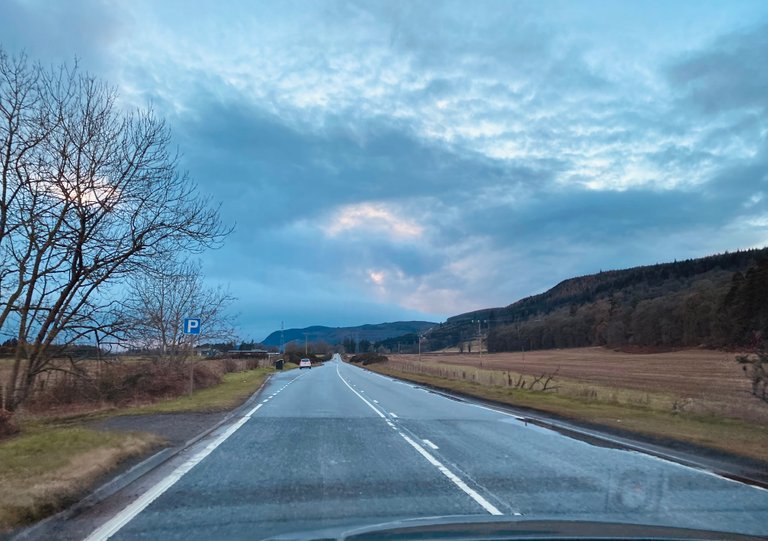 Passing by forests… 🌳🌳🌳🌳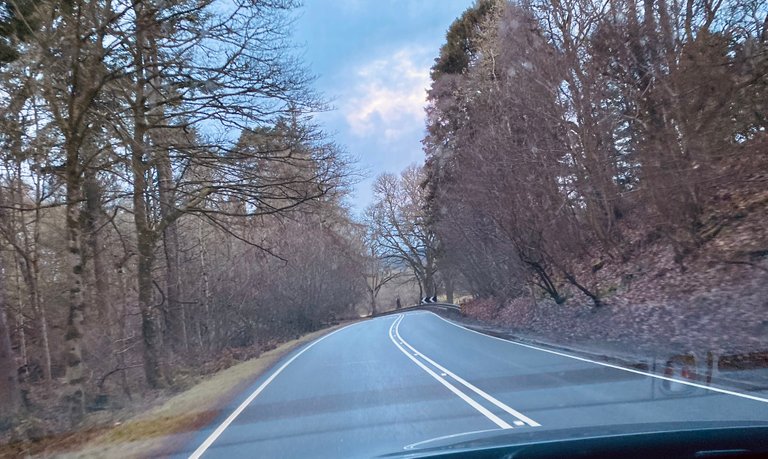 Loch Ness is starting on the left…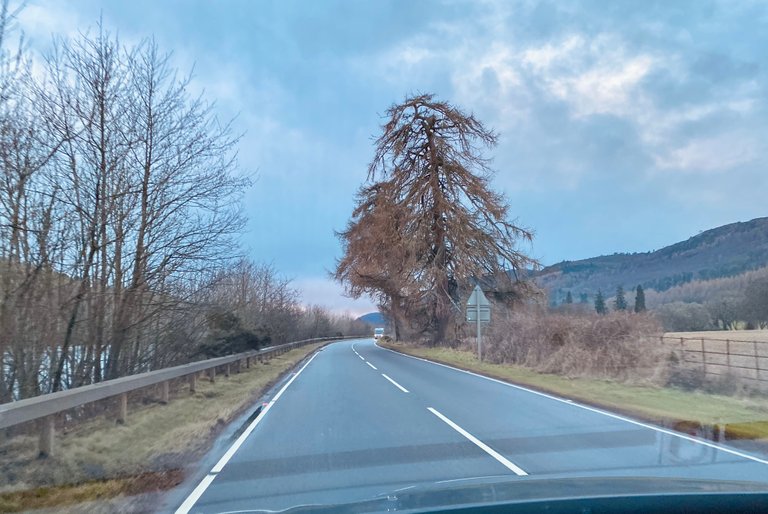 We see some pretty houses on the other side from it.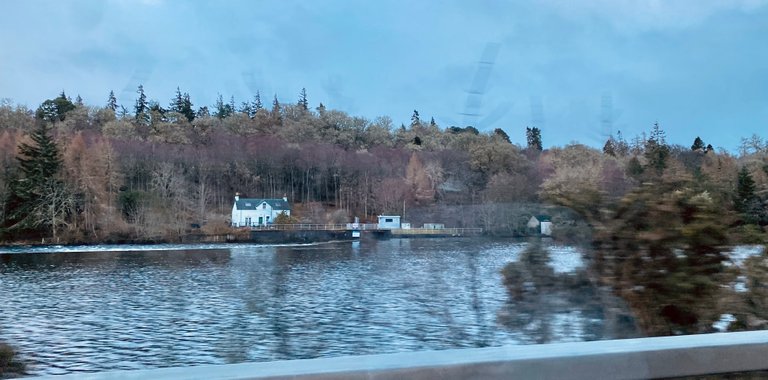 Suddenly water on both sides.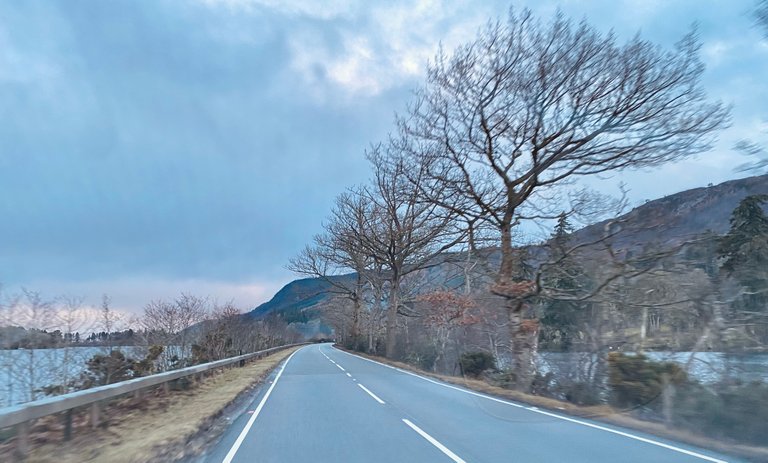 Don't mind the blurry trees… I was capturing the boats ⛵️⛵️⛵️ in the water. They somehow stayed in focus while we passed the trees… very arty I think 😁📸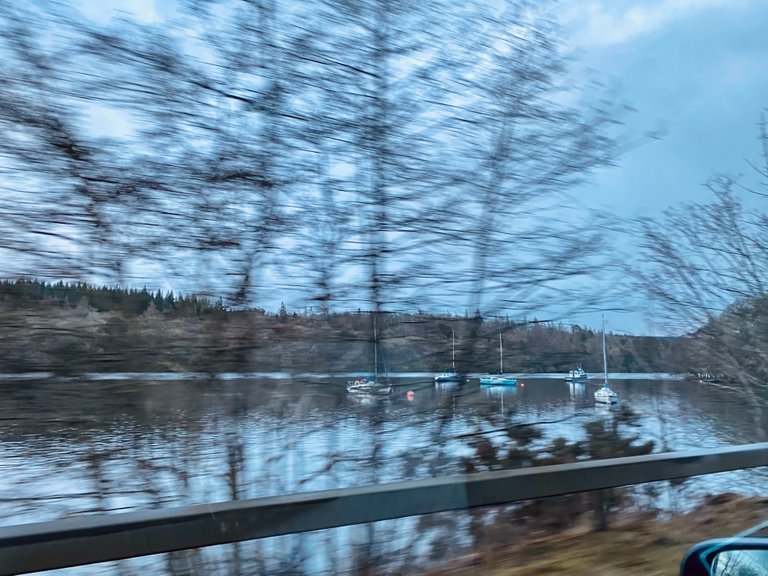 Official sign: WELCOME TO LOCH NESS 🦕🦕🦕🦕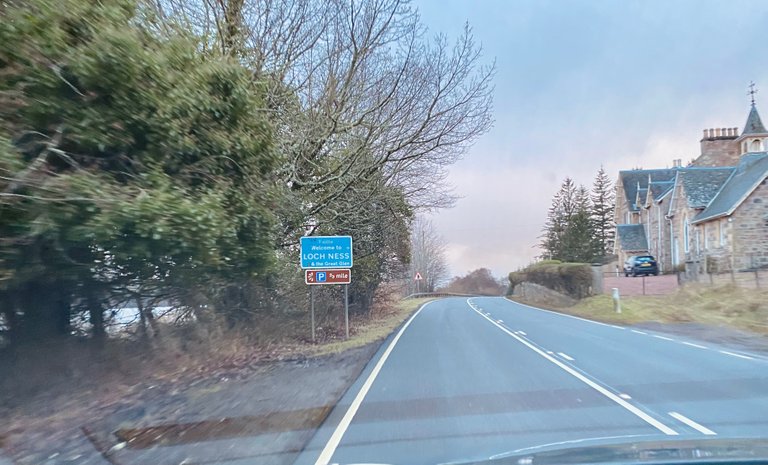 Of course we got out of the car in a parking 🅿️ and captured the setting sun 🌅 and the large Lake: LOCH NESS…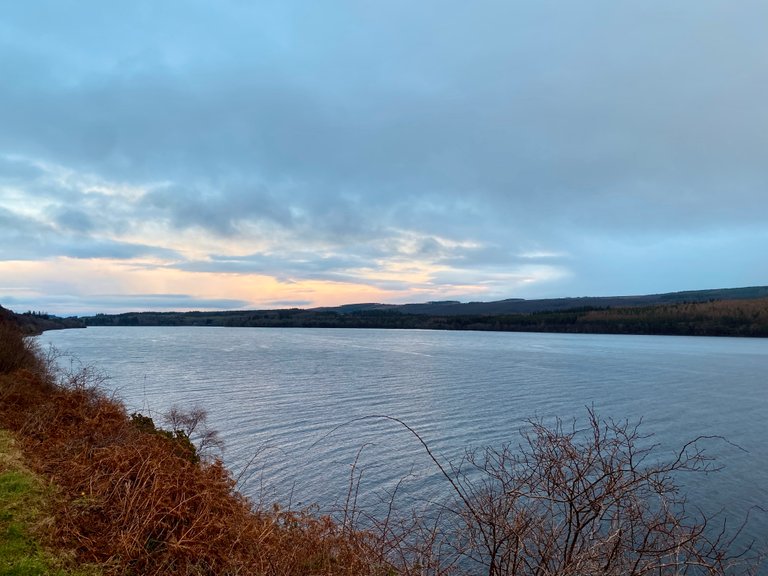 Looking to the right… all grey and foggy 🌫️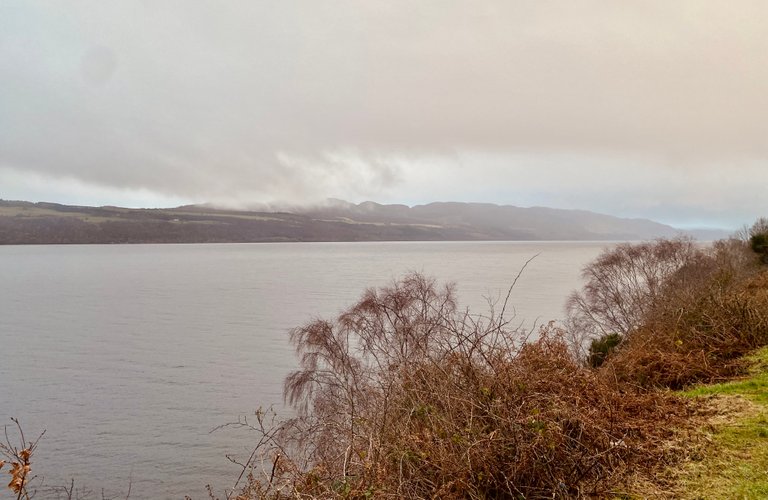 One more capture of the #sunset!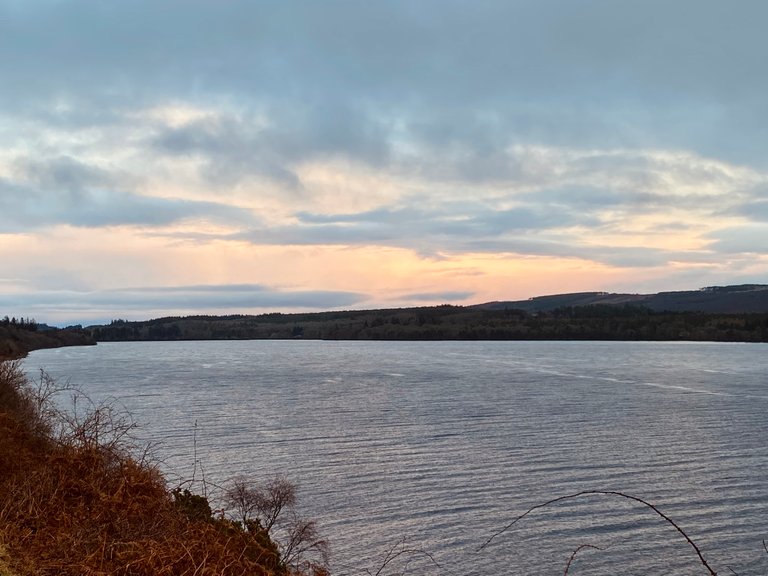 And here we go… of course it starts raining the last Km's… somehow it is doing that most of the time when we are driving to the next stay.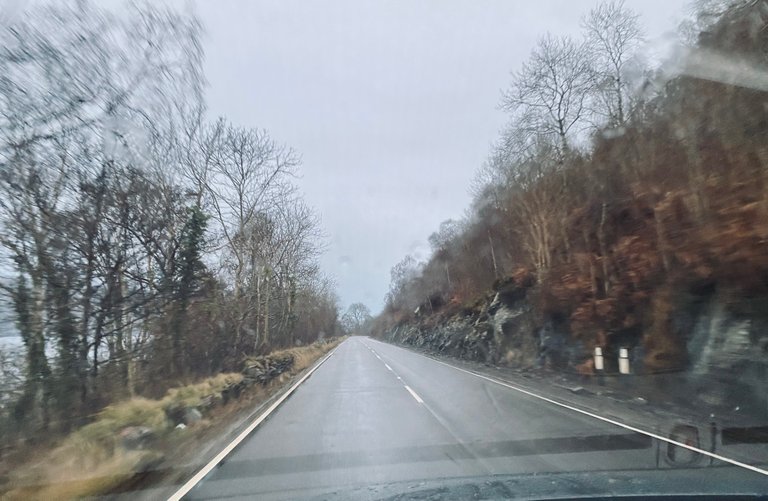 Sign Glen Urquhart.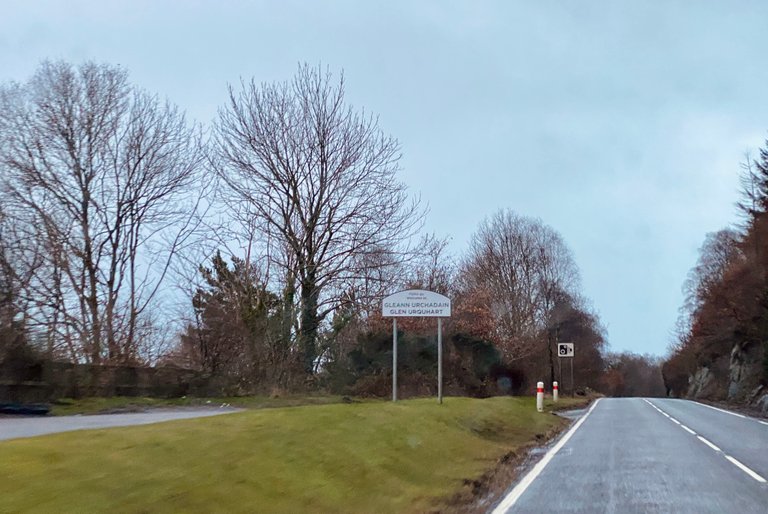 The scenery… I try to capture it before we can't see through the rain 🌧️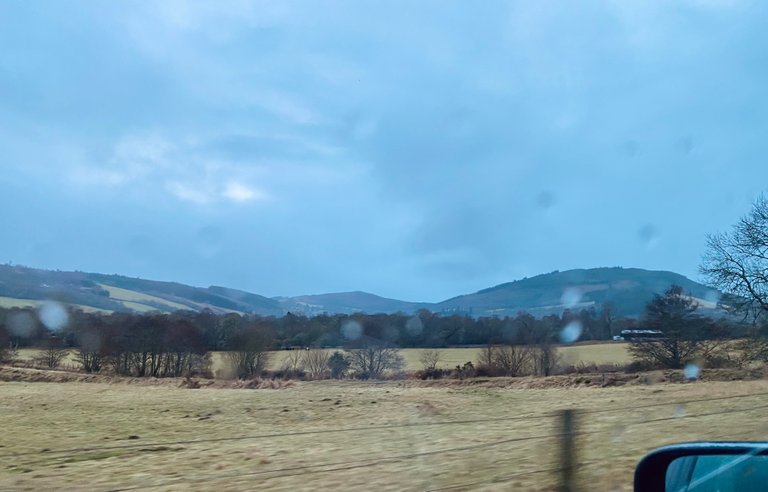 Entering Drumnadrochit.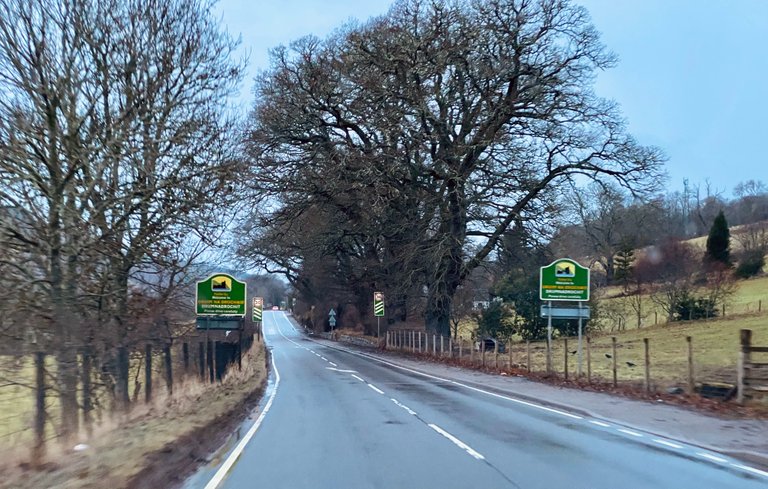 If you remember… there is no mobile reception here. So our Google maps didn't work. We thought our next stay was along the main road and we follow the lake for a little bit further after the town.
So we did… 🤔🫣
We see now everywhere… Loch Ness advertising.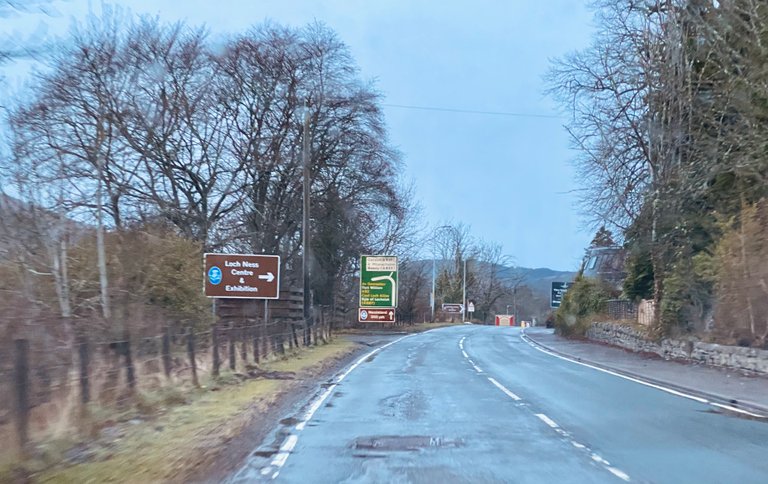 The museum of it is just on the right… sadly closed this winter for refurbishment.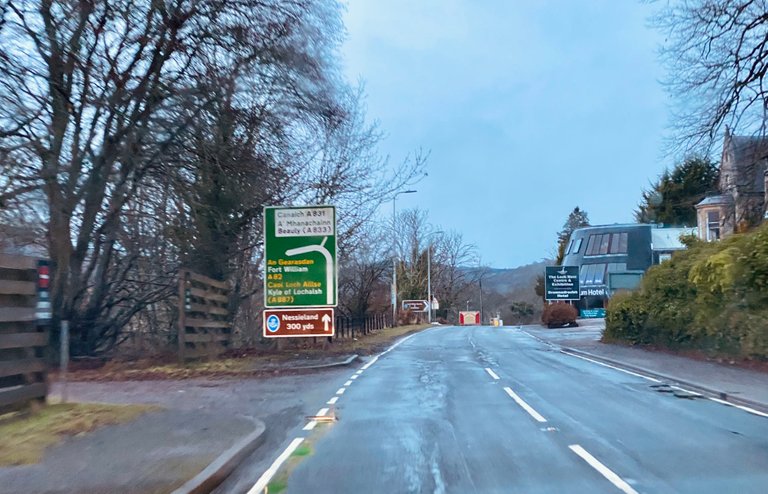 We drive through the town further.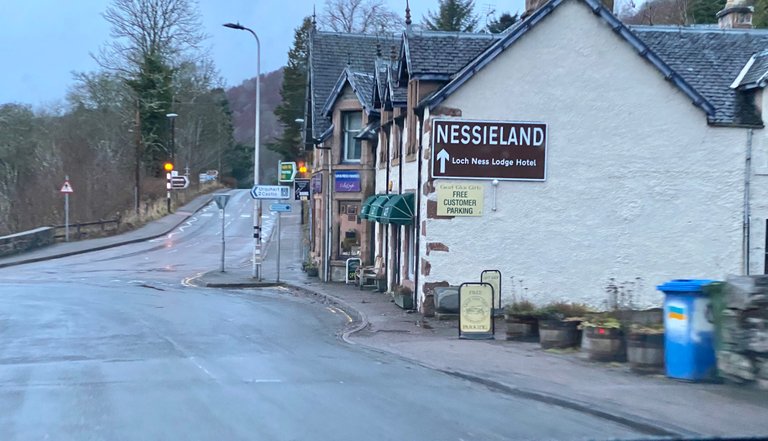 We go left….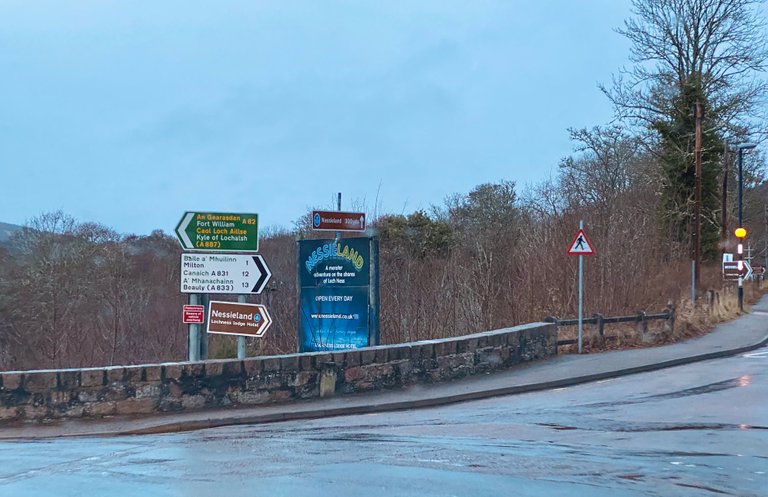 A bit further… until we are next to the lake again.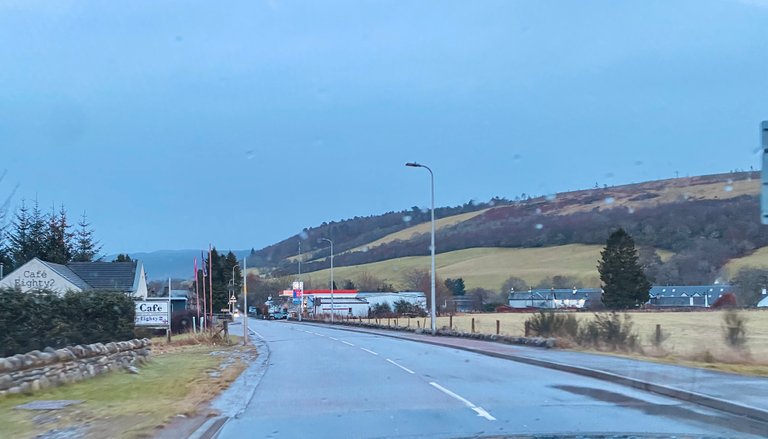 We pass by these signs on the right… SOMETHING FUNNY IS HAPPENING HERE… do follow along 😋🫣 I didn't know I had a photo of it at the time.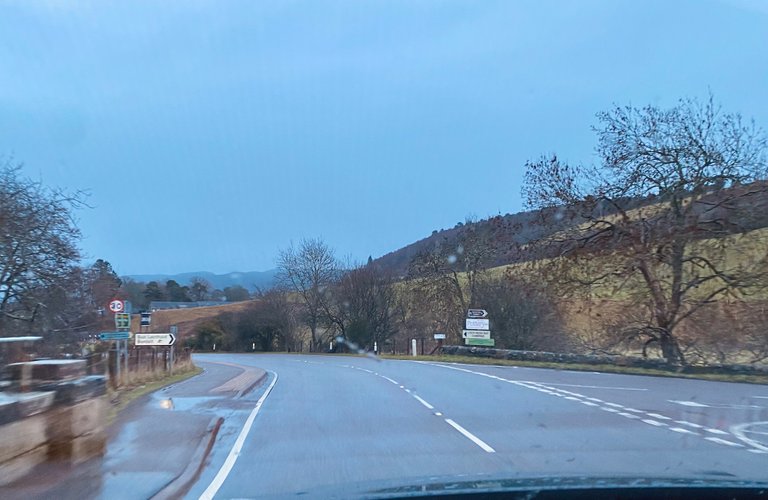 We see the lake on the left and follow the road along it until we find a road up the mountain… our view along the way.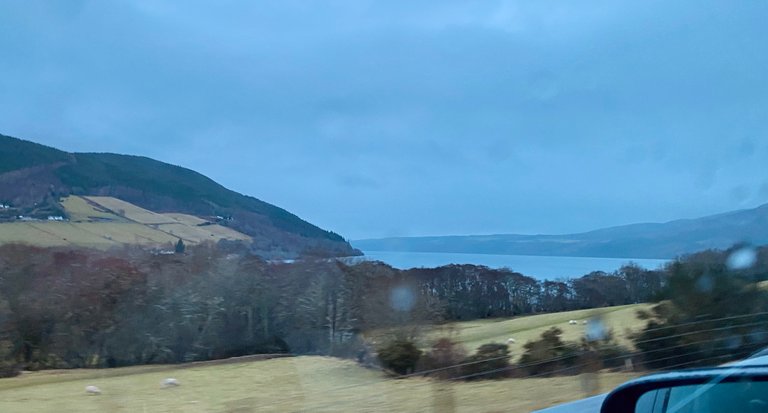 Beautiful 🤩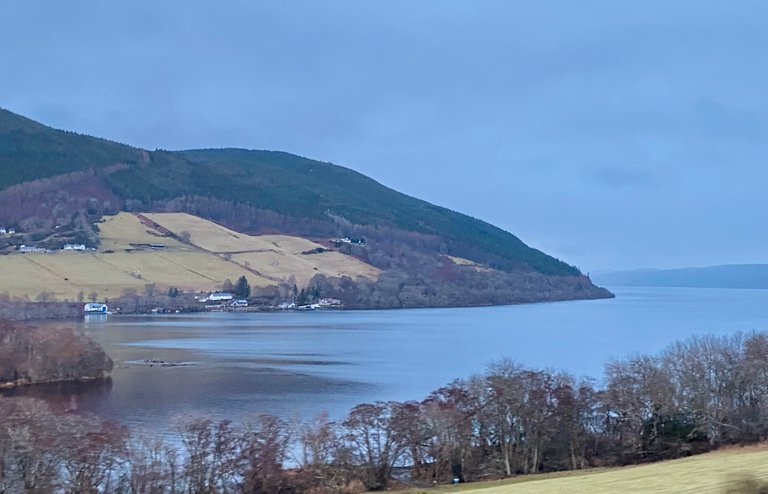 We drive and drive… the rain gets worse. And suddenly we reach Urquhart castle on the left. We stop on the parking 🅿️ We can't see the castle from here.
I think… the road should be here somewhere. But… it's not. We drive a little bit further and give up. We are heading back to the town and turn around.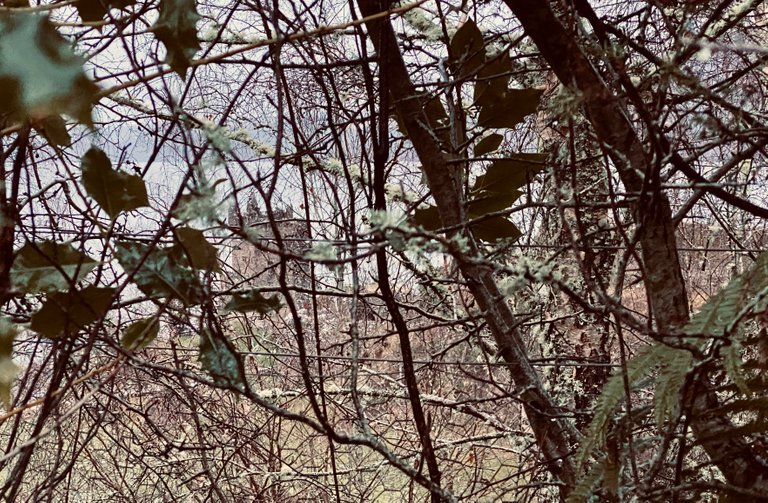 So with the limited maps we have… I try to see if there are other roads leading up the mountain and discover a small back road.
It leads up from the town Drumnadrochit. So back we go… and imagine this… it's a road up from that sign we missed before hahaha 🤣
So passing the sign, going up a very small back road… we continue our trip.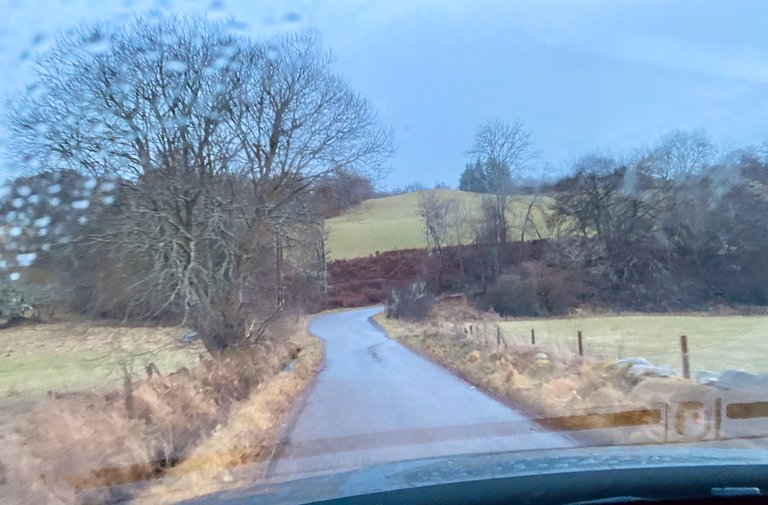 Next to us some sheep 🐑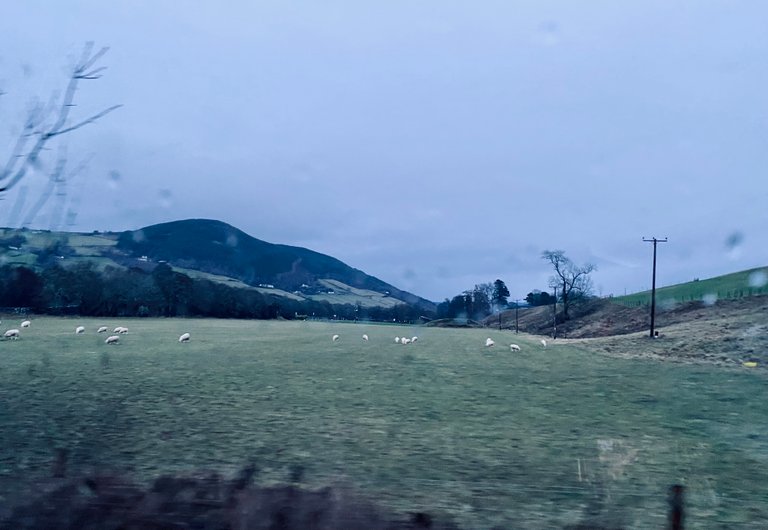 The road is more a small track and there are passing places if there would be another car.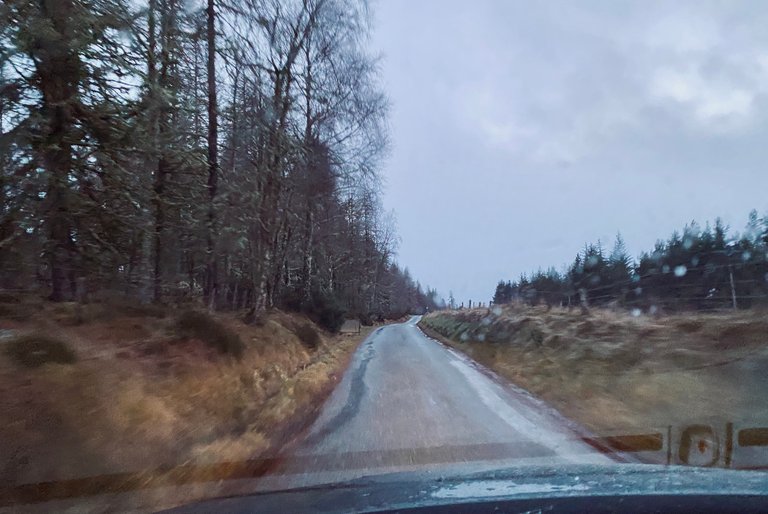 The road is long… and we just follow and follow. Nothing around us anymore.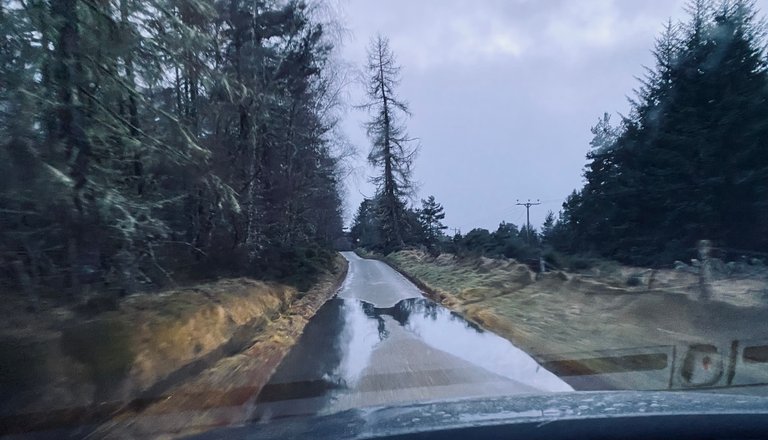 We go fully remote here. No signals on our phones. The sky is getting darker and the rain heavier…

But… we made it. In the middle of nowhere. We found the location. With some wooden cabins. The crew wasn't there anymore and the key we found in a lockbox. First thing we did was light a fire… as the temperatures are around freezing 🥶 so it was cold inside.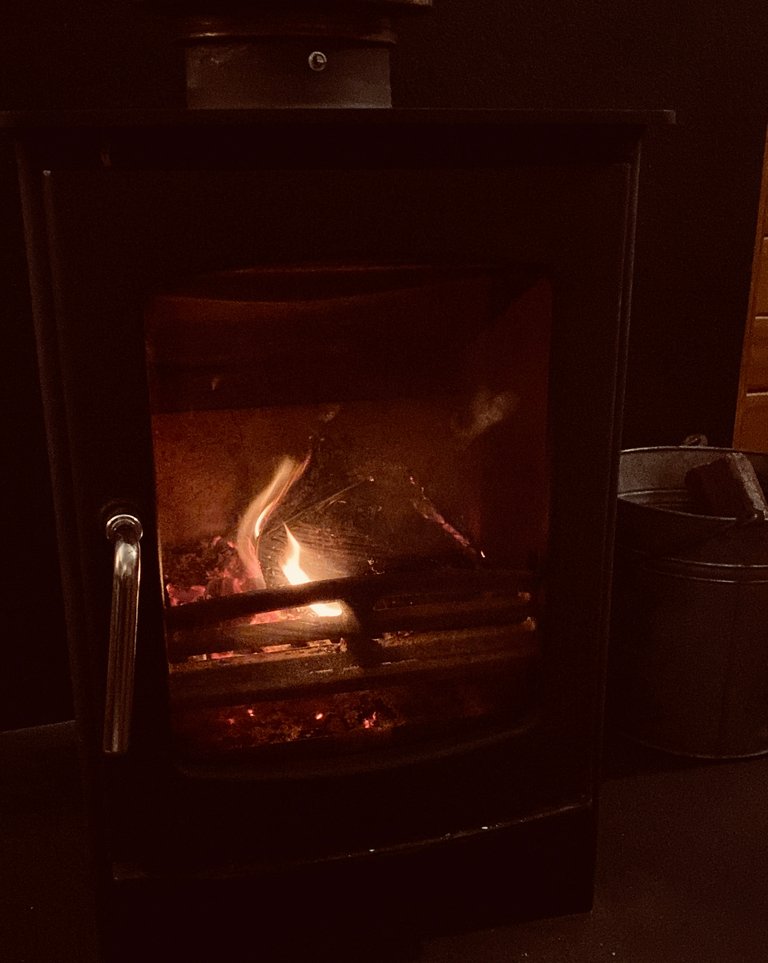 It took a while for the cabin to warm up…
But we made it. And our adventures continue.
The next morning I take some photographs of the cabin (s)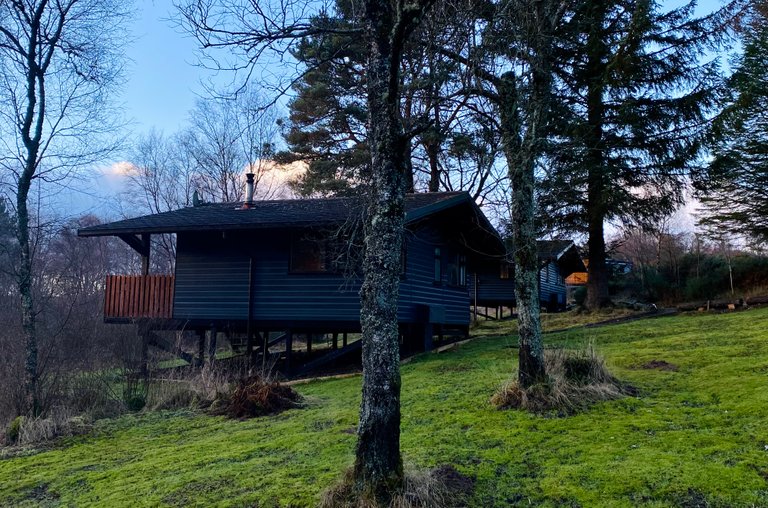 Here they are @jacoalberts 😊 the wooden cabins on a remote mountain.
I will post the cabins in the snow in another post, otherwise this one would be wayyyyy too long. 😉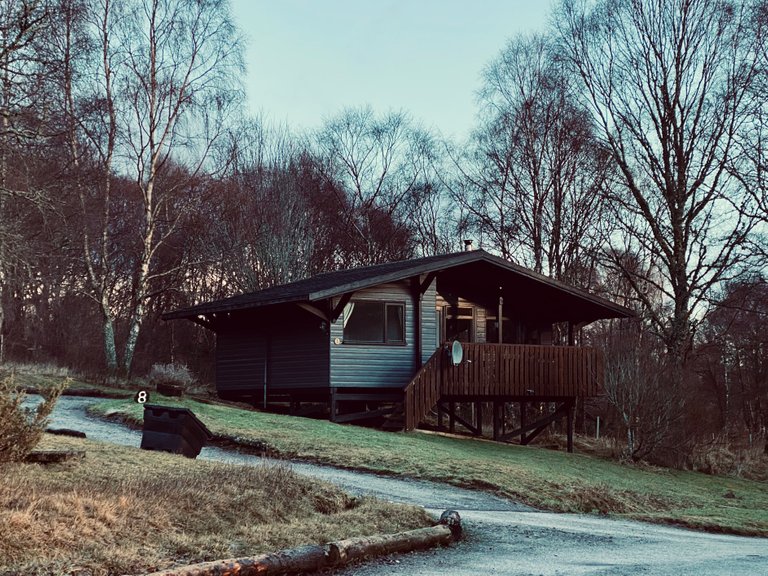 The views the next morning were stunning as when we arrived it was dark already. So a nice surprise.
Only 1 other cabin was occupied… who would go into the mountains in the winter into a remote log cabin… hahaha 🤣
YEP… I DO… 😎
Walking around I discover the window of the car… all frozen 🥶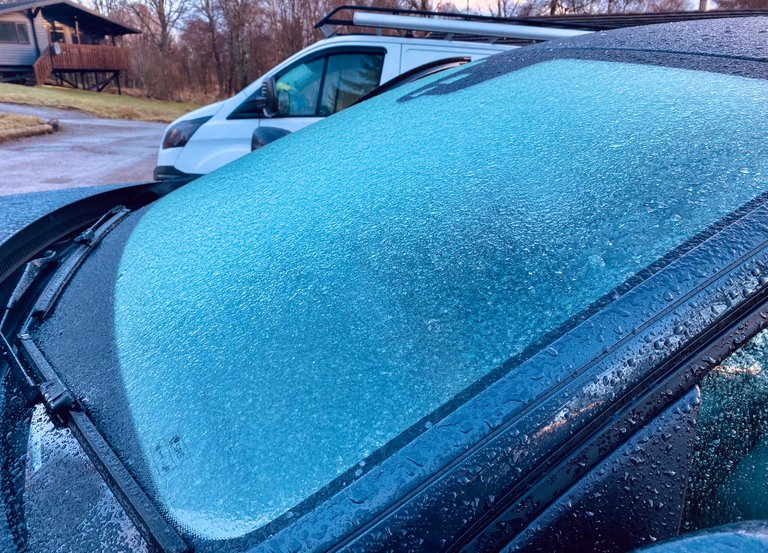 It was a stunning location. Even in the winter.
While we were there the weather turned fully…… we were surprised with this… snow… and truly freezing temperature.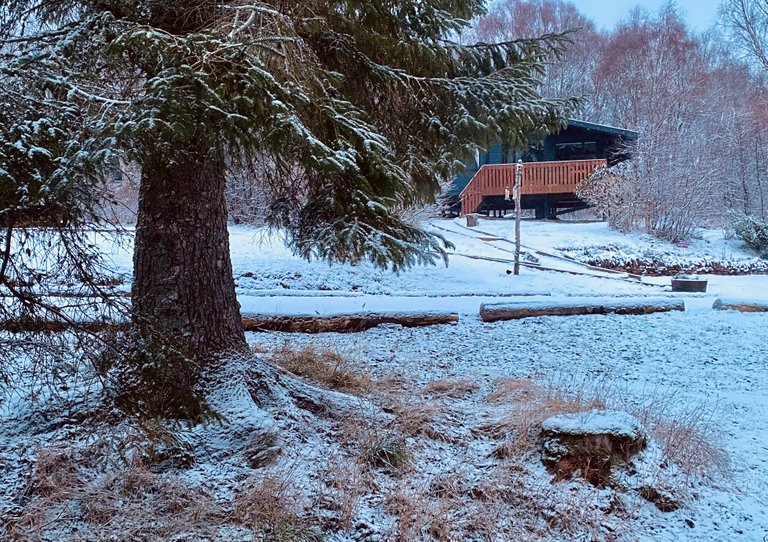 That day even more snow would fall and would make our next trip on the 16th a true adventure… 😳 do look out for it… if you don't want to miss it.
It will be winter wonderland ☃️☃️☃️☃️
My next update @wrestlingdesires and @joetunex
And that's all for today's post. Hope you enjoyed reading up and seeing another update of the road trip that is part of our transit between moving countries 🗺 Spain 🇪🇸 and …?
Not many parts left now 😇 the excitement 🤩
Until my next Post! 👋🏻😎 are you joining me again soon?
Thank you for looking and reading 😊 🙏🏻

#ecency banner by @irisworld
Any questions or comments, let me know. Always happy to help.
Have a great Thursday all 😎
Grtz Jackie
The divider by SilverFish / mondoshawan
Unless stated otherwise: All art and photos used in my posts are taken, created and owned by me. If you wish to use any of my photographs, please contact me first. As I have used some commercially myself. We don't want that you or somebody else gets into trouble 😉 So please don't use them without my consent.
🖼 My PRINTSHOP: for the purchase of all kind of prints in many sizes from my Artworks 🎨 and Photography 📸 Which come on different objects too. Have a look in My Prints Shop!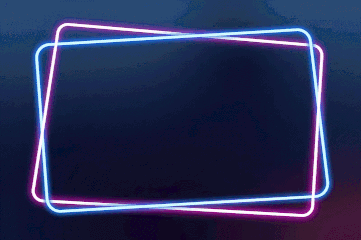 #ecency banner by @irisworld