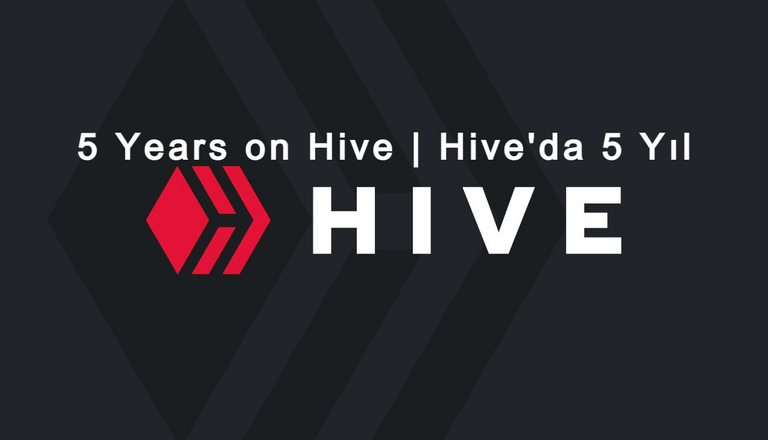 I was surprised when I saw today's date. Ever since COVID-19, it has been quite challenging for me to follow the weekdays, weekends and the overall calendar in general. Nevertheless, when I checked what date it was today, I realised... it has been five years exactly since I became a member on Hive.
It was a rough first year, registering during the first crypto boom. I managed to explore a different world, not a world of just having coins for the sake of having coins, but to also invest "them" pretty regularly in the form of staking. In my first year on Hive, I had different experiences and fun. Albeit short, since our blockchain had a different name back then before the hard fork and a different operating structure. After some events, the sudden crypto crash, and where my life led me, I had a break.
I came back around 2020. Right before the Hive hardfork. I was quite lucky to discover that something significant had happened, and the community was planning a hard fork; I read about it. I learned it. Trying to catch up for the past few years, including with people I had met on the chain back then. I voiced my support for the hardfork and was immediately punished for it on the old platform.
I then advanced further in my support. I became a witness. A few months later, I hosted a public node that is now the second most popular public node. A few months after, I started introducing various projects that I developed by myself or with the help of my friends.
Nowadays, I host various projects such as FRIDAY (the Discord notification bot), my public API node, @BSCBridge and @Swaps. I learned a lot in terms of development as well as Hive's inner workings. I now have close to 50k HP, and it's constantly increasing. I met so many great people on this platform that contributed to both my career and overall life experience through the years.
I cannot say what the future brings, but I do know that I have many ideas in my mind to improve our ecosystem even further. Keep an eye out for more from me in the future.
Long story short... here's to five more! 🍻
---
Bugünün tarihini kontrol ettiğimde biraz şaşırdım. COVID-19 başladığından beri haftaiçi, haftasonu ayrımını hatta takvimi takip etmek benim için çok zorlu bir süreçti. Fakat bugünün tarihini gördüğümde aklıma geldi ki, Hive'ın bir üyesi olalı tamı tamına beş yıl olmuş.
İlk yılım bayağı bir zorlu geçmişti. Platforma ilk kayıt olduğum dönem kripto borsası ilk büyük patlamasını yaşıyordu. Bütün coinlerin fiyatı yükselmişti. Fakat bu platform sayesinde sadece sahip olmak için coin almak yerine coinleri tekrardan "stake" işlemi ile yatırım aracı olarak kullanabileceğimi öğrendim. İlk yılımda her ne kadar kısa olsa da, bir çok farklı tecrübe yaşadım. O zamanlar tabii blokzincirimizin adı çok farklıydı, çalışma prensibi de öyle. Fakat yaşadığım bazı olaylar, kriptonun büyük bir şekilde çöküş yaşaması, hayatın beni getirdiği yerler derken bir süre ara verdim.
2020'nin başlarında platforma geri döndüm, Hive hardfork'undan tam önce. Aslında tamamen şans eseri denk gelmiştim, bu kadar ciddi olaylar döndüğünün farkında bile değildim. Bir süre boyunca araştırdım, okudum, öğrendim. Geçtiğimiz yıllarda yaşananları, olayları o dönemden tanıdığım insanlarla konuşarak soruşturdum. Hive hardfork'unu destekleyen bir gönderi yazdım ve bunun için anında cezalandırıldım.
Tabii desteklerimi daha sonrasında ilerlettim. Öncelikle bir witness oldum, bir kaç ay sonra herkese açık bir node'a ev sahipliği yapmaya başladım, bu node şuanda platformdaki en popüler ikinci node oldu. Yine bir kaç ay sonra farklı projeler tanıtmaya başladım, bu projelerin bazılarını kendim, bazılarını Hive'da tanıştığım arkadaşların yardımıyla yaptım.
Şuanda, Hive'da bir sürü projeye sahibim. FRIDAY (Discord bildirim botu), API Node'um, @bscbridge, @swaps bunlardan bir kaçı. Bu geçtiğimiz yıllar sayesinde yazılım ve Hive'ın çalışma stili hakkında bir çok şey öğrendim. Şuanda 50 bin Hive Power'a sahibim ve bu her geçen gün artıyor. Bir çok insanla tanıştım ve bu tecrübelerim hem hayatıma hem kariyerime ciddi katkıda bulundu.
Geleceğin bize ne getireceği hakkında bir şey diyemiyorum, fakat kafamda ekosistemimizi geliştirecek bir çok fikre sahip olduğumu söyleyebilirim. Gelecekte, gözlerinizi yeni projelerim için açık tutun.
Kısacası... sonraki 5 yıl içinde kadeh kaldırma zamanı! 🍻