Hey there,
So today I'll be reacting to the question which says,
"ARE ACTIVISTS WHO INCONVENIENCE THE GENERAL PUBLIC JUSTIFIED?"
Well, I've never been an activist before, so I don't know what it feels like to be in that position but I'm part of the general public so I'll be speaking from that position.
In 2020 in my country, we experienced a protest which started small but with time, it excavated to every part of the country. The protest started for a good reason but with time it got out of hand and at this point, people are already experiencing the effect of the protest but they were still okay with it because they knew it was for a greater good but the government was not willing to comply and the activist also refused to end the protest and the whole had to end in a very wrong way.
This situation that happened affected the whole country for some while before it relaxed.
It's not really bad to be an activist or to engage in a protest but the ability to know when to start and also to stop is a problem. When something is not going well in a country or even an institution and there seems to be no way forward, we can choose protest but is that really the right approach? I've come to realize that we as humans, we like making things difficult and complicated for ourselves.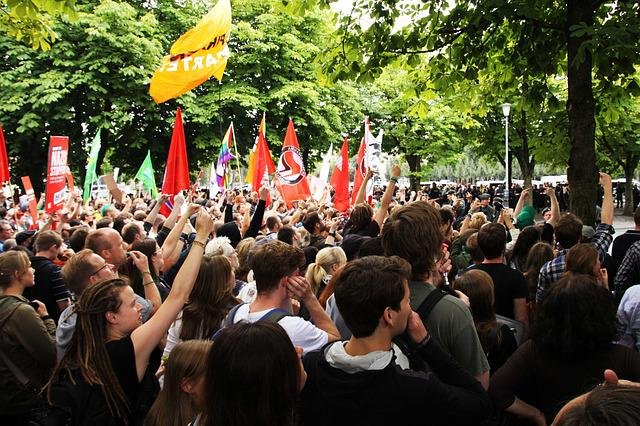 Image source
For a protest not to inconvenience the general public, it has to involve the general public at least 90% of the public. But if it involves let's say only 30-60% of the general public, it causes inconvenience to the rest and thereby it can't be justified.
Why?
Let's take a scenario of an organization that refuses to pay its workers their salary on time and the workers came together to discuss on the issue and they all agreed that all of them are affected by the situation. Now, the next step they take matters a lot. Some might be of the suggestion that they should go on a strike or a protest, others might say they should keep working, maybe someday they will pay them their salaries, while others might say other things. But what is the right approach to this matter?
For me, I'll say they should meet with the manager, explain things to him, get to know why there is delay in the payment of their salaries and if after that discussion he refuses to do something about it, you go to meet someone that is more superior to the manager and if nothing is done, you can go and lay your complaints to the CEO of the organization and if nothing is done also, then the workers can resolve to protest. But, it should not be a violent protest but a peaceful one.At this point, if the protest holds, no one will have an excuse of being ignorant that the workers have not been paid, so I believe such a protest is justified.
So I will say, if the actions of activists affect the general public then, it is going the wrong way, so for the acts of activists to be justified, it has to involve everyone that is affected by the situation that they are protesting for if not, I don't think that their actions is justified.
These is my reaction to the question, my opinion though, so please do well to leave your comment on this.
See you at my next blog ❣️❣️.