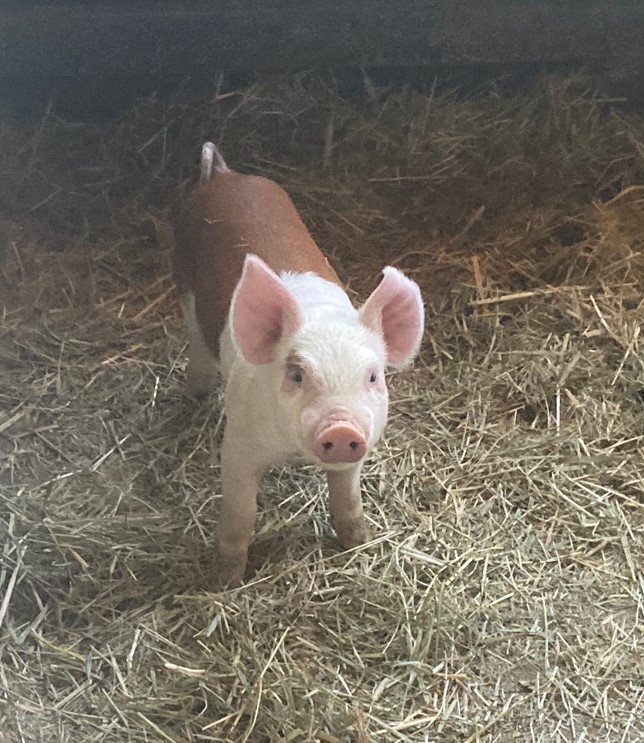 ---

---
Kat absence of explanatory-explainingness: The last seventy-two hours have been some of the most trying in my entire life. Seriously my friends, I asked more of myself than I ever have before, and thankfully was able to get through it. On the plus side, my adventure has left me with all manner of anecdotes to share with you all, just please bear with me, it's hard to type with a dislocated thumb....
---

Most years we raise a few hogs. Ethically I have a huge problem with commercially raised meat, so being a person who tries to put my actions where my principles are, I raise almost all of it myself.
And with that thought in mind, I jumped into my friend Cam's truck Saturday morning as he and his wife M came to take me to get the weaner pigs I was picking up down the road since my husband had our truck a state away since he was off in the wilds haying (more about that later).
Cam and M are amazing people, and part of why I was picking up pigs in the plural is because 1) pigs are social animals and you shouldn't raise one by itself, 2) I always raise one and sell once so I get my meat for free (besides labor which I would do anyway), and 3) I like my friends and if you are feeding two hogs, feeding a couple more is no bigger, so four piglets were being picked up.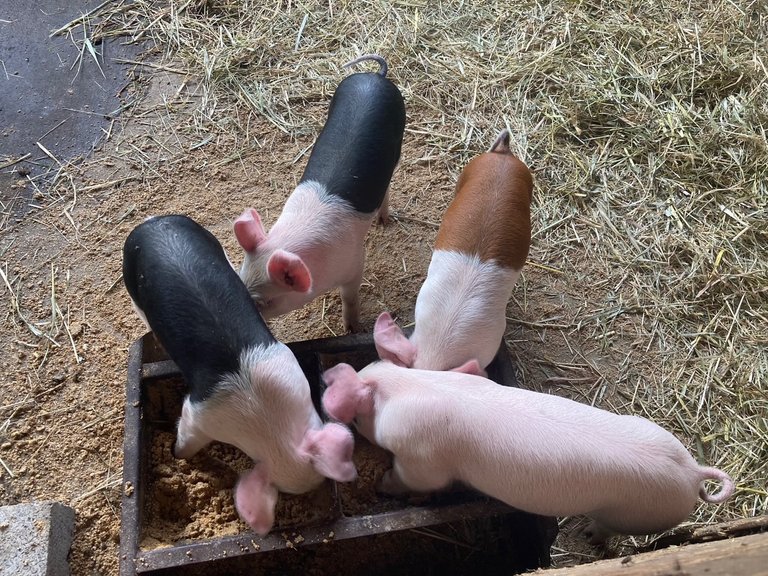 Now, I have raised a lot of pigs over the years. The hubs and I even raised them commercially on a small scale (50 weaner pigs a farrowing), and I have a pretty fantastic pig barn, complete with a nippled on demand water system and automatic feeders. Plus, a nice concrete floor that I keep cooled down with our ice cold well water on hot days because the piggies don't like it too hot.
---
The pig procural should have been pieces of cake.
---
And really, the pig pickup was. I went in the nice lady's barn, picked out the four I wanted and handed them to Cam to put in the giant dog crate I use to pick up piglets. We got them home and I put them in their pen. It was a pretty low stress operation.
---
That's when things went sideways.
---
My hubs had built new doors for the pig pen as the old ones were in pretty rough shape and he had told me the pen was all ready to go before he left up north to hay. This is where I made dumb mistake number one. You should always check a pen before you put animals in it.
---
There was a small hole in one side.
---
And the hole was just big enough for all four of the pigs to squeeze out of. So as I was walking away to get a wheelbarrow load of bedding for the little bacon seeds, I heard my daughter screaming.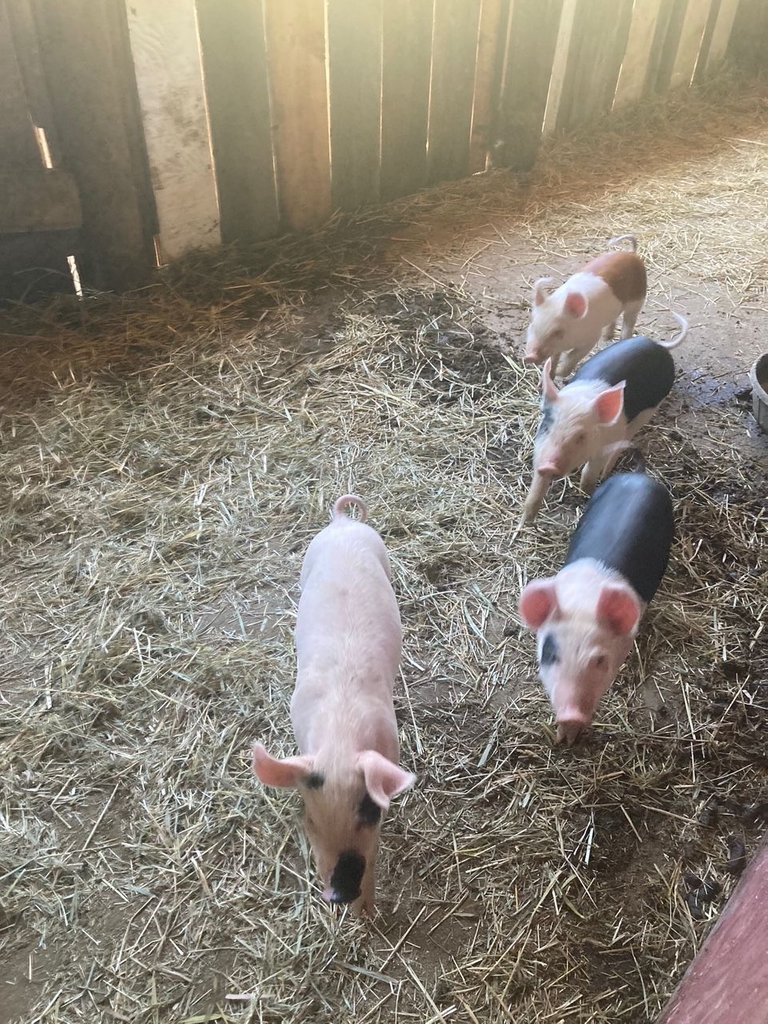 This is what I saw as I turned around, four little pigs were barreling across the barnyard in a Flying V squadron with my 1400lb cow right on their heels trying to stomp them to death. My Isa was screaming CHLOE at the top of her lungs, but Chloe, being the lead cow, was just trying to protect her herd, us, and the barnyard from animals that as far as she was concerned, weren't supposed to be there.
I ran up and smacked Chloe right on top top of her skull with my open palm while yelling NO in my most intimidating, dominant voice. If you have ever seen a charging mammal of a large size, it's a bit of an intimidating (and awesome) thing to behold. Chloe paused for a sec because I am Mom and she knows that when I put pressure on her it's a serious thing. I kept myself between her and the pigs and frantically dialed my son (who was still asleep as he had worked late the night before to come help us) as I was trying to keep the cows from the pigs so Isa could get some grain and we could herd the cows in the corral.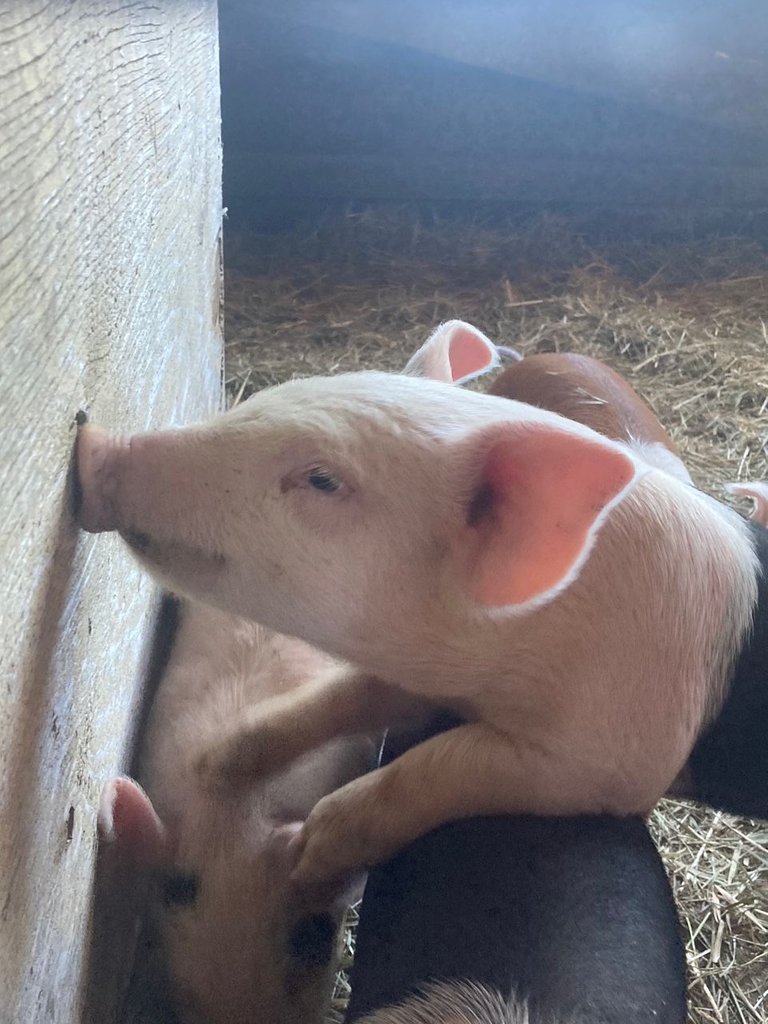 For the next few minutes I had to basically bull fight my cow and heifer off of the pigs, while trying to dial the phone. The piglets got divided into two groups of two, I focused on the group Chloe wanted to stomp while our hound dog kept pressure on the other group so they didn't escape the barnyard. Isa lured the cattle into the corral with crack, er, I mean grain, and while she was locking them up I ran to the house, burst in the door and yelled at my sleeping son, I NEED HELP.
Bless him, he ran out right away, from a dead sleep and with no shoes on. We herded the piglets into the barn and down the hall way. One bolted out, but I just focused on the three I had in the barn. I had the kids watch them as I went to grab a piece of plywood so my son and I could plug the hole.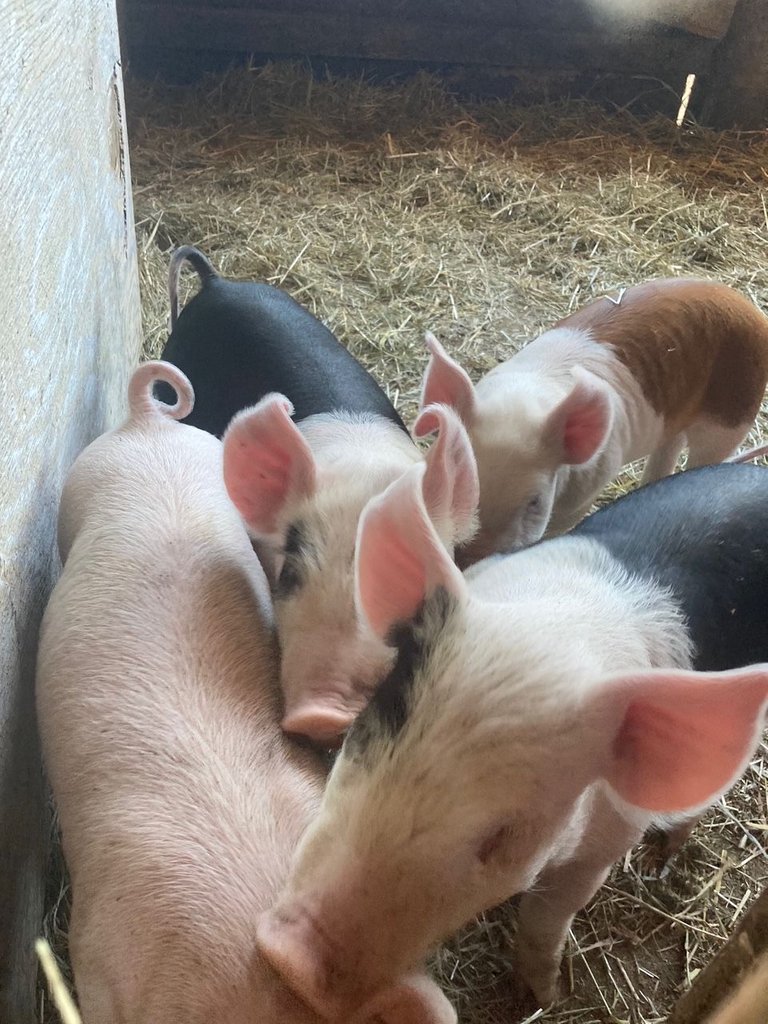 As I went to jerk the plywood free, I didn't realize that an opposite force of pressure was on it, and it shot the opposite way I was yarding on it, dislocating my right thumb.
---
Yep, that hurt.
---
I howled a bit, popped my thumb back into socket and yarded the board to my kids. Isa had went to look for the other pig, and while I was dragging the board into the pen I heard her screaming LANI NO! and a pig screaming. I didn't focus on that, figuring I better get the three secured and I would then deal with the lone ranger.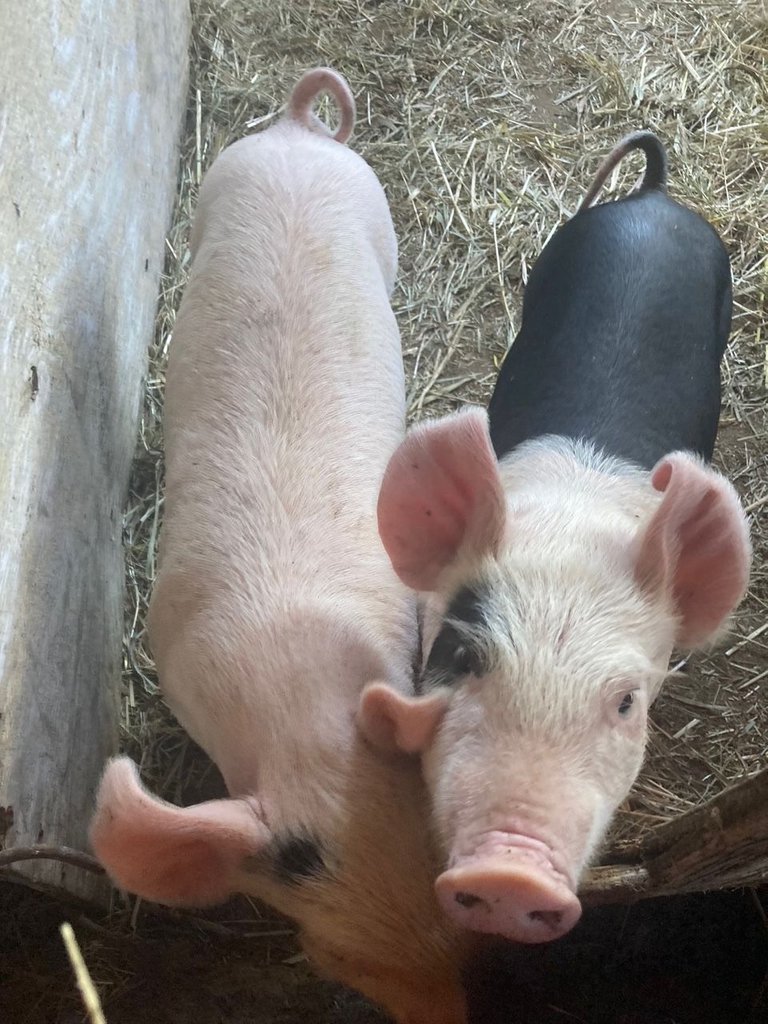 My son took the plywood, hammered it in, and started checking the pen for any other issues. By the time I got in with the board he had already got the three piglets in the pen and they were crashed in the corner panting.
Did I mention we are in the middle of a heat wave yet? It was already in the mid 90's while this was all going down.
At that point enough adrenaline had worn off that I realized my thumb was a bit of a mess, but I was more worried about the pork pile, pigs don't handle stress well, so I sent my son to help with the escapee and I watered down the three in the pen.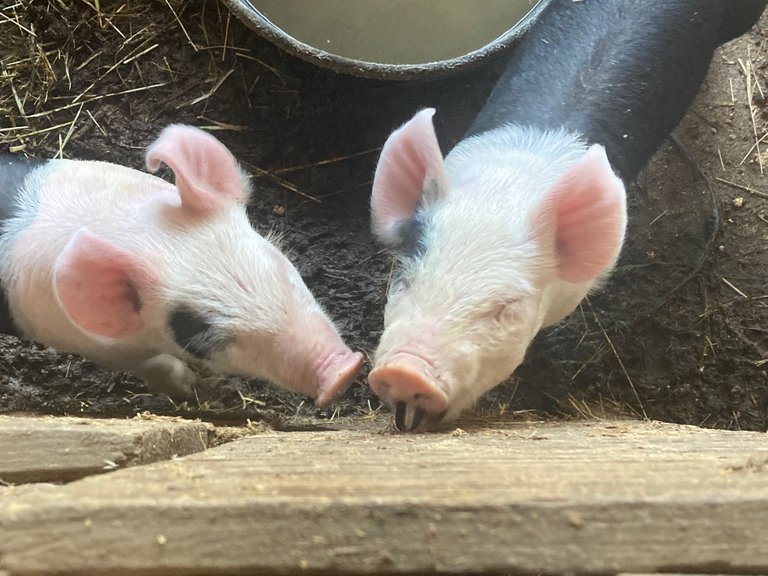 After making sure there was absolutely no way they could get out, I went to help the kids with the loose piglet. I found them out on our gigantic hill with the dogs. Apparently they were herding the little piglet back towards the barn when it went wild and bit my son and our hound dog and bolted 200 feet straight up the hill.
My daughter needed to get to work and was pretty upset about the poor little pig. I told her not to worry, that we'd find it and to just take a breather, change, and go to work. She had been a rock star during the ordeal and I didn't want her to feel bad about it.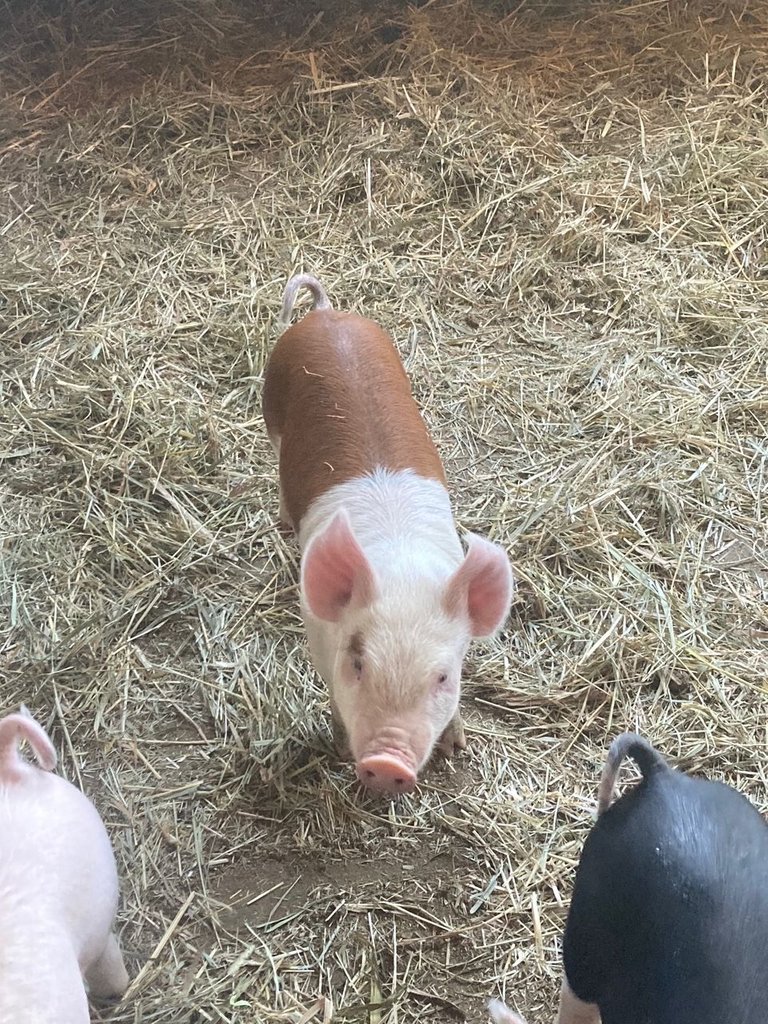 My son and I were exhausted and sweating, and I didn't want to push the piglet too hard in the heat, so we went back down the hill to hydrate and wait for our friends Cam and M to come back to help us track the pig down, as the more hands the better when herding and tracking things.
They arrived and we went back out. I'm telling ya guys, the all-stars of the great pig escape were my hound dog, my son, and Cam. We found the piglet quickly thanks to my big dog's most excellent tracking skills. It was laying under a giant shrub on the side of the road that went up the hill. Cam lay down, hanging off the steep side of the road and went to grab it. That little fungus bolted down the hill.
Now might be the time to mention that our weather, the record breaking rainfall, has turned our hillsides into a jungle that is very Congo-like. The brush is so thick you can't see through it, and Cam, Ian, the dogs, and I baled off into that mess looking for the pig. Three days later I am still pulling thorns and sticks out of my legs and arms.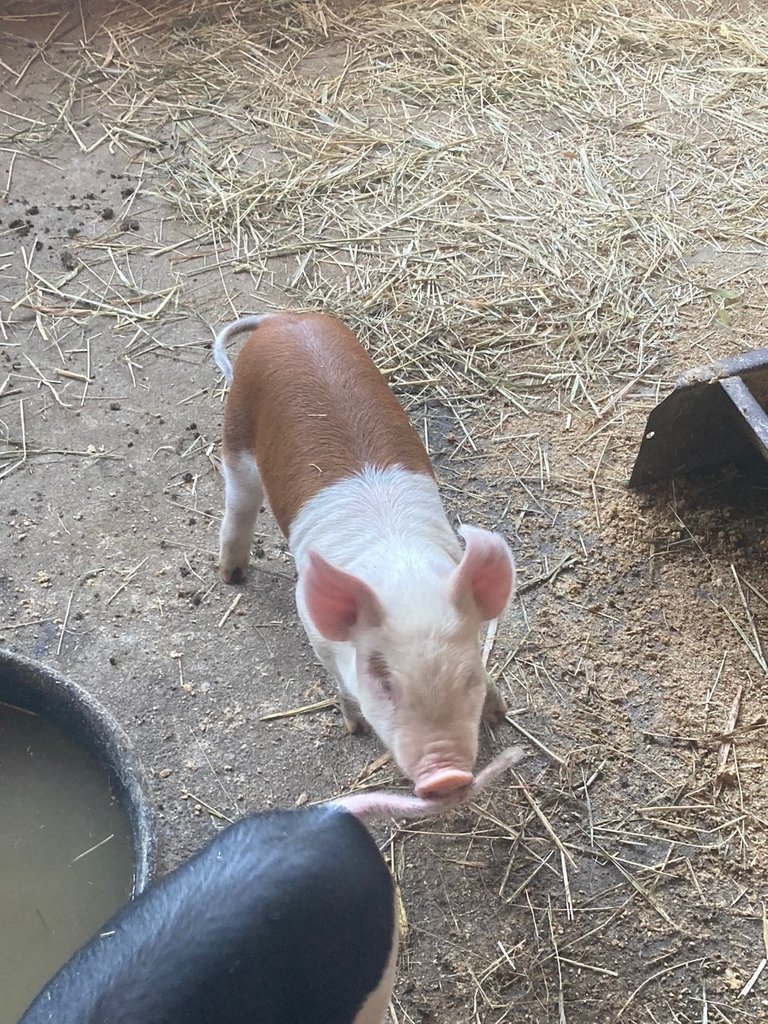 After tracking it with the dog for about twenty minutes, Ian hollered he had found it at the BOTTOM of the hill. Not about to lose that pork rind again, Cam, M, and I RAN down the hill. It's a very steep grade!
We got to the bottom to see my son dancing around and in the middle of stripping his shirt off. The pig was hiding under a tree that also had a wasp nest in the ground next to it. My boy had stepped on the nest and had gotten stung in the back. After making sure he was bee free we all circled the tree and closed in.
Well, by then the temp out was around 97 or so, and the little pig had had enough, so Cam was able to reach down and pluck the pig off the ground. We all marched back to the barn triumphant and put our little escapee in with its siblings.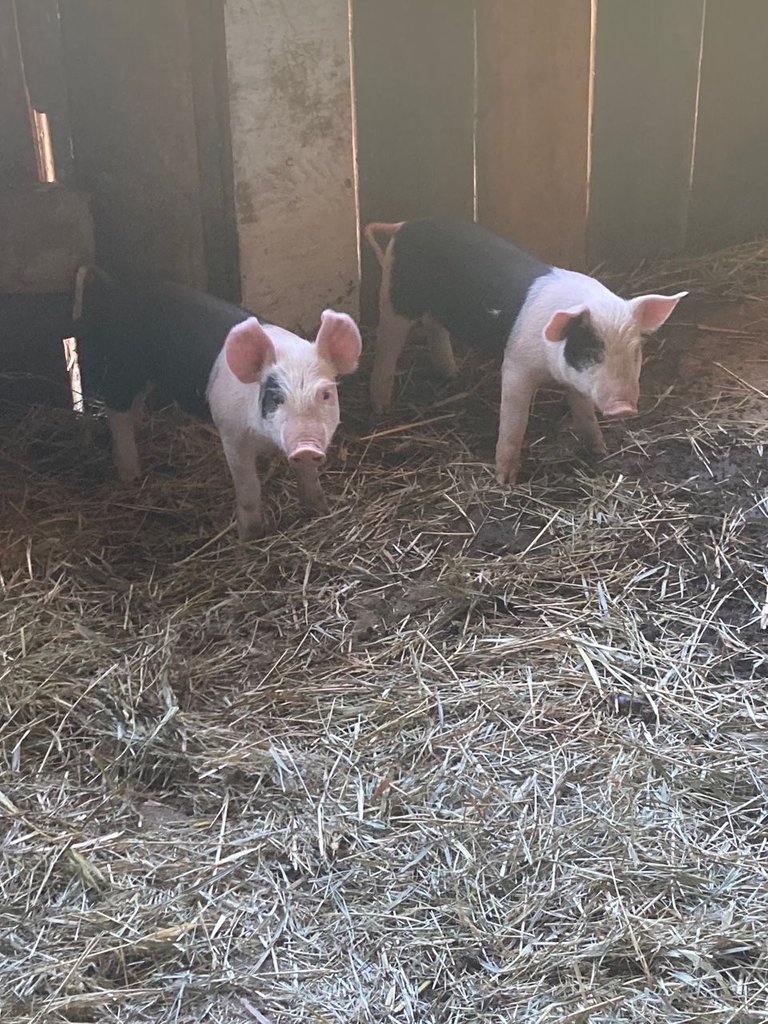 I was so happy that the saga had ended well, and after getting my friends (and myself) some ice water, spent a bunch of time in the barn making sure my new little friends were comfy and cool.
If I had only known that my day was just beginning I probably would have went and taken a nap.....
To be continued...
---
---
And as most of the time, all of the images in this post were taken on the author's still vibrating from the incredible amount of traveling over the last couple of days that it did iPhone. The text divider image was made in Canva.
---