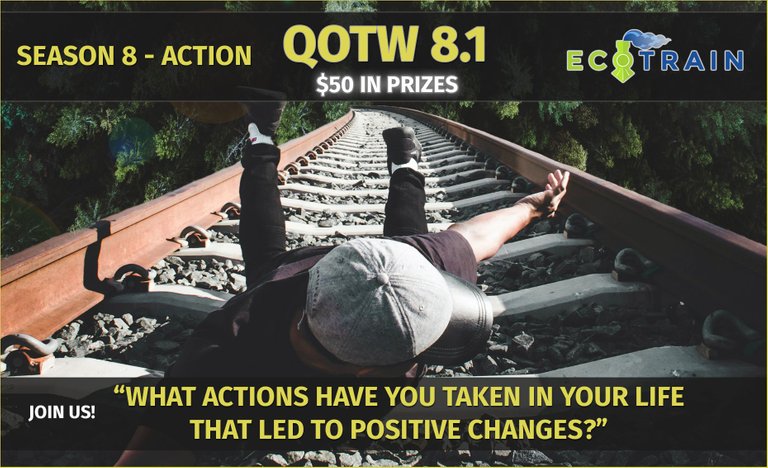 WELCOME to a brand new Season of the Question Of The Week! We've been going strong for 4 years now, and the QOTW is now just a part of life! So this 8th Season brings in a new theme, and a very different feel. This season we will be looking at many things around the theme of Things We Can Do, or take Action about. As always we will delve deep, and we will ask challenging questions that prompt us to look within and delve into our inner world as well the outer. I would like to explore all the ways we can take action in our lives, our emotions, our communication, our desires, so that we can begin to take steps to fulfil the most important goal of all... realising our greatest needs and dreams...
Taking action doesn't have to mean going out and doing something. We can take action in many ways. In fact some of the most important and powerful action we can take is to ask questions, to inquire. Making mental choices and plans are strong actions we can take without even having to move at all. A lot of the actions we make in our lives are based on how we perceive our world. This season we will also look at our perceptions and see if there is any action we can take to broaden them or perhaps even shift them.
Who knows where else this will take us!? I hope you will be a part of it, and tell your friends about it. There is never a wrong answer, and we welcome all points of view with open arms. Our community is extremely diverse and we love to read your varied perspectives from around the world. If English is not your first language we also don't mind when there are spelling mistakes and what not. Its your message that is important!
Season 8 will also have many gifts and prizes to share with you all who post that extra special something. There are no hard and fast rules about which posts get prizes, but I like to encourage those who are new and are posting and engaging, as well as any post from people who really put some time and effort into it.
So let us begin with this first question for Season 8!
The question this week is "What Actions have you taken in your life that led to positive changes?"
We start with a nice and simple question that invites you to share your personal experience that may have been recent or a very long time ago. You can choose any occasion that you took any kind of action which led to any kind of real positive change. I leave it to you to decide what you choose, but remember it can be any kind of action. This includes thinking, Daily Habits, Planning, Travelling, Physical, Social, Mental, or anything else!
Please share with us a little about the story, what action you took, and what the positive change was. Please feel free to include more detail or more than one experience if you like.
THIS WEEKS PRIZES ;)
This week we will be awarding a total of $50 in HBD to a few posts that stand out, which we gift on your post using the peakd.com gifting system. All gifts will appear in your wallet as HBD, ready to convert to Hive and power up or else do with as you wish. I look forward to reading all of your stories! A big thank you to
@charleywhittall
who will be helping me to curate and award prizes to your posts. The ecoTrain up-vote is getting stronger with the great support of our curation trails and delegators.. so a big thank you to everyone who does delegate and help make our vote stronger!

POSTING GUIDELINES
Q. "What Actions have you taken in your life that led to positive changes?"
- Share a link to your post in the comments below.
- Use the topic tags qotw and ecotrain when you post.
- We welcome everyone to join us and post your answer to this QOTW.
- Your answer can be a written post, a video, or any way you wish to express yourself.
- You can post anytime from now until Tuesday 2nd November.
- You must Subscribe to the ecoTrain Community to post.
Please also post a link to your post in the comments so that I will be sure to find it and add it to the weekly tie-up post.

CHECK OUT OUR PREVIOUS QUESTIONS OF THE WEEK
SEASON 7
What is is the one thing that you are most grateful for in this life?
https://peakd.com/hive-123046/@ecotrain/ecotrain-question-of-the-week-s710-tie-up-post-what-is-is-the-one-thing-that-you-are-most-grateful-for-in-this-life
Which technologies have had a positive influence on your life?
https://peakd.com/ecotrain/@ecotrain/ecotrain-qotw-s79-which-technologies-have-had-a-positive-influence-on-your-life
What Aren't People Talking Enough About?
https://peakd.com/hive-123046/@ecotrain/ecotrain-question-of-the-week-tie-up-post-78-what-arent-people-talking-enough-about
AMAZING THINGS ABOUT KIDS AND PARENTING
https://peakd.com/hive-123046/@ecotrain/ecotrain-question-of-the-week-77-tie-up-post-amazing-things-about-kids-and-parenting

What's the most amazing act of kindness someone has ever done for you?
https://peakd.com/hive-123046/@ecotrain/ecotrain-qotw-s7-5-whats-the-most-amazing-thing-someone-has-ever-done-for-you
What do you need to let go of?
https://peakd.com/hive-123046/@ecotrain/qotw-s74-tie-up-post-what-do-you-need-to-let-go-of
What is Beauty?"
https://peakd.com/hive-123046/@ecotrain/ecotrain-question-of-the-week-season-7-3-what-is-beauty-tie-up-post

What are your favourite ways to show and receive gratitude?
https://peakd.com/hive-123046/@ecotrain/ecotrain-question-of-the-week-season-7-2-what-are-your-favourite-ways-to-show-and-receive-gratitude
What if a Genie Gave You the Chance To Reinvent Yourself?
https://peakd.com/hive-123046/@ecotrain/ecotrain-question-of-the-week-tie-up-post-s71-what-if-a-genie-
SEASON 6
Should we have children whilst so many kids in the world are suffering?
https://peakd.com/hive-123046/@ecotrain/ecotrain-question-of-the-week-tie-up-post-s6-8-should-we-have-children-whist-so-many-kids-are-suffering-today
HOW DO YOU FEEL IN THIS MOMENT?
https://peakd.com/hive-123046/@ecotrain/ecotrain-question-of-the-week-s67-tie-up-post-how-do-you-feel-in-this-moment
WHO ARE THE MOST RELEVANT PEOPLE OF OUR TIME FOR ME?
https://peakd.com/hive-123046/@ecotrain/ecotrain-question-of-the-week-tie-up-post-who-are-the-most-relevant-people-of-our-time-for-me

IS LIFE FAIR?
https://peakd.com/hive-123046/@ecotrain/ecotrain-question-of-the-week-tie-up-post-is-life-fair
COMMUNE-ICATION
https://peakd.com/hive-123046/@ecotrain/ecotrain-question-of-the-week-season-6-3-tie-up-post-commune-ication
STRESS BUSTING
https://peakd.com/hive-123046/@ecotrain/ecotrain-question-of-the-week-season-6-2-tie-up-post-stress-busting
PRIORITIES
https://peakd.com/hive-123046/@ecotrain/ecotrain-question-of-the-week-season-6-1-tie-up-post-priorities



The 8 Pillars of Abundance Tribe

Supporting People Who Help
Make The World A Better Place