"IF THERE IS A GOD WHY IS THERE SO MUCH SUFFERING IN THE WORLD?"
---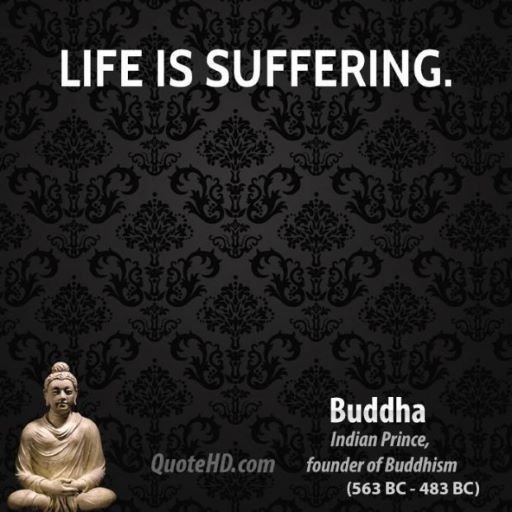 Source
---
In my experience, life is suffering. It can be argued that life is a dualistic mess. Often there is a way to focus our attention to one side of a coin, if you will. How is it that we can see both sides of a coin without a mirror? Can we see behind our heads with only eyes on one side of it? My point is that we are restricted in how we can even see much less perceive this dualistic world. Is there a way to approach life without having a narrow straight forward viewpoint without the ability to see what is also behind us or behind objects in this 3d world in which we travel and see in a straight linear way. Can you imagine having the ability to see in front and in back of our heads or both sides of the coin at the same time? Would there be two side of a coin then?
In this human existence we are limited to how and what we perceive is real. But what is real? This question, IF THERE IS A GOD WHY IS THERE SO MUCH SUFFERING IN THE WORLD?, is a very hard question to answer from @ecotrain without diving into complex philosophies like the duality of human emotions, desires, ego and this 3d material existence that leaves us gravitating towards satisfying the need to feel whole in the unknown. It would appear we are constantly trying to find some way to satisfy some hidden desire to feel whole in this duality. Have you ever noticed that no matter what we do as a human there is a positive and negative consequence or how we cling to material objects, people or philosophies just to in due time, which is perceived as linear, have it all change dramatically? I find my desire for people, objects and philosophies change in due time. I think this is the root of all suffering, the duality of life.
I have found that the concept of God is one that can provide a constant in this duality. This is a controversial subject as there are entire books used to describe God while also being used as an instrument of control over populations of people. I can not describe God or answer the question of if there is one. I can say, from personal experiences, I have found there to be a constant in this materialistic dualistic existence which is faith in something that transcends this material world, where nothing seems to satisfy our desires which in my opinion causes suffering. No matter what we do there is always a good and bad side to this world. Love easily turns to hate, Bad can quickly turn to good, The sun typically always sets to a dark sky, satisfaction in objects quickly turns to dissatisfaction.
We can say its all unfair and simply just participate in this existence in a unsatisfying way. For me God has been something I turn to as this constant force that is always there. I pray to my imaginary friend God and somehow things make sense. I find myself less attached to space, time and material objects. It is as though a weird silver lining emerges that I can grasp on to and find meaning in this meaningless world. No longer do I feel like my suffering is so personal or isolating. But that is where it gets weird and I can not put words to it. I think that books like the Bible and any religious scriptures out there only limit our perceptions of God. God can simply be viewed as, in my opinion, as a energy that transcends the duality of this material existence. We can connect to it if we choose or not which lends to the duality of life. I am laughing at myself for even trying to explain it. I am re-reading this post and finding myself making contradicting statements.
God is unexplainable and is not responsible for our actions or desires. Suffering can be due to our worldly desires and maybe a desire for something greater than ourselves in this linear materialistic world can help us understand that suffering is only a perception rising from our physical limitations.