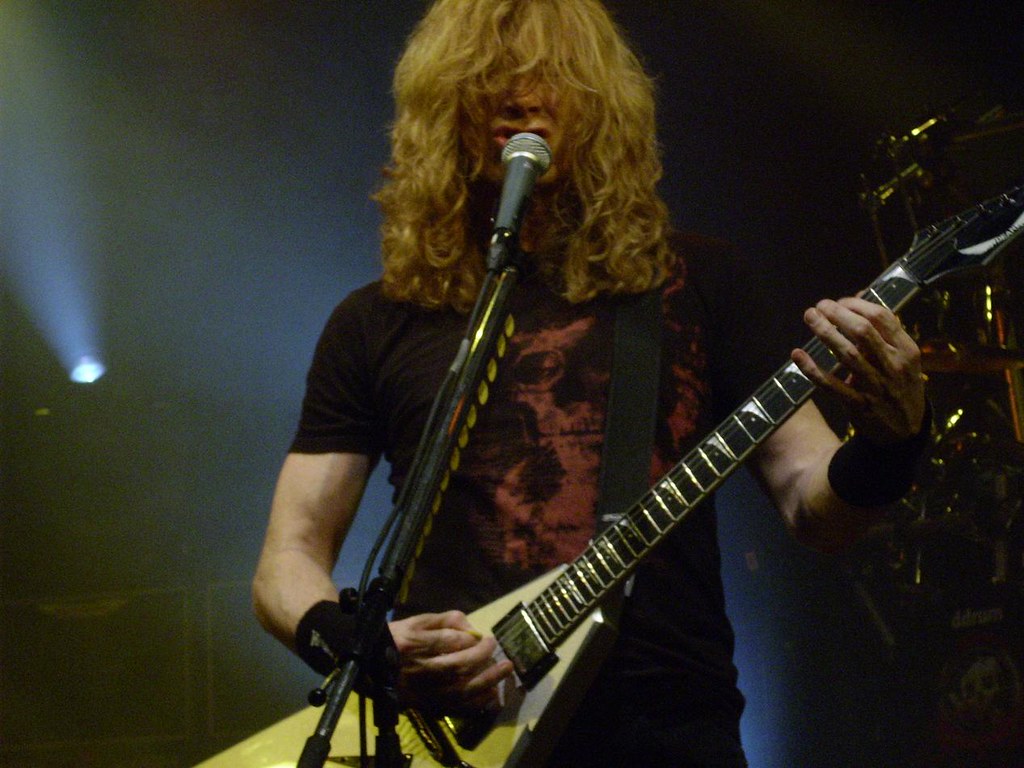 source
Megadeth is a thrash metal-band from Los Angeles in the United States. Their style has up through the years developed itself from being a speed/thrash metal-band to an alternative heavy metal-band during the 1990s. On later albums, Megadeth has gone over to a cleaner heavy metal-style with thrash and speed metal elements. And life is just a journey we are doing ourselves to be as good as our knowledges and brand images are telling us.
You find what is possible to find on the internet, and the music of Megadeth is available at several music platforms in the world, and these are YouTube, YouTube Music, Spotify and Deezer. And we should have high self-confidence in life, and being like an ass hole, and we should listen to the music from this band, and trying to develop ourselves in life, and we should listen to what we imagine and to how imaginations really are. And we are dropping people not being the best at schools at all levels. And we need jobs, since we cannot stay home too long, and that is true for all people doing that, and we should be intelligent enough with having good enough academic backgrounds and research attempts.
So, what is the music artist Megadeth? Well, they are known several places in the world, and we determine ourselves how known we want to be, and what should be accomplished. But the known songs of this group are: Symphony Of Destruction, Holy Wars. The Punishment Due and Tornado of Souls. So, this is about talking to the human nature in the nature, and being skeptical with humans existence, since something is known as we all know it, and maybe something can be new in such ways that we are just right copies of anybody else.
So, what are the music albums to Megadeth? Well, there are several of them, and we always need to stand stable in the reality with our bodies. The most known albums in the nature are: «Rust in Peace», «Countdown to Extinction», «Youthanasia» and «Peace Sells, But Who Is Buying?».
You know, we should not have any protection around us, and we should otherwise love people, and being engaged with working for more admiration and love in the human nature in the nature, and we cannot agree with anyone in anything at any places, but that is not how the human mind is operating with having this bounded rationality! Hence, we are just thinking of something from time to time and from place to place.
We also find several music videos on the internet about Megadeth, and they are: «Holy Wars…The Punishment Due», «Conquer of Die» and «Sweating Bullets». We should be ourselves in reality, and we should not cooperate with anyone unless there is a point for that, and otherwise we are operating on our own and alone.
So, what is the origin of anything, and where does the reality come from? Well, there are reasons and causes in the human nature in the nature, and we cannot be sure about anything what people are telling us, and writing to us. But the name Megadeth, what is really this name about? The word 'megadeath' means one million human deaths, usually caused by a nuclear holocaust. But Megadeth's name, like their entire history, stems from Dave Mustaine's long bus ride from New York back to the Bay Area after he was kicked out of Metallica. So, it is nicer to stay alive than being dead, and we should use our lives to make traces after us, and sometimes the environments are stupid and wrong, but we should have them in their best ways, and telling what humanity is and should be at its best, and we should not do too many bad attempts in the life, but we determine ourselves how to be and why!
And again some music as it was asked to be included! :)
Please do follow if you want to keep up with my next article. Any upvotes or reblogs are hugely appreciated!
Latest article, check out :
The world inventions; The history and the case of the jig!
Sverre Larsen
Kristiansand, Norway
Read about us? // Main page!
Latest content: Travel, Art, Article, Poetry