Last night we watched the first episode of She-Hulk: Attorney at Law, starring Tatiana Maslany as Jennifer Walters/she-Hulk. I first have to say I never read any of the she-Hulk comics back "in the day" as I only had so much money to pay for comics (I also had to cover other things like books, gas, auto insurance, and so on as a kid at that time, then off to Spain for three years, so missed out on a lot of cool stuff), however planning on hitting some of the John Byrne run after I finish Tomb of Dracula. That being said, I have to say we, as a family, really enjoyed the first episode and we are looking forward to watching the rest of the series as it is released on Disney+.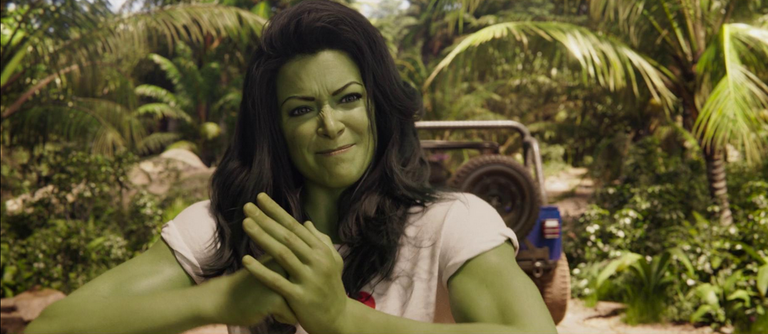 She-Hulk IMDB
Tatiana Maslany turns in a fine performance as She-Hulk, as does the rest of the cast including Mark Ruffalo, with a production team led by Jessica Gao (this is my first exposure to Gao's work) and a host of others. If the series shapes up to be as good as the first episode, this is going to be a really run series to watch and a great addition to the Marvel Cinematic Universe.
She-Hulk trailer -
youtube
This first episode shows a bit of humor, as well as drama, as we are introduced to Jennifer Walters and how she becomes She-Hulk, and a bit about why She-Hulk developed a bit differently than The Hulk. We get to visit Bruce Banner's beach house and home-built bar, and his attempts to teach his cousin how to deal with being a super-powered being and be a superhero. It goes better for Jennifer than it does for Bruce, giving us a bit of humor along the way,
There is also the serious/dramatic side as we are introduced to the She-Hulk's origin (and, yes, I did a bit of checking and the origin is different in the comics, but hey, this is television!). Not wanting to give out spoilers, I'll skip over this.
One carry-over from the comics a friend of mine mentioned is the breaking of the fourth wall. My buddy said that was a common tactic that John Byrne used when he worked on the series way back in the '80s. The breaking of the fourth wall has made itself known in the first episode. Not sure if Gao will continue to use this tactic in future episodes, however we will see.
If you haven't watched the first episode yet, and have Disney+, check it out. I think you'll find it a good addition to the MCU. I tried to keep spoilers out of this review, hopefully I succeeded there.
Thanks for stopping by.