Last night, my Bonnie Bride and I went to see Elvis (2022); it is not just about the story of Elvis Presley's rise to fame, his downfall, and his later resurgence in Las Vegas; it is a tribute to the music, singers and musicians who developed the Blues sound, that, along with Gospel/Spiritual music, would form the basis of Rock and Roll and drive Elvis to Stardom. It brings to light the early days of B. B. King (Kelvin Harrison, Jr.) and Little Richard (Alton Mason), who was known as the Architect of Rock and Roll, and also performers I am not familiar with who were highly influential on Presley, including Big Mama Thornton (Shonka Dukureh) and Arthur Crudup (Gary Clark, Jr.). A great deal of effort was put into casting the right people for these and other roles in Elvis. Not only did Elvis know these artists, he acknowledged their influence on his style, and their contributions to his success.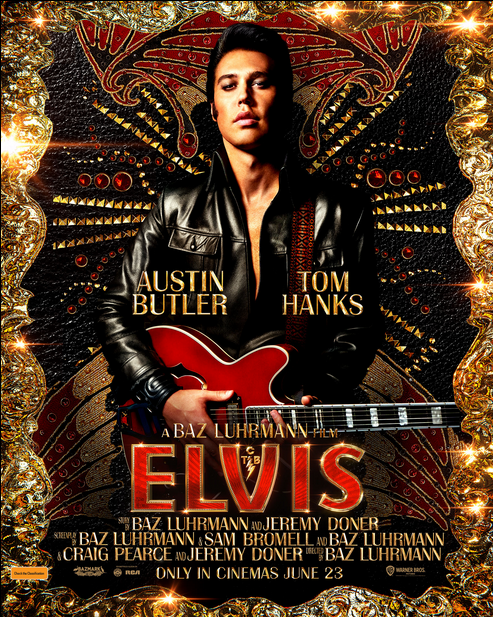 Movie poster for Elvis IMDB
Austin Butler plays Elvis, and turns in an incredible performance as The King of Rock and Roll, while Tom Hanks plays his manager, Colonel Tom Parker. The film is told from Parker's perspective, and he provides narration for much of the picture.
The films covers the history of the Blues, as well as Elvis' childhood, and his introduction to the sound that would Rock the World, and his introduction to The Colonel. It covers the racism and segregation laws the permeated in the South during the'40s and '50s, and how Elvis rose above that, and helped break the color barrier in the music industry (Little Richard, it should be noted, was one of the first artists to do so, with his shows selling out to people regardless of their color) by popularizing the Blues sound across the country. It also covers some of the important events that took place, including the assassinations of both Martin Luther King, Jr., and Bobby Kennedy.
Trailer for Elvis
youtube.com
The film covers a lot of territory in its roughly 2 hour and 40 minute, from the highs, including his come back special and start in Las Vegas, to his lows, drug abuse and film career washing out. Bits of history, his own personal trials and triumphs, but through it all, it acknowledges Elvis' roots in Blues and Gospel music that originated in the Deep South.
There were several points where, while watching this film, I wanted to get up, grab my Bonnie Bride, and dance to the music, right there in the theater. Songs remembered, and songs new to me. that just rocked like crazy. Fortunately I chose not to embarrass my Bonnie Bride with such antics.
Baz Lurhmann (Director, co-writer/co-producer) and the many talented people involved in the making of Elvis did a knockout job. Beautifully produced, with a lot of depth, it wanted me to come back for more. I'll have to wait for the Blu-Ray release as it is nearing the end of its theatrical run in our area, And yes, I really do think it is best seen on a big movie screen.
This morning, while looking up notes for this post (researching on IMDB, and yes, I used wikipedia as well), I learned some other interesting things about the Blues sound, including that there us the Delta Blues Museum and the Mississippi Blues Trail. Sounds like a great tour to do.
Thanks for stopping by.