Recently, while listening to Spotify, the theme for Peter Gunn came up on my playlist. This resulted in the proverbial lightbulb of ideas going off, and I thought an article on cool and interesting instrumental theme songs would make for an interesting post. Before we start on this romp, II want to be clear, I am not an expert an any musical instruments. Sure I dabble with guitar, and was a drummer in a Scottish Pipe Band in high school. However, I do love a wide variety of music and film, and music is an integral part of film. I am including my research notes at the end of this article.
So here we go!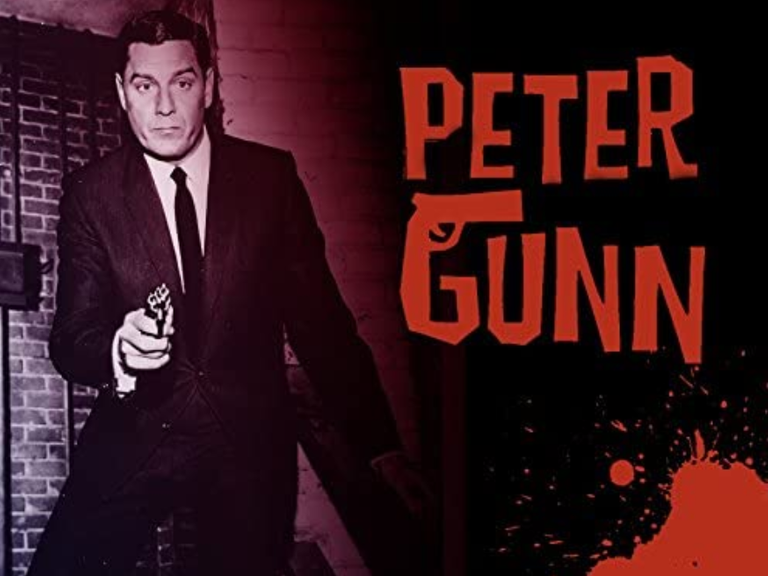 Peter Gunn from IMDB
I am starting off this little mad romp with the aforementioned theme from Peter Gunn, composed by Henry Mancini. Peter Gunn is a detective series that ran from 1959 to 1962, created by Blake Edwards (there's another story in the making...I always thought he did just comedies). Peter Gunn opens with percussion on cymbals, then the guitar, and add to that the piano. Guitar and piano are playing ostinato (I had to look that up – it means stubborn musically), driving the theme in unison. Add to that the horns providing the overall sound of the theme and you get a very cool and iconic theme song. The Theme for Peter Gunn has been covered many times, and charted on on various Billboard charts. For me, one of the more interesting covers of this theme song was produced by Dick Dale and his Del-Tones, where it is heavy on guitar (unsurprising as Dick Dale was known as the King of the Surf Guitar) and percussion.
theme from Peter Gunn -
youtube
As a side note on Peter Gunn, I streamed the first episode on Amazon Prime. Darn good show, and I am planning on binge watching the series soonish (after the Bonnie Bride and I finish Buffy).
Staying with the intrigue, next up is the theme from Mission:Impossible (1966-1973), composed by Lalo Schifrin, this tune is heavy on wind instruments, especially flute, and hand drums (conga?). It is noted on wikipedia (see research links below) that Schifrin plotted the tune around the morse code dot-dash for the letters M and I, to give it the unique pattern. This theme song, like Peter Gunn, charted on Billboard charts and has been covered numerous times. I didn't watch Mission:Impossible on any kind of a basis, just wasn't my cup of tea, however I may have to revisit the series sometime. But the theme song? Wow!
Side note: back in my high school days and taking a film making class for fun, I used the theme from Mission:Impossible for the sound track on one of my film projects, and it worked out well for that. No idea what happened to my super-8mm reel for that film, but it sure was fun putting it together.
Next up is Jonny Quest with a very jazzy piece, composed by Hoyt Curtin, with percussion driving the the theme and horns blasting, you get a very exciting mix, the horns (trombones) setting up a sound that tells a listener (or viewer) to be prepared for adventure, then a thump-thump-thump from big brass and percussion, followed by guitar, trumpet and flourishes of flute add in to the over all theme. It is a beautiful piece to listen to.
Gotta include classic science fiction with the Twilight Zone (1959-1964), composed by Bernard Hermann (season 1 theme) and Marius Constant (season 2 -5 theme). Actually, until I started working on this part of the article I had no idea there were two different theme songs, so going to stick with the one I am most familiar with; the one by Marius Constant. It opens with a repeating four-note guitar, with horns flute and probably bongo drums, then drives on from there, capped with some swirls of flute ( I think, maybe?). The Twilight Zone was an intriguing series, and the theme song added a layer of suspense, setting the tone for the overall series. It is also one of the best classic tv era shows focusing on science fiction, horror and just bloody strange stuff.
Dark Shadows theme on Theremin
youtube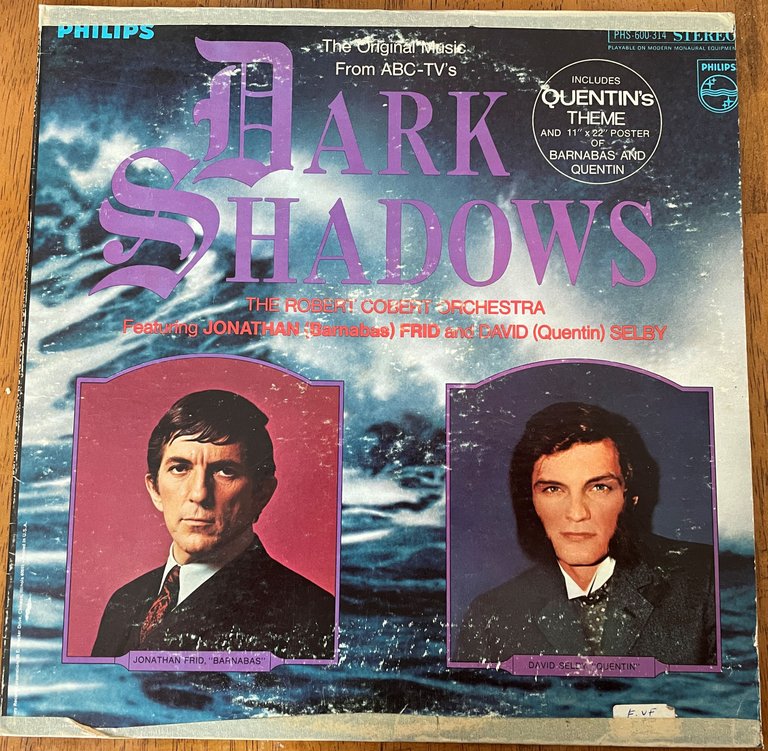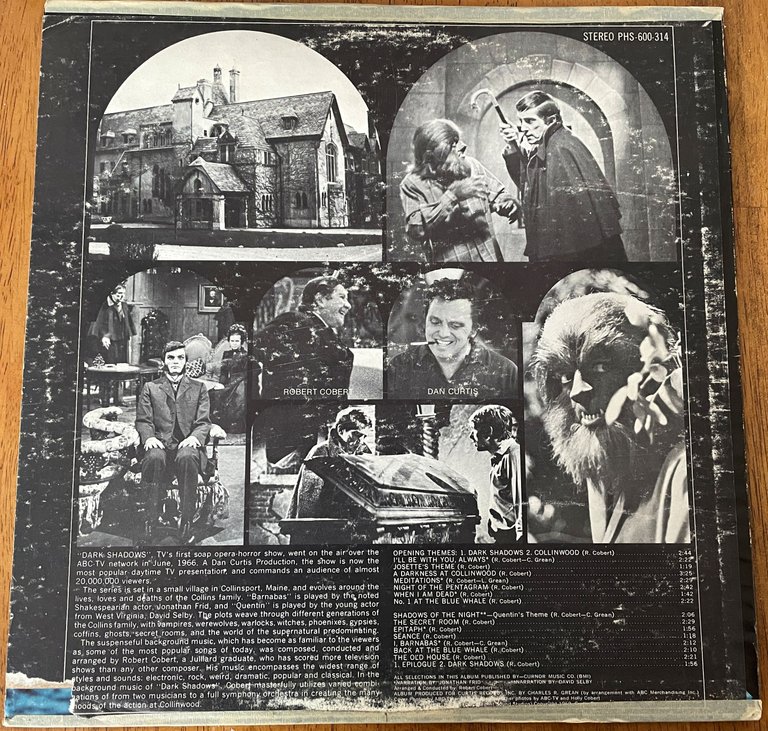 images of the vinyl album jacket
One of the darkest theme songs is the theme from Dark Shadows (1966-1971) composed by Bob Cobert. This has got to be one of the eeriest sounding theme songs in television with the wailing strains created using a Theremin. There are some conflicting conflicting reports on this part, and the album liner notes do not give any indication of which method was used, however there is a site that states that Cobert scored the theme for Theremin and Orchestra (link below in Research), and it is mentioned that a Theremin was used on many other sites. Interestingly, there is an artist who has recorded a video recreating the Dark Shadows theme using a Theremin.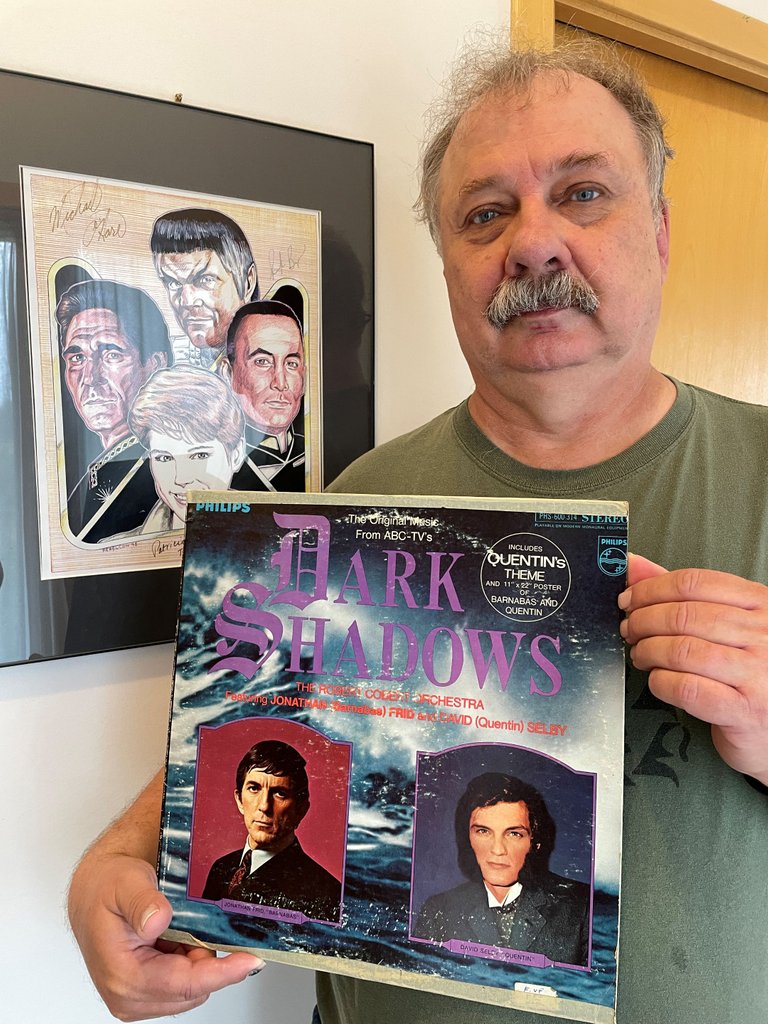 Me with the Dark Shadows album - photo by my Bonnie Bride
I am going to wrap this piece up with the theme from The Munsters (1964-1966), a series and theme I think a lot of people will be familiar with. Okay, all of these theme songs may be familiar to a lot of people. The theme from The Munsters was composed by Jack Marshall, and opens with a blast of horns on top of percussion, then guitar is added on top, followed by more horns. It is a very fun tune to listen to. Plus, The Munsters is a fun series to watch.
I hope you enjoyed this little romp through the late '50s to mid '60s instrumental TV theme songs. There are a lot of others that could have been included, like Hawaii Five-O and The Mod Squad. If you have some favorites, please consider writing and sharing them with the community.
Thanks for stopping by.
Research links
Theme from Peter Gunn - wikipedia Peter Gunn theme
Theme from Mission:Impossible - wikipedia Mission:Impossible theme
Theme from Jonny Quest - wikipedia - Jonny Quest
Theme from The Twilight Zone - wikipedia Twilight Zone
Theme from Dark Shadows - synthopia.com
Theme from The Munsters - wikipedia The Munsters