This week the CineTV contest is favorite movie soundtrack. This is a challenging one as so many movies have great music scores, it makes it hard to choose. As such… I give you Patton – 1970, music score by Jerry Goldsmith.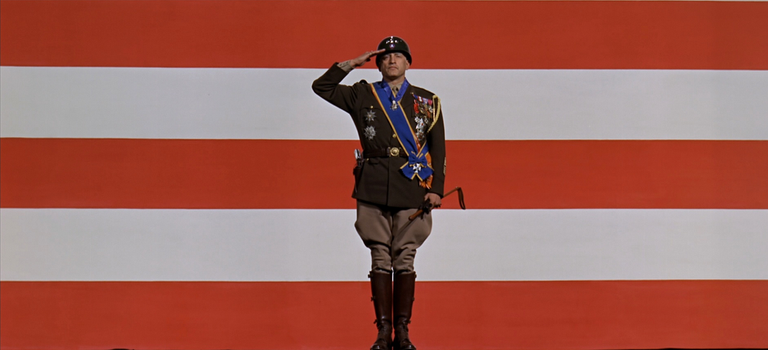 image from IMDB
Goldsmith is one of the greatest composers of film music of the 20th Century, receiving 18 nominations for Academy Awards for Best Original Score, including Patton, although Patton did not win the Oscar for Best Original Score, it did win seven academy awards that year in other categories, including Best Picture.
music from Patton on youtube.com
The score for Patton has a lot of different parts, the opening theme starting with echoing trumpets, then adding percussion and organ, the movements being slow and subtle, dramatic in nature, then as it progresses, adding in flutes, and other instruments, driving a more triumphant feel to it. In doing some research on the score, I learned that Goldsmith used a device called an Echoplex to achieve the echoing triplet sound of the trumpets frequently used in the score throughout the film (thanks wikipedia). Goldsmith used the echoing trumpet triplets, the pipe organ, snare drums and various other instruments in order to emulate Patton's persona. The wikipedia entry makes for a fascinating read on the score for Patton (link below in research notes).
The score also contains some rather eerie and ominous strains, mainly using stringed instruments in the film, before moving to more dramatic sequences. When the music moves to more triumphant sounds, it grows to a big sound, "Thunderous" in nature, a sound that IMDB notes Goldsmith is noted.
Overall, it is a brilliant score, well worth listening to, and added to the reason why Patton was one of the best films of 1970, and why Jerry Goldsmith was one of the best composers of film music.
Thanks for stopping by.
To see more about the current contest, go to https://peakd.com/hive-121744/@cinetv/cine-tv-contest-27-favorite-movie-score-or-soundtrack
Research Notes:
Patton on Wikipedia
Jerry Goldsmith on Wikipedia
Jerry Goldsmith on IMDB