The game of chess is a world of its own: outsmarting your opponent by setting traps hidden in plain sight, as everything in this game is out in the open, you just need to notice it. For this reason, it can be just as exciting to follow some else's game, as it is to be in one. However, this is also why I never could imagine watching a film about chess, or how the same excitement could be transmitted in the story... until I watched The Queen's Gambit.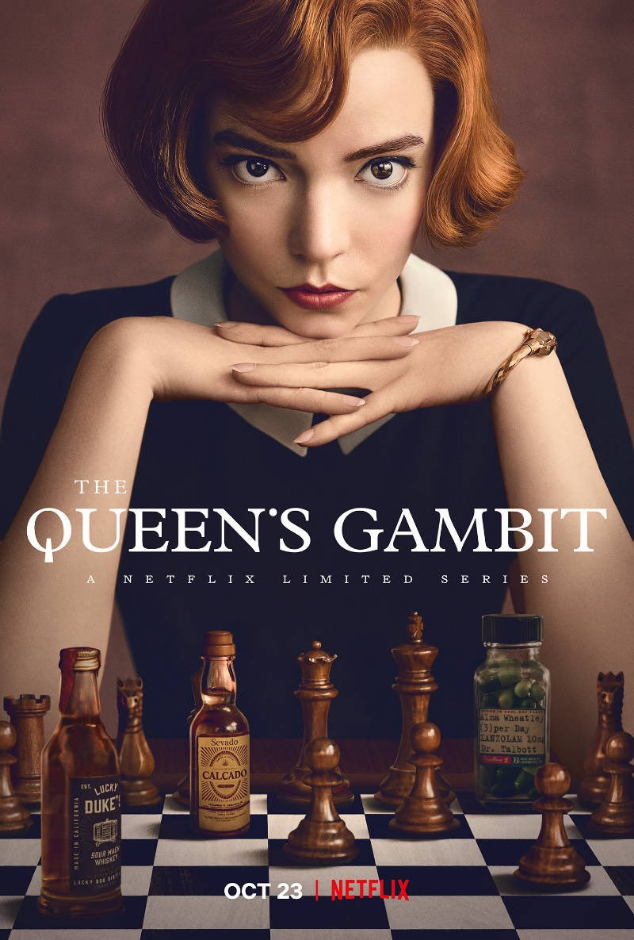 image source
A Natural Affinity for Chess
The seven-episode mini series introduces Beth, an exceptional chess prodigy in the 1960s. Being raised in an orphanage, she learns chess from the janitor, but soon emerges as a natural talent, competing in championships and standing her ground in a male dominated game. There are lots of elements illustrating the experience of a woman in the mid 20th century breaking away from conventional roles. There is also plenty of drugs and drinking, be it in form of the tranquilizers she was given as a child and never got away from, the alcohol and cigarettes she starts consuming with her new adoptive mother, or the cannabis she's introduced to by her counterculture peers. Most of all, however, this series puts us in the middle of high suspense moments, with strained looks on the faces of spectators and brilliant chess players, over what the next move is going to be.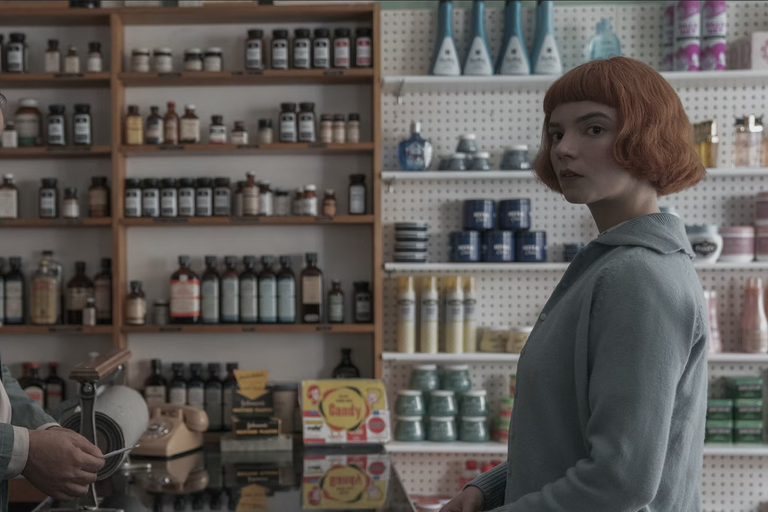 image source
So Much Excitement... Over What?
Looking back at the entire show, it almost feels like Beth is leaping from victory to victory, hardly losing any games at all. In fact, the few times she does end up losing have such a world-changing result that it makes you wonder: has she never actually lost before? In spite of this slight stretch of the realistic, every time she's shown playing a game, the suspense is there again: the slightest mistake on her part could be the end of it all. Is she going to emerge as the winner? Even though you just know she is, and even though the chess board is hardly ever shown properly, you can't help but feel the excitement. That simple fact alone makes this series worth watching, as I still don't understand how they managed to make it so captivating.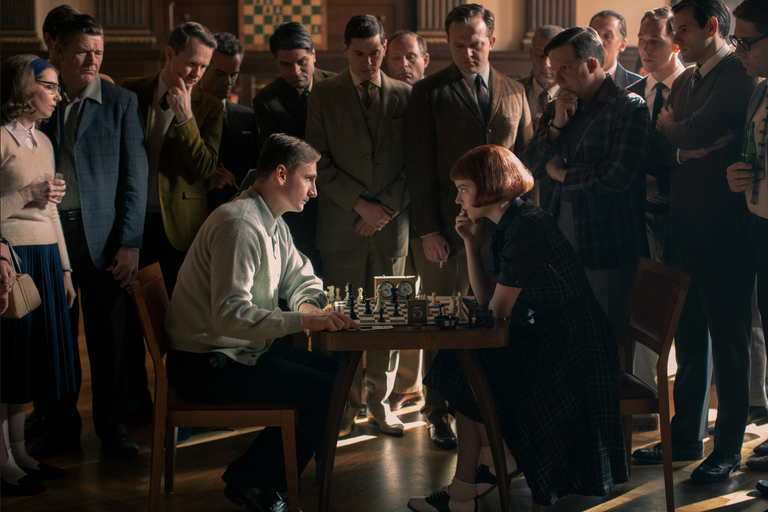 image source
Chess Nerds and Weirdos
Another thing I enjoyed about The Queen's Gambit was the introduction to Beth's mentors and opponents. While most of them carry a conservative and well mannered appearance on the surface, very soon their eccentricities become visible. They tend to be quite subtle at times, or completely unabashed in other cases, but they are so diverse in their nature that you would hardly associate them with chess. Or could it be precisely this game that brings out their inner weirdo? Since Beth tends to be the only woman among men, there is usually also quite a bit of sexual tension, but given the times, the setting, and the characters, this also gets downplayed or ignored... until it can't be suppressed any longer. Though even Beth is much more comfortable with the relationship of chess pieces than between humans.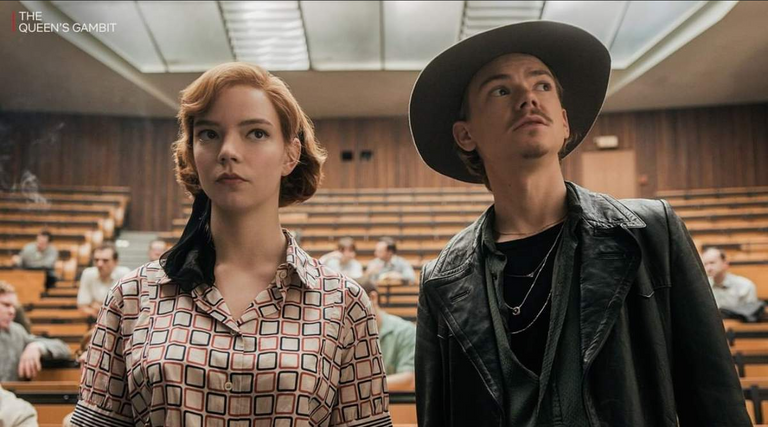 image source
Lots of Events in a Short Time
Throughout its seven episodes the series takes us through a number of ups and downs. Certainly regarding human relationships Beth faces a couple of challenges, particularly since that area is clearly not her forte. Also her substance use, though originally it servs as an inspiration to her moves, takes its toll on her eventually. But even in the realm of chess competitions there is an interesting curve in the story line, taking us through a bit of a rise and fall, followed by a rise in a new light. Eventually she faces her greatest challenge, competing among people who take their chess a lot more seriously, in the Soviet Union.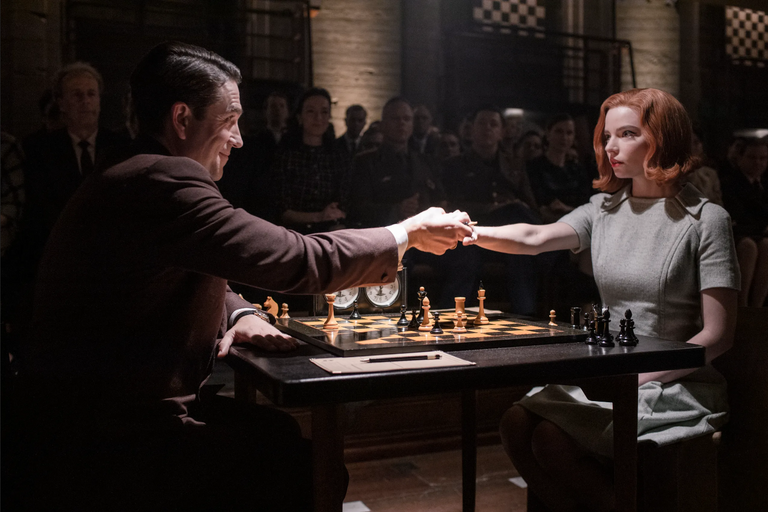 image source
Not Only for Chess Fiends
As mini as this series is, The Queen's Gambit is packed full with exciting moments, and I can recommend it to anyone, even those viewers who do not know how to play chess. In fact, this show may just do the trick and provide the inspiration to sit down to a board and immerse yourself in the deep and complex world of chess. But even if not, the series is still fun to watch. Here is the trailer: