As a fan of Prabhas, I hardly miss his movie. I have known him since I watched a film about him named Rebel. His actions scenes within the film had impressed me quite a lot. After that, I informed his name. Anyway, the name was not remembered for too long because he didn't been in a film for five years. After releasing Baahubali: The Beginning action war film he got new fame worldwide and a couple of years back Baahubali 2: The Conclusion made a huge success and made a huge record at the box office, It has broken all of the previous box office records. The name Prabhas is act like a huge name all over India, In fact, all over the world too.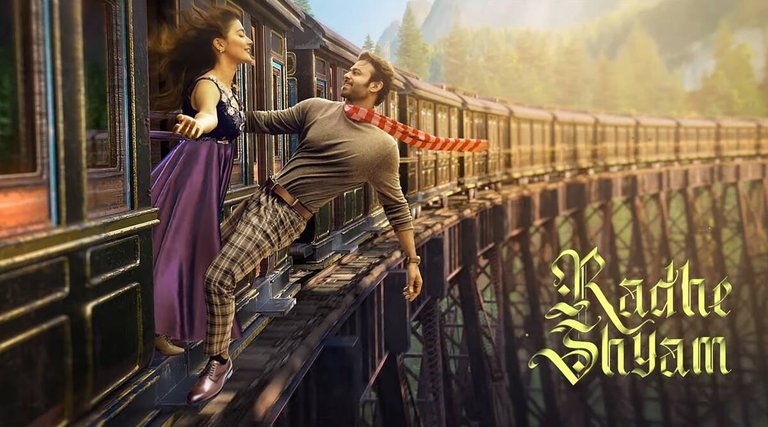 Image Source
There is hardly any person who doesn't hear the name Prabhas. After that he took part in a film named Saaho. Personally, after watching the film I didn't like the story although It made a good collection at the box office. I feel the only success is because of the only name and the name is Prabhas. Producers are taking him in a film just for his brand value and just because of having his fan base. Radhe Shyam, a film where has no action scene without having no action will it be a good entertaining film? I don't think so.
After watching action movies from Prabhas, we fans are not used to seeing him play a romantic role in a film that's really so boring and we are disappointed a lot. Anyway, people around me told me not to watch the movie because that's so boring to watch. As a fan of him I couldn't resist myself to watch the movie. The film is about the combination of three things, Love, Luck & Clash. If you're newly in a relationship or If you love someone or If you love to watch romantic stories then I would say, You will watch it for once at least otherwise I don't suggest you watch the movie.
His name is Vikramaditya in the film and he is a Palmist. He can easily tell one's future by seeing one's hand. Everything is going to happen with him, he notes those things in his diary. He believes he has no love line in his hands so, he believes in flirtationships not in relationships that are where the story begins.
You will also have a clear Idea about luck also. Luck is not a permanent thing, It is a thing which we can change by working hard. If everything was being written by God then he will not send us on the planet, he won't provide us with the best brains to think. We can change our luck just we need to work hard to do that. Yeah, I would say, you will get a clear Idea about luck after watching the film.
I took a learning lesson from the film that's why the film didn't bore me too much. Truly said that I've enjoyed the movie quite well. To get back the love, he had to go through a clash. If you watch the movie you will detect it and I'm not trying to give you a spoiler here.
Yeah, I have something to say about the songs in the film. As I love to watch love stories and there has a good variety of love songs. Especially I fall in love with a song named Jaan Hai Meri song sung by Armman Malik every single bit of the song touches my heart, I don't exactly know how many times I've heard the song.
Overall, I will be rating the whole movie 6 out of 10. I'm again uttering a speech If you love to watch a romantic movie or you're newly in a relationship you may watch it otherwise I don't tell you to watch it because It will feel boring to you. You might be disappointed.
Happy Watching!