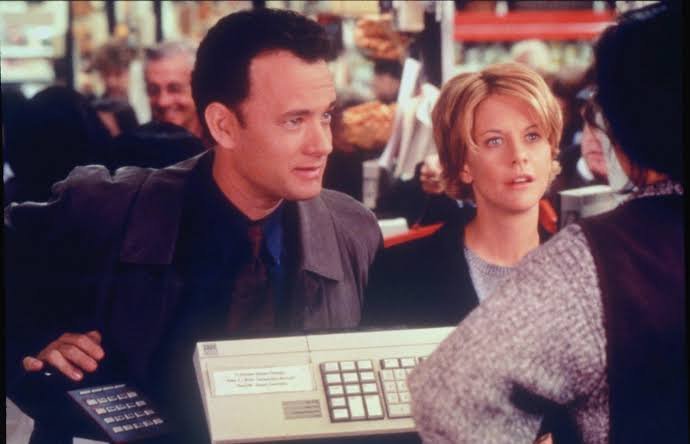 IMDb
This is a movie that strongly dignifies the power of the internet, plus autumn also being part of the movie scenes, Kathleen and Joe weren't on good terms, they were both people in the same lines of business, what happened was that, they both met online and from that day of exchanging so many messages online, their affection for each other developed, without them even realizing who they were talking to, but Joe was quick to get to the bottom of who was the amazing woman he had been so attached to on the network, as the woman who is his rival in the business, he now looks for a way to reconcile and mend his ways with her.
So either way, when he met her, it wouldn't be a big deal for both of them about how they would get along as friends.
On several occasions, Kathleen has been seeking Joe's advice without knowing who he really was and Joe provided her with solutions on how she could meet her challenges. We both know they were both people in the same lines of business, Kathleen runs the children's book store while Joe runs the mega book store, so his occupation was also an issue for them at times.
But on second thought, I don't see why that can be a problem, like when people are in the same line of business, instead of allowing those moments together to breed hate, why can't they use that as an advantage to seek more advice and provide solutions to the challenges of others.
Emails were used as a mechanisms for sending and receiving messages in this movie but the movie still has a good message about what the characters were trying to figure out, how much more so if the movie was in these days of web3, I see that so many methods could exist to show the central idea of ​​the movie.
This movie has a lot to do with Autumn when we consider gifts instead, most of the time sending and receiving emails, good morning messages and other gifts that were used, when the two love birds were on a good time and shared more of their affection together.
Her hair style, Kathleen's hair styles is one of the things to consider that makes the movie in the autumn season of the day lastly talking about how business rivals went back to reason alike is also something to consider. remember how it goes from hate to online friends and from online friends to lover, love here stands out as number one on autumn season.
This is my entry in the cineTv contest, join this contest here using this Link. Thanks
Spanish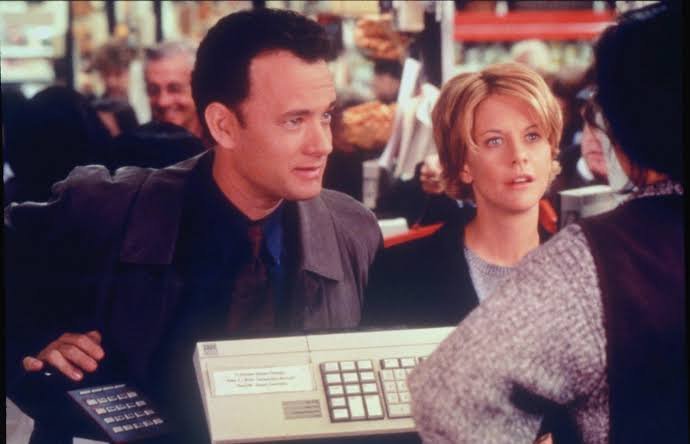 IMDb
Esta es una película que dignifica fuertemente el poder de internet, además el otoño también forma parte de las escenas de la película, Kathleen y Joe no se llevaban bien, ambos eran personas en las mismas líneas de negocio, lo que pasó fue que, ellos ambos se conocieron en línea y desde ese día de intercambiar tantos mensajes en línea, su afecto mutuo se desarrolló, sin que ellos siquiera se dieran cuenta de con quién estaban hablando, pero Joe no tardó en llegar al fondo de quién era la mujer increíble que había sido tanto. apegado a la red, como la mujer que es su rival en el negocio, ahora busca la forma de reconciliarse y enmendarse con ella.
Entonces, de cualquier manera, cuando la conociera, no sería un gran problema para ambos acerca de cómo se llevarían como amigos.
En varias ocasiones, Kathleen ha estado buscando el consejo de Joe sin saber quién era en realidad y Joe le proporcionó soluciones sobre cómo podía enfrentar sus desafíos. Ambos sabemos que ambos eran personas en las mismas líneas de negocios, Kathleen dirige la librería infantil mientras que Joe dirige la mega librería, por lo que su ocupación también fue un problema para ellos en ocasiones.
Pero pensándolo bien, no veo por qué eso puede ser un problema, como cuando las personas están en la misma línea de negocios, en lugar de permitir que esos momentos juntos generen odio, ¿por qué no pueden usar eso como una ventaja para buscar más consejos y aportar soluciones a los retos de los demás.
Los correos electrónicos se usaron como mecanismo para enviar y recibir mensajes en esta película, pero la película todavía tiene un buen mensaje sobre lo que los personajes estaban tratando de descubrir, cuánto más si la película era en estos días de web3, eso lo veo. podrían existir muchos métodos para mostrar la idea central de la película.
Esta película tiene mucho que ver con Autumn cuando consideramos los regalos, la mayoría de las veces enviando y recibiendo correos electrónicos, mensajes de buenos días y otros regalos que se usaron, cuando los dos tortolitos estaban en un buen momento y compartían más de su afecto. juntos.
Su estilo de cabello, los estilos de cabello de Kathleen es una de las cosas a considerar que hace que la película en la temporada de otoño del día, por último, hablar sobre cómo los rivales comerciales volvieron a la razón por igual también es algo a considerar. recuerda cómo pasa del odio a los amigos en línea y de los amigos en línea al amante, el amor aquí se destaca como el número uno en la temporada de otoño.
Esta es mi participación en el concurso de cineTv, únete a este concurso aquí usando este Enlace . Gracias