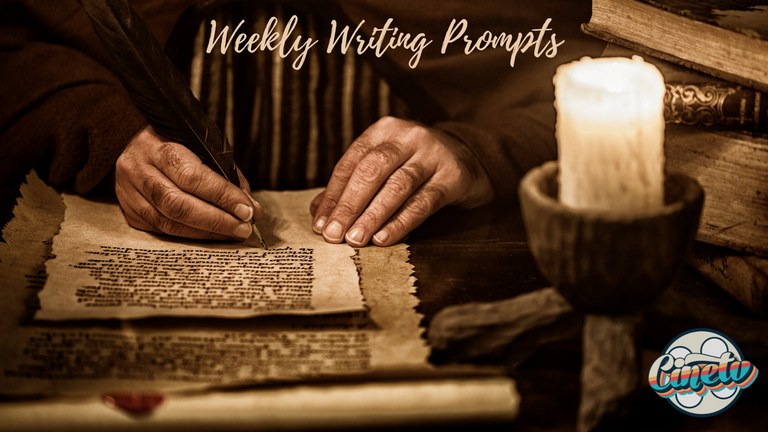 Created in Canva Pro
Welcome back!
Last week we started this new weekly post where we share a few interesting writing prompts we created on CineTV Twitter. In case you have missed it, here's last week's post. Sometimes I can use the weekly post to share older prompts as well because none of them have a deadline but are meant to inspire you only.
Last week's writing prompts
Last week we had four writing prompts on the Twitter account and I will share three of them in today's post, the fourth one will be reserved for another week.
1. Napoleon Hill quote
I love collecting famous quotes, may they be from movies or not. This quote is from Napoleon Hill and is quite inspiring if you ask me. I love using inspirational quotes as writing prompts because when I read this, I can think about something totally different than someone else, therefore I find it interesting to find out what these quotes trigger in your mind and if you can connect this quote to a certain movie. In a way, it could mean we learn sometimes about you as a person because you're sharing something personal to explain why this quote makes you think about a certain movie.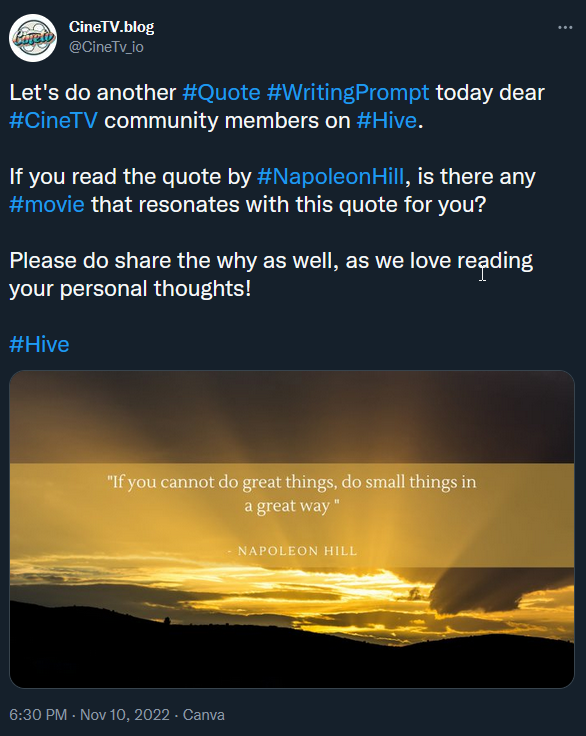 Link to Tweet
2. Diabetes Day
I think at some point in your life, everyone has someone in their life with diabetes. When I was a child there was a girl in my class who had her own box of candy and had to measure her levels a few times a day at school. I remember that sometimes she was unwell and had to take her candy. She explained this in a speech as a school assignment. When I grew up, I worked in the homes of the elderly to help them with their household chores where they couldn't and I remember quite a few of them had diabetes. At the time, the topic was not really something keeping me busy though, I was still young and you know how your health recovers so easily at that age, thinking about the consequences of certain food intakes causing diabetes was far from relevant for me. Later on, when my boyfriend started to get more and more health issues, this became a topic more often. When I saw there was a diabetes day, I decided to use it to raise some awareness.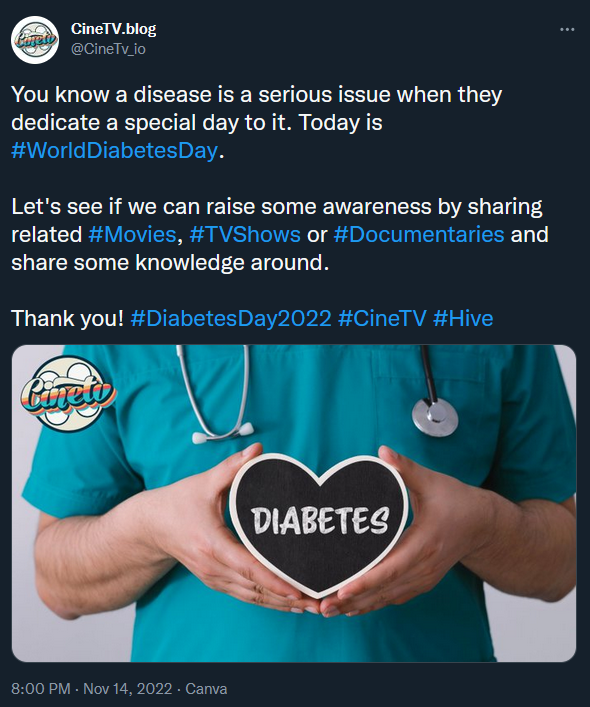 Link to Tweet
3. Leonardo DiCaprio
Birthdays ask for celebrations, don't they? Well, I happened to notice the fact that it was Leonardo DiCaprio's birthday when I created a little list of birthdays and it was clear this guy would end up in a writing prompt. I mean, he's an actor with a ton of movies to his name, and not the least ones. He has played a variety of roles over several decades and I loved him as a teen, in his old movies when he was still young himself but over the years, I kept following his roles and I can only say, he's a great actor. While many probably talk about Titanic as the Leo DiCaprio movie, I personally thought the beach was way more impressive because of the location, what a joy to watch. And when going back in time even more after I discovered Leo as an actor, I remember seeing "What's eating Gilbert Grape" and "The basketball diaries", if you haven't seen these olden goldies, check them out!
Anyway, it's now 4 days after his birthday, but you are still more than welcome to share your favorite Leonardo DiCaprio movies! I'm looking forward to these bringing back some old memories!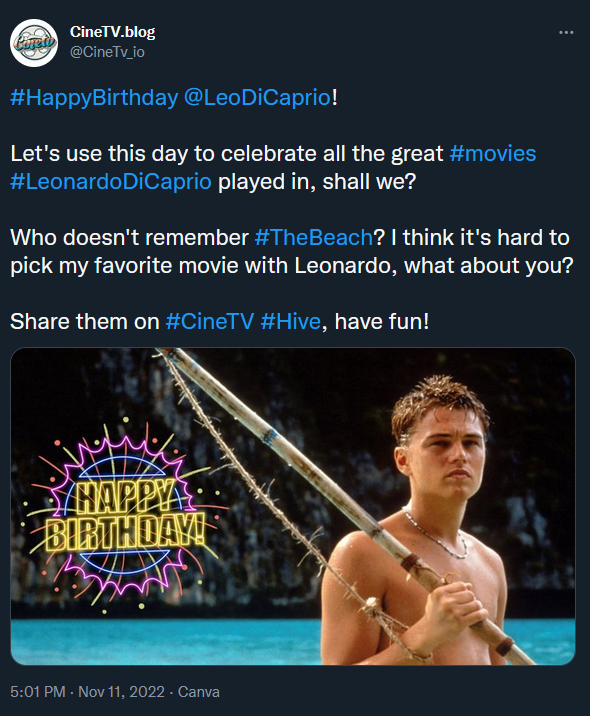 That's it for this week, I hope I have inspired you to create at least one post with these prompts,
See you next week!