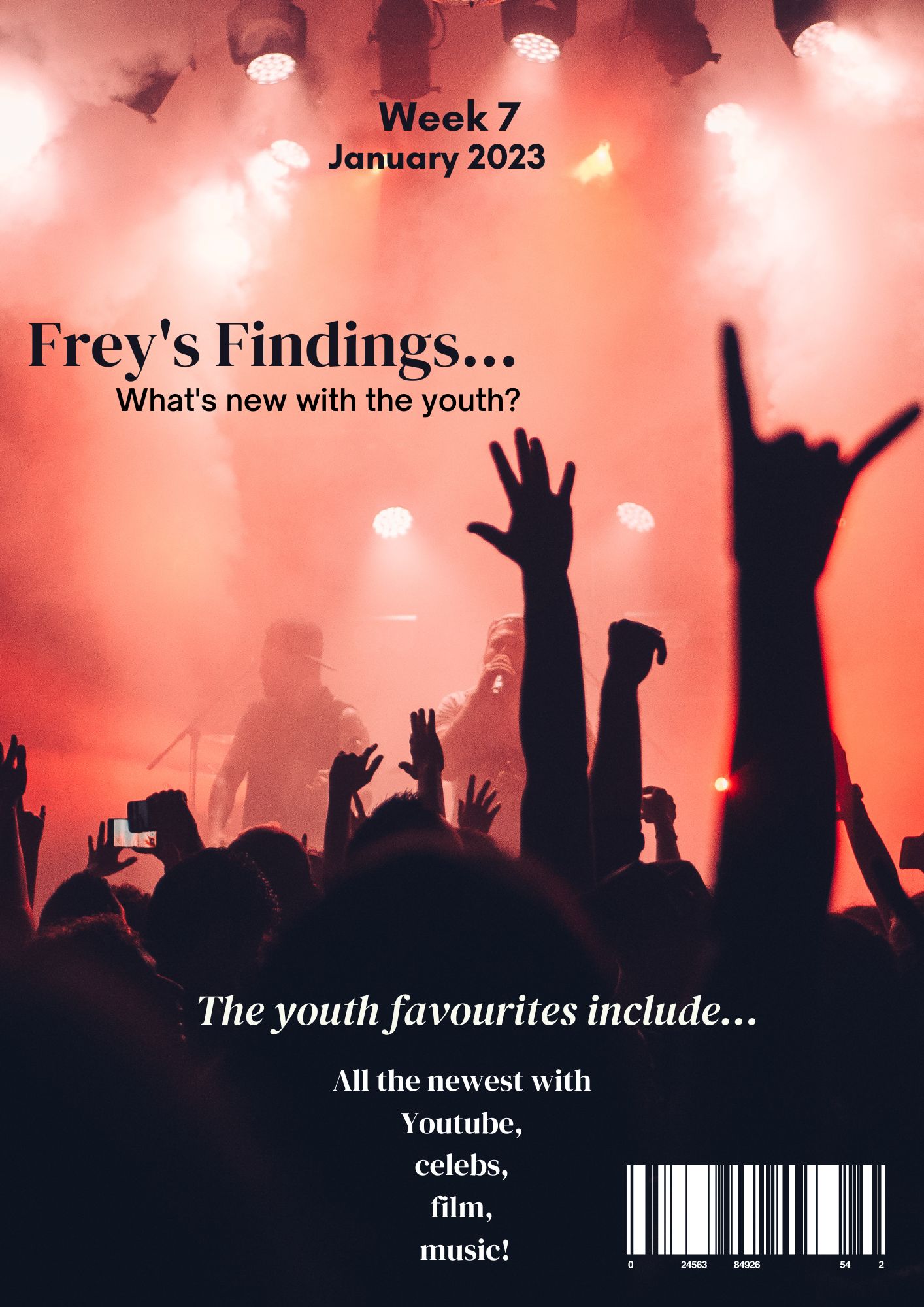 (sourced by www.canva.com)


Hello again and a warm welcome back to Frey's Findings. Where I tell you what is new within the youth of today!


Popular movies this week have included the newest edition of 'Puss in Boots'.

I have been seeing a lot of adverts on Youtube and on the buses when I go to and from college. Have you watched it yet? Another popular film has been 'Plane' starring Gerard Butler and Mike Colter. It follows the story of a plane after a lightning strike and trying to make a terrifying emergency landing. Sounds like a gripping watch I think! What movies have you been indulging in this week? I am going to the cinema on Wednesday to watch the new BTS film. I am very much looking forward to it and haven't been to the cinema in so long!


This week on Netflix, some popular titles have included 'Luckiest Girl Alive' which stars Mila Kunis who you may know from the popular show 'That 70s Show'. I have watched a few episodes of it and it is such a good watch!

'You People' has also been trending and is a brand new romance film which follows a new couple reckoning with modern love and culture clashes. Also starring Eddie Murphy and Jonah Hill. Have you watched it yet? I have also been watching the new 'Harry and Meghan' docuseries and I can safely say it is SUCH an interesting watch. I am thoroughly enjoying it and would recommend it. It really makes you see things in a different way.

This week as far as streaming goes, 'Happy Valley' has been streamed a lot and is very popular on BBC iPlayer, I have heard various positive reviews on it, have you been keeping up with it? Murder mystery type series seem to be very popular right now and I for one love watching things like that and I love putting my criminology skills to the test and becoming an armchair detective haha! I just always find they grab my attention and keep me hooked.


This week on youtube, there have been many popular categories. MrBeast has yet again been trending with a video titled '1000 blind people see for the first time.' Whether that is a clickbait title or not, MrBeast really knows how to rack in views as his video has already surpassed 50M views in 2 days!! That is crazy!!

K-Pop group Tomorrow X Together has been breaking youtube with their new album release, with their newest music videos reaching almost 40M views. They are really charting within the K-Pop world. I for one am very involved in that world haha!


This week's celebrities spoken about have been BTS member Jungkook (as you know i LOVE this topic as do many people my age haha.) and the rumours of him doing a Calvin Klein collaboration and becoming their new ambassador. I for one am so curious to know whether this is true or not!! BTS and K-Pop are very popular with those around my age and the music is really uplifting and connecting, language really has no barriers and you can feel connected with the music and those who also share the same passion all around the world.
Thank-you for reading to the end of this weeks edition of Frey's Findings and I will see you next week with a brand new batch of information all to do with the youth. Thank-you for all the love and support on the past 6 weeks of this magazine. I love writing it every week.
Posted using CineTV