I am not one of those who use the word "censorship" in relation to social media or similar things. If a company doesn't want to do business with some people, doesn't want to have certain topics or only in certain ways - that's their right. No matter how the public or, of course, the people affected view it. And that does not mean that I approve of most such actions.
Ich gehöre ja nicht zu denjenigen, die das Wort "Zensur" in Bezug auf Social Media o.ä. nutzen. Wenn eine Firma mit manchen Menschen keine Geschäfte machen möchte, bestimmte Themen nicht im Angebot haben möchte oder nur auf bestimmte Art und Weise - das ist ihr Recht. Ganz gleich, wie es die Öffentlichkeit oder natürlich die Betroffenen sehen. Das soll aber nicht heißen, dass ich die meisten solcher Aktionen gutheiße.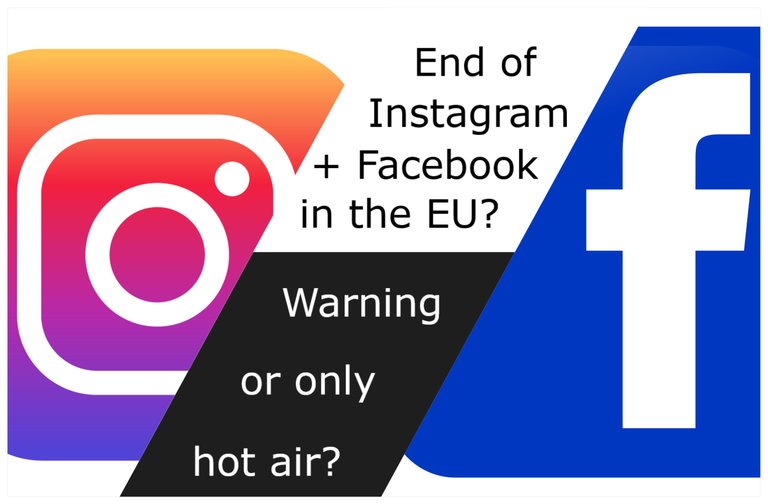 One of these "you are not the customer, you are the merchandise" companies is, of course, the conglomerate of various services now operating under Meta, including WhatsApp, Instagram and Facebook. And it's the latter two that we're talking about here. Or rather, microtargeting.Please excuse any ambiguities on the subject - I'm not an expert, I just read up on it.
Zu diesen "Ihr seid nicht Kunden, ihr seid die Ware"-Firmen gehört natürlich das jetzt unter Meta firmierende Konglomerat von verschiedenen Diensten, darunter WhatsApp, Instagram und Facebook. Und um die letzteren beiden geht es hier. Beziehungsweise um Microtargeting. Bitte entschuldigt etwaige Unklarheiten bei dem Thema - ich bin keine Expertin, sondern hab mich da gestern erst eingelesen.
Microtargeting
According to Wikipedia, microtargeting is "a communication strategy, - especially in the field of political communication or marketing. It aims to use the limited resources of public relations as efficiently and effectively as possible." Sounds harmless and obvious at first - who wouldn't want to use their resources as efficiently and effectively as possible? It became common knowledge through its use in the US election campaign.
Laut Wikipedia ist Mikrotargeting "eine Kommunikationsstrategie, – vor allem im Bereich der politischen Kommunikation oder des Marketings. Sie zielt darauf, die begrenzten Ressourcen der Öffentlichkeitsarbeit so effizient und effektiv wie möglich einzusetzen." Klingt ja erstmal harmlos und selbstverständlich - wer möchte nicht die eigenen Ressourcen so effizient und effektiv wie möglich einsetzen? Bekannt wurde es durch den Einsatz im US-amerikanischen Wahlkampf.
But what it's all about is a "dragnet": masses of data are collected - from classic demographic data (age, gender, household status, location) to areas of interest and time-related things, in order to be able to advertise products in a very targeted way.
Um was es da aber geht, geht in Richtung "Rasterfahndung": Es werden massenweise Daten gesammelt - von klassisch demografischen (Alter, Geschlecht, Familienstand, Wohnort) über Interessensgebiete zu zeitlichen Dingen, um damit Produkte sehr gezielt bewerben zu können.
So if a company wants to sell, for example, a bicycle rain cape decorated with logos of sports teams - then the advertisement will only shown to people who have ticks in boxes such as "rides a bicycle" (perhaps further specified to "uses the bicycle not only for leisure") + "is interested in organised sports" + "it's going to rain where they live". But perhaps the advertisements are also shown to others - perhaps to those who are in close contact with such people, if "has a birthday soon" is active.
Wenn also eine Firma z. B. ein mit Logos von Bundesliga-Mannschaften verziertes Fahrrad-Regencape verkaufen möchte - dann geht die Werbung halt nur an Leute, die Häkchen haben in Kästchen wie "fährt Fahrrad" (vielleicht noch spezifiert zu "nutzt das Fahrrad nicht nur in der Freizeit") + "ist interessiert an Bundesliga" + "am Wohnort ist Regen angesagt". Aber vielleicht wird die Werbung ja auch anderen gezeigt - vielleicht solchen, die in engem Kontakt zu solchen Personen stehen, wenn da gerade "hat bald Geburtstag" aktiv ist.
Meta
WhatsApp, Facebook, Instagram - it' all "for free" and financed by advertising. And the more targeted advertising can be, the better. And Meta gets quite a lot of data through these services and of course wants to collect that and use it globally. But since July 2020, the wicked EU has a regulation that stands in the way - data protection, such a naughty word. In very simplified terms, it's like this: "EU data may only be stored on EU servers" - so nothing with Meta's large international data pool across the pond.
WhatsApp, Facebook, Instagram - alles ist "umsonst" und finanziert sich durch Werbung. Und je zielgerichteter Werbung gemacht werden kann, umso besser. Und Meta bekommt auf diesen Diensten ziemlich viele Daten und möchte sie natürlich sammeln und global einsetzen. Und da hat doch die böse EU seit Juli 2020 eine Regelung, die da im Weg steht - Datenschutz, so ein unanständiges Wort. Stark vereinfacht gesagt ist es so: "EU-Daten dürfen nur auf EU-Servern liegen" - also nichts mit Metas großem internationalen Datenpool überm Teich.
Meta would like to change this and has apparently been negotiating with the EU for some time. Now the company has issued what could almost be interpreted as a threat (page 9, 2nd paragraph in the report published on February 2nd):
Das würde Meta gerne ändern, es wird da wohl schon länger mit der EU verhandelt. Nun kommt die Firma mit etwas, was man fast als Drohung interpretieren könnte (Seite 9, 2. Absatz im am 2. Februar veröffentlichten Bericht):
*"If we are unable to transfer data between and among countries and regions in which we operate, or if we are restricted from sharing data among our products andservices, it could affect our ability to provide our services, the manner in which we provide our services or our ability to target ads,"*
*"we will likely be unable to offer a number of our most significant products and services, including Facebook and Instagram, in Europe"*
In other words: Dear EU, either you change your laws (or give us special privileges) or there will be a shitstorm of outraged people, deprived of their beloved apps.
Zu Deutsch: Liebe EU, entweder ihr ändert eure Gesetze (oder gebt uns Sonderrechte) oder ihr könntet einen Shitstorm von empörten, ihrer tollen Apps beraubten, Menschen am Hals haben.
My heart bleeds - the poor company! Not allowed to earn money from EU citizens! That's just outrageous!
/sarcasm
Also mir blutet ja das Herz - das arme Unternehmen! Darf nicht an EU-Bürgern Geld verdienen! Das geht ja gar nicht!
/Sarkasmus
Further Statements / Weitere Äußerungen
Personally, I wouldn't even notice if Instagram and Facebook were shut down, as I don't use either (for good reason) and I haven't had any illusions about Meta for a long time. But these sentences in the report, so circumstantial, virtually an attempt at blackmail, shocked me a little.
Ich persönlich würde gar nicht merken, wenn Instagram und Facebook abgeschaltet werden, da ich beide nicht nutze (aus gutem Grund) und ich mache mir schon lange keine Illusionen über Meta. Aber diese so nebensächlich im Bericht stehenden Sätze, quasi ein Erpressungsversuch, haben mich dann doch etwas schockiert.
In response to questions from the media, there were more detailed comments - for example, from Nick Clegg (VP of Global Affairs and Communications at Meta)
Auf Rückfragen von Medien kamen da durchaus klare Worte - so z.B. von Nick Clegg (VP of Global Affairs and Communications bei Meta)
*"a lack of safe, secure and legal international data transfers would damage the economy and hamper the growth of data-driven businesses in the EU"*
And Clegg pointed out that companies in the EU were also affected:
Und Clegg führt an, dass ja auch Firmen in der EU betroffen seien:
*"In the worst case scenario, this could mean that a small tech start up in Germany would no longer be able to use a US-based cloud provider. A Spanish product development company could no longer be able to run an operation across multiple time zones."*
How the man worries about such small businesses, so caring and full of charity.... (yes, sorry, I'll stop with my sarcasm).
Wie der Mann sich um solch kleine Unternehmen sorgt, so fürsorglich und voller Nächstenliebe... (ja, sorry, ich höre schon auf mit meinem Sarkasmus)


How will it turn out? / Wie geht das aus?
What's your view - especially from those of you who know a bit more about the matter? Will the EU change its laws, will Meta otherwise make good on its threat or will the company change nothing (because less advertising revenue from Europe is still better than no advertising revenue from Europe)?
Wie seht ihr das - vor allem diejenigen, die etwas mehr Ahnung von der Materie haben? Wird die EU ihre Gesetze ändern, wird Meta anderenfalls die Drohung wahr machen oder wird das Unternehmen nichts ändern (denn weniger Werbeeinahmen aus Europa sind immer noch besser als keine Werbeeinnahmen aus Europa)?
---


Sources and further information: