" Übertreibe es nicht mein Schätzchen " raunte mich mein Liebchen liebevoll an und gab mir zu verstehen das ich doch mal eine Arbeitspause einlegen solle bevor ich bei der Hitze noch kollabiere.
Das Mädchen hat gut reden, so einfach ist das nicht wenn einem die Kundschaft im Nacken sitzt und Ergebnisse sehen will.
So auch R. der gerade in den Ferien ist und sein Grundstück gerne bereinigt sehe bevor er wieder nach Deutschland zurück fliegt.
Kein Problem, schließlich zahlt er gut und so schwang ich mich auch heute, am Freitag den 13., auf den Trecker und begann damit den Wildwuchs auf seinem Land niederzumetzeln.
Einmal mehr erwies sich der kleine Traktor als tüchtiger Gefährte in der Landarbeit und in zwei Stunden mähten wir eine Fläche, für die ich in Handarbeit locker 10 Stunden gebraucht hätte.
Es lief super und müde lächelnd über die Abergläubischen, welche an diesem Tag stets nervös durchs Leben ziehen, ständig in Angst das etwas furchtbares passiert, ließ ich mir den Fahrtwind um die Nase wehen, bewunderte die Kraft der Maschine auf der ich saß und ahnte noch nichts von der bevorstehenden Katastrophe.
"Do not overdo it, my darling" murmured my sweetheart affectionately and gave me to understand that I should take a break from work before I collapse in the heat.
The girl has to talk well, it's not that easy when the customers are breathing down your neck and want to see results.
So is R. who is on vacation and would like to see his property cleaned up before he flies back to Germany.
No problem, after all, he pays well and so I also swung today, Friday the 13th, on the tractor and began to butcher the wild growth on his land.
Once again, the small tractor proved to be a capable companion in the land work, and in two hours we mowed an area for which I would have needed manual labor easily 10 hours.
It went great and smiling tiredly about the superstitious, who always nervously move through life on this day, constantly in fear that something terrible happens, I let the wind blow around my nose, admiring the power of the machine on which I was sitting and still had no idea of the impending disaster.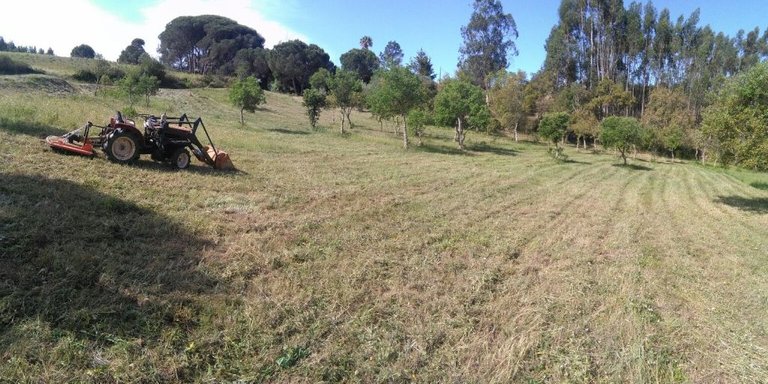 R. hatte es sich auf seiner Terrasse gemütlich gemacht und brachte mit nach oben gestreckten Daumen seine Zufriedenheit über mein Werk zum Ausdruck, das obwohl ich für die Traktorstunde das doppelte berechne als sonst.
Ist der Kunde glücklich bin ich es auch und so ratterte ich fröhlich über die Wiese, zufrieden mit mir und der Welt, als es plötzlich knallte und mein Gefährt schlagartig die Arbeit verweigerte.
Im ersten Moment glaubte ich noch gegen einen großen Stein gekracht zu sein, den ich im hohen Gras übersehen hatte, entdeckte aber nachdem ich vom Trecker stieg und den Brocken aus dem Weg rollen wollte, das folgende Bild des Jammers.
R. had made himself comfortable on his terrace and expressed his satisfaction with my work with a thumbs up, even though I charge twice as much for the tractor hour as usual.
If the customer is happy, so am I and so I rattled happily across the meadow, satisfied with myself and the world when suddenly there was a bang and my vehicle suddenly refused to work.
At first, I thought I had crashed into a large stone that I had overlooked in the high grass, but after I got off the tractor and wanted to roll the lump out of the way, I discovered the following picture of misery.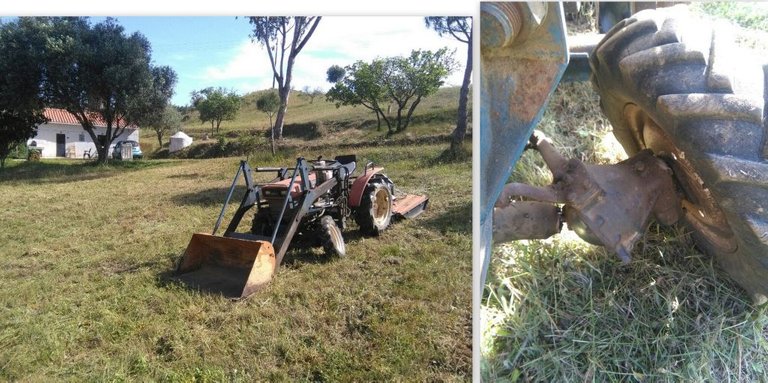 Hätte ich mal aufs Liebchen gehört und wäre daheim geblieben, dachte ich mir und verfluchte diesen Scheiß Freitag, auch wenn mir jeglicher Aberglaube fremd ist.
Später in der Werkstatt sollte ich erfahren das niemand außer mir selbst für das Desaster verantwortlich ist.
If I had listened to the Liebchen and would have stayed at home, I thought to myself and cursed this shit Friday, even if any superstition is foreign to me.
Later in the garage, I should learn that no one but myself is responsible for the disaster.
Der Traktor Meister verriet mir, das es für die Maschine tödlich ist wenn man bei Zugarbeiten den Frontlader nicht abmontiert, da sich die permanenten Schwingungen der Schaufel auf das Gefährt übertragen und es nur eine Frage der Zeit ist bis irgendwo etwas bricht, da solch ein Mini Trecker halt nur bedingt belastbar ist.
Auch konnte er mir kaum Hoffnung auf ein Happy End machen, zu alt sei der Traktor und die Ersatzteillage dementsprechend miserabel. Er werde aber sein bestmögliches tun versprach er mir, ich solle mich aber auf eine lange Wartezeit einstellen.
The tractor master told me that it is fatal for the machine if you do not dismantle the front loader during traction work because the permanent vibrations of the bucket are transmitted to the vehicle and it is only a matter of time until something breaks somewhere because such a mini tractor is just limited load capacity.
He also could not give me much hope for a happy end, the tractor is too old and the spare parts situation is accordingly miserable. He would do his best, he promised me, but I should be prepared for a long wait.
Schön war es gewesen ein Trecker Fahrer zu sein, ab nächste Woche aber, ist wieder Handarbeit angesagt. Ich könnte kotzen vor Wut auf meine eigene Doofheit und gehe mich jetzt besaufen. 😡 😠
Habt ein schönes Wochenende!
It had been nice to be a tractor driver, but from next week, is again announced manual labor. I could puke with rage at my stupidity and go get drunk now. 😡 😠
Have a nice weekend!
PHOTOS: @muelli