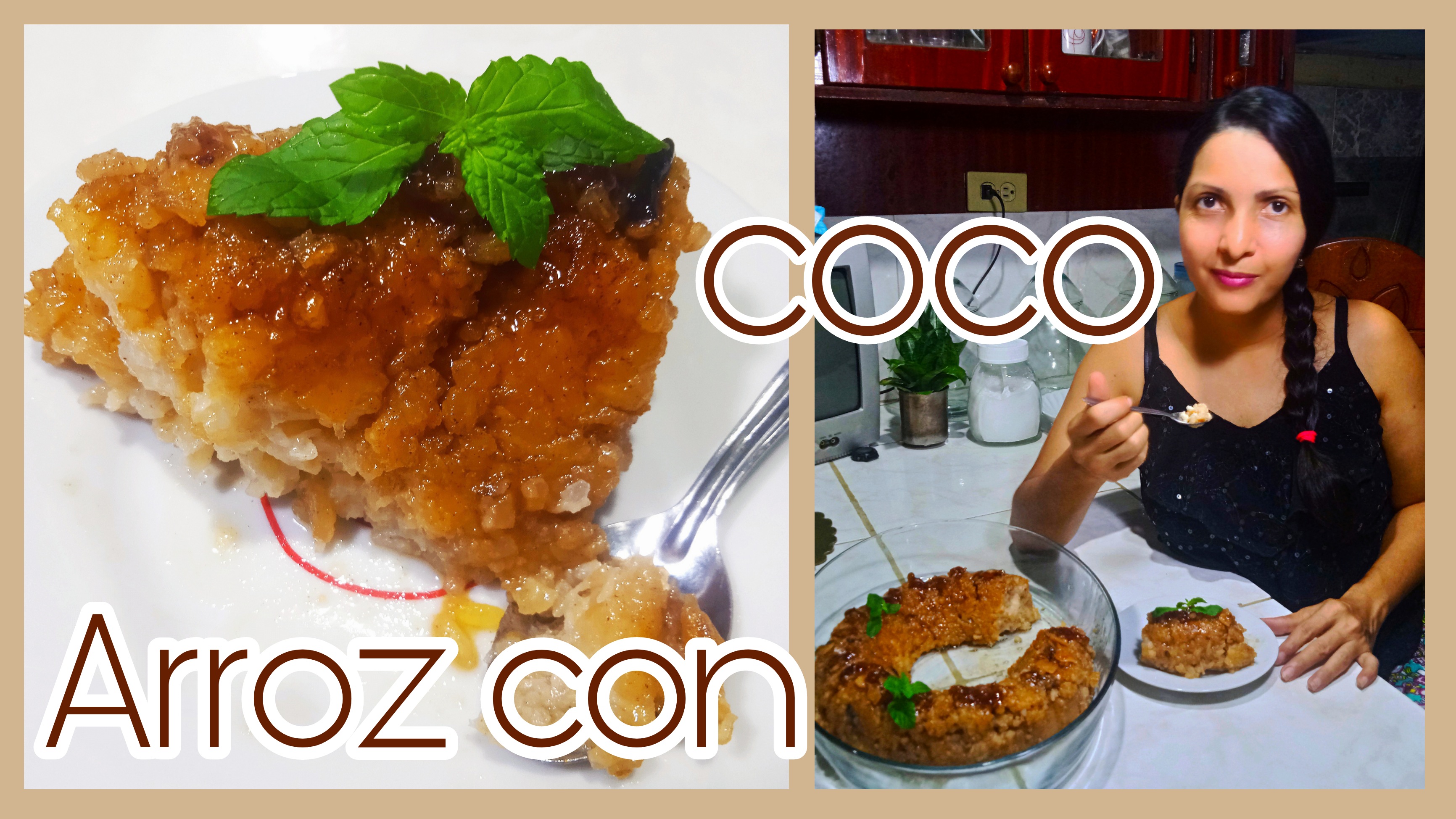 ¡Hola chicos!! 🤗 ¿Cómo están? Yo estoy bien gracias a Dios, y deseo que hoy todas las personas de esta comunidad tengan un lindo día.
Hello guys!! 🤗 How are you? I'm fine, thank God, and I wish all the people in this community have a nice day today.
En esta oportunidad, realicé una receta de mi abuela Rosa🌹. Mi abuela nos endulzaba con su arroz con coco y sabían tan bien que algunas amistades y hasta vecinos solían comprarselos y solían pagárselo por adelantado.
On this occasion, I made a recipe from my grandmother Rosa🌹. My grandmother used to sweeten us with her rice with coconut and they tasted so good that some friends and even neighbors used to buy them and they used to pay in advance.
Confieso 📢 que esta receta tiene algunas variaciones ya que honestamente 😶para mí es un poco complicado conseguir los ingredientes que requiere al pie de la letra📜. Así que casi siempre la hago tomando atajos⭐, pero el resultado es el mismo.🥳
I confess 📢 that this recipe has some variations since honestly 😶for me it is a bit difficult to get the ingredients that it requires to the letter📜. So I almost always do it taking shortcuts⭐, but the result is the same.🥳
❗❗LES COMENTO ALGO MUY IMPORTANTE: Para hacerlo un poco más original se me ocurrió tratar de hacerle una capa de caramelo 🍬, pero no resultó como yo esperaba😔: El caramelo se quedó adherido al molde, así que lo retiré con una cuchara 🥄 y logró salir en forma de caramelos. Estos pedacitos de caramelo los coloqué en la rosca ⭕ como decoración✨. Pero bueno, de la prueba y el error se aprende.😬
❗❗I'M TELLING YOU SOMETHING VERY IMPORTANT: To make it a little more original I thought of trying to make it a layer of caramel 🍬, but it didn't turn out as I expected😔: **The caramel stuck to the mold, ** so I scooped it out with a spoon 🥄 and it came out in candy form. I placed these little pieces of caramel on the bagel ⭕ as decoration ✨. But hey, you learn from trial and error.😬
A mi familia y a mí nos encantó. 🤩 Hace bastante tiempo que no preparaba esta receta y a todos en casa nos encanta, así que nos alegró mucho volver a probarla😋.
My family and I loved it. 🤩 It's been a long time since I made this recipe and we all love it at home, so we were very happy to try it again😋.
Rinde para 10 porciones.🧮
Makes 10 servings.🧮
Para esta receta necesitaremos los siguientes ingredientes:
1 Coco.🥥
1tza y 1\2 de arroz. 🍚
4 tza de leche.🥛
2 tza de azúcar. 🍯
1 cda de canela. ✨
10 Clavitos de olor. 👃🏻
For this recipe we will need the following ingredients:

1 Coconut.🥥
1 tza and 1\2 of rice. 🍚
4 cups of milk.🥛
2 cups of sugar. 🍯
1 tbsp cinnamon. ✨
10 cloves. 👃🏻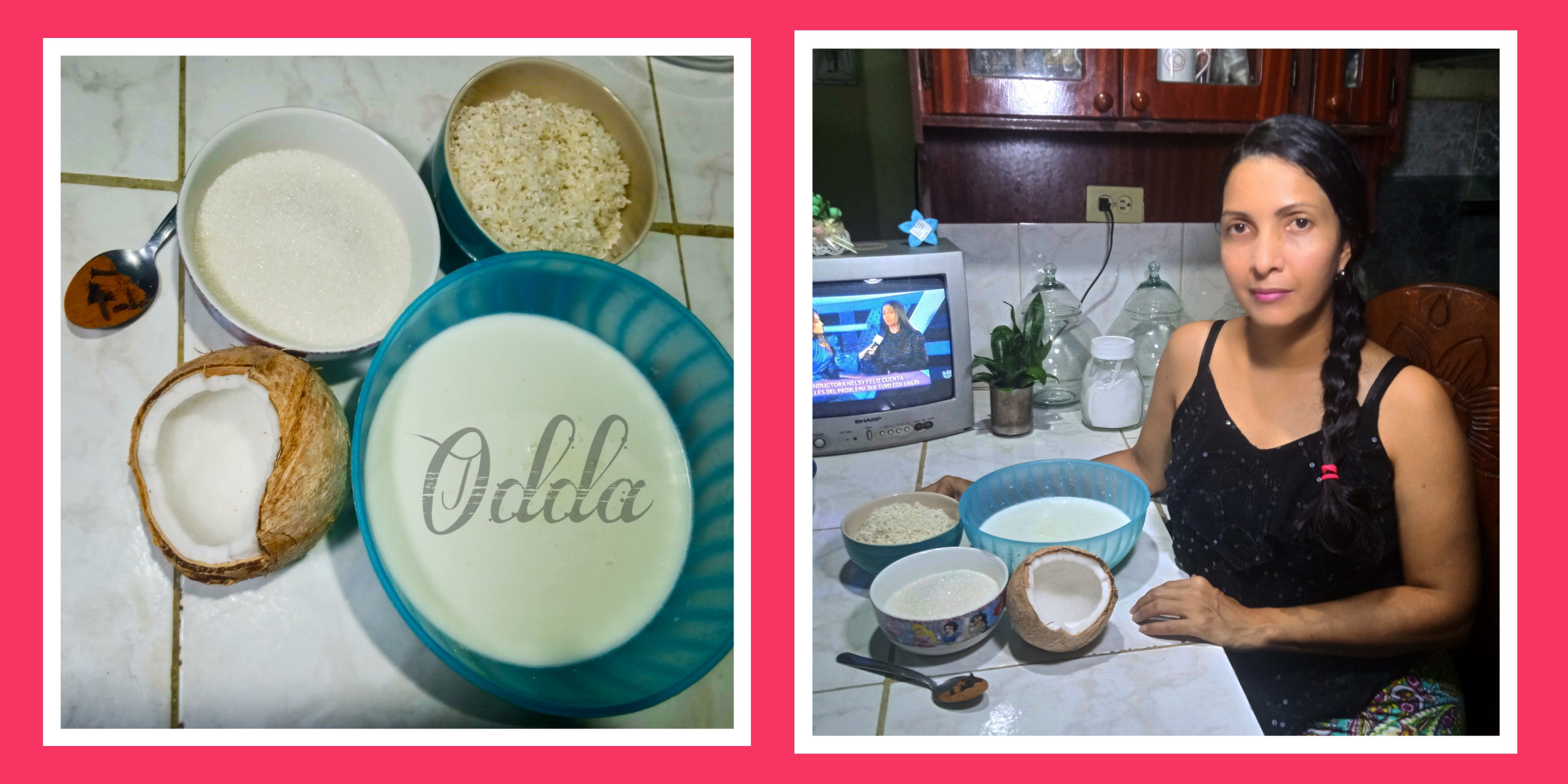 Procedimiento:
Procedure:
Para comenzar, en una cazuela agregamos una taza de azúcar, unos clavitos de olor y un poquito de la canela y dos cucharadas de agua y a fuego medio/bajo🔥 esperamos a que se disuelva el azúcar y comience a hervir hasta tomar un color ámbar, 🟠 y comprobamos si está. 👀 (Podemos comprobarlo colocando un poquito en agua; si se torna sólido como un caramelo ya está listo ✅✅). En ese momento lo vertemos con mucho cuidado al molde sujetando (con guantes o pañuelos gruesos🥊 para no quemarnos⚠️) y moviéndolo intentando esparcirlo por toda la superficie, procurando que no queden espacios sin caramelo.⚪ AQUÍ AGREGAREMOS EL ARROZ EN CUANTO ESTÉ LISTO.😊
To start, in a casserole we add a cup of sugar, a few cloves and a little bit of cinnamon and two tablespoons of water and over medium/low heat 🔥 we wait for the sugar to dissolve and begin to boil **until it turns coloured. ** *** amber, *** 🟠 and we check if it's there. 👀 (We can check it by placing a little bit in water; if it turns solid like candy, it's ready ✅✅). At that moment we pour it very carefully into the mold holding it (with gloves or thick handkerchiefs🥊 so as not to burn ourselves⚠️) and moving it trying to spread it all over the surface, making sure that there are no spaces without caramel.⚪ HERE WE WILL ADD THE RICE AS SOON AS BE READY.😊

En la misma cazuela, comenzamos añadiendo la leche🥛 y las especias✨ a fuego medio🔥, esperamos que le leche esté a punto de hervir🌡️ y le añadimos el azúcar🍯. Mezclamos muy bien y proseguiremos a agregar el arroz 🍚y el coco rallado🥥. Debemos disminuir la llama para que no hierva tanto (ya que se derramarían🌋los ingredientes). Cabe mencionar que hemos de mezclar cada cinco minutos 🌀para no se pegue. Esperamos de 20 a 25 mins⏲️ a que se cocine el arroz y lo apagamos. 📴
In the same casserole, we start by adding the milk🥛 and the spices✨ over medium heat🔥, we hope the milk is about to boil🌡️ and we add the sugar🍯. We mix very well and we will continue to add the rice 🍚 and the grated coconut 🥥. We must decrease the flame so that it does not boil so much (since the ingredients would spill out🌋). It is worth mentioning that we have to mix every five minutes 🌀 so it doesn't stick. We wait 20 to 25 mins⏲️ for the rice to cook and turn it off. 📴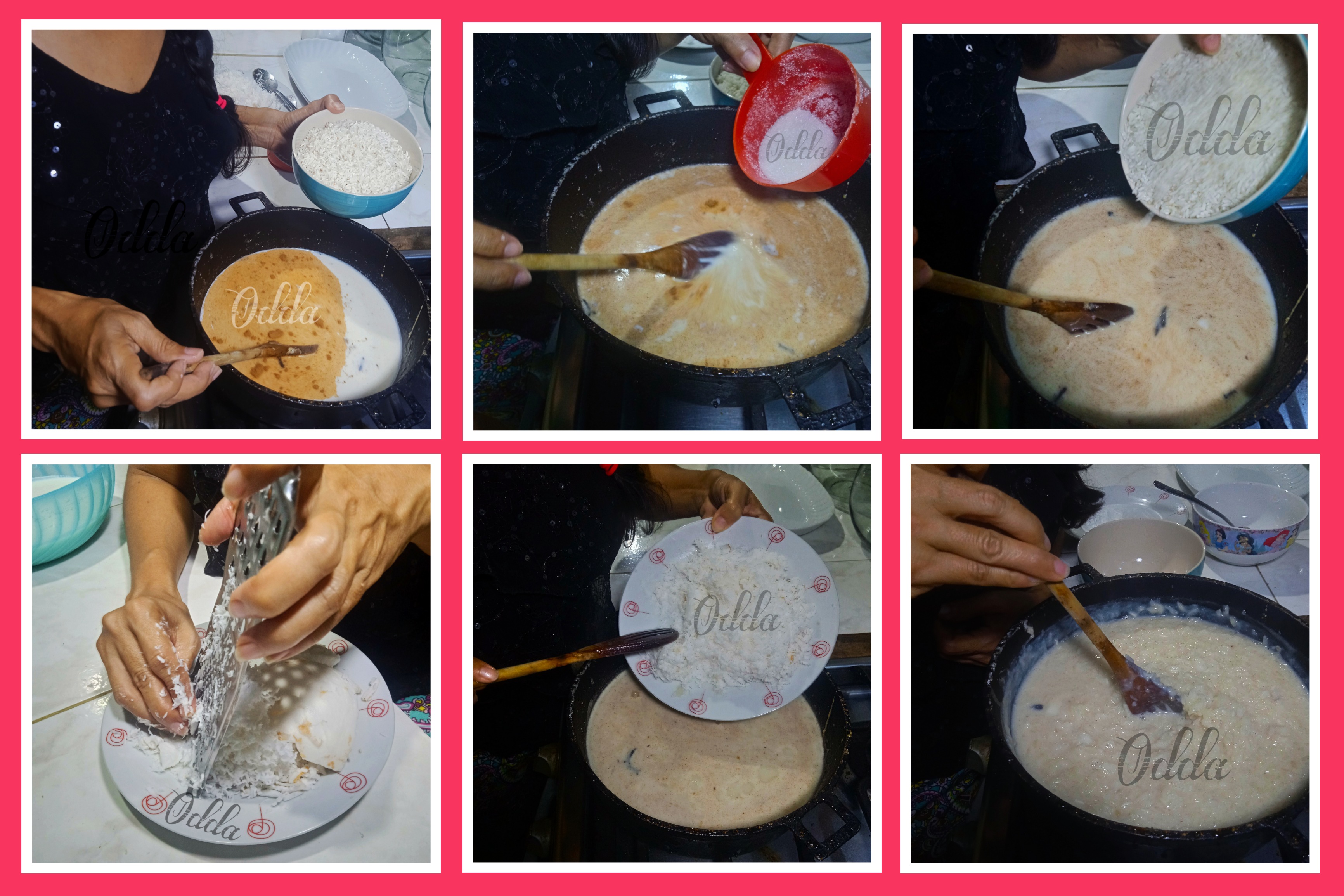 Esperamos a que se tempere 🌬️para luego llevarlo al molde con caramelo🍯, lo llevamos a enfriar❄️ y lo desmoldamos con mucho cuidado para que no se desarme. 💥
We wait for it to warm up 🌬️and then we take it to the mold with caramel🍯, we take it to cool❄️ and we take it out of the mold very carefully so that it doesn't fall apart. 💥ç

YYYYYY NUESTRO POSTRE YA ESTÁ LISTO PARA COMERLO📢✨🥳✨.
YYYYYY OUR DESSERT IS NOW READY TO EAT IT📢✨🥳✨.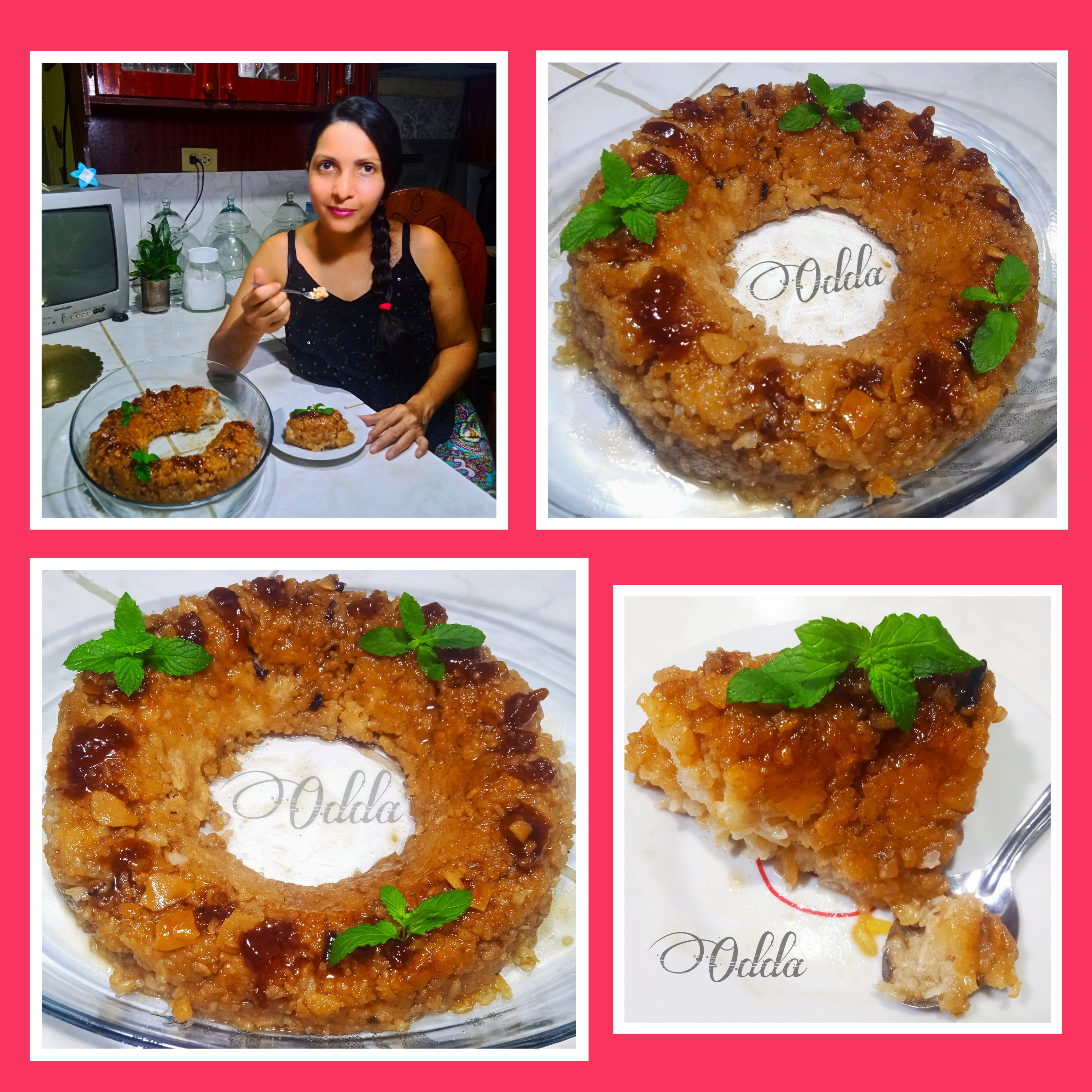 Thank you so much for reading 📖, supporting me 🤜🤛 and encouraging me 🎉 in the comments.
✨Las fotografías y redacciones de esta publicación son de mi autoría ©:📷Fotografías: tomadas con un Redmi 9C 📱y editadas con la App de edición de imágenes PicsArt🎨🖌️
Traducción al inglés 🇺🇸 realizada a través de: https://translate.google.com/?hl=es*
✨The photographs and writings of this publication are to my authorship ©:

📷Photographs: taken with a Redmi 9C 📱and edited with the PicsArt image editing App🎨🖌️
English translation 🇺🇸 made through: https://translate.google.com/?hl=es
!Nos vemos en un siguiente post! (˘︶˘).。♡
See you in a next post! (˘︶˘).。♡