Hello foodies! ❤️
Guess whaaaaaat? It's time for my weekly food post once again. Here I am in Week 4 already! I'm trying to keep this series going and post constantly.
Last week it's been a busy week in the kitchen. I've had it all from pasta to salads, desserts and one birthday cake to coconut milk and smoothies, cream soup andmy favorite sandwich! I hope you enjoy this last week's recipes!
---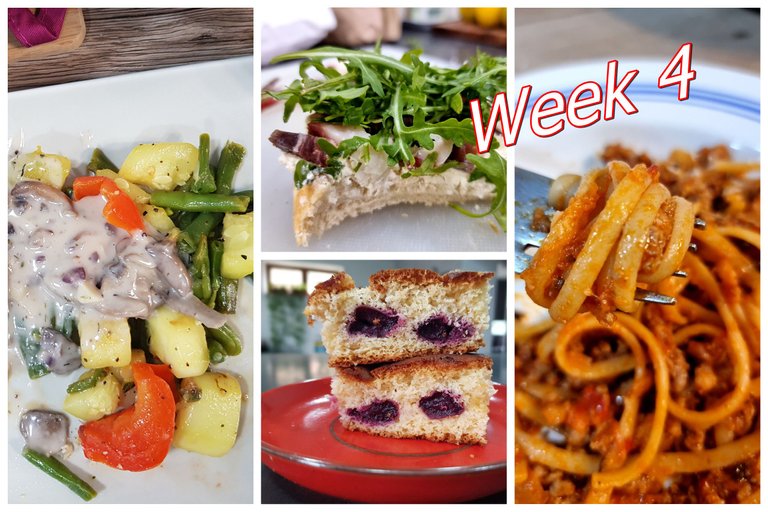 ---
Minced Beef and Red Sauce Pasta
This is one of our favorite recipes. I call it Bolognese but I know its not even close to original recipe.
And yet, here is how I cook the sauce: in a pan, put some olive oil. Saute onion and garlic, carrot and minced beef meat. Add oregano, basil, salt anf pepper, tomato sauce of tomato chunks. Let it boil for 15-20 minutes. Making the sauce should take about 20-30min.
Serve it with your favorite pasta and parmesan cheese on top. Yummy.
---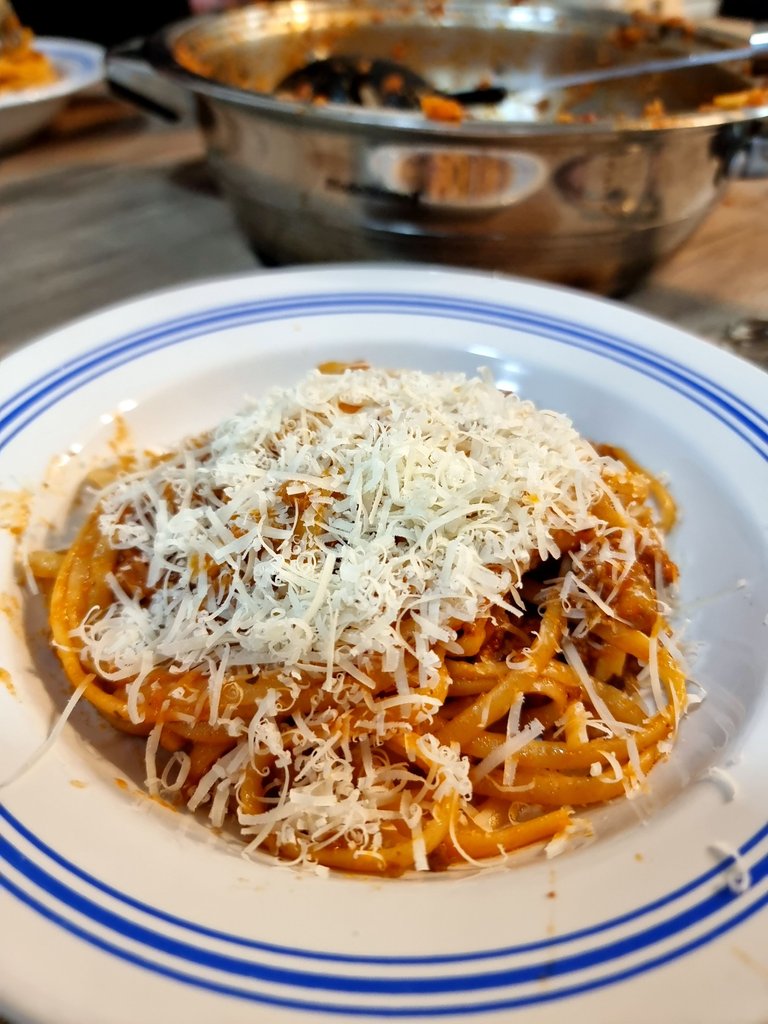 ---
M&Ms Chocolate Cake
This is a piece of my son's birthday cake. We actually had two. This cake here was made by my mom, filled with chocolate cream and cherries. On top I put m&m's! The kids loved it!
It was delicious!Actually, it was better than the one we bought from one of those prestigious confectioneries we all surely have in town! Funny thing...and it was expensive like hell!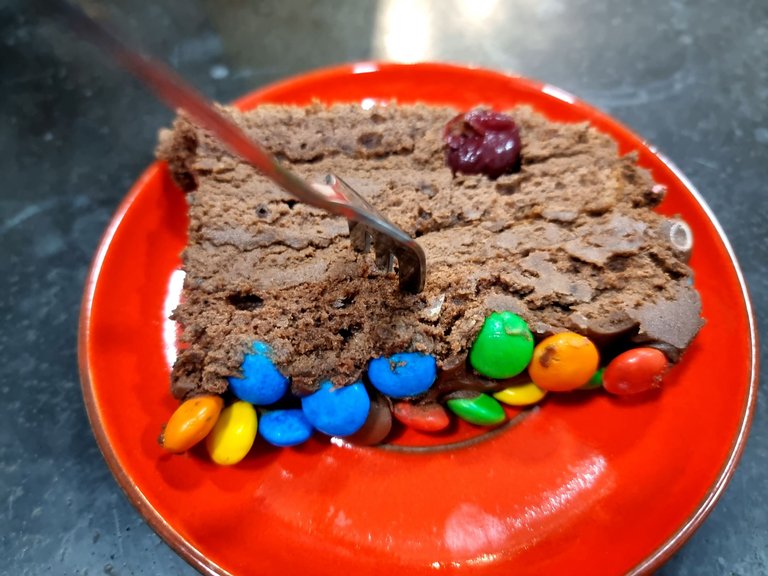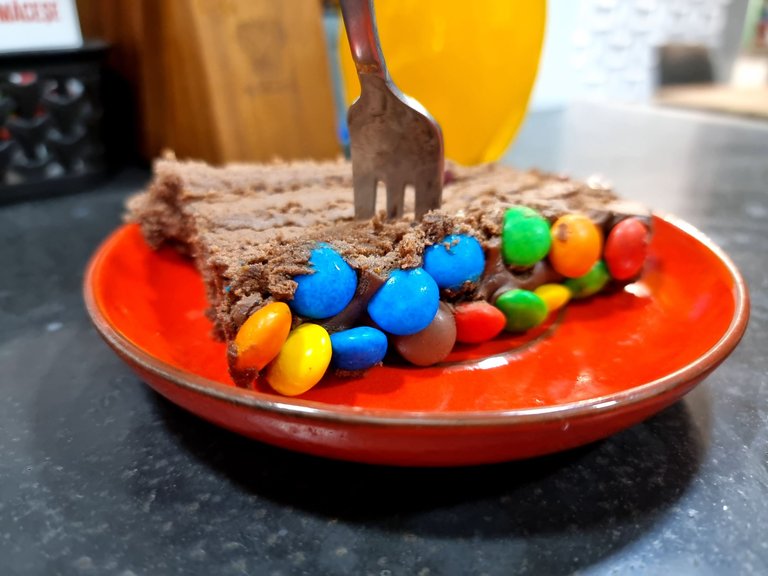 ---
Fried Camembert and Berry Sauce
I wanted to try this for a while and finally I did it.
For the sauce: in a pan add a mix of berries (blackberries, blueberries, raspberries, cranberries, strawberries). Add a bit of sugar and let it boil for 10 minutes.
Fried Camembert: you need eggs, panko bread and flour. First, cut the cheese in small pieces, then roll the pieces in flour, egg and panko. Fry in hot oil for 3-4 minutes.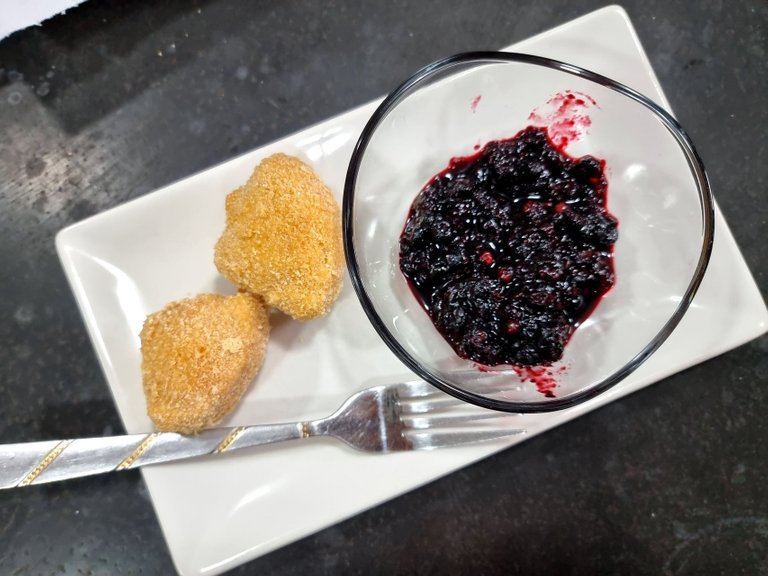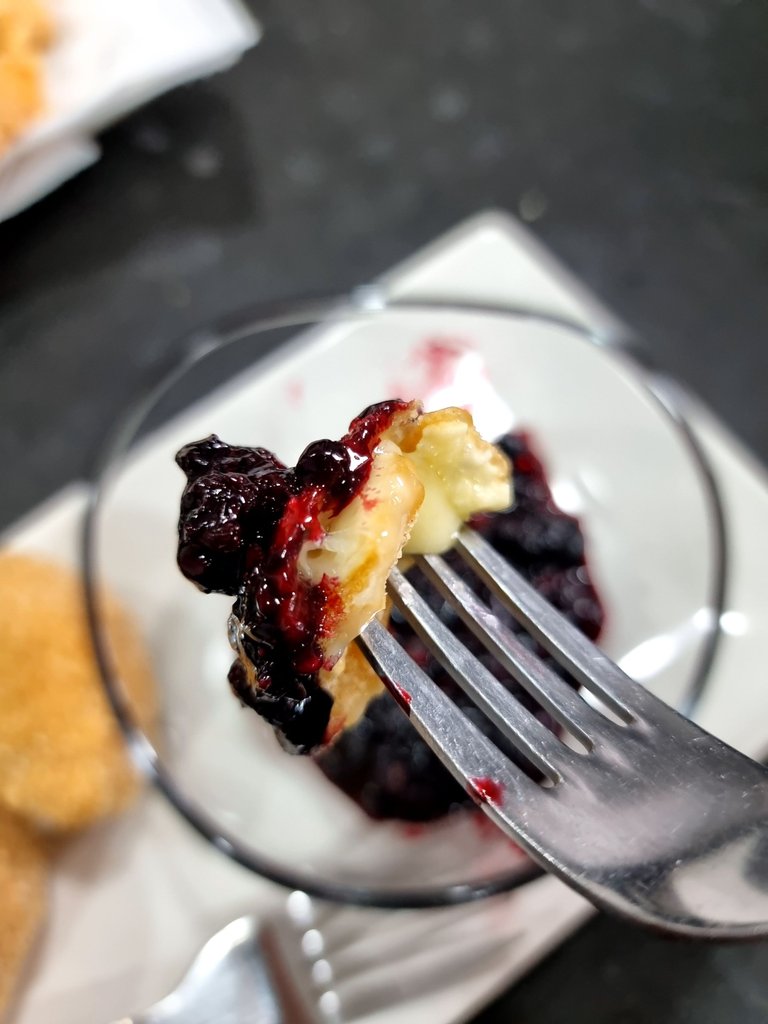 ---
Beef and Asian Veggies mixt stir fry
This was something I came up with last minute after I found out in the freezer a bag of asian veggies mix. Also I had two pieces of beef fillets. I boiled spaggethi and did a stir fry with all the veggies and the beef. It was mostly for the husband. I added some soya sauce too.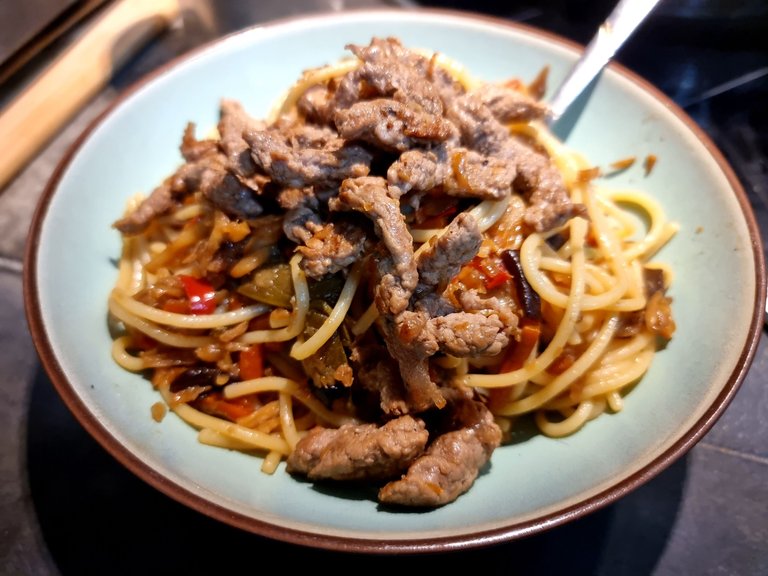 ---
Tuna Salad
The easiest salad on Earth! You need one can of kidney beans (or cook your own), tuna, onion, tomatoes, bell pepper, shredded carrot and crutouns. Salt and black pepper and you're good to go! Sometimes I make a salsa dressing for this salad but I like it more without.
Crutouns and Kidney beans make the salad Delicious. Make sure not to skip these two ingredients!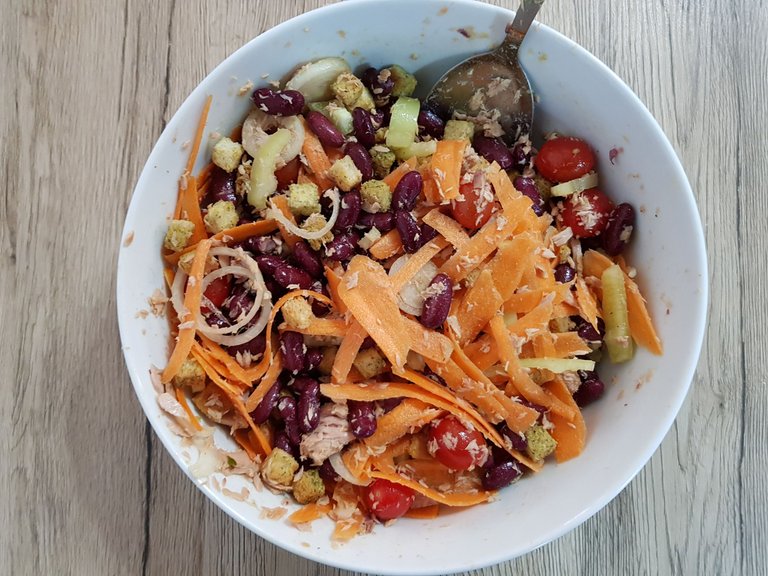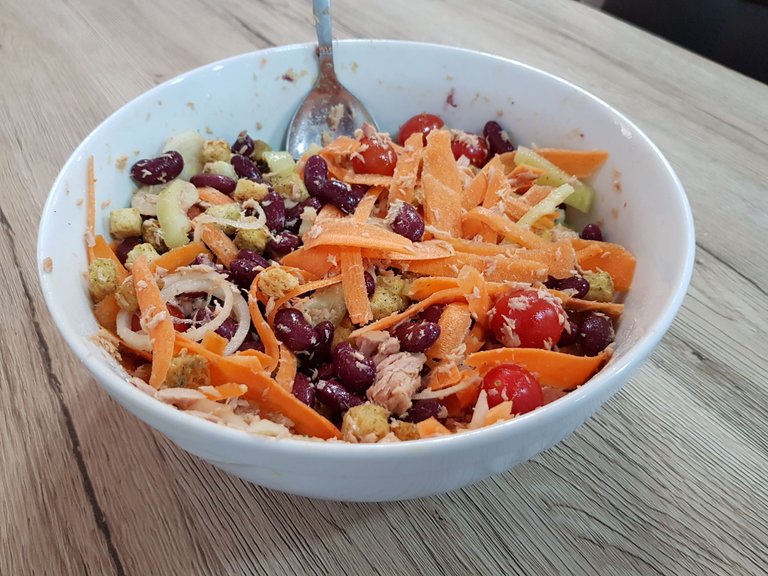 ---
One Tray Bacon and Veggies Oven Baked
Ohhh this! This one tray of veggies an bacon is just perfect for lazy or busy evenings. It works great for lunch too.
Add olive oil, your favorite veggies (I had carrots, potatoes and cauliflower), season with oregano, salt and pepper, add a few bacon slices and when it's ready (40 minutes) you can add some mozzarella chesse on top. This is completely optional but husband likes it so I always add it (or at least add it on half of the portion as you can see in the picture down below).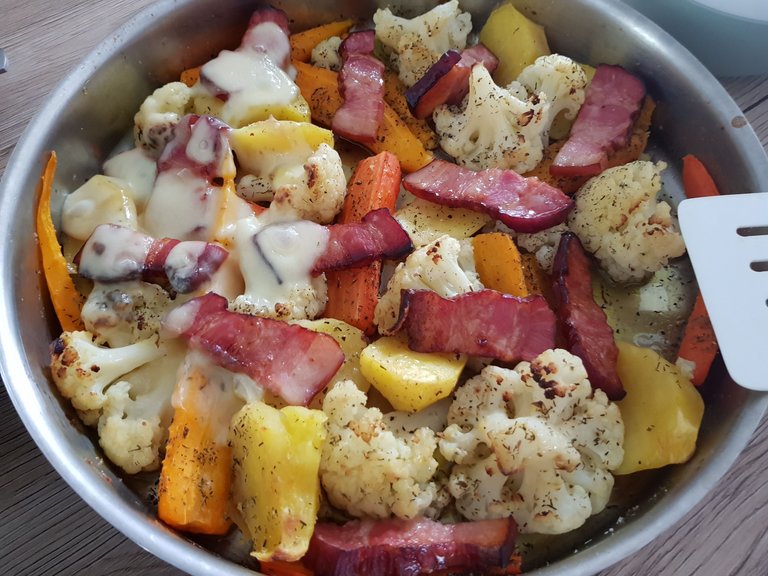 ---
Meatloaf, Veggies and Brown Mushroom Sauce
This one is something we served on Sunday.
Mushroom sauce: In a pan add olive oil and onion. Saute for 5 minutes, add oregano, salt and pepper. Add brown mushroom slices and saute for another 10-15 minutes. Add salt again and then add heavy cream. Stir in to incorporate it and leave it for 5 minutes more. Done.
The quantities: I would say something around 500g mushroom and 200ml heavy cream.
Veggies: I had potatoes, green beans and red bell pepper. Olive oil, salt and pepper and thats it. Saute all the veggies until they're well cooked.
Meatloaf: This meatloaf is stuffed with mozzarella cheese and coated in bacon. For the meatloaf you'll need one onion, a few cloves of garlic, one cup oats, salt and pepper, 500g minced meat, thyme and maybe one egg. Thats it. Combine all ingredients and roll the mixture over slices of bacon. Put cheese inside and roll everything.
---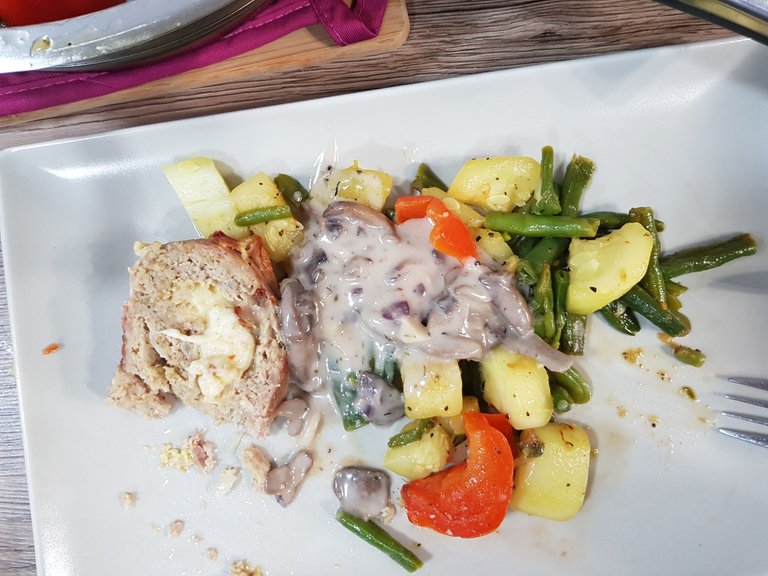 Coconut Chocolate Milk
I always make my coconut milk at home and very rarely buy it. This time I made it from fresh coconut but very often I do it from coconut flakes (it's more convinient and time less consuming).
After making the plant based milk, I added a bit of honey and cacao powder! Yumm is the perfect word! Silky and soft, chocolate flavored and ready to be enjoyed!
Here you can read more about the process of making coconut milk.
---
---
Carrot and ginger cream soup
My little one loves cream soups, of any time. This time I had a carrot and ginger cream soup. Other ingredients you need are: olive oil, onion, 1 sweet potato, a few cloves of garlic and coconut milk. You can use water, veggies broth or chicken broth.
You need to saute onion, carrots, ginger and sweet potato. Add rest of the ingredients, including the stock. Add salt and black pepper, maybe some paprika too. Boil until everything is well cooked and then blend it in a normal blender or a vertical one. Serve with crutouns or grilled bread.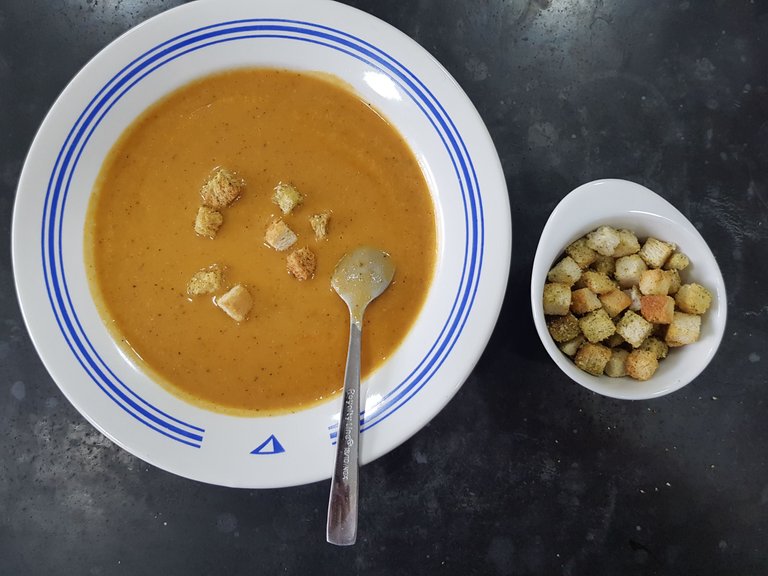 Breakfast for a preschooler
This is regular for my 4 year old. He doesnt like mushy foods or combined. He likes to see everything and not be touched one to another. This is getting me in a dangerous spot sometimes as I feel irritated when he complains about the fact that his avocado touched the bread and I feel to shout out my nerves and impatience.
Here he had: pineapple, radish, avocado, grilled bread with basil olive oil on top then cut into small pieces, a few chocolate raisins and homemade yoghurt.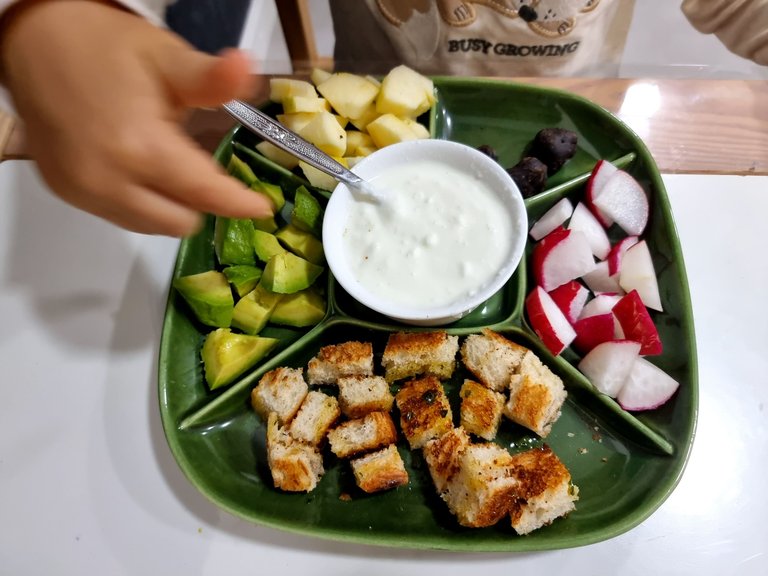 ---
My favorite Sandwich in the World
This is.....like the one and only! My favorite of all! I could eat this every day! I would go right now and have one but I dont have rucola greens! 😢
This sandwich is really soo sooo delicious!
Bread (Romanian delicious bread cooked on teh hearth), Creamcheese, Homemade Prosciutto Crudo and Arrugula salad on top (rucola).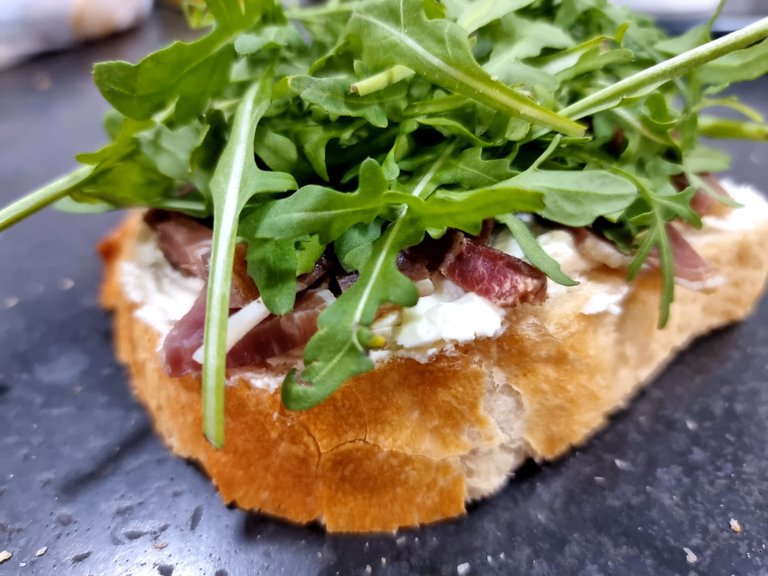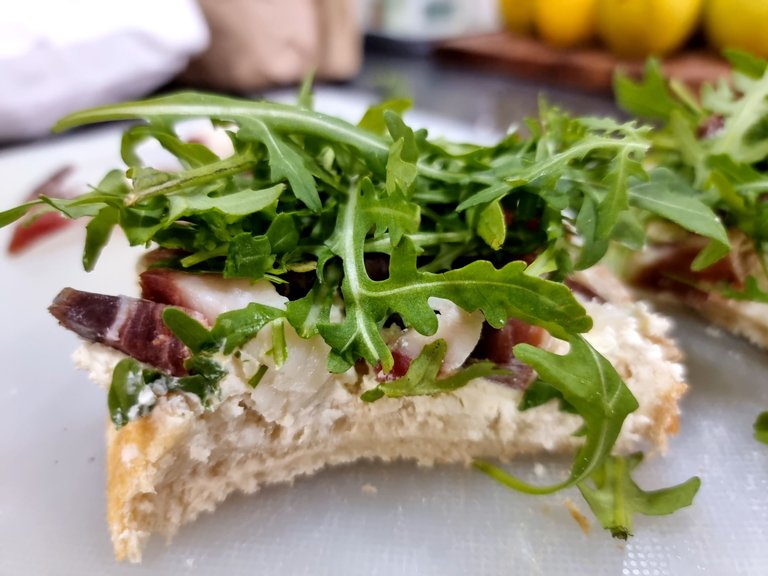 ---
Green Smoothie for the winners
My son asked a green smoothie and I was like whattt? 😏 "Yes, baby. Sure!" How wouldnt't I? When your 4 years old ask for a GREEN SMOOTHIE, you just can't say NO.
After so much work in making them aware of what healthy food is sand how to take care of our health, you definitely don't say NO when he asks you for a smoothie.
So I came up with half of banana, kale greens, apple and 2-3 small pieces of pineapple. Ready in 5 minutes! He drank it all and I really enjoyed seeing him how fast he drank the whole cup!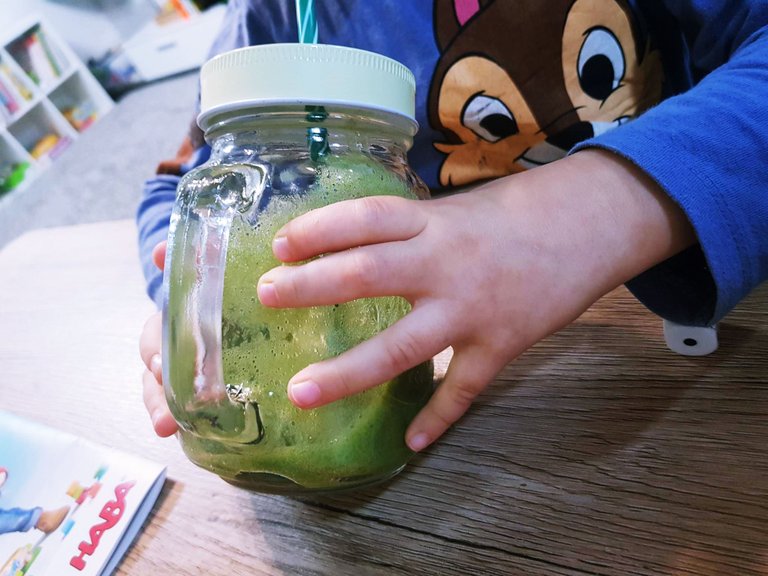 ---
Cherries Sponge Cake
This is something to die for! All family loves it!! I do it in the summer too and actually, you can find the link here to my original recipe.
The recipe is simple to make, about 30 minutes to prepare all and put it in the oven. Its not really a healthy recipe, as you need white flour, eggs, baking powder, sugar.
I had sweet cherries in the fridge from our last harvest. we were loaded with buckets of cherries so I had to put them in the freezer.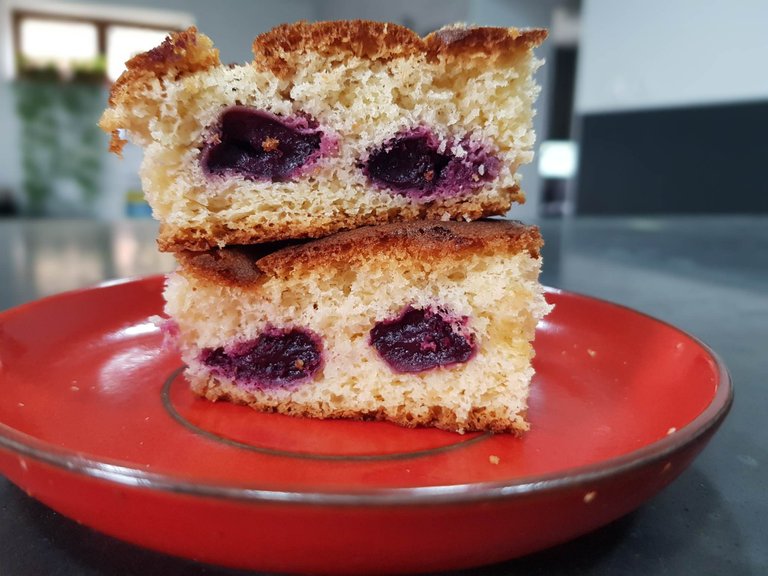 ---
Green Salad and Fresh Mozzarella Cheese Salad
You can serve it as a main dish or side dish, whatever your choice is, you can't go wrong.
I had a few green salad leaves left in the fridge, added some cherry tomatoes, red onion rings and one big fresh mozzarella. I quickly made a dressing out of yoghurt, mayo, garlic powder, salt and pepper and that it.
Crutouns would be great with this if you consider having it as the only dish on your table. Or it could be the perfect side dish along with a steak or grilled chicken breast.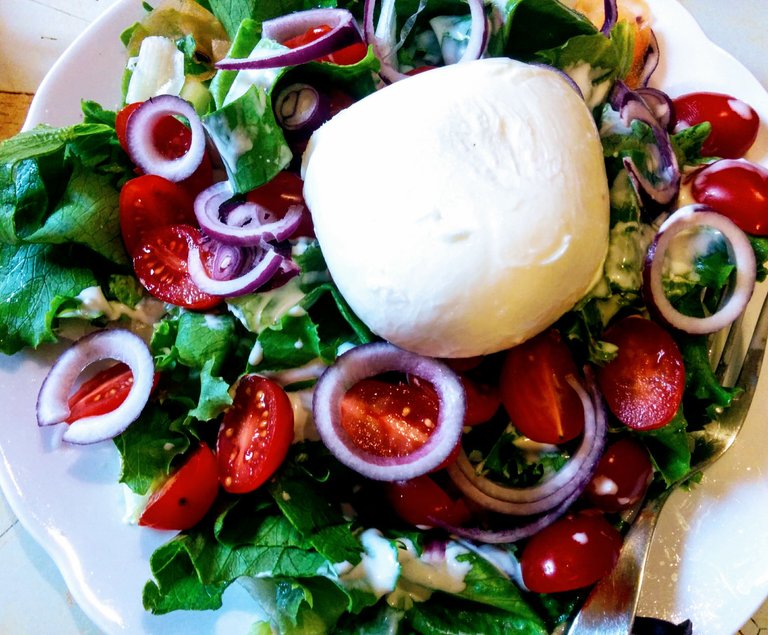 ---
This is all for WEEK 4! There were some other recipes and some eating out times, but I didnt manage to share it all!
I hope you'll find some inspiration for your future cooking experiences with this blog! And if you have any questions regarding to any of my recipes shared here, leave a comment down bellow and I'll tell you all about it!
Thank you for reading this and I really hope you'll find something delicious, worth trying!
love, missdeli
---
Here you can find:
---

---
You'll find healthy recipes for kids and more.
---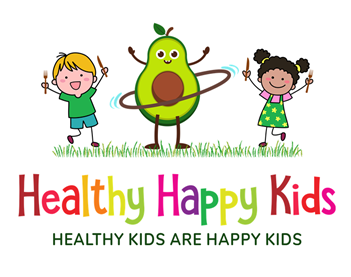 ---