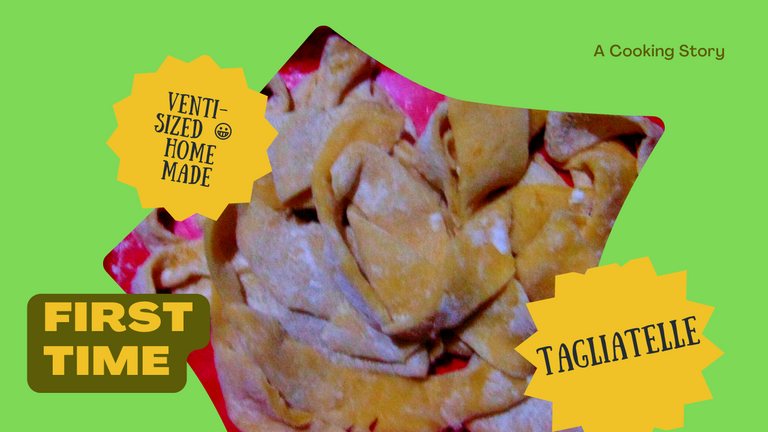 Before I am going further showing you what I made,
I have to apologize to Italians, mostly because my tagliatelle is venti-sized 😀
I used to be one of those people who thought making pasta was such a work and not worth it. I'd rather grab a 3$ pack of pasta available at the store than having to knead and make it from flour and egg. But guess what? The fresh hand-made pasta shouldn't scare you, it's very easy to make and even someone like me could make it! That just means, you could too. All you need for a portion of a person is flour and 1 large egg. Simple, right? And it only takes an hour of your time to make a complete dish with fresh-handmade and homemade pasta.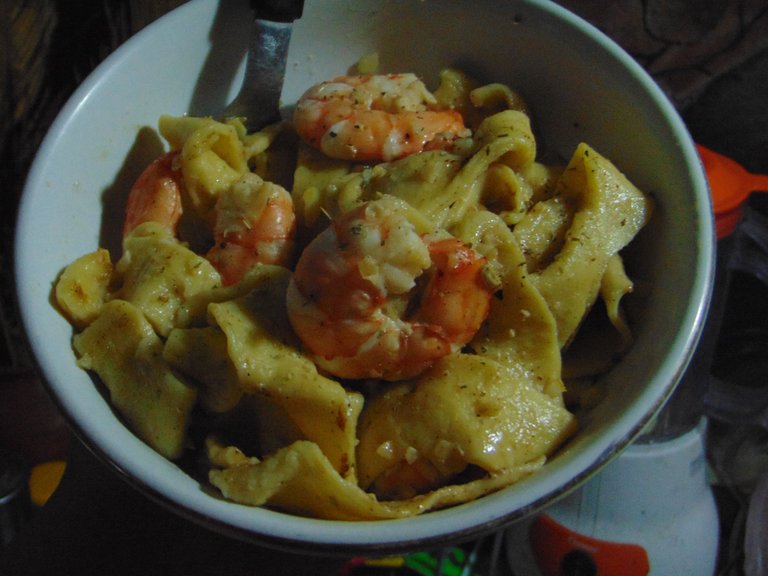 For dinner today, that's what I decided to make. I find that cooking is such a stress reliever activity. By kneading the dough it's like punching away all the negative energy. The thing is, the pasta I made today was bigger in size and it was a bit too thick. I also forgot the fact that these would grow in size when boiled.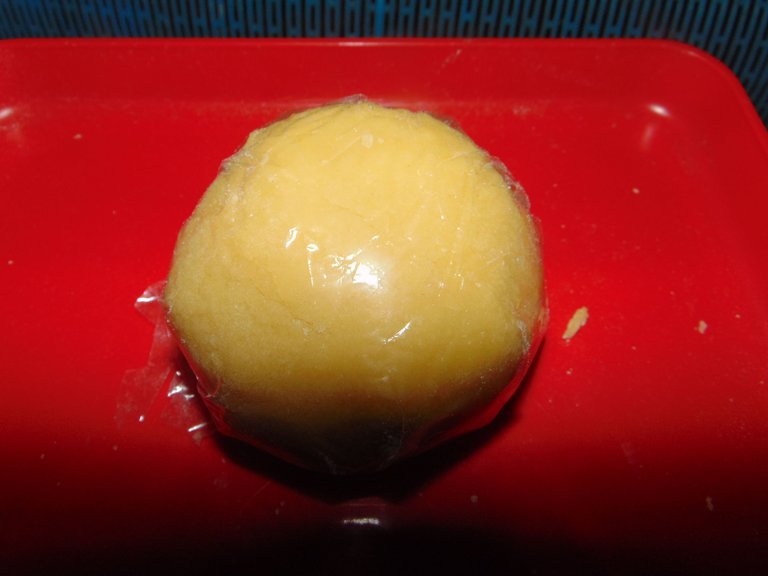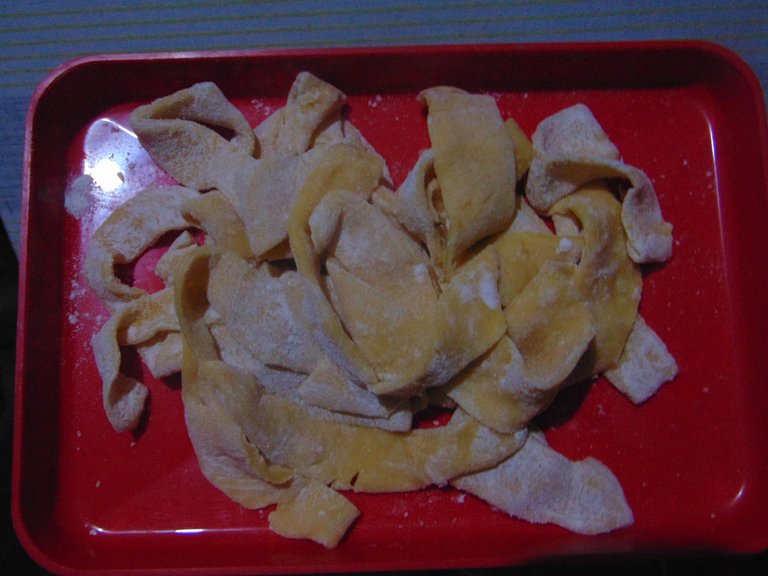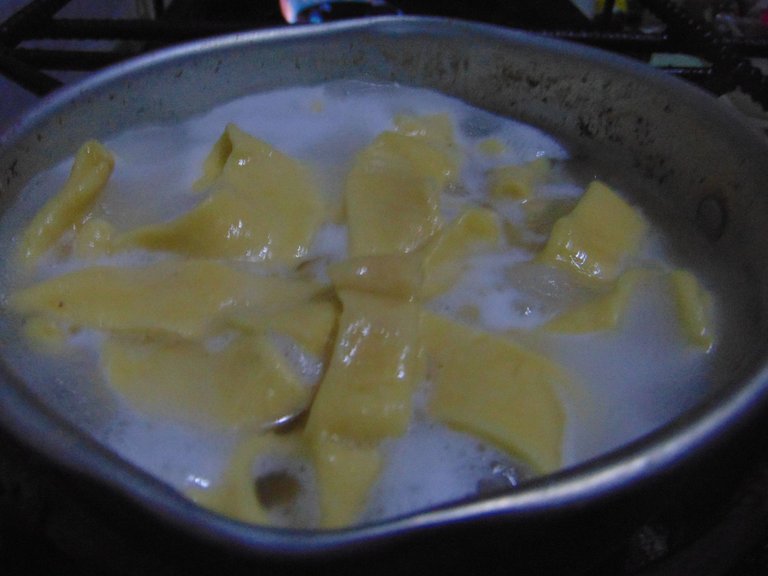 If you ask me how to make it? I was just following this recipe Homemade tagliatelle. But making it into a dish was my own signature of shrimp pasta or scampi but fusion. I said that just because I am using available ingredients at my home and it's far from the original scampi that you probably know of. Although I stick to plenty of garlic which I know, it's one of the most important ingredients in Italian cooking, especially pasta.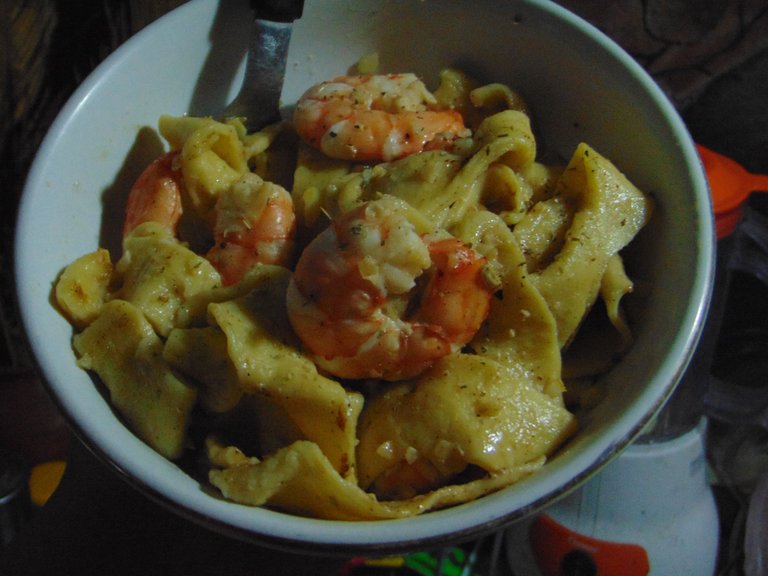 As you see above, that was how my tagliatelle turned out. The scampi that I made was using margarine instead of butter but I still added a generous amount of lemon juice and zest for extra flavors.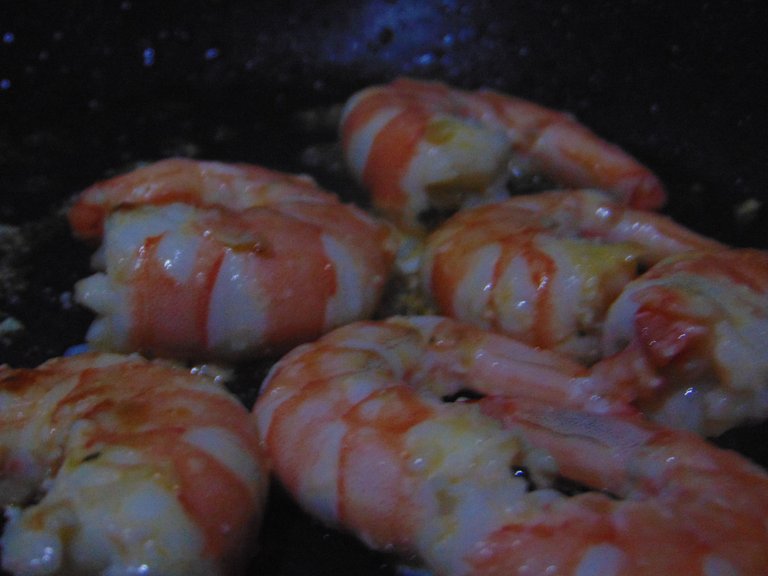 I got the shrimp from my aunt yesterday and we had a lot of them. It's big and so juicy. It was simply perfect to be added to my tagliatelle. As for seasoning, it's very simple, salt, pepper and a bit of chili powder for extra taste.
" You spent more than an hour just for a bowl?" asked my mom.
" Yeah 🥹"
My mom said that the pasta tasted good but it's too big. I told her that it was my first time and I would do better next time considering that the table I work from was too small. I will also have to clean up my mom's pasta maker so I can make a decent and thinner tagliatelle next time. I find that it's actually pretty simple and healthier than the store-bought pasta which has even more preservatives. Sure, it's a bit of work to make it from a fresh-ingredients but it's super worth it especially if you have more time to make it. I do recommend that you make in bigger batches so you could save some because it tastes that good when you combine with the other right ingredients and just wants to make you crave more!

Don't hesitate to upvote for more content like this ! You can also support me below!

---
𝘔𝘢𝘤 𝘪𝘴 𝘢 𝘴𝘦𝘭𝘧-𝘦𝘮𝘱𝘭𝘰𝘺𝘦𝘥 𝘯𝘪𝘯𝘫𝘢 & 𝘤𝘰𝘧𝘧𝘦𝘦 𝘤𝘰𝘯𝘯𝘰𝘪𝘴𝘴𝘦𝘶𝘳 . 𝘈 𝘵𝘺𝘱𝘪𝘤𝘢𝘭 𝘪𝘯𝘵𝘳𝘰𝘷𝘦𝘳𝘵 𝘪𝘯 𝘭𝘰𝘷𝘦 𝘸𝘪𝘵𝘩 𝘭𝘪𝘵𝘦𝘳𝘢𝘵𝘶𝘳𝘦, 𝘣𝘰𝘰𝘬𝘴, 𝘵𝘦𝘤𝘩𝘯𝘰𝘭𝘰𝘨𝘺 𝘢𝘯𝘥 𝘱𝘩𝘪𝘭𝘰𝘴𝘰𝘱𝘩𝘺. 𝘛𝘩𝘪𝘴 𝘪𝘴 𝘩𝘦𝘳 𝘱𝘦𝘳𝘴𝘰𝘯𝘢𝘭 𝘣𝘭𝘰𝘨, 𝘢 𝘳𝘦𝘧𝘭𝘦𝘤𝘵𝘪𝘰𝘯 𝘰𝘧 𝘩𝘦𝘳 𝘸𝘢𝘯𝘥𝘦𝘳𝘭𝘶𝘴𝘵 𝘢𝘯𝘥 𝘵𝘩𝘪𝘳𝘴𝘵 𝘧𝘰𝘳 𝘬𝘯𝘰𝘸𝘭𝘦𝘥𝘨𝘦. 𝘚𝘩𝘦 𝘰𝘧𝘵𝘦𝘯 𝘤𝘰𝘷𝘦𝘳𝘴 𝘣𝘰𝘰𝘬𝘴, 𝘮𝘰𝘷𝘪𝘦 𝘢𝘯𝘥 𝘴𝘦𝘳𝘪𝘦𝘴 𝘳𝘦𝘷𝘪𝘦𝘸𝘴, 𝘵𝘦𝘤𝘩 𝘳𝘦𝘷𝘪𝘦𝘸𝘴 𝘢𝘯𝘥 𝘵𝘳𝘦𝘯𝘥𝘴, 𝘱𝘩𝘰𝘵𝘰𝘨𝘳𝘢𝘱𝘩𝘺, 𝘢𝘯𝘥 𝘱𝘦𝘳𝘴𝘰𝘯𝘢𝘭 𝘥𝘦𝘷𝘦𝘭𝘰𝘱𝘮𝘦𝘯𝘵. 𝘖𝘯𝘤𝘦 𝘪𝘯 𝘢 𝘣𝘭𝘶𝘦 𝘮𝘰𝘰𝘯, 𝘺𝘰𝘶 𝘤𝘢𝘯 𝘧𝘪𝘯𝘥 𝘩𝘦𝘳 𝘵𝘳𝘢𝘷𝘦𝘭𝘪𝘯𝘨, 𝘪𝘮𝘮𝘦𝘳𝘴𝘪𝘯𝘨 𝘩𝘦𝘳𝘴𝘦𝘭𝘧 𝘪𝘯 𝘭𝘰𝘤𝘢𝘭 𝘤𝘶𝘭𝘵𝘶𝘳𝘦𝘴 𝘢𝘯𝘥 𝘵𝘳𝘢𝘥𝘪𝘵𝘪𝘰𝘯𝘴, 𝘢𝘯𝘥 𝘵𝘢𝘬𝘪𝘯𝘨 𝘱𝘪𝘤𝘵𝘶𝘳𝘦𝘴 𝘰𝘧 𝘵𝘩𝘦 𝘣𝘦𝘢𝘶𝘵𝘪𝘧𝘶𝘭 𝘴𝘪𝘨𝘩𝘵𝘴 𝘴𝘩𝘦 𝘦𝘯𝘤𝘰𝘶𝘯𝘵𝘦𝘳𝘴 𝘢𝘭𝘰𝘯𝘨 𝘵𝘩𝘦 𝘸𝘢𝘺. 𝘚𝘩𝘦'𝘴 𝘢𝘯 𝘰𝘤𝘤𝘢𝘴𝘪𝘰𝘯𝘢𝘭 𝘧𝘰𝘰𝘥𝘪𝘦 𝘢𝘯𝘥 𝘭𝘰𝘷𝘦𝘴 𝘵𝘰 𝘦𝘹𝘱𝘭𝘰𝘳𝘦 𝘯𝘦𝘸 𝘢𝘯𝘥 𝘥𝘦𝘭𝘪𝘤𝘪𝘰𝘶𝘴 𝘤𝘶𝘭𝘪𝘯𝘢𝘳𝘺 𝘦𝘹𝘱𝘦𝘳𝘪𝘦𝘯𝘤𝘦𝘴. 𝘍𝘰𝘭𝘭𝘰𝘸 𝘢𝘭𝘰𝘯𝘨 𝘰𝘯 𝘩𝘦𝘳 𝘢𝘥𝘷𝘦𝘯𝘵𝘶𝘳𝘦𝘴 𝘢𝘯𝘥 𝘫𝘰𝘪𝘯 𝘵𝘩𝘦 𝘤𝘰𝘯𝘷𝘦𝘳𝘴𝘢𝘵𝘪𝘰𝘯! 𝘋𝘰𝘯'𝘵 𝘩𝘦𝘴𝘪𝘵𝘢𝘵𝘦 𝘵𝘰 𝘶𝘱𝘷𝘰𝘵𝘦, 𝘭𝘦𝘢𝘷𝘦 𝘢 𝘤𝘰𝘮𝘮𝘦𝘯𝘵 𝘰𝘳 𝘢 𝘧𝘦𝘦𝘥𝘣𝘢𝘤𝘬. 𝘈 𝘳𝘦-𝘣𝘭𝘰𝘨 𝘪𝘴 𝘢𝘭𝘴𝘰 𝘢𝘱𝘱𝘳𝘦𝘤𝘪𝘢𝘵𝘦𝘥 𝘵𝘰𝘰.