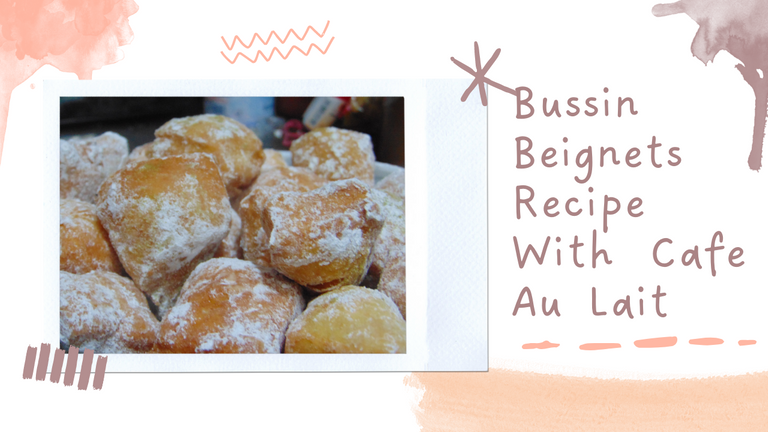 A lil story of Beignets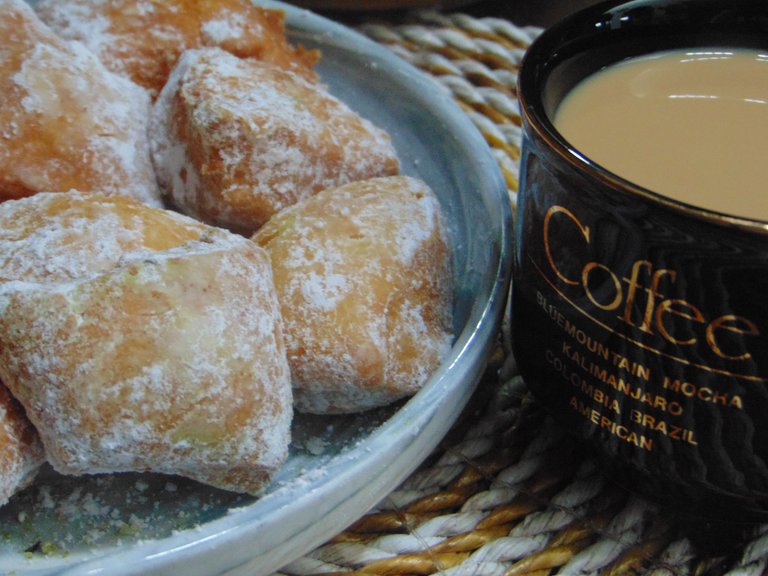 When I was curating the other day, I found a beignets recipe shared by @linita. But the first time I came across beignets was from Chef, an adventure style cooking movie that at one point, the characters travel to New Orleans. In that movie, they visited Cafe Du Monde which apparently is famous for their beignets and the cafe au lait. It was the cinematography that made me drool over it, while in fact, Indonesian sort of have similar beignets and we're calling it odading. Anyway, Chef is a movie I watched a long time ago but thanks to that recipe, it came to my attention again. However, in this recipe I do not follow all ingredients shared by @linita, I also modified it with my recipe and a reference to this recipe that specifically made it with matcha.I know it's probably a bit of cooking blasphemy but I like matcha and want to give beignets a little twist.
Bussin Matcha Beignets With Cafe Au Lait
As usual, in this measurement it will yield more than 10 small beignets. So, you don't have to worry about not being able to share these yummy and soft beignets with others.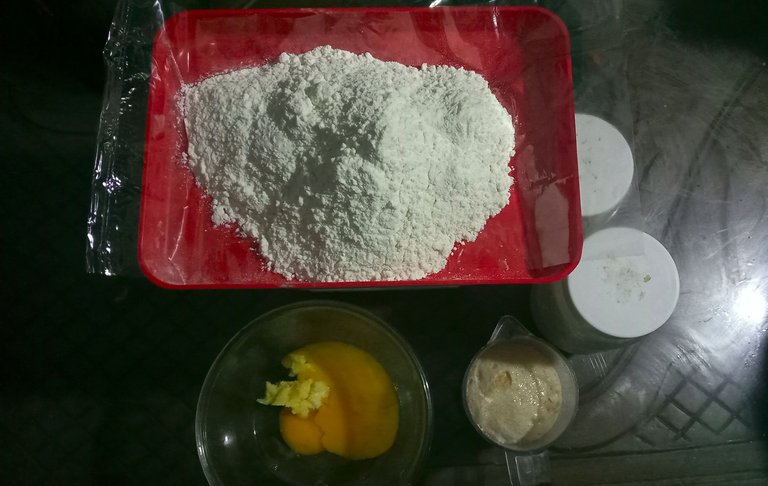 Here's the step-by-step
Put active yeast, water (has to be warm, not too cold nor hot), and sugar 1 tbsp sugar and let it rest for 10 minutes to bloom the yeast.
In a separate bowl, mix 1 whole egg + egg yolk, add melted butter, salt, vanilla powder.
Whisk the wet ingredients and add milk slowly and finally the yeast mixture.
Then, add the liquid mixture to the flour by adding it slowly and make sure to stir it well.
If you don't have a mixer, you can just use your hands and make sure the dough is not sticky anymore.
Then, make a round with the dough and rest it for an hour.
After resting the dough, roll with the pin and cut into squares.
Then, heat frying oil and fry beignets until they turn golden brown.
Finally sprinkle beignets with matcha powder
And if you don't like matcha, just give them a nice confectioner's sugar bath!
Enjoy with Cafe Au Lait!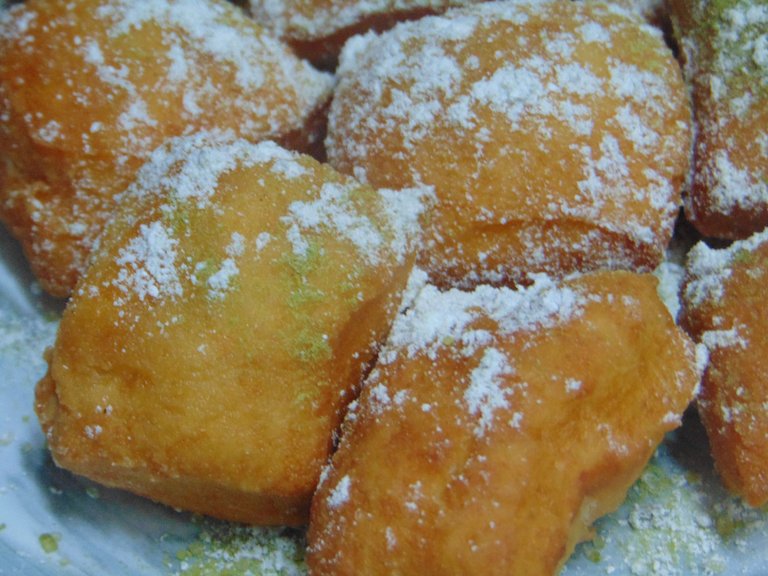 Here are some tips that I learned.
Cut them neatly and in a bigger batch, that's easier to make perfect shapes.
Actually, you can use more sugar into the mixture so that it becomes a bit sweeter than it should. Be generous with it.
Don't overproof them and rest them for too long. I actually did with mine because I fell asleep but that actually is fine, phew!
You don't actually have to bathe them. Just sprinkle the confectioner's sugar on top but I prefer mine to be bathed.
Once you eat them, you sort of want more!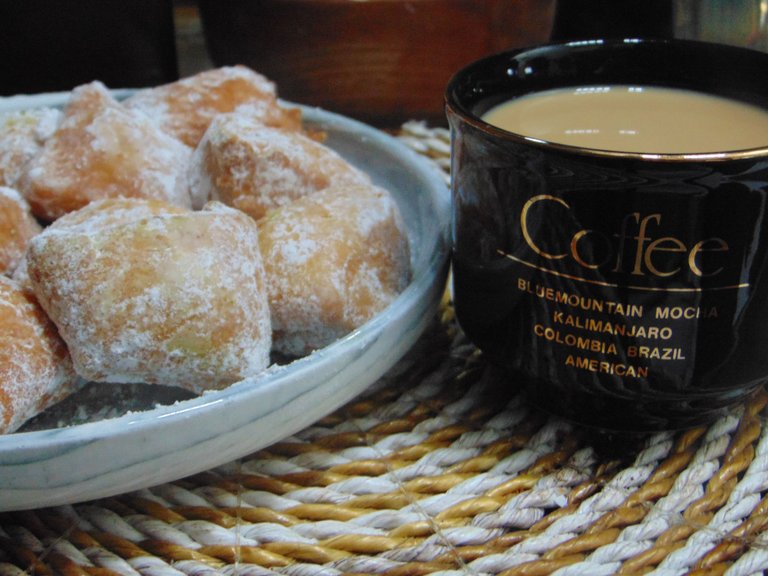 I made this recipe at around two in the morning just cause I can't sleep. Since it's also the weekend and I promise to only make things on the weekend, it was super satisfying. Like I said above, I even fell asleep but it turned out that I woke up at the perfect time when it was breakfast time. The cafe au lait I made was cherry on top and would help me kickstart my week but I certainly don't recommend this for everyday breakfast unless you want to get diabetus from the sugars. So despite being sick, I am forcing myself to fight off the cold by doing things and it often really helps me get better quicker than when I am just laying down and doing nothing. To close this, as I mentioned earlier, beignets in Indonesia, according to my mom, are like roti goreng which basically means fried doughnut but I have to say, it's different. Roti goreng or odading uses white sesame seeds and simple ingredients which means, without butter and milk. More often than not, roti goreng also didn't use confectioner's sugar and for obvious reasons, it's not a breakfast either. It's just a snack which is unlike beignets can be eaten during breakfast, as a dessert or a midnight snack.

Don't hesitate to upvote for more content like this ! You can also support me below!

---
𝘔𝘢𝘤 𝘪𝘴 𝘢 𝘴𝘦𝘭𝘧-𝘦𝘮𝘱𝘭𝘰𝘺𝘦𝘥 𝘯𝘪𝘯𝘫𝘢 & 𝘤𝘰𝘧𝘧𝘦𝘦 𝘤𝘰𝘯𝘯𝘰𝘪𝘴𝘴𝘦𝘶𝘳 . 𝘈 𝘵𝘺𝘱𝘪𝘤𝘢𝘭 𝘪𝘯𝘵𝘳𝘰𝘷𝘦𝘳𝘵 𝘪𝘯 𝘭𝘰𝘷𝘦 𝘸𝘪𝘵𝘩 𝘭𝘪𝘵𝘦𝘳𝘢𝘵𝘶𝘳𝘦, 𝘣𝘰𝘰𝘬𝘴, 𝘵𝘦𝘤𝘩𝘯𝘰𝘭𝘰𝘨𝘺 𝘢𝘯𝘥 𝘱𝘩𝘪𝘭𝘰𝘴𝘰𝘱𝘩𝘺. 𝘛𝘩𝘪𝘴 𝘪𝘴 𝘩𝘦𝘳 𝘱𝘦𝘳𝘴𝘰𝘯𝘢𝘭 𝘣𝘭𝘰𝘨, 𝘢 𝘳𝘦𝘧𝘭𝘦𝘤𝘵𝘪𝘰𝘯 𝘰𝘧 𝘩𝘦𝘳 𝘸𝘢𝘯𝘥𝘦𝘳𝘭𝘶𝘴𝘵 𝘢𝘯𝘥 𝘵𝘩𝘪𝘳𝘴𝘵 𝘧𝘰𝘳 𝘬𝘯𝘰𝘸𝘭𝘦𝘥𝘨𝘦. 𝘚𝘩𝘦 𝘰𝘧𝘵𝘦𝘯 𝘤𝘰𝘷𝘦𝘳𝘴 𝘣𝘰𝘰𝘬𝘴, 𝘮𝘰𝘷𝘪𝘦 𝘢𝘯𝘥 𝘴𝘦𝘳𝘪𝘦𝘴 𝘳𝘦𝘷𝘪𝘦𝘸𝘴, 𝘵𝘦𝘤𝘩 𝘳𝘦𝘷𝘪𝘦𝘸𝘴 𝘢𝘯𝘥 𝘵𝘳𝘦𝘯𝘥𝘴, 𝘱𝘩𝘰𝘵𝘰𝘨𝘳𝘢𝘱𝘩𝘺, 𝘢𝘯𝘥 𝘱𝘦𝘳𝘴𝘰𝘯𝘢𝘭 𝘥𝘦𝘷𝘦𝘭𝘰𝘱𝘮𝘦𝘯𝘵. 𝘖𝘯𝘤𝘦 𝘪𝘯 𝘢 𝘣𝘭𝘶𝘦 𝘮𝘰𝘰𝘯, 𝘺𝘰𝘶 𝘤𝘢𝘯 𝘧𝘪𝘯𝘥 𝘩𝘦𝘳 𝘵𝘳𝘢𝘷𝘦𝘭𝘪𝘯𝘨, 𝘪𝘮𝘮𝘦𝘳𝘴𝘪𝘯𝘨 𝘩𝘦𝘳𝘴𝘦𝘭𝘧 𝘪𝘯 𝘭𝘰𝘤𝘢𝘭 𝘤𝘶𝘭𝘵𝘶𝘳𝘦𝘴 𝘢𝘯𝘥 𝘵𝘳𝘢𝘥𝘪𝘵𝘪𝘰𝘯𝘴, 𝘢𝘯𝘥 𝘵𝘢𝘬𝘪𝘯𝘨 𝘱𝘪𝘤𝘵𝘶𝘳𝘦𝘴 𝘰𝘧 𝘵𝘩𝘦 𝘣𝘦𝘢𝘶𝘵𝘪𝘧𝘶𝘭 𝘴𝘪𝘨𝘩𝘵𝘴 𝘴𝘩𝘦 𝘦𝘯𝘤𝘰𝘶𝘯𝘵𝘦𝘳𝘴 𝘢𝘭𝘰𝘯𝘨 𝘵𝘩𝘦 𝘸𝘢𝘺. 𝘚𝘩𝘦'𝘴 𝘢𝘯 𝘰𝘤𝘤𝘢𝘴𝘪𝘰𝘯𝘢𝘭 𝘧𝘰𝘰𝘥𝘪𝘦 𝘢𝘯𝘥 𝘭𝘰𝘷𝘦𝘴 𝘵𝘰 𝘦𝘹𝘱𝘭𝘰𝘳𝘦 𝘯𝘦𝘸 𝘢𝘯𝘥 𝘥𝘦𝘭𝘪𝘤𝘪𝘰𝘶𝘴 𝘤𝘶𝘭𝘪𝘯𝘢𝘳𝘺 𝘦𝘹𝘱𝘦𝘳𝘪𝘦𝘯𝘤𝘦𝘴. 𝘍𝘰𝘭𝘭𝘰𝘸 𝘢𝘭𝘰𝘯𝘨 𝘰𝘯 𝘩𝘦𝘳 𝘢𝘥𝘷𝘦𝘯𝘵𝘶𝘳𝘦𝘴 𝘢𝘯𝘥 𝘫𝘰𝘪𝘯 𝘵𝘩𝘦 𝘤𝘰𝘯𝘷𝘦𝘳𝘴𝘢𝘵𝘪𝘰𝘯! 𝘋𝘰𝘯'𝘵 𝘩𝘦𝘴𝘪𝘵𝘢𝘵𝘦 𝘵𝘰 𝘶𝘱𝘷𝘰𝘵𝘦, 𝘭𝘦𝘢𝘷𝘦 𝘢 𝘤𝘰𝘮𝘮𝘦𝘯𝘵 𝘰𝘳 𝘢 𝘧𝘦𝘦𝘥𝘣𝘢𝘤𝘬. 𝘈 𝘳𝘦-𝘣𝘭𝘰𝘨 𝘪𝘴 𝘢𝘭𝘴𝘰 𝘢𝘱𝘱𝘳𝘦𝘤𝘪𝘢𝘵𝘦𝘥 𝘵𝘰𝘰.