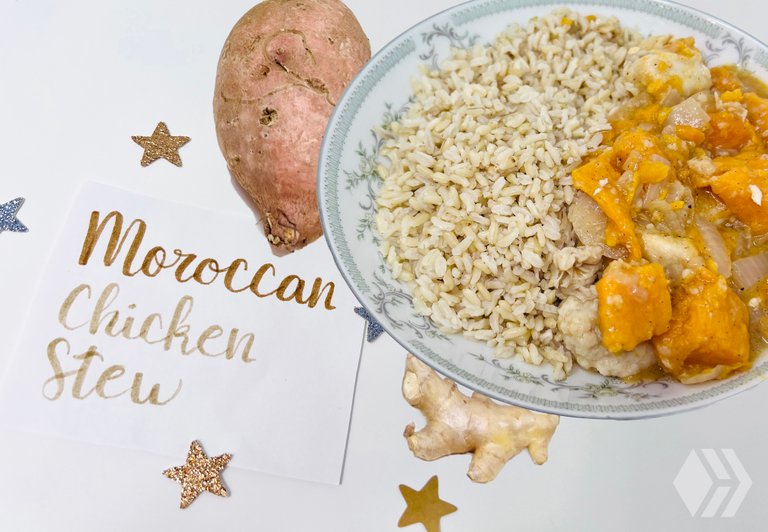 From breaded chicken, to onions marinated in cinnamon and ginger; this easy recipe has all kinds of great flavors. I found this years ago in the "easy dinner" section of the Martha Stewart website and have been making it ever since. With cold rainy weather and gale warnings on the way, I figured this cozy stew was appropriate to make today.
It's a Moroccan recipe that normally pairs with couscous. It tastes great with the couscous, but couscous is incredibly filling. So, I started making it with brown rice and it tastes pretty good. The recipe also calls for cinnamon sticks, but I'm being cheap and using regular cinnamon. I've found that if you just sprinkle it on top of the onions and olive oil, it marinates with the onions in the frying pan.
Here is the official Martha Stewart Recipe. Check out how I make it below ⬇️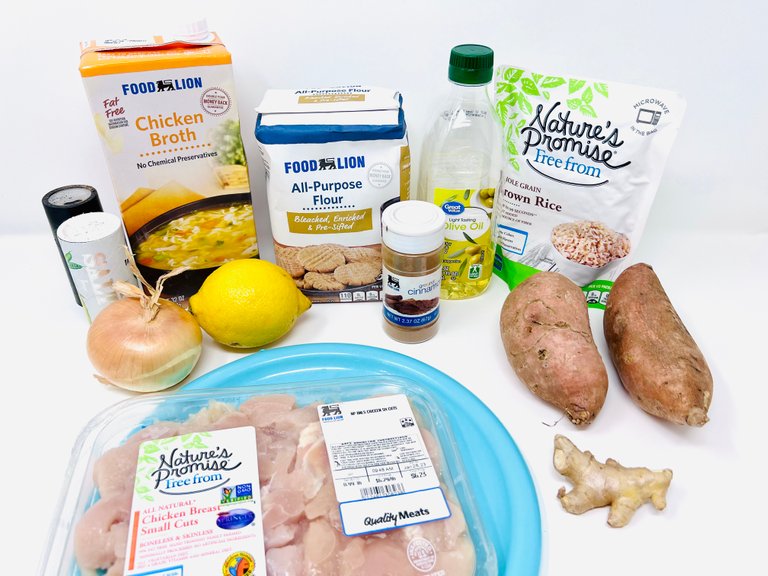 Ingredients
Boneless chicken (About 1.5 lbs)
1/4 Cup All-Purpose Flour
Two medium sized sweet potatoes
1 Can of Chicken Broth
1 Cinnamon Stick/Cinnamon
2 Tbsp Fresh Lemon Juice
2 Tbsp Olive Oil
1 Medium Onion
One piece Fresh Ginger
One packet of Whole Grain Rice
Salt and Pepper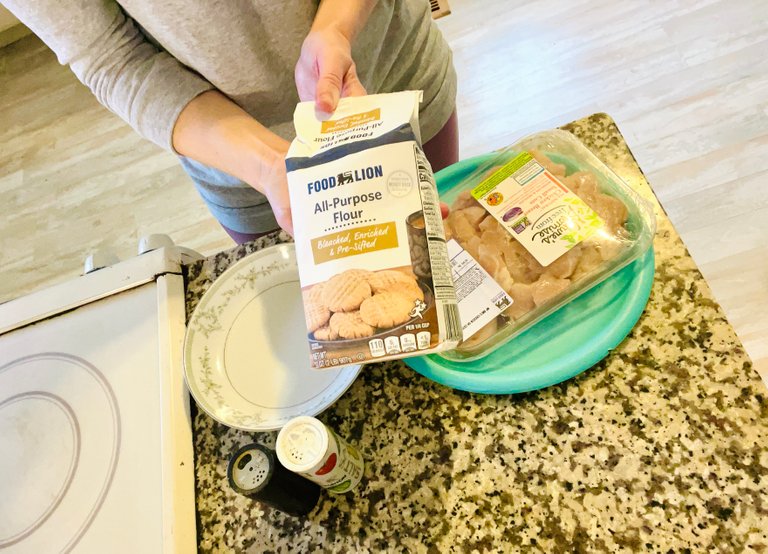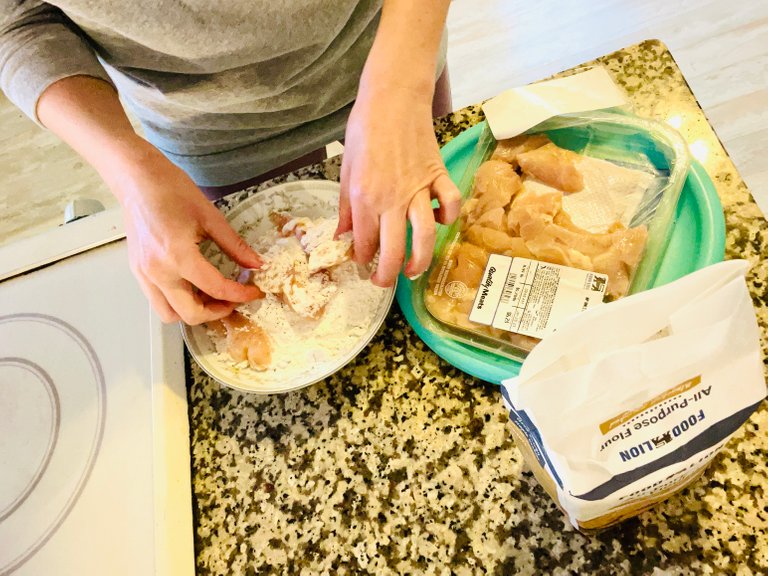 1. Breading the chicken: In a shallow bowl, sprinkle salt and pepper on top of 1/4 cup of flour. Dredge chicken in the flour mixture.
2. Cook chicken (medium-high) in the olive oil in a frying pan. This takes about 6 minutes per side. Move the cooked chicken to a plate.
3. Poke holes in the sweet potatoes with a knife. Microwave them until they feel soft (Usually 5-7 minutes).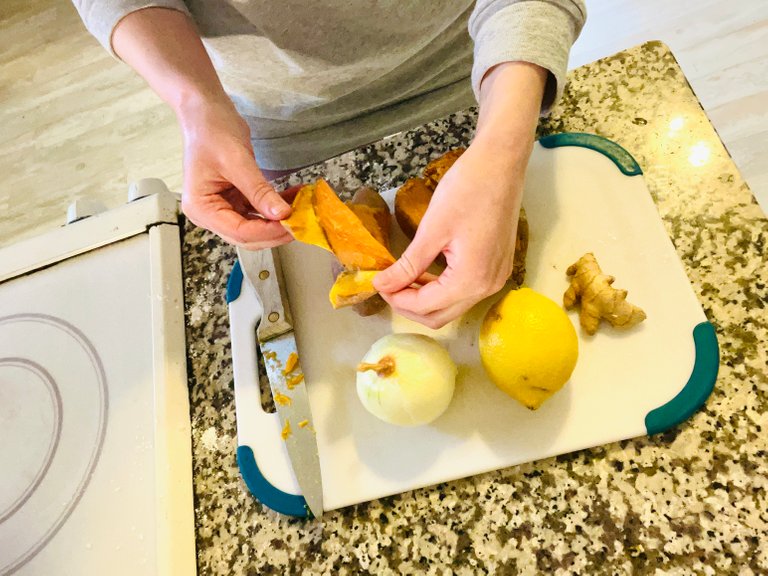 4. Peel the skin off the sweet potatoes and dice them into chunks.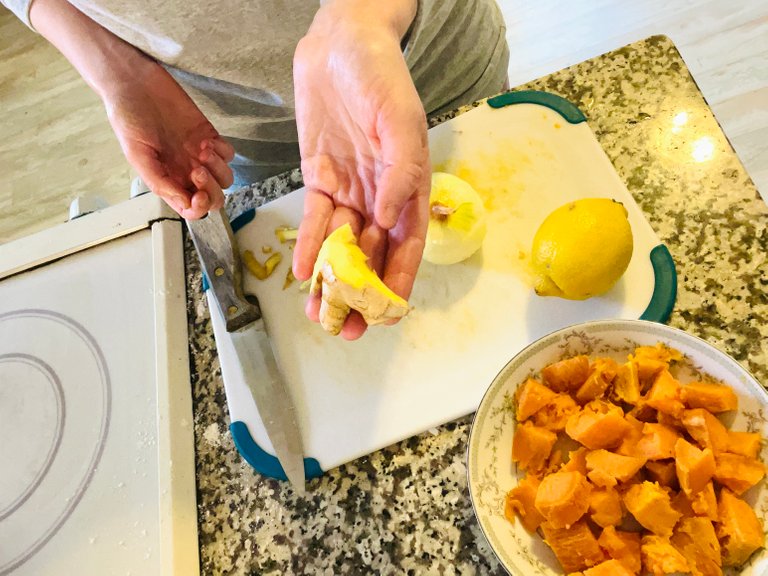 5. Peel the fresh ginger using a knife or peeler.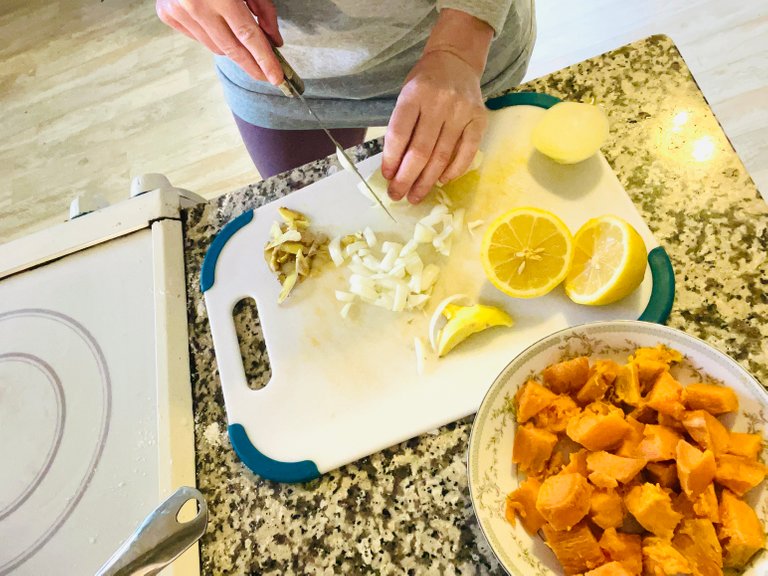 6. Cut the lemon in half and dice the onion.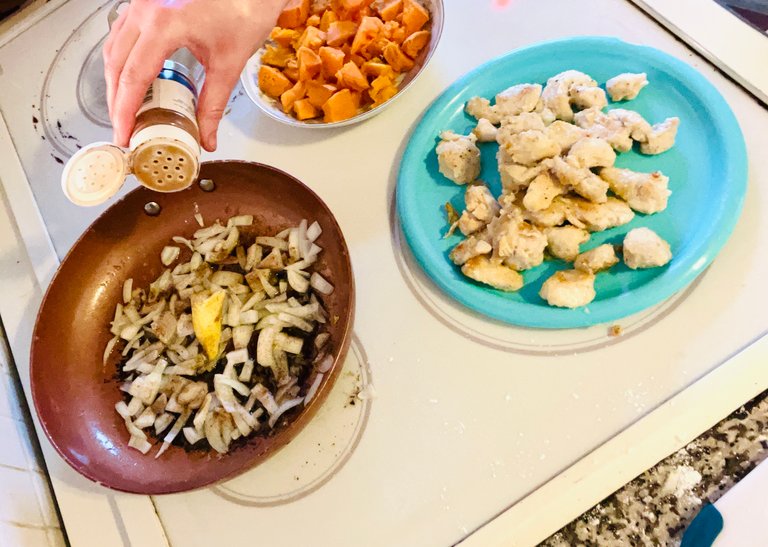 7. Heat olive oil (medium-high) in a frying pan and toss in the diced onion and ginger. Sprinkle a layer of cinnamon on top of the onions. (If you have cinnamon sticks, you can just add those instead).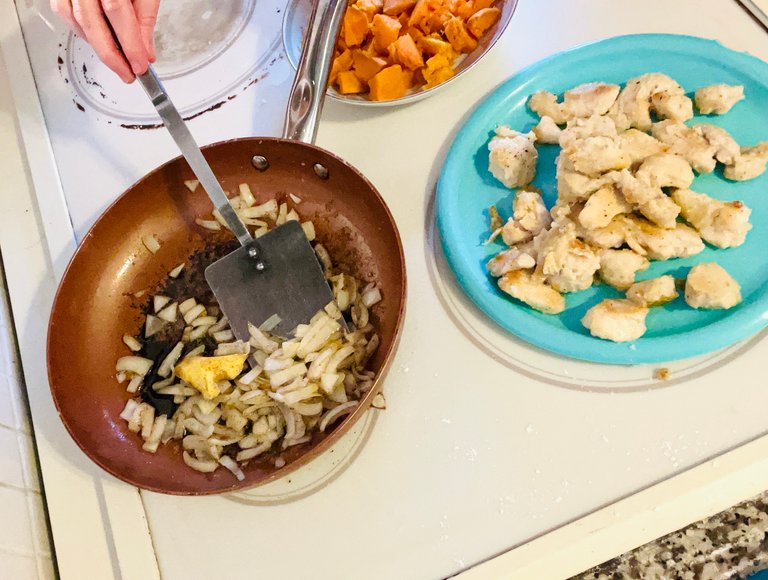 Be sure to flip onions over and cook them 2-3 minutes until they are soft.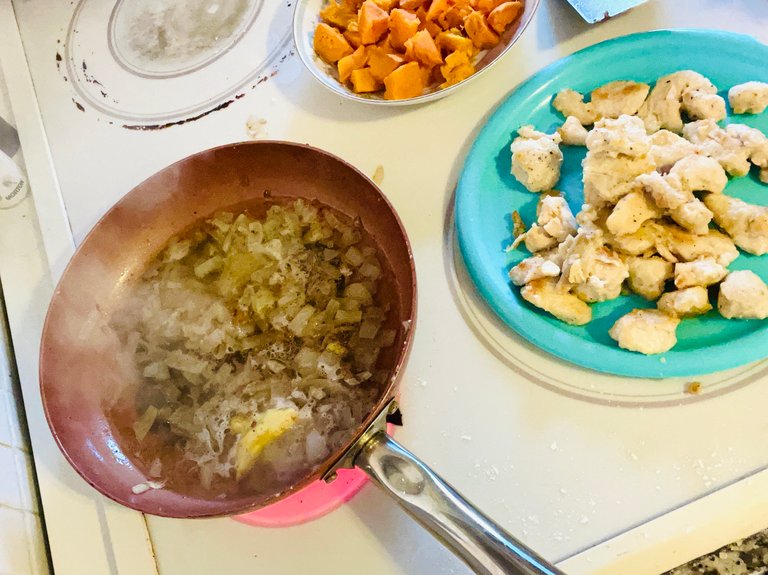 8. Add chicken broth to the onions and bring to a boil.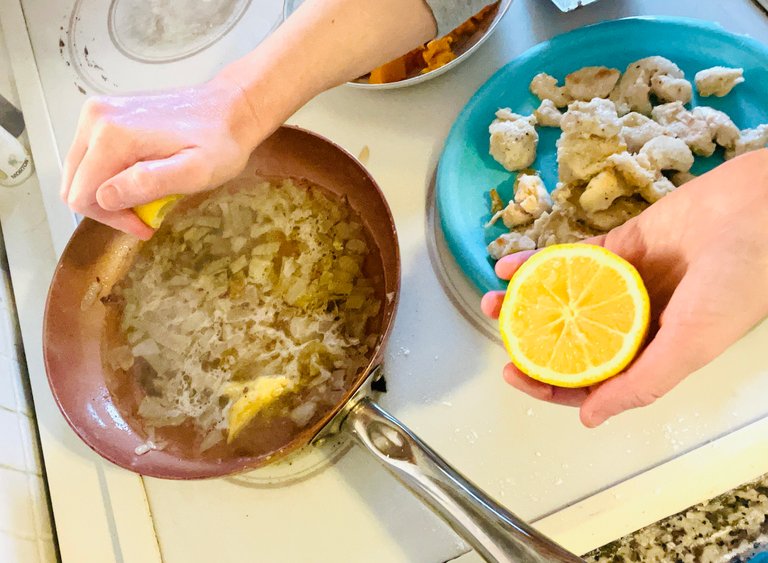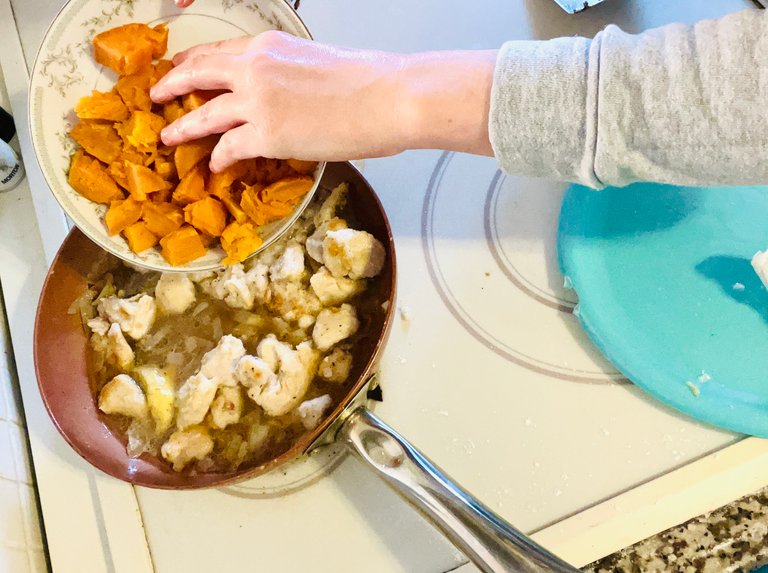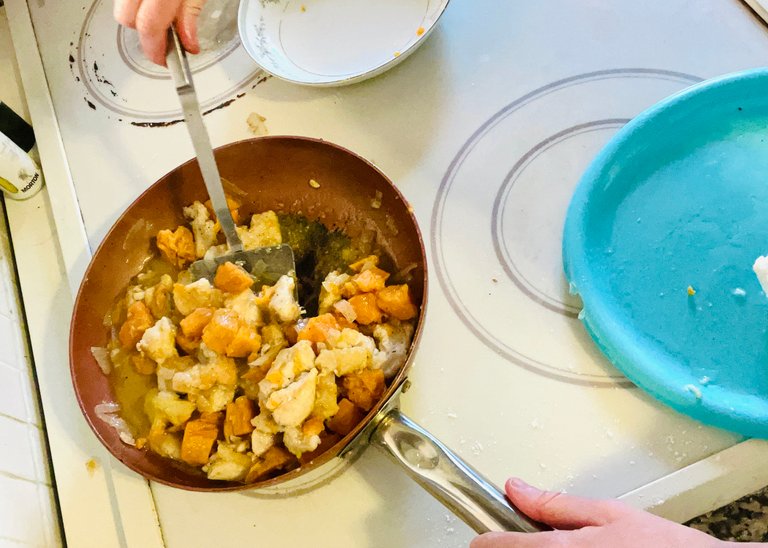 9. Add lemon juice. Add sweet potatoes and chicken. Cover the pan and let the stew simmer for about 10-15 minutes.
10. Make rice, per directions, and scoop stew on top of the rice.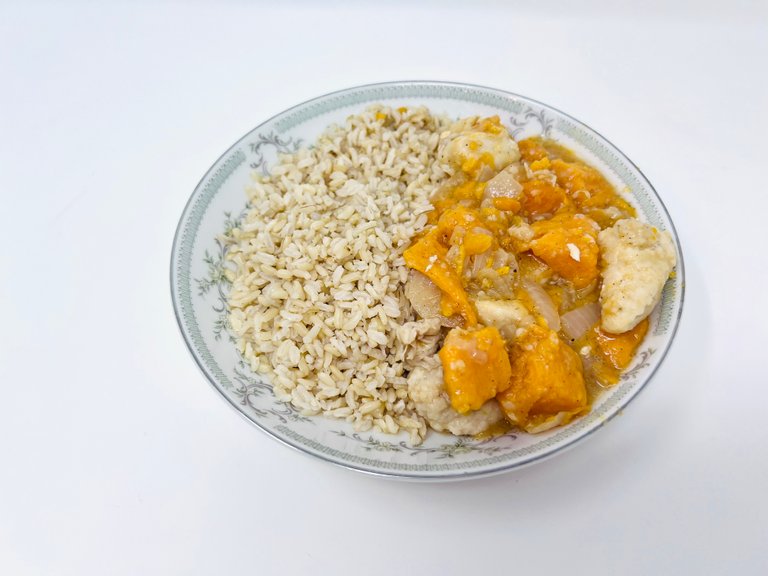 All done!