I like to include grains in my lunches because of the nutrients they provide to the body, besides the fact that they are very filling and help us feel full. This time I prepared a yellow pea soup with pork bones, following my mother's recipe, may she rest in peace, which I learned. As for the ingredients, it was not difficult, I had them all at hand, I didn't have to go out to buy anything. It is a recipe that does not get boring, you can vary the additional ingredients such as sausages, chicken, beef, bacon, sausages and vegetables. This dish is commonly eaten in Venezuelan homes, either with a thick, cream-like consistency or lighter, but just as tasty. I share the recipe.
Me agrada incluir granos en el almuerzo debido al aporte de nutrientes para el organismo, además de lo rendidor que resulta y nos ayudan a sentirnos lleno. En esta oportunidad preparé una sopa de arvejas amarillas con huesitos de cerdo, siguiendo la receta de mi madre que en paz descanse, la cual aprendí. En cuanto a los ingredientes, no se me hizo difícil, todos los tenía a la mano, no hubo que salir a comprar nada. Es una receta que no aburre, puedes variar los ingredientes adicionales como salchichas, pollo, carne, tocineta, chorizos y verduras. Este platillo es común comerlo en los hogares venezolanos, ya sea con una consistencia espesa, tipo crema o más ligera, pero igual de sabrosas. Comparto la receta.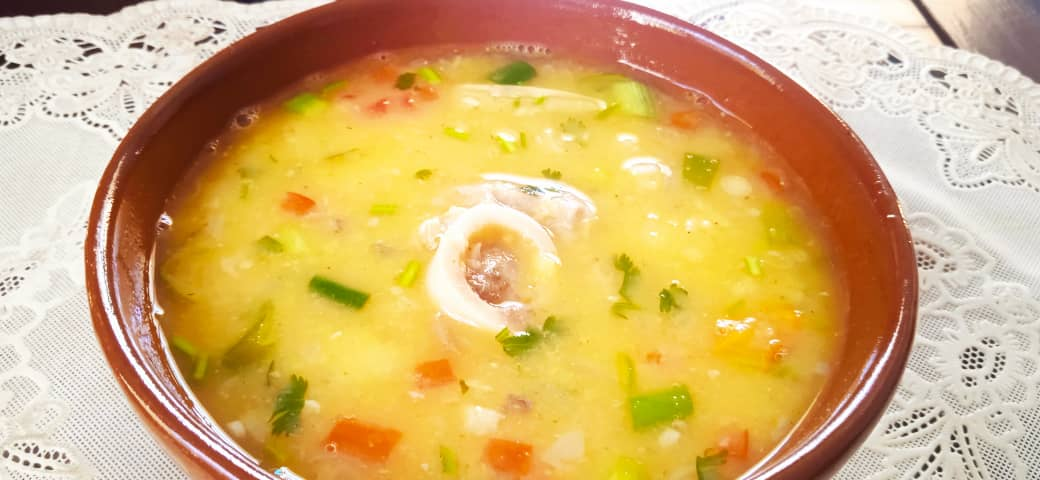 INGREDIENTS~INGREDIENTES
400 grams of yellow split peas.
300 gr of pork bones.
2 medium potatoes.
Cilantro branches.
1 chive stalk.
1 onion.
1 sweet bell pepper.
1/4 red bell pepper.
6 cloves of garlic.
1 small spoonful of cumin.
1 Flavoring Tablet.
Salt to taste.
Oil onotado.
400 gr de arveja amarilla partida.
300 gr de huesitos de cerdo.
2 Papas medianas.
Ramas de cilantro.
1 tallo de cebollín.
1 Cebolla.
1 Ají dulce.
1/4 de Pimentón rojo.
6 Dientes de Ajo.
1 Cucharada pequeña de comino.
1 Pastilla de Saborizante.
Sal al gusto.
Aceite onotado.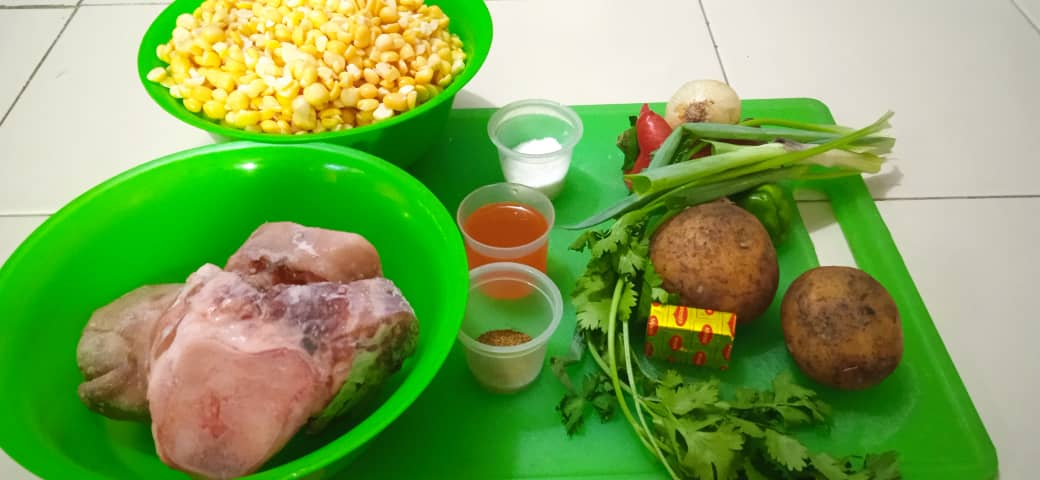 PREPARATION~PREPARACIÓN
First select the grains, then soak them overnight in water.
En primer lugar hay que seleccionar los granos, luego dejarlos toda la noche remojando en agua.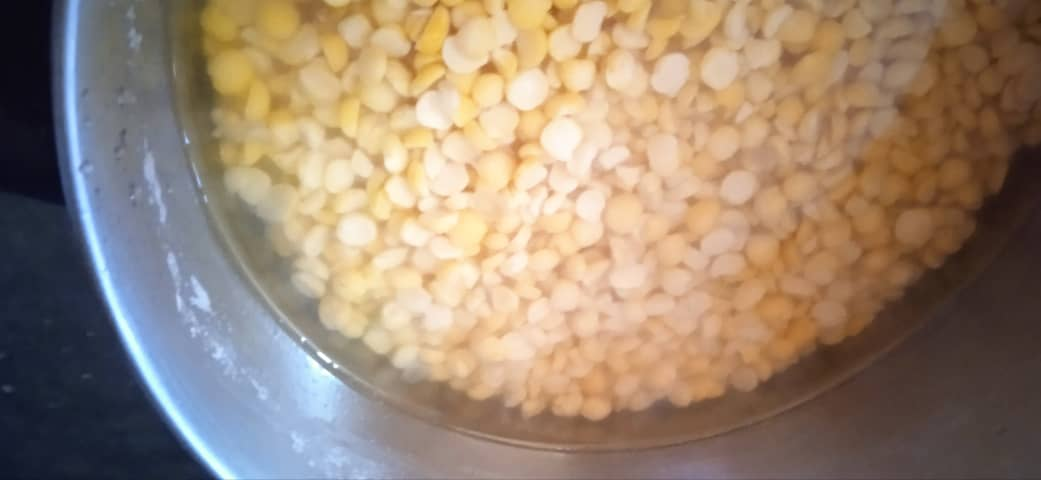 The next day, wash again the yellow peas, in a pot with water and salt cook for about 30 minutes.
In the pressure cooker with water and salt, cook the pork bones for about 45 minutes, as both ingredients have different cooking times.
Al día siguiente, lavar nuevamente las arvejas amarilla, en una olla con agua y sal cocinar por unos 30 minutos.
En la olla de presión con agua y sal, cocinar los huesitos de cerdo por unos 45 minutos, ya que ambos ingredientes tienen tiempos diferentes de cocción.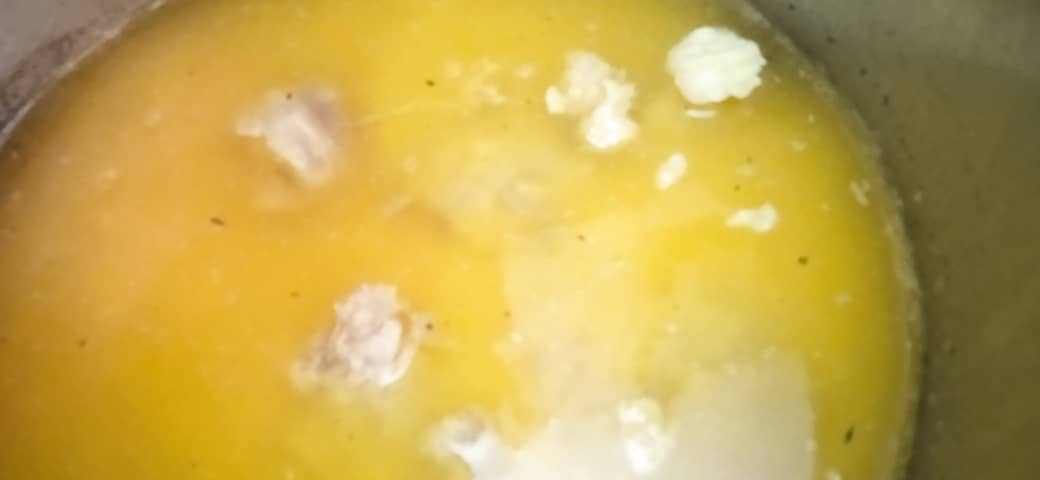 After the time has elapsed, change the pot, add the yellow peas and the pork bones. Add the potatoes chopped in small cubes. Cook until the potatoes are soft. Add the flavoring, rectify as it is of salt.
Pasado el tiempo, cambiar de olla, unir las arvejas amarillas y los huesitos de cerdo. Agregar las papas picadas en cubos pequeños. Cocinar hasta que las papas estén blandas. Agregar el saborizante, rectificar como está de sal.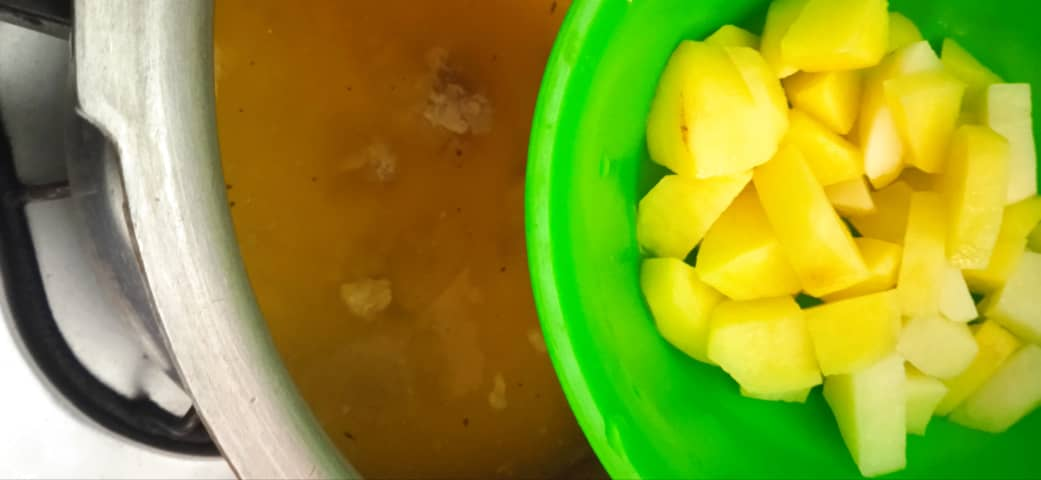 In the meantime, chop onion, sweet bell pepper, red pepper, cilantro, chives and crush garlic cloves.
Mientras tanto, picar cebolla, ají dulce, pimentón rojo, cilantro, cebollín y machacar los dientes de ajo.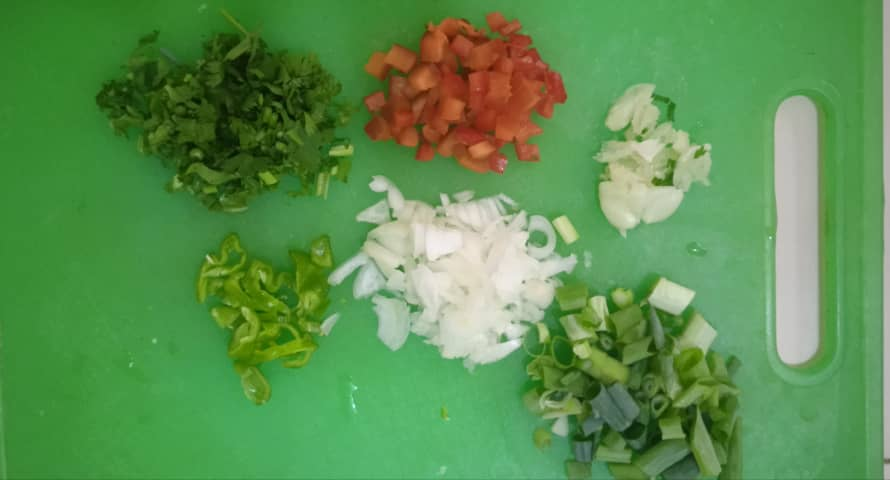 We prepare the sofrito with the chopped onion, crushed garlic, cumin and onotado oil. Take to fire until the onion is transparent.
Pasamos a preparar el sofrito con la cebolla picada, ajo machacado, comino y aceite onotado. Llevar a fuego hasta que la cebolla esté trasparente.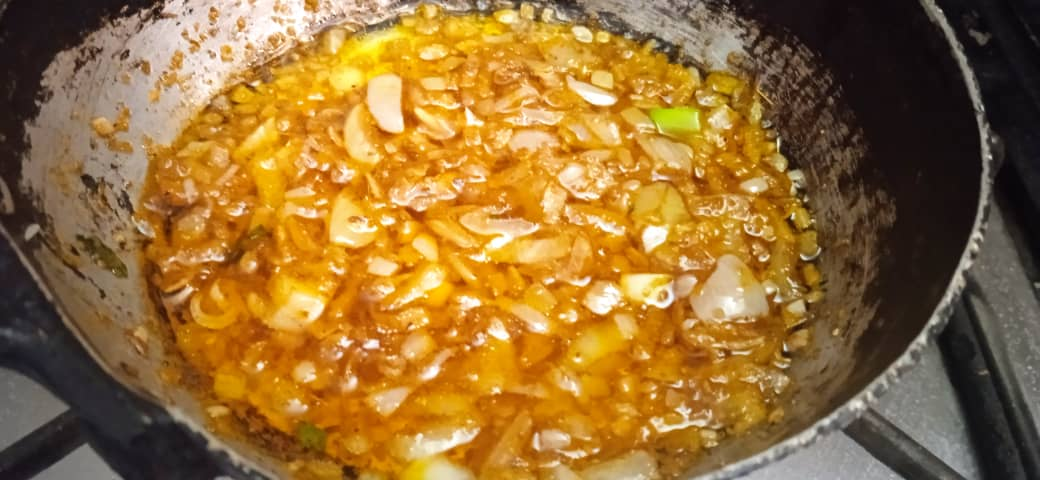 Add the sofrito to the yellow pea soup with pork bones.
Agregar el sofrito a la sopa de arvejas amarillas con huesitos de cerdo.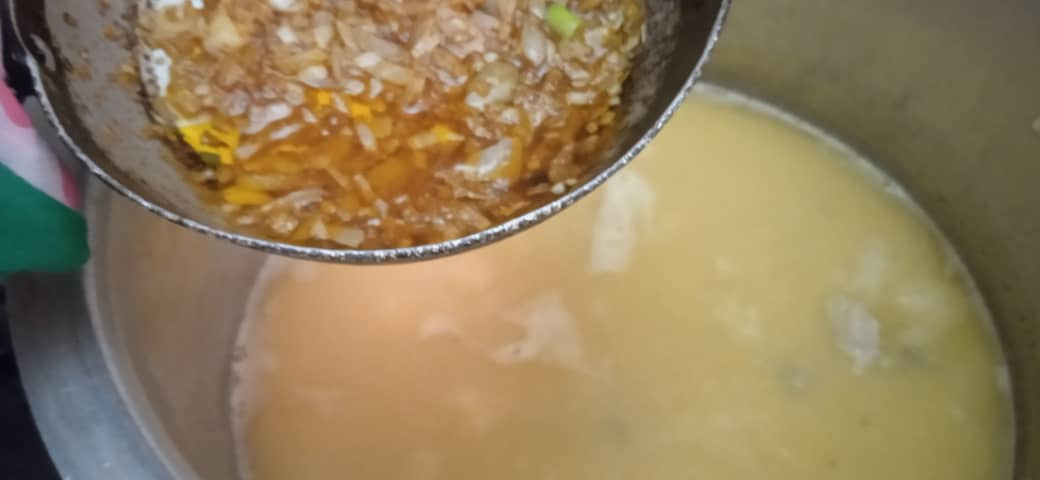 At the same time add the rest of the chopped seasonings to the pot. Let cook for a few minutes.
Al mismo tiempo agregar el resto de los aliños picados a la olla. Dejar cocinar por unos minutos.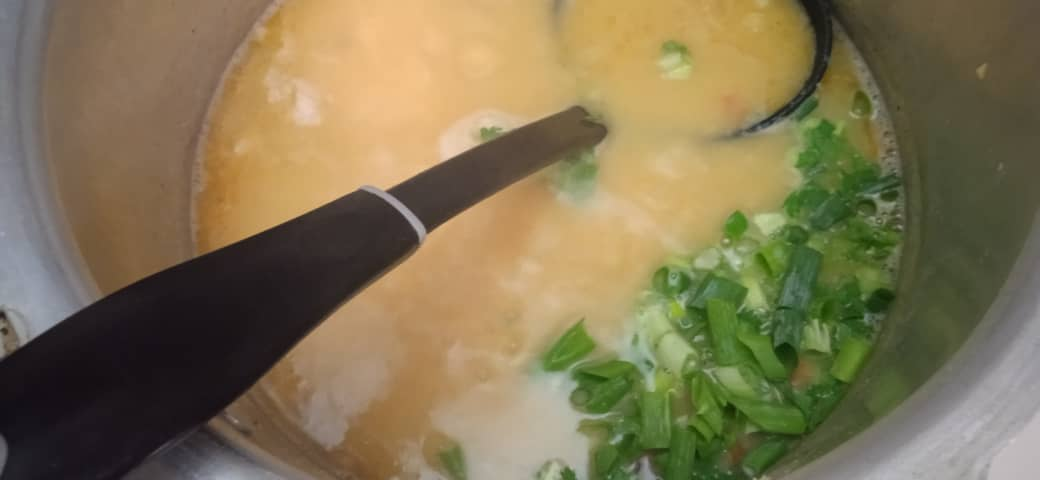 After time, our yellow pea soup with pork bones is ready.
Pasado el tiempo, nuestra sopa de arvejas amarillas con huesitos de cerdo están lista.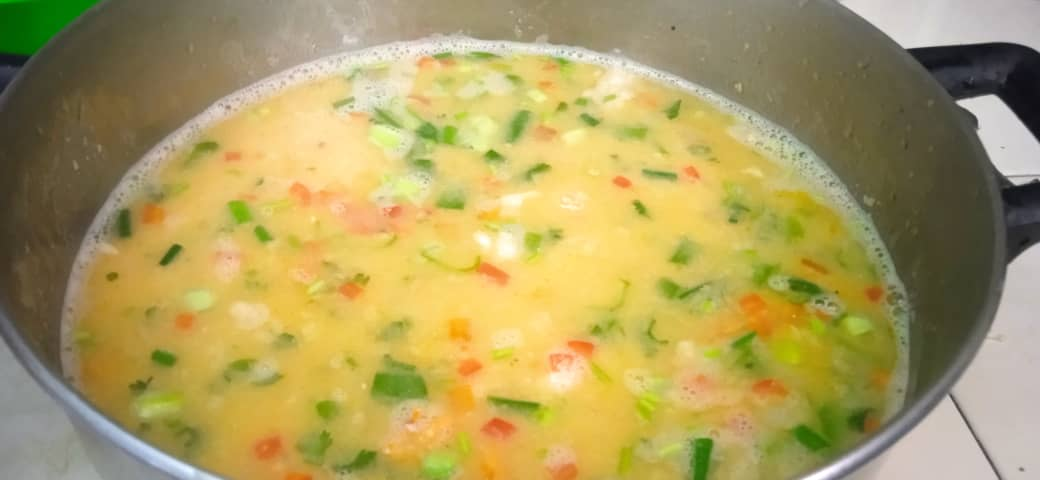 Lunch time is here and the yellow pea soup with pork bones is ready to eat. Now it's time to give your taste buds a treat!
Llegó la hora del almuerzo y la sopa de arvejas amarillas con huesitos de cerdo están lista para comer. Ahora a darle gusto al paladar!!!.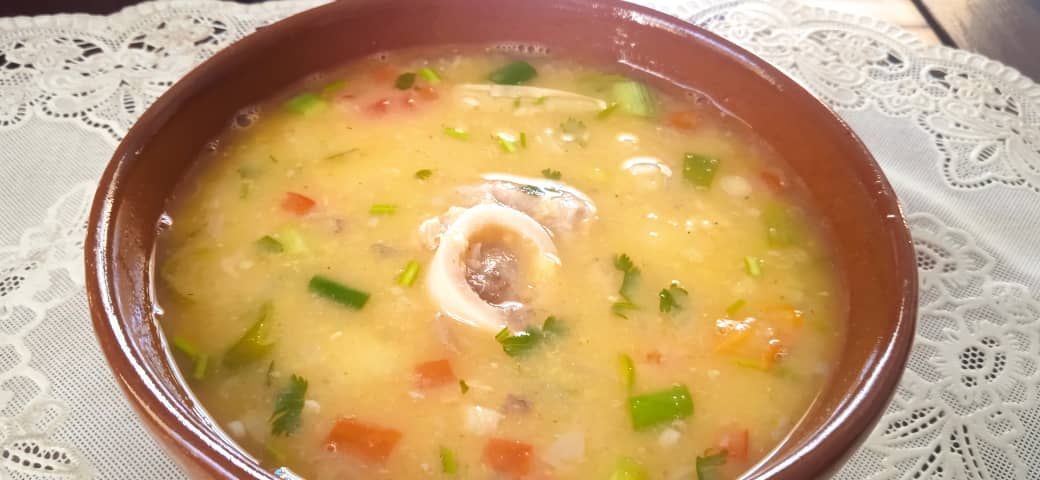 Photos taken with my Xiaomi Redmi 9C.
Fotos tomada con mi Xiaomi Redmi 9C.

Traducido con/ Translated with / : DeepL Translator.