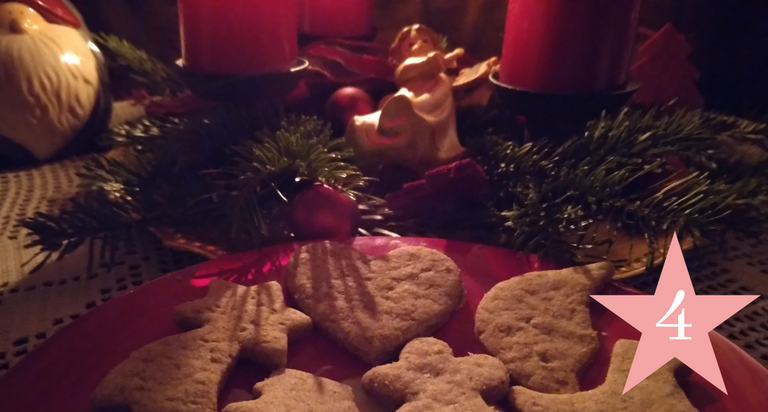 ( EN / DE ) It is already the 2nd Advent Sunday and here we had unfortunately a gray, cold and rainy day, but thus also a good day to bake cookies.
Es ist tatsächlich schon der 2. Adventsonntag und hier war das Wetter leider grau, kalt und verregnet, aber somit auch ein guter Tag um Kekse zu backen.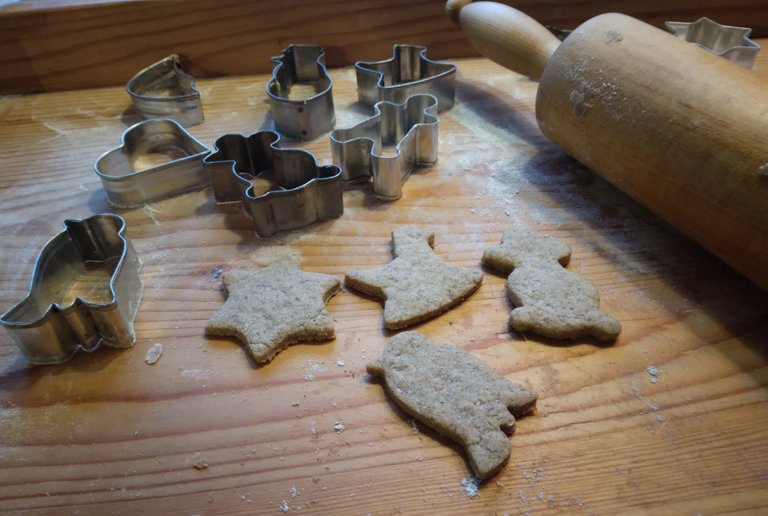 The recipe I found is without gluten and very simple:
Das Rezept, das ich gefunden habe ist ohne Gluten und sehr einfach:
| Ingredients | Zutaten |
| --- | --- |
| 250 g buckwheat flour | 250 g Buchweizenmehl |
| 50 g ground almonds | 50 g gemahlene Mandeln |
| 200 g butter | 200 g Butter |
| 1 egg | 1 Ei |
| 80 g brown cane sugar | 80 g brauner Rohrzucker |
| 1 sachet vanilla sugar | 1 Päckchen Vanillezucker |
| 1 pinch of salt | 1 Prise Salz |
I also added cinnamon and very little ground allspice and cloves
Ich habe noch ein wenig Zimt und ganz wenig gemahlenes Piment und Nelke hinzugefügt.
Just mix everything together and then knead by hand. Yes, this is one of those old doughs that still really want to be kneaded. Form the dough into a ball and place covered in the refrigerator for 30 minutes.
Then roll out on floured work surface to a thickness of about 0.5 cm (if the dough sticks too much, you can cover it with plastic wrap to roll it out, then it's easier).
Einfach alles zusammen mischen und dann mit der Hand kneten. Ja, das ist einer dieser alten Teige, die noch wirklich geknetet werden wollen. Den Teig zu einer Kugel formen und abgedeckt für 30 Minuten in den Kühlschrank stellen.
Danach auf bemehlter Arbeitsfläche ca. 0,5 cm dick ausrollen (falls der Teig zu sehr klebt, kann man ihn zum Ausrollen mit Frischhaltefolie bedecken, dann geht es leichter)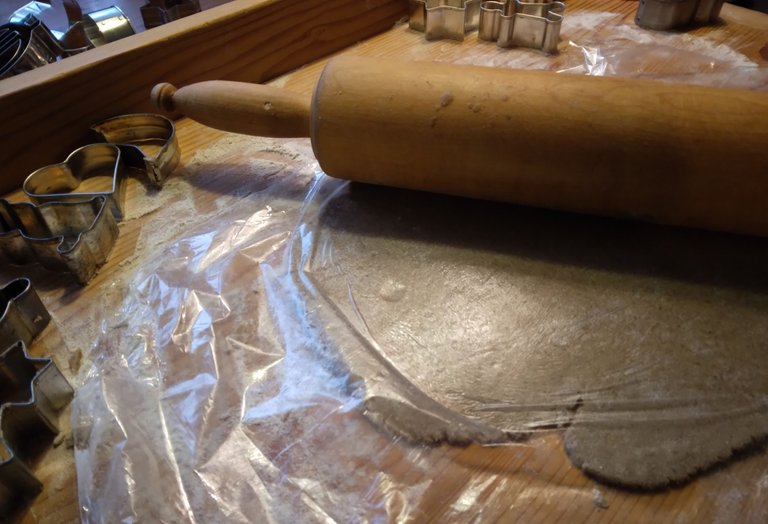 Cut out cookies with any cookie cutters, place on a baking tray lined with baking paper and bake at 160 degrees for 10 minutes.
Allow to cool before removing from baking sheet.
Kekse mit beliebigen Ausstechformen ausstechen, auf ein mit Backpapier belegtes Blech legen und bei 160 Grad 10 Minuten backen.
Abkühlen lassen, bevor man sie vom Backblech nimmt.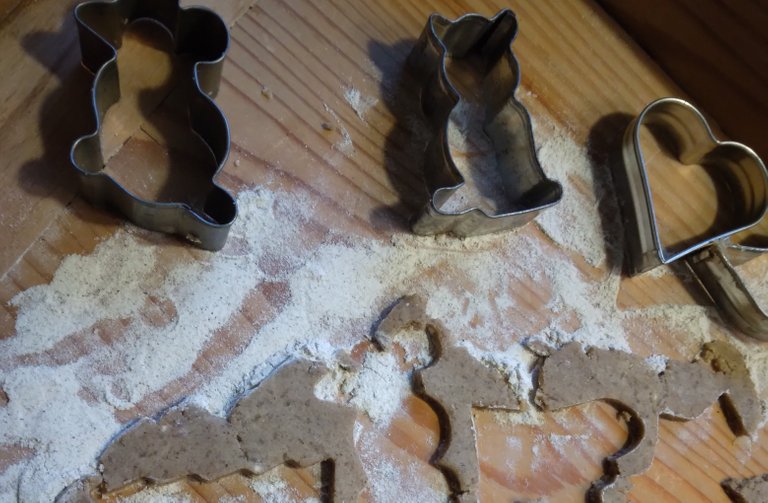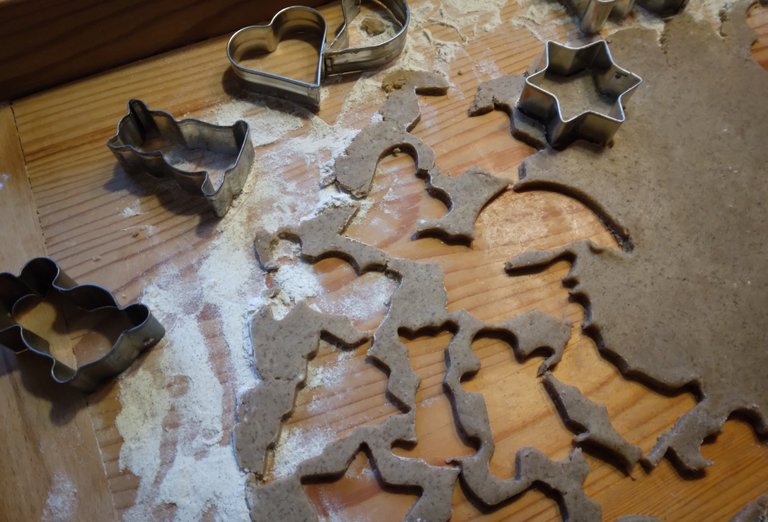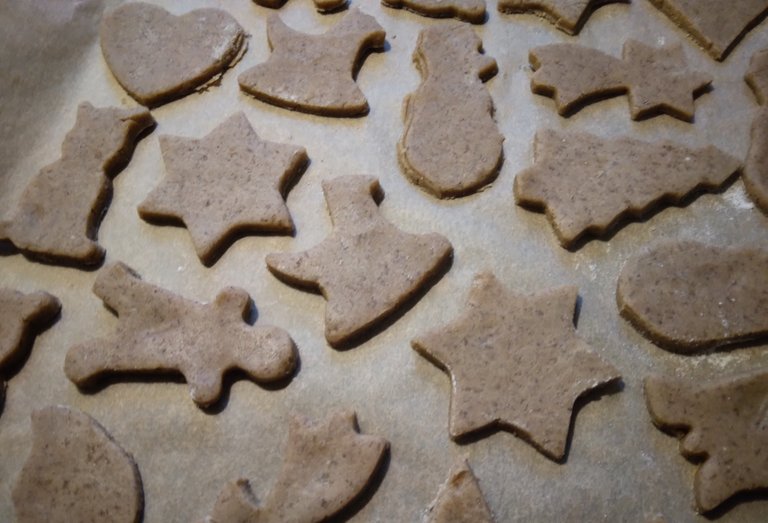 While the first cookies are already baking, knead the dough scraps from the cookie cutter again and start rolling them out again from the beginning.
Während die ersten Kekse schon backen, knetet man die Teigreste vom Ausstechen wieder neu zusammen und beginnt von vorne mit dem Ausrollen
This may sound very elaborate, but it goes very quickly and soon the delicious cookies are ready and when it got dark we lit the second candle of the Advent wreath and could enjoy very good homemade cookies with the tea.
Das klingt vielleicht sehr aufwendig, aber es geht doch sehr schnell und schon bald sind die leckeren Kekse fertig und als es dunkel wurde haben wir die zweite Kerze des Advent Kranzes angezündet und konnten zum Tee auch noch selbst gemachte sehr gute Kekse genießen.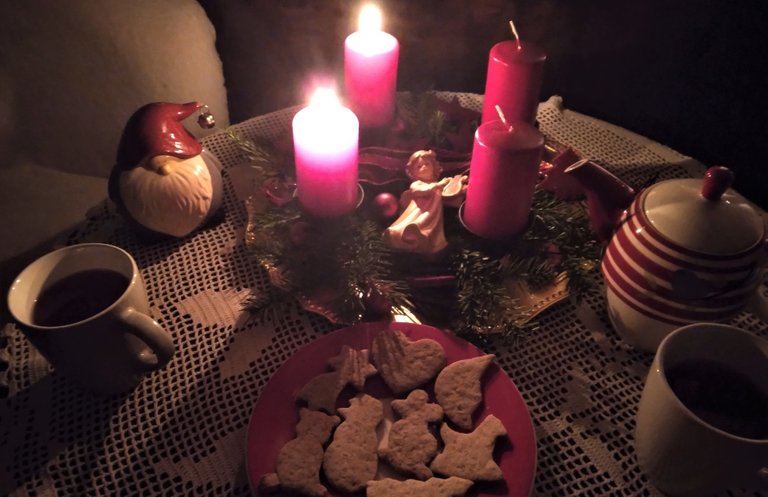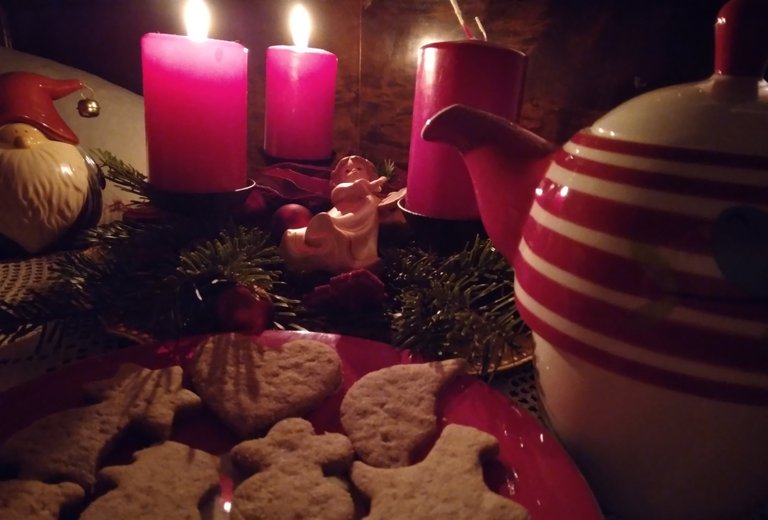 I wish you all a wonderful and cozy 2nd Advent Sunday evening
Ich wünche euch allen eine wunderschönen und gemütlichen 2. Advents Sonntags Abend.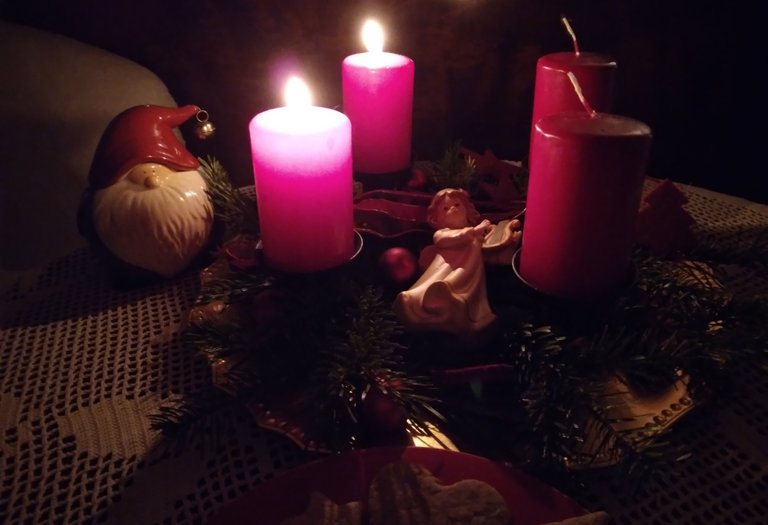 beebers crazy advents calendar - day 4
Until Christmas I will choose one daily winner from the comments on my advents calendar post of the previous day. (8pm CET the next day after the posting day) The one comment that I love the most, that makes me smile, that was very interesting or whatever pleases a woman like me at that moment ;-)
Bis Weihnachten werde ich jeden Tag einen Gewinner aus den Kommentaren auf meinen Advents Kalender Post des vorigen Tages auswählen. (20h MEZ am nächsten Tag nach dem Posting Tag) Der eine Kommentar, den ich am meisten liebe, der mich zum lächeln bringt, der sehr interessant war oder wonach auch immer einer Frau wie mir in diesem Moment der Sinn ist ;-)
There have been 10 comments on day 3 from:
@mypathtofire @millycf1976 @nathen007 @suntree @captainloken @brando28 @reiseamateur @treefrognada @karizma @sailor24
One comment reminded me, beside all recipes and know how and why, there is one thing, wich is the most important to add: LOVE
So the winner of day 3 is @millycf1976 1 HSBI and 100 ecency points will be sent soon.

This was December 4 and you have roundabout 23 hours time for a comment to participate :-) Yours, B.
all photos by @beeber edited with www.canva.com free version