This recipe has been in my family for longer than I have. My mom gave me the recipe card a few years ago, or maybe she let me borrow it and I never gave it back…I honestly can't remember.
In any case, it's here now so I can come back to it anytime I want, which means it's here for you too! I grew up on this quiche recipe, and have to say, I think it is very competitive against other recipes :)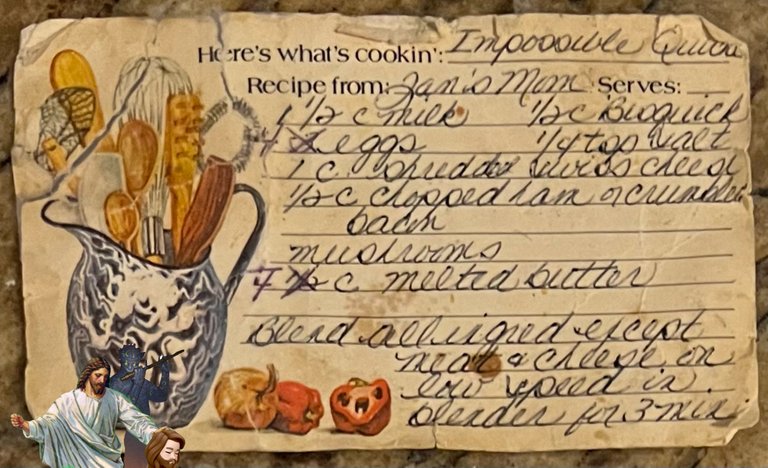 | Ingredient | Volume/Amt | Units |
| --- | --- | --- |
| Milk | 1.5 | cup |
| Eggs | 4 | pcs |
| Bisquick | 0.5 | cup |
| Salt | 0.25 | tsp |
| Swiss Cheese (Shredded) | 1 | cup |
| Chopped Ham/Crumbled Bacon | 0.5 | cup |
| Mushrooms | ??? | ??? |
| Melted Butter | 4 | cup |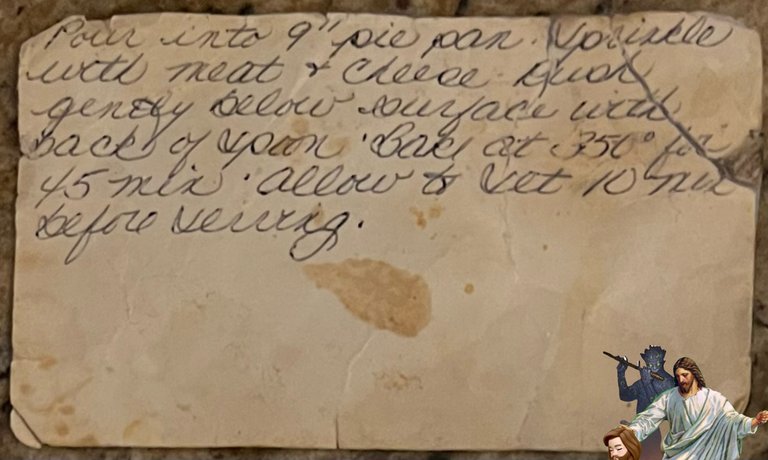 Blend it all up, put it in a 9" pie pan.
sprinkle w/ extra meat and cheese, use a spoon to press under surface
Bake: [350 deg F] for [45 min]
Allow to set for 10 minutes prior to serving
…how do you like this format? Personally I get so sick of all the scrolling I have to do to get to the useful part of an online recipe, so I've been saving my stuff with only the bare minimum of information and pictures…does that feel refreshing compared to typical recipes? …or does it feel low effort and cheap? My goal is definitely the former, so please let me know if it comes across otherwise!
---
---
Thanks for checking out some more of my work! As always, I hope you enjoyed witnessing as much as I enjoyed creating!
© Photos and words by @albuslucimus, except where otherwise indicated.
---

---
If you enjoy my content, check out the Albus Index!
Here you'll find links to various post-groupings, so you can find all posts related to a specific topic quickly. Topics include lists of brewing recipes, flutes, crypto talks, rucking posts and an index of all acoustic covers. The lists are updated as new content is added, so they can always be used to quickly navigate my content.
---
---