---
Like mad scientists, Khal & Team are doing everything they can to take make PolyCUB a successful DeFi application among the masses. One of the most famous crypto media publishing houses called Cointelegraph recently published a Press Release about PolyCUB as the next generation of DeFi-yield optimizers. Well, they are damn right because it is one of the most interesting DeFi 2.0 applications released this year. Anyone looking for long term sustainable yields can check out the value prop offered by PolyCUB:
xPolyCUB Staking
Protocol Owned Liquidity
Bonding
Collateralized xPolyCUB Loans
Dynamic Earn Rate on Kingdoms Yield
Please note that PolyCUB is inspired by some of the best DeFi 2.0 ideas out there right now. LeoFinance has done extensive research before architecting the application for a smooth switch from DeFi 1.0 to long-term, high sustainable yields. We have the best product, the PR engine by the Leo Finance team is going on. As PolyCUB stakeholders, it is our duty to market the shit of this and that's why I launched a social media giveaway of 170 LEO two weeks ago. Had a great run and got so many amazing entries. This time we are doing a level up! Okay, 10 levels up. 🚀
PolyCUB SEO Writing Contest
We have a huge community of talented writers and it would be a shame to not leverage it to our advantage. 😂 Yesterday I had a small discussion with Khal on Twitter regarding SEO. He made an announcement about a Leo Finance article by @forexbrokr getting linked in The Washington Post article. That's a huge fucking deal because it doesn't happen every day and Dane wrote the post 8 months ago. A backlink on one of the most popular media publishing houses in the world. It's powerful for LeoFinance.io's SEO.
We can do something similar for PolyCUB. Using Leo Finance as our base we can provide backlinks to various PolyCUB PR articles.
Goal
SEO is the holy grail of Digital Marketing. Keeping that in mind, the major goal of this contest is to generate professional content & media for PolyCUB that would amplify the existing PR and articles done by Crypto Publishing outlets. All participants must optimize their content using SEO techniques before hitting that publish button. Study SEO if you have to but if you are a professional, you already know what to do. Do the keyword research on PolyCUB, DeFi & Polygon. Follow this simple yet the greatest SEO hack by @forexbrokr. Legend! 🙏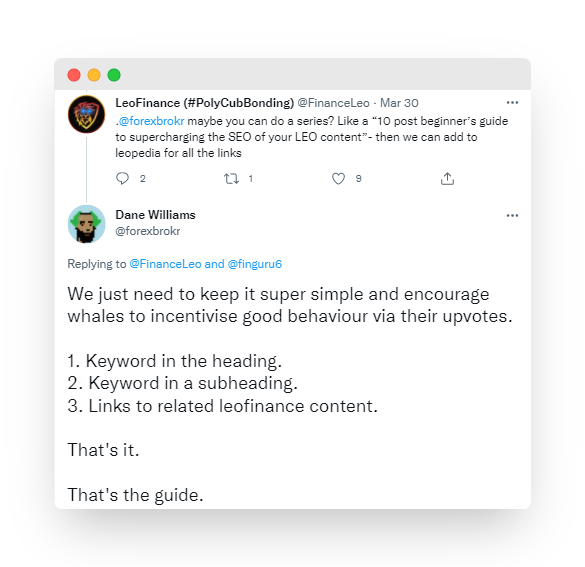 The minor goal of this contest is to make you learn about SEO and how to leverage it to attract search engine traffic. If you are looking for some more basic SEO tips then you must check out this amazing blog by @pitboy: https://hive.blog/hive-174578/@pitboy/top-10-tips-to-write-seo-friendly-article
How To Enter
Before entering this contest, please re-read the "Goal" section if you haven't. Once you are done, please follow these steps:
Reblog this post for maximum visibility.
Draft a well-researched blog about PolyCUB for at least 600 words. It could anything - Guide, Tutorial, Review, Research Paper, News Article, Personal Experience, etc. Even indirect references to PolyCUB will do. Creativity is your only limit. Rest, there's no bar!
Use any of these keywords (not limited to) in your blog or combine them to create searchable phrases: PolyCUB, DeFi, Polygon, Polygon DeFi, Highest Yields Polygon, Self-Sustainable DeFi, Best DeFi Platform 2022, DeFi Bonding, Collaterlized Lending, etc.
Use your main keywords in the Title and Sub Titles. Supercharge it with other basic SEO techniques.
Add backlinks to any of the PolyCUB PR by CoinTelegraph1, Bitcoin.com, BeInCrypto, CoinTelegraph2. There are other links but I would stick to any one of these four since they are more popular already.
Also add a backlink to this amazing guide on PolyCUB by @mikedcrypto.
Hit Publish. Post the link in the comments.
Share on at least one social media website using relevant tags. Post the link in the comments.
Deadline: 10th April, 2022
Note: Please do not mention that you are taking a part in a contest. Treat it like a paid writing job you do for a client as a content creator. Your entry should target the audience that comes to Leo Finance via search engines. I hope you guys get the idea!
Rewards
I will give 40 LEO each to the top 3 entries and 30 LEO to the 4th which comes out to be 150 LEO in total. I am looking for quality, not quantity. The rest of the folks can enjoy my penny upvotes and hopefully, other Leo Community members will support too. PolyCUB is a hot topic right now so it's a great chance for talented writers to get some visibility as an added bonus. Please note that WHALES are watching you! 😎 This is your golden moment! If we manage to get 5-10 well-written, SEO-powered posts through this contest, then that's a huge win in long term for everyone involved.
I will also reward people with LEO Upvotes if you tag someone below and they make a valid entry into the contest. Use your network and amplify this!
A huge huge shoutout to the one and only @onealfa.leo who decided to generously donate 5 LEO for each qualifying participant, and a +30 LEO extra prize to the #1 place winner.
Another huge huge shoutout to @starstrings01 for donating 10 HBD. Love you mate! 💖
Another huge huge shoutout to @d-company for generously donating 100 LEO for the contest.
I will announce how these rewards will be distributed depending on the number of entries. Keep your writing engines moving mates. Stakes are getting higher!
Sponsors
Last time we had a few sponsors 😘 and so many of you lovely people helped with upvotes and shared within your communities for more visibility. Expecting the same kind of support this time. I will try to upvote and encourage as many people as I can and I need your help. :) Please let me know in the comments if you'd like to sponsor via upvotes or in any other way you can think of and I will give you a HUGE shoutout with lots of love. ❤️‍🔥
---

https://leofinance.io/@finguru

https://twitter.com/finguru6

finguru#4062
---

Not financial advice. For infotainment purposes only.
Posted Using LeoFinance Beta