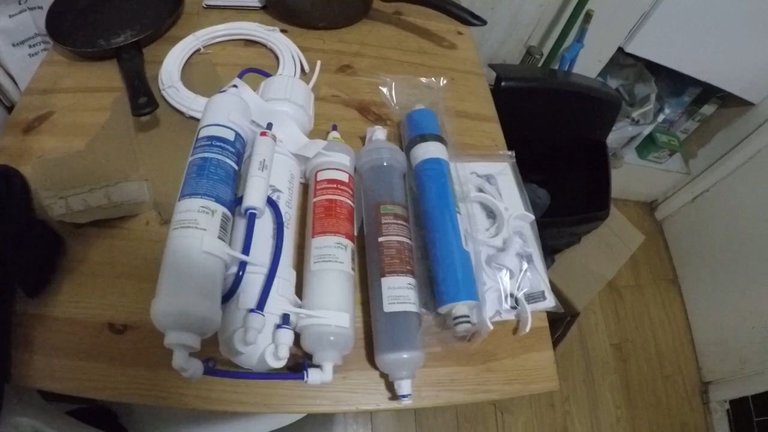 ---
This is my Reverse Osmosis Filtration system, introduced to me my a friend who has been using it for years.
Normal R.O systems/machines are expensive! In fact most of the machines use this exact type of set up that I have, which you can built yourself if you know how. There was actually a video on youtube this guy filmed, where took apart those expensive R.O filtration machines and found...lo and behold...the same set up that you see in this video.
I got the product from: https://www.ebay.co.uk/itm/353391299663?ssPageName=STRK%3AMEBIDX%3AIT&_trksid=p2060353.m2749.l2649
Just in case you dunno what Reverse Osmosis is:
Reverse Osmosis (RO) is the process of purifying water through a semi-permeable membrane to remove unwanted contaminants and molecules. In regular osmosis, as demonstrated in a thousand high school science lessons across the land, freshwater and salt (or sugar) water are separated by a semi-permeable membrane. The water migrates through the membrane from the weak to the strong solution until the water is equally salty (or sugary) on both sides.
This process can be reversed if pressure is applied to the stronger solution. When that happens, water migrates through the semi-permeable membrane away from the dissolved solids. It is this process that is used in reverse osmosis to separate dissolved salts and minerals from your feed water. It's more effective than using inline filter cartridges (which usually use carbon as filter media) and results in up to 98% rejection of dissolved contaminants.
---
▶️ 3Speak