Sometimes life, and the things I do that make money (I don't call it a job, because I don't have one hehe, and I love what I do) get in the way of time spent with the kids.
Of course, I spend most of the day with them because they're unschooled, worldschooled kiddos, but being in the room with them, and spending actual quality time with them are different things.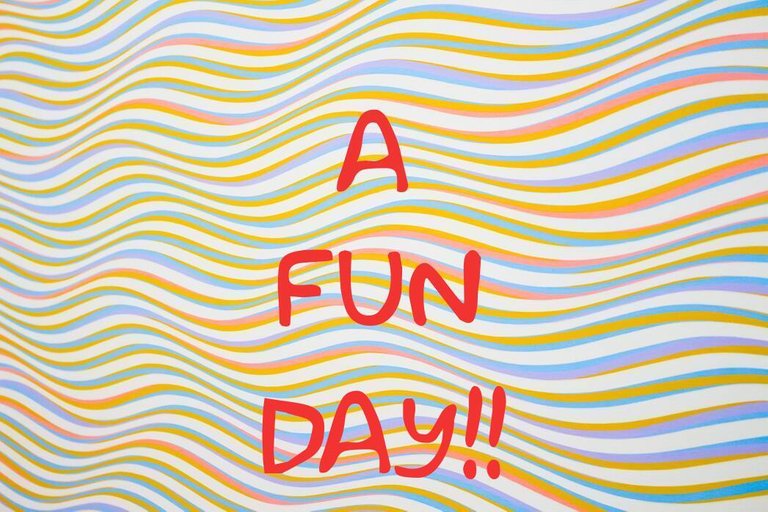 Source: Pexels.com Made in LunaPic
I have to say that it's one of my flaws: being able to get away from the daily things in order to spend time with them.
Lately, I've made it a point to change that.
So I try to get in the pool with them at least a few times a week and just chill and play.
And I am taking them out, one by one, once every two weeks at least. I mean, we often go somewhere and it's me and my eldest, and the youngest, or it'll be my eldest son and youngest daughter, but until recently, it wasn't really me and just one of them.
The one that was 'neglected' like that the most was the youngest. Who hardly ever goes anywhere with just me.
I went to meet friends a few weeks ago, and decided to bring him, when he said:
"Mommy! It's been a while since you and I went somewhere together, just the two of us!" When I answered: "Yes, you're right! It has been a while!" he replied: "I like it! We should do this more often." My heart just melted!
He's only 7 years old, almost 8, and he's such a wise little soul.
But when he said that, it hit me:
I don't want his childhood to pass me by, while I'm just working to make a better life for us.
We have to live a nice life too, even while I'm doing these things!
So we made a deal there and then, that I'd make more time for him, just him. And he added, that I should do the same for the others...
He's too wise for his own good sometimes. He truly is.
Today was the day: A date with my son!
Yesterday I was asked to attend a meeting today, and I thought I'd bring him with me.
It would probably shorten the meeting to just enough, and I'd have a good reason to leave to spend the rest of the day with him.
He also needed a haircut, so that could be done before the meeting.
The meeting was postponed to tomorrow, so it was the perfect opportunity to actually just spend the day together without any interferences.
So we took off to the barber first to get his haircut done.
The barber/hairdresser we usually go to is a 15 minute walk from here, so we just walked instead of taking the colectivo (small van that bring you into town for 10 pesos).
What started out as a visit to the barber, and a day in town,
turned out to become a full-blown photoshoot!
He's definitely one of my favorite models in the world!
And you don't have to tell him anything.
He finds the best spots and tells me to shoot!
So let me take you through our day in pictures :)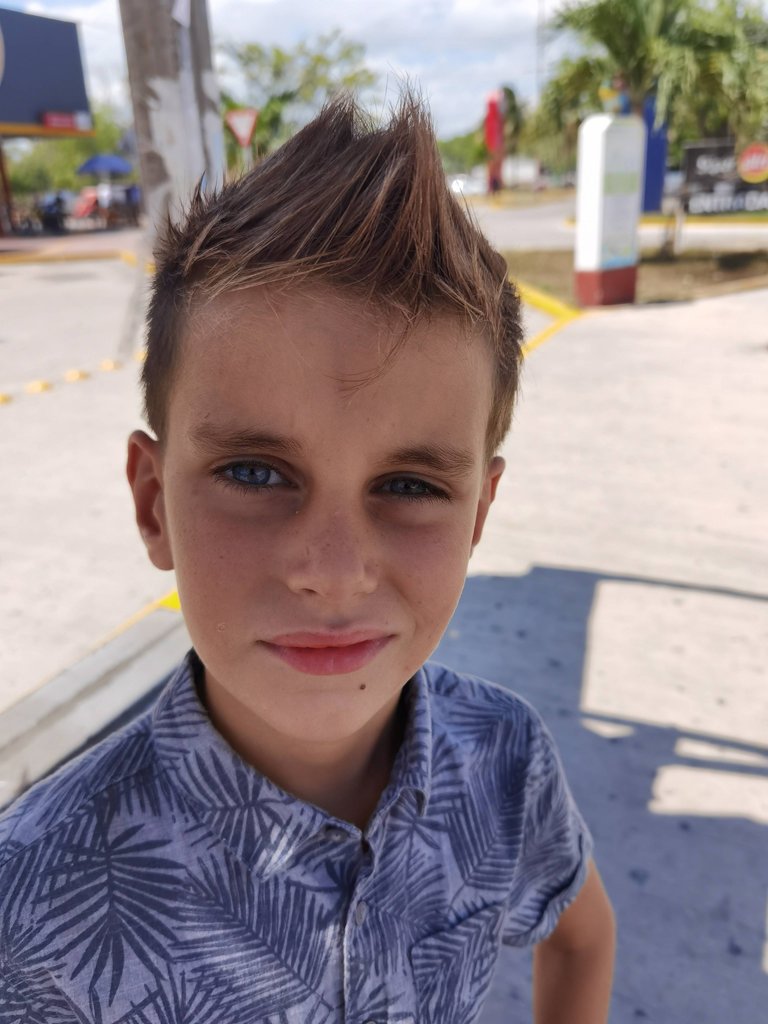 I showed him a picture of a boy that had this mini-mohawk, and he was sold. I think he rocks the haircut! We had it done at our local barber. The staff there is super friendly and they actually seem to have fun at their jobs. We just love them, and they do a great job. What do you think?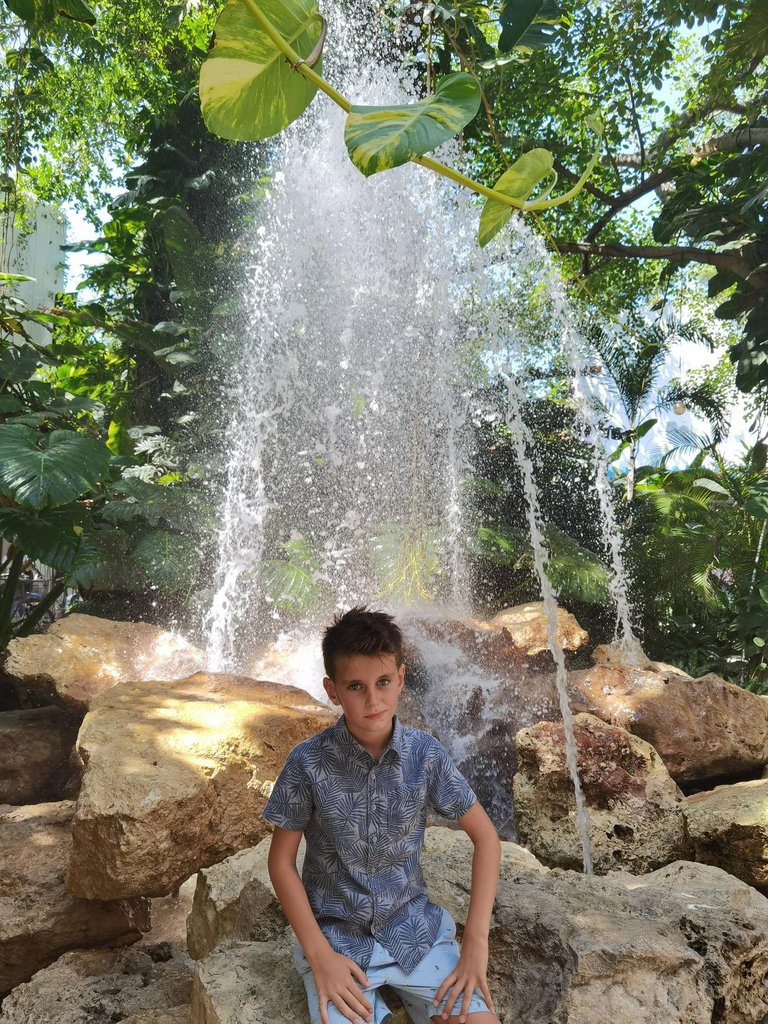 He's such a poser, isn't he? Haha. No really. I don't even have to say anything, he just knows how to sit or stand. I guess if you have your picture taken as much as he has, you become a pro at it...This picture was taken at a water fountain at one of the many malls in Playa del Carmen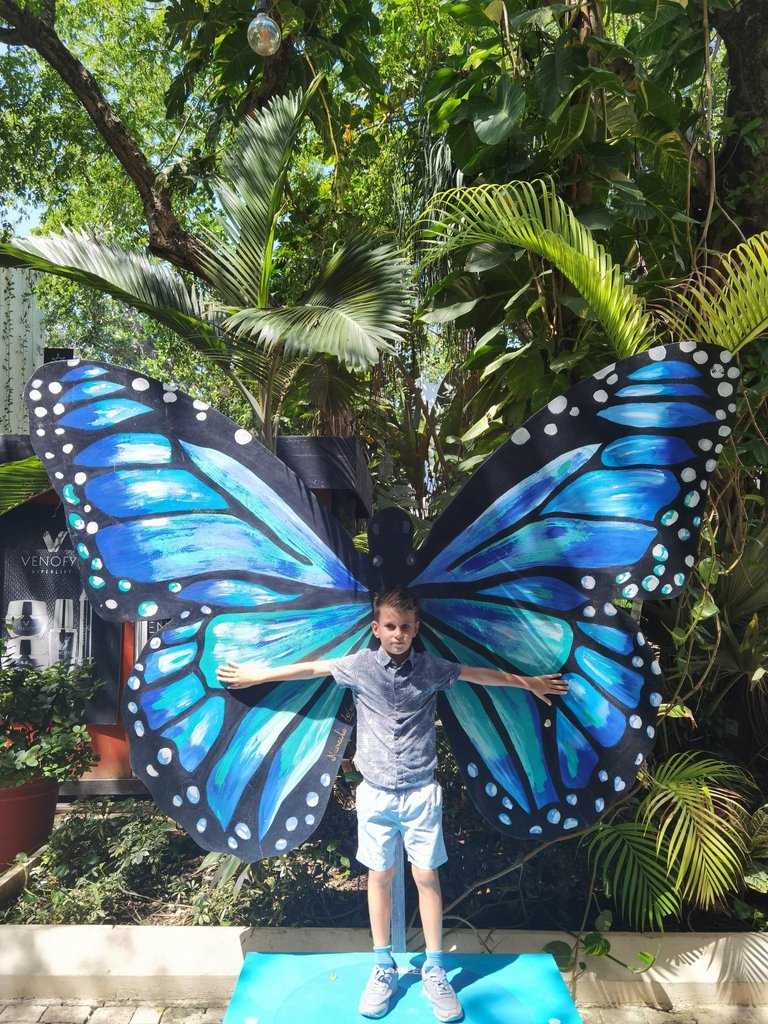 Yes, this butterfly was put there for the purpose to take photos in front of it. And he knew it right away. He shot off and stood in front of it while yelling at me to hurry and take his photo. And of course, I will do as I'm told!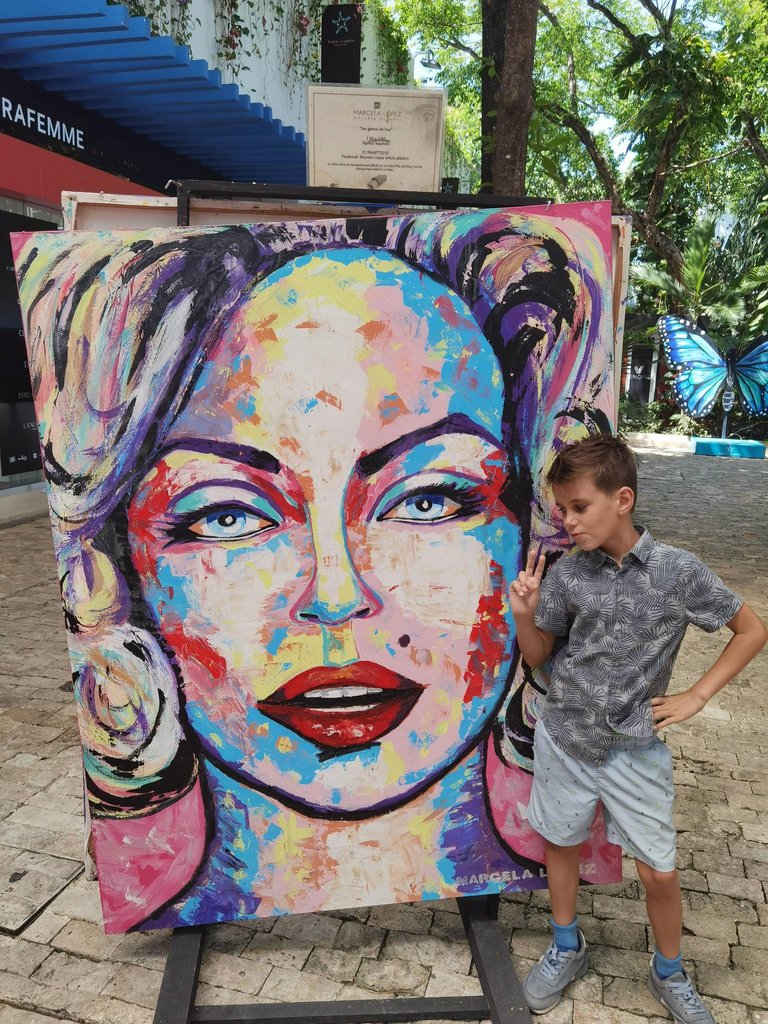 We support our local artists here in Playa del Carmen, that goes without saying. And there are so many here!! This painting is by a great artist, Marcella Lopez. Her art can be found all over the city. Is it Madonna? She has some resemblances with her, doesn't she?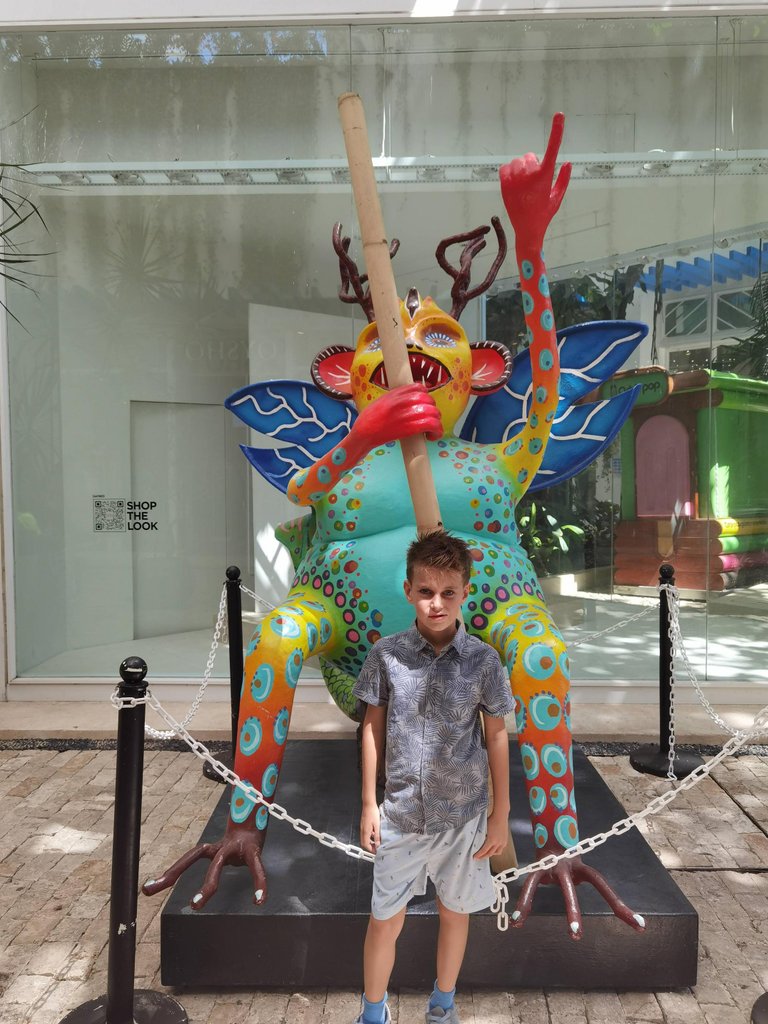 Now this statue was a bit creepy, even for my son, who's otherwise fearless. At first we thought it was just a cute sea creature. But then we saw its teeth! Well, probably a good thing it wasn't real! Just imagine seeing that while you're swimming!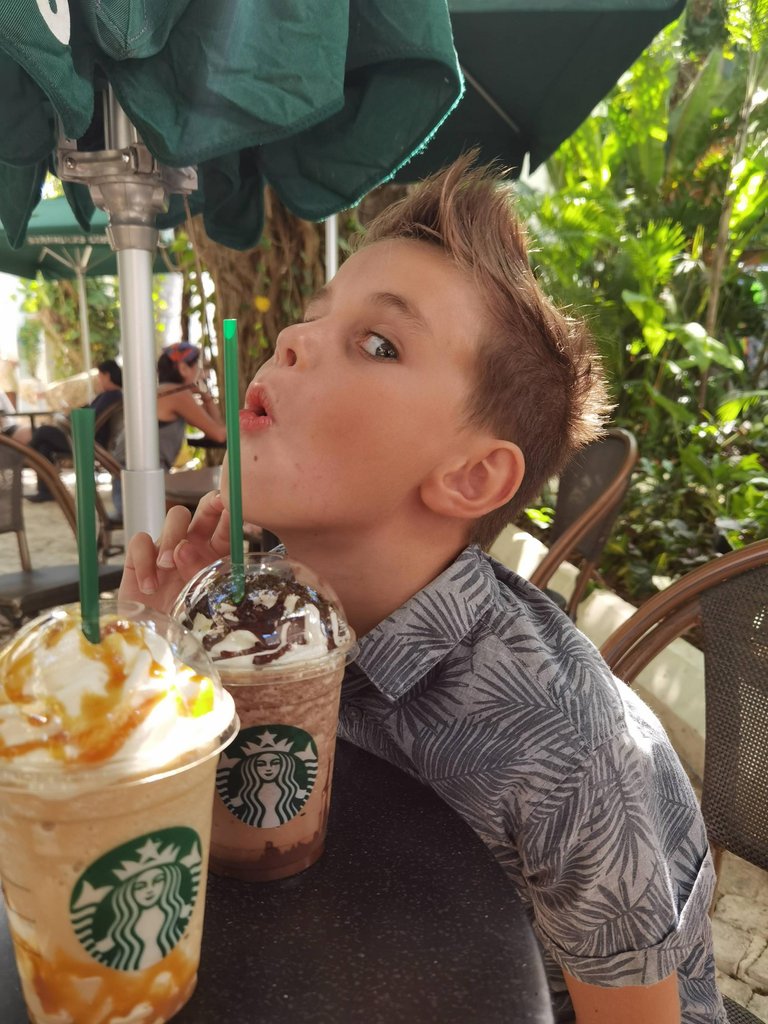 Even the most energetic people need a break sometimes. I usually don't do Starbucks, because I think they're overpriced, and not that special. But this time I was convinced by a very smart young man: We needed something to cool us off. Frappucino is was! His was without coffee, of course. You don't want to see what he's capable off with that kind of energy!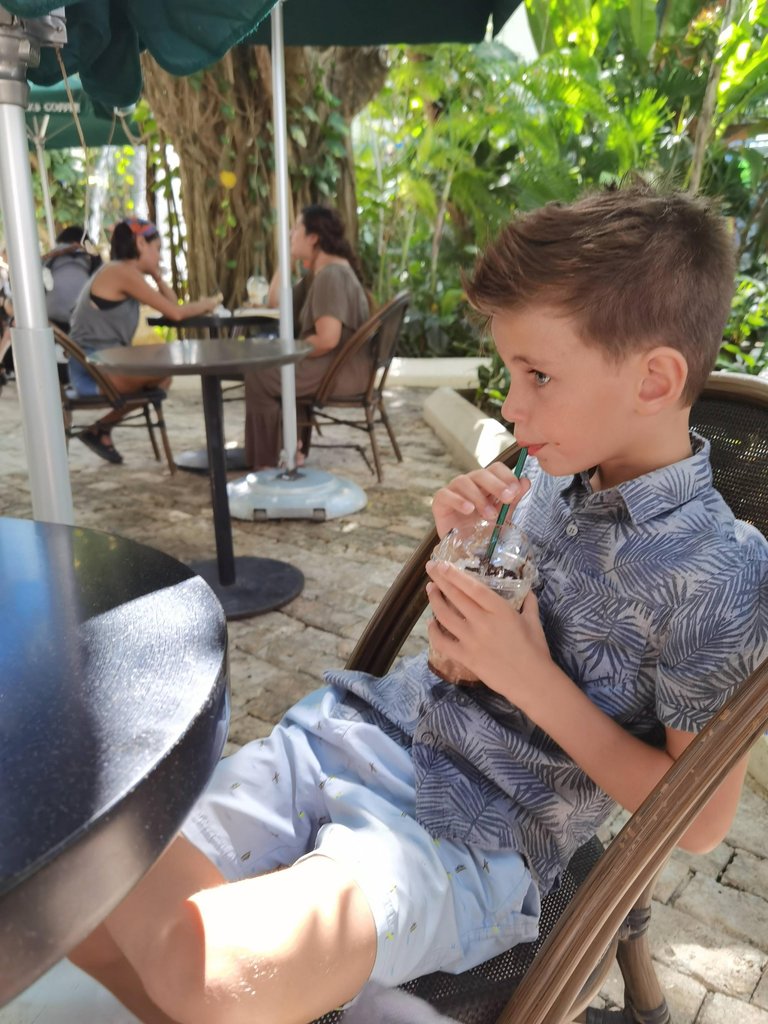 But rest is important too. This is his resting pose hehe. It was only about 5 minutes of rest. But I'll take it...
"Posing with pigeons" is what we'll call this one. They were not phased by our presence at all. If anything, they enjoyed the attention. Oh yes, and the food on the ground...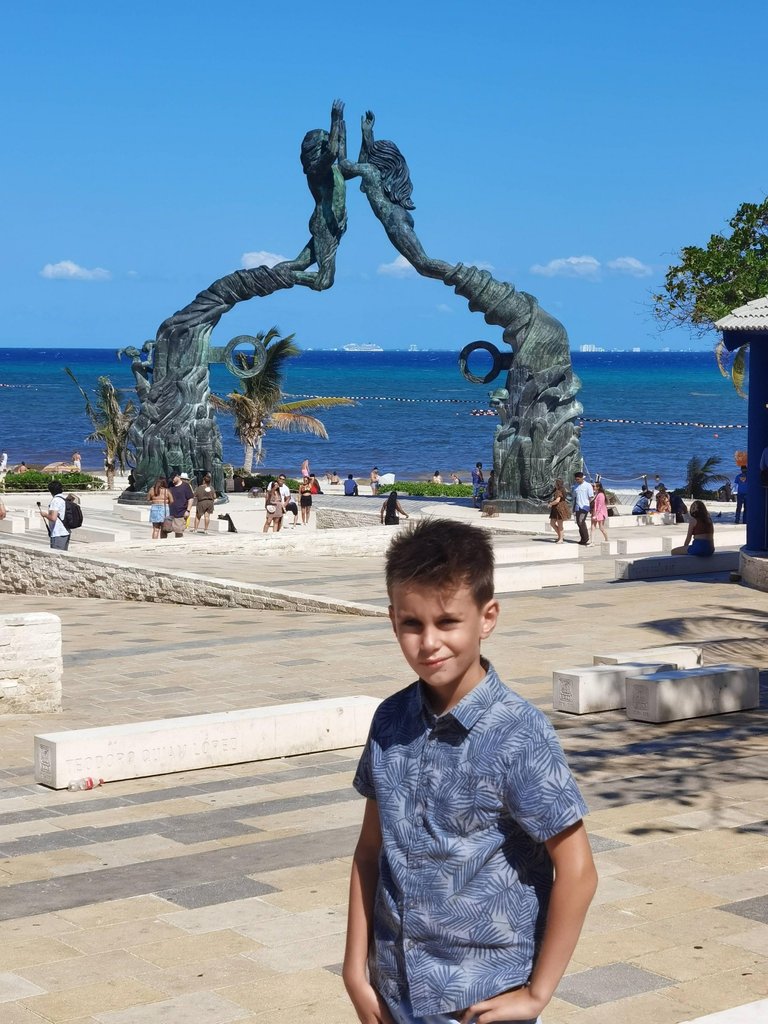 And, of course, there had to be some photos taken in front of the tourist attraction here in Playa. The huge mermaid statue. And the ocean in the background. Wow, what a boring life, huh? Terrible, terrible place to be haha.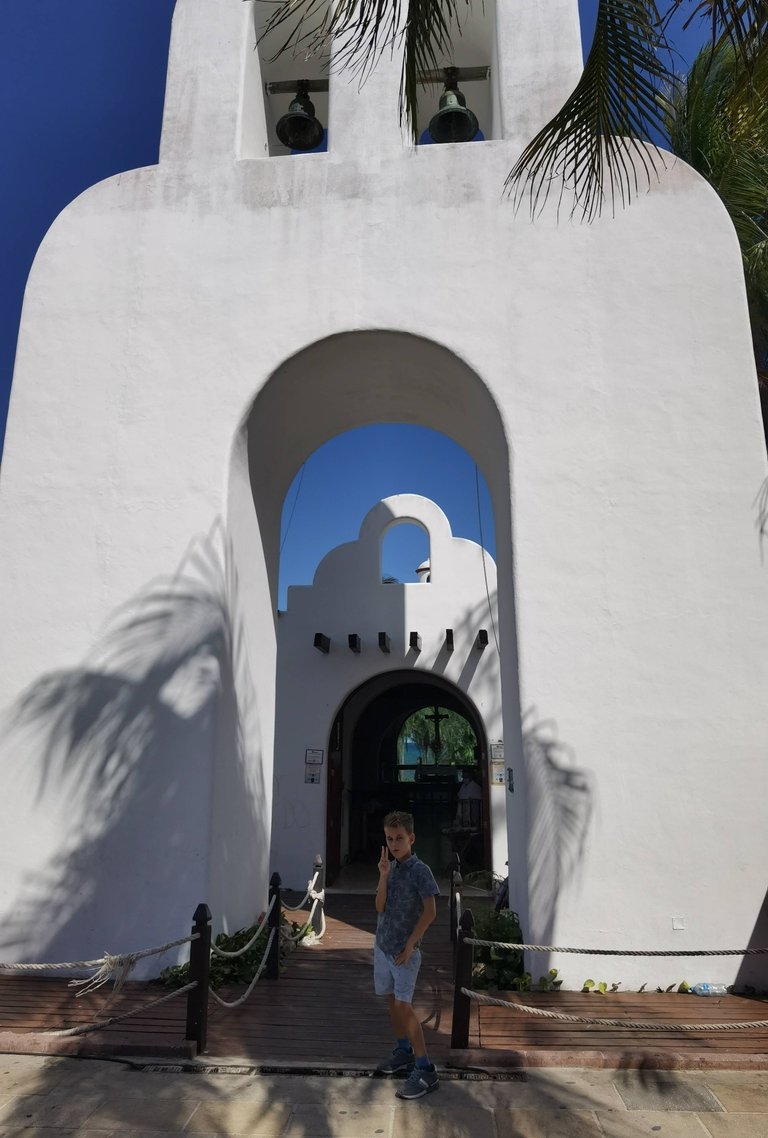 We walked towards 5th street. There's this lovely, little, typically Mexican chapel. So, of course, this also was a picture perfect moment that had to be taken seriously.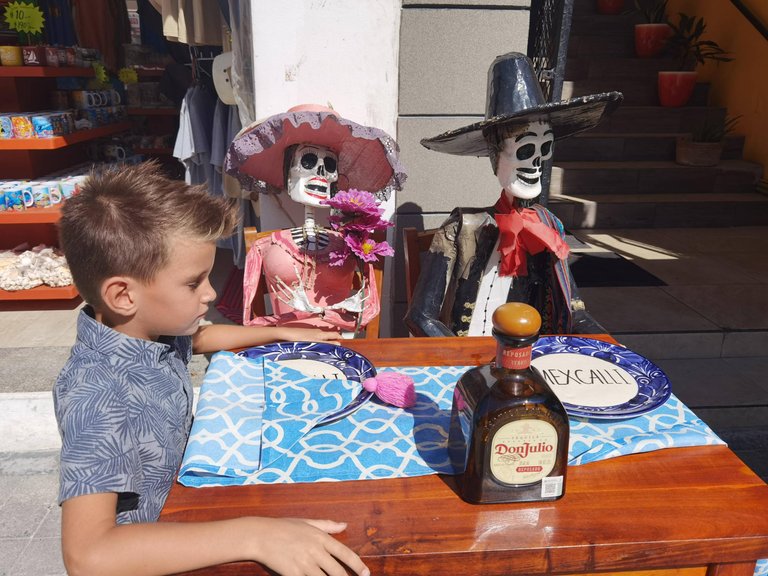 As we walked on, through 5th street, we decided to get something to eat, when my son spotted these fun looking people at this table. We decided to join them... But waited, and waited...and no food ever came. We realized that these two had been waiting for a LOOONG time. Poor folks. So we decided it was time to move on. We said our goodbyes but there was no reply. RUDE!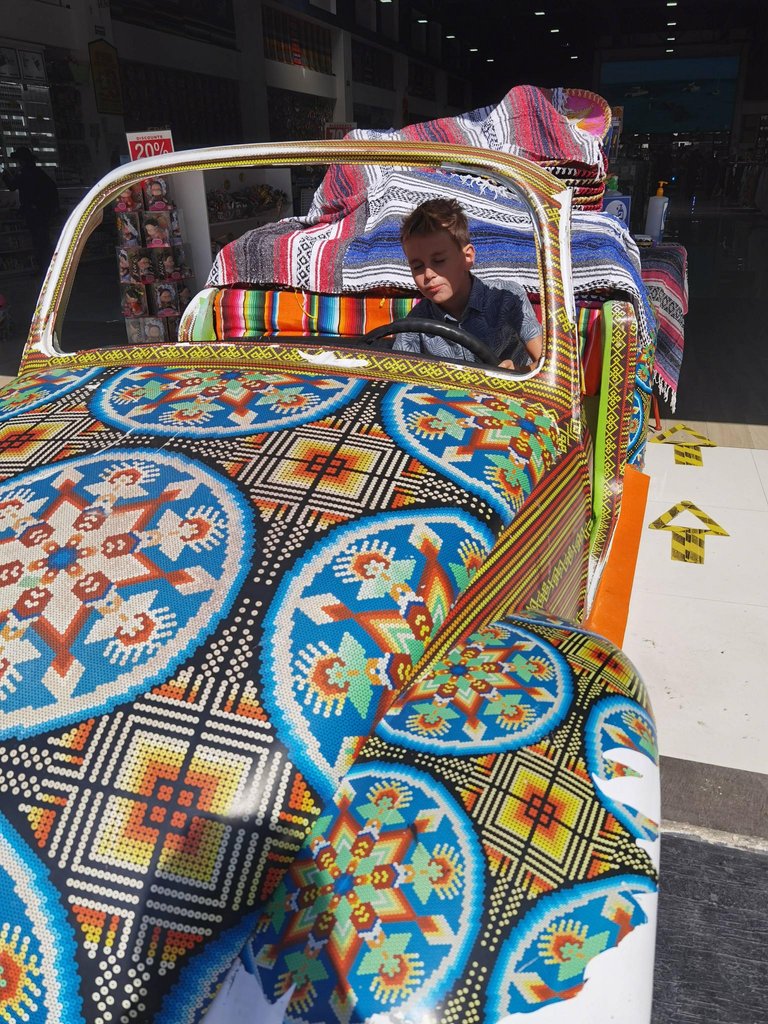 You can't pass this car without taking a picture in it. And so we did. I noticed that it was only stopped from rolling onto the street by two rocks in front of the wheels. So it was a speed photo. A quick in, snap, and go... We wouldn't want that car to start rolling..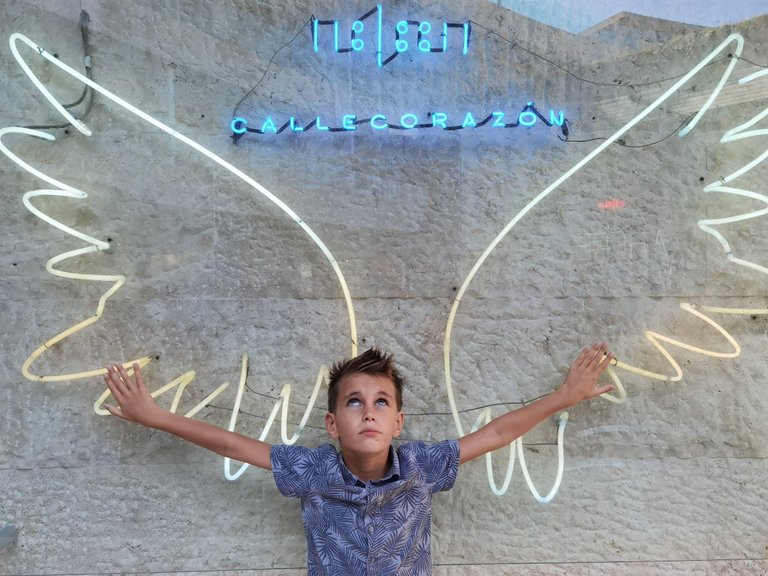 Then a toilet break had to be taken. Yeah, what do you think after this frappuccino? It has to go somewhere...But wings on walls can't be passed without another picture moment. Awe...look at the little angel!

And then he couldn't resist sitting on this lady's lap for a moment. Although she wasn't moving the swing at all. Ugh, BORING! Quickly moving on. We were really hungry at that stage.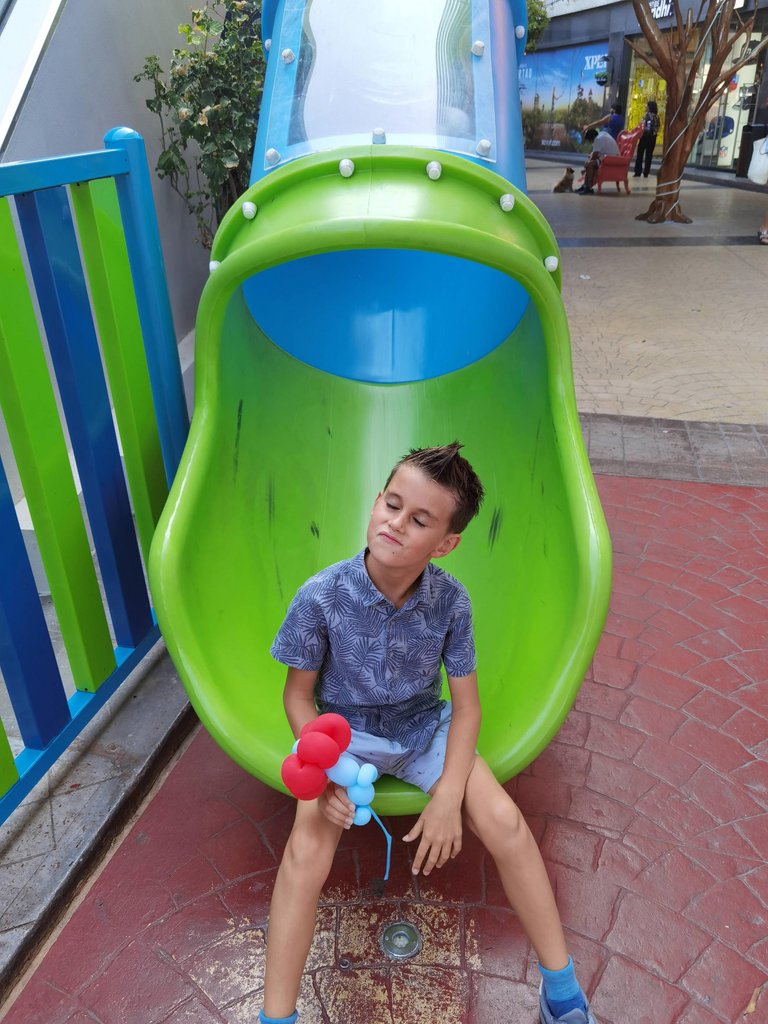 The slide in the middle of the mall is always great fun. By the time I walk down the stairs, he's already been down the slide 3 times. I'm not allowed...12 and younger it says. Bummer.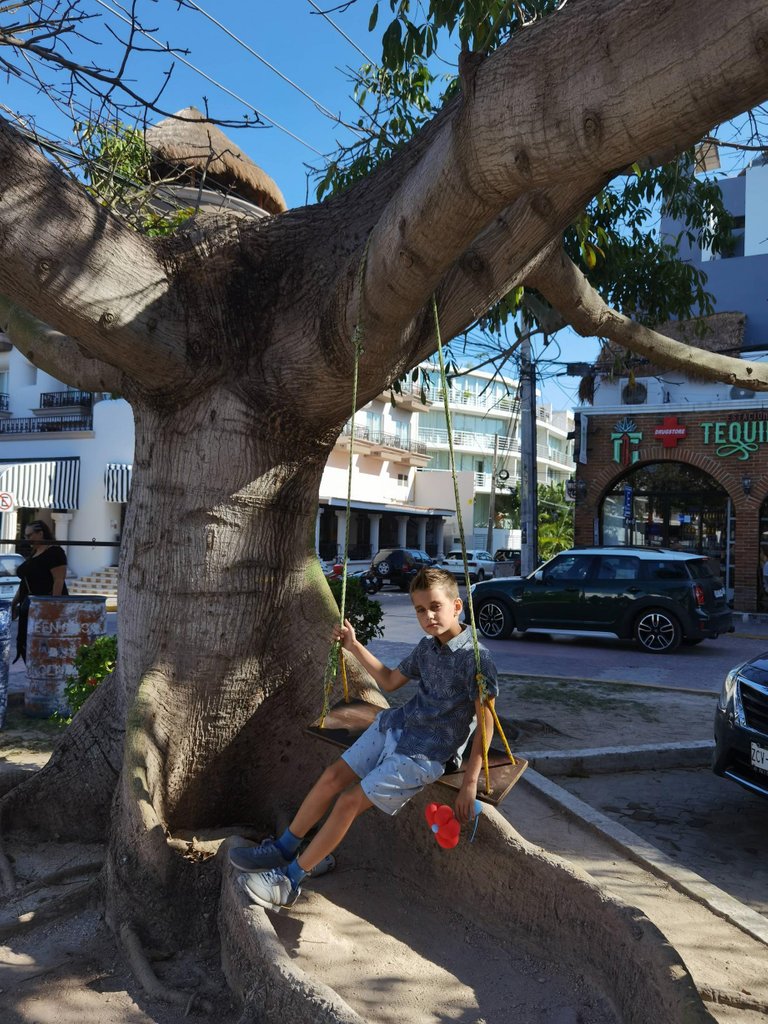 The people in Mexico are fun-loving people. And they love kids. You can see that because why would they put swings everywhere otherwise?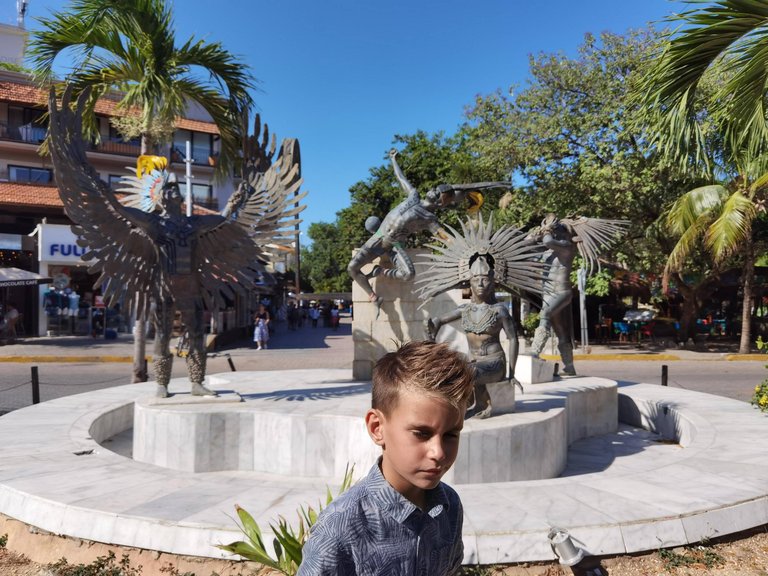 Mayan statues on roundabouts are lots of fun to take pictures with. Just make sure you watch the road before crossing it!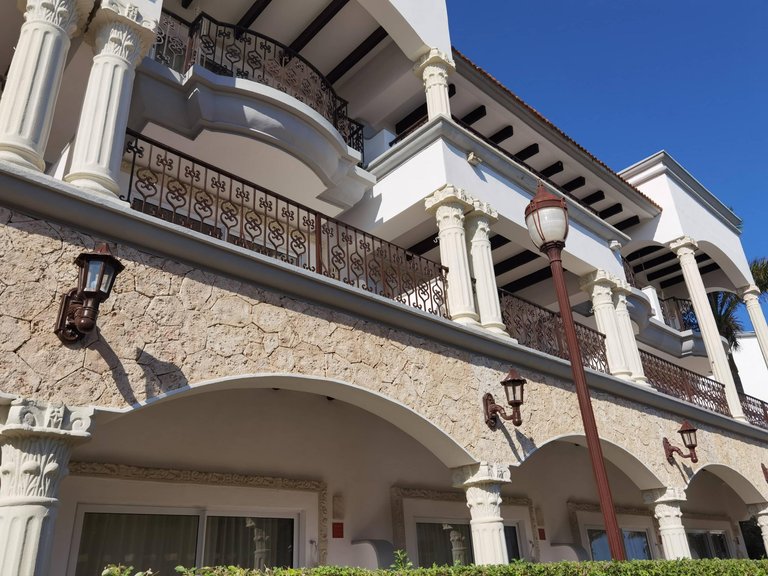 The resort at the Wyndham. Not too shabby. We're going to live there, he said. Sure...let's do that. Why not? But we'd miss our friends in our neighbourhood. So maybe not.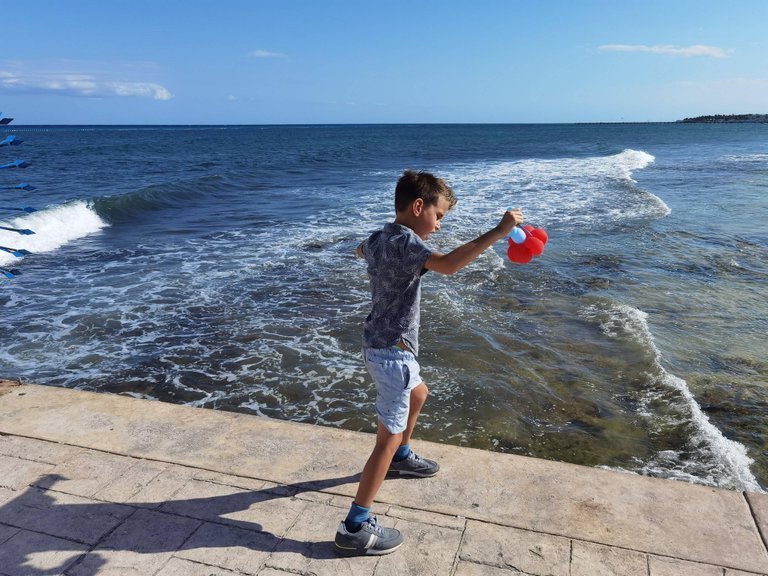 Here the little man gave me a fright. For a moment, it looked like he was going to dive in! Can't blame him either, because it was quite hot. But then he laughed really loud, and ran the other way. Phew...crisis averted.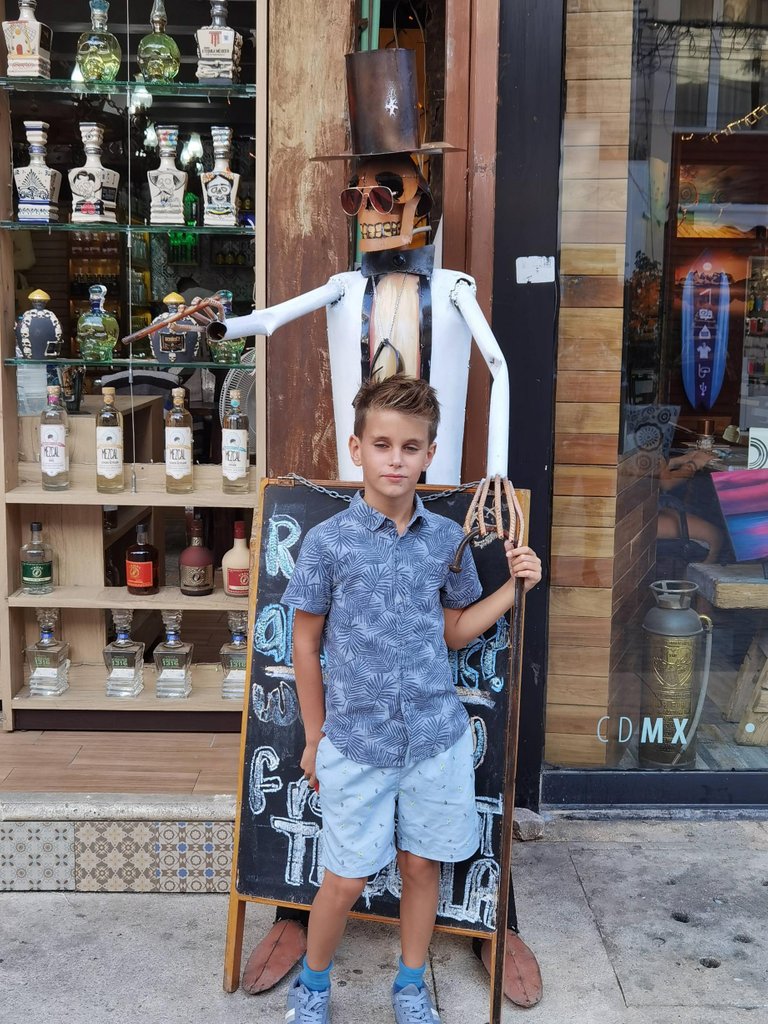 Statues of skeletons will not be passed without a picture moment! This guy drank WAY too much Tequila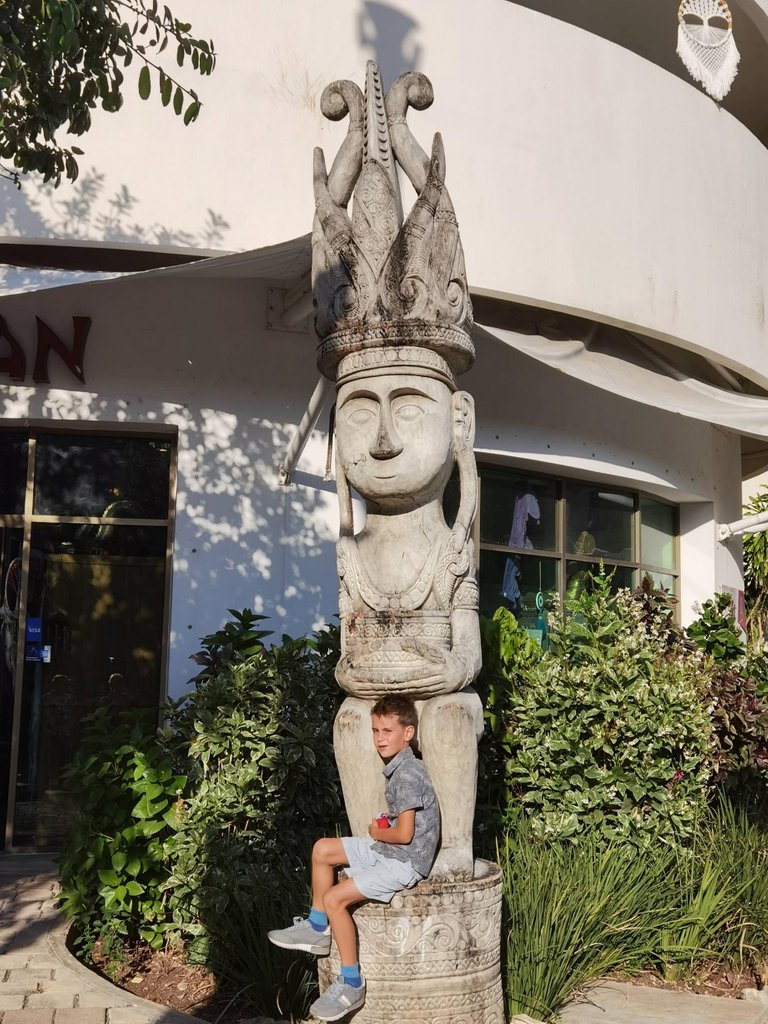 And a totem pole in the middle of the street also functions as a tourist attraction. Picture time!!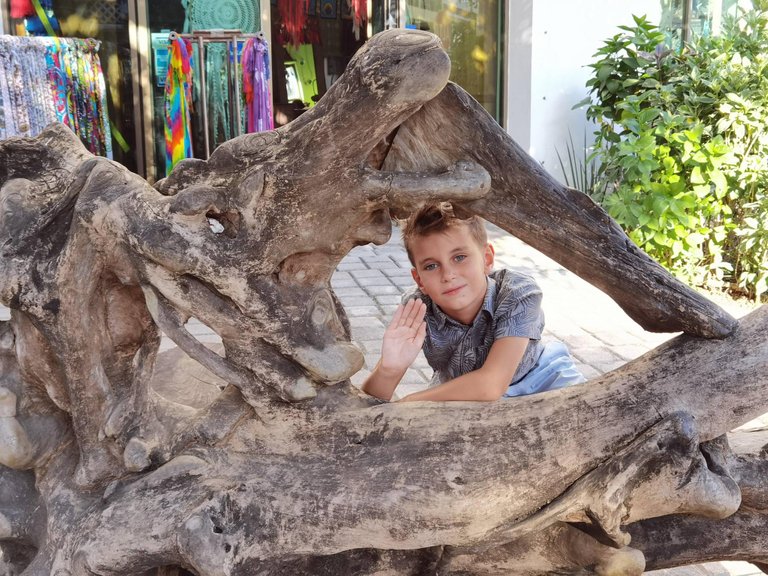 And these strange, benches, made from some sort of root, are also popular for photo shoots.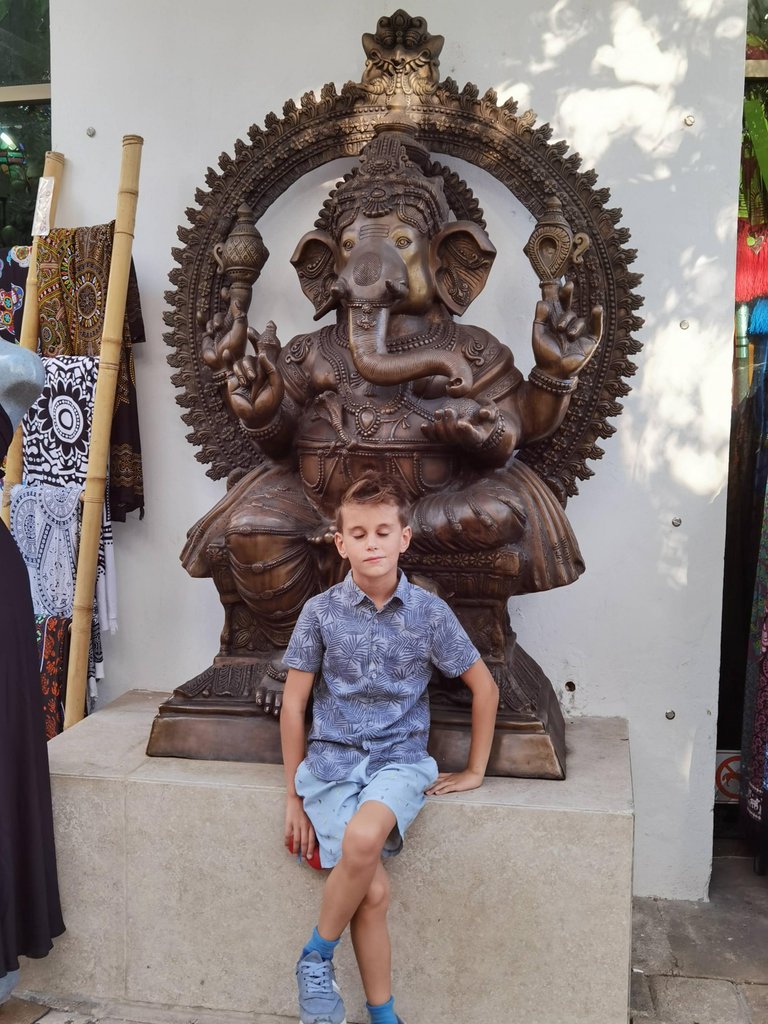 Hanging out with Ganesh for a while is always fun. Time to meditate!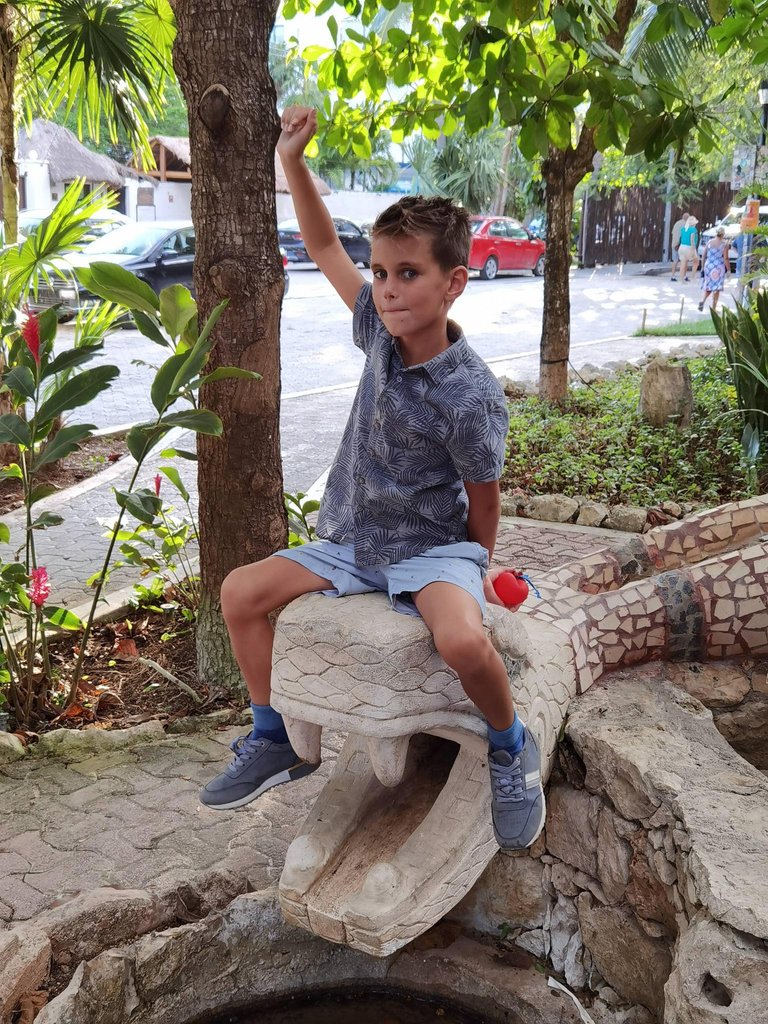 Just before we got to the restaurant, there was an incident, and a huge snake had to be wrestled. Can you see who won?
*Finally. We got to the restaurant!
FOOD!!! When we got home, little Mr. went to sleep without a beep. But he walked a lot.
From one side to the other of 5th street is around 4 kilometers. So yeah, he deserved the rest.
I hope you liked our little tour through Playa centro!





As an affiliate with ledger, I receive a percentage of the sales generated through this link