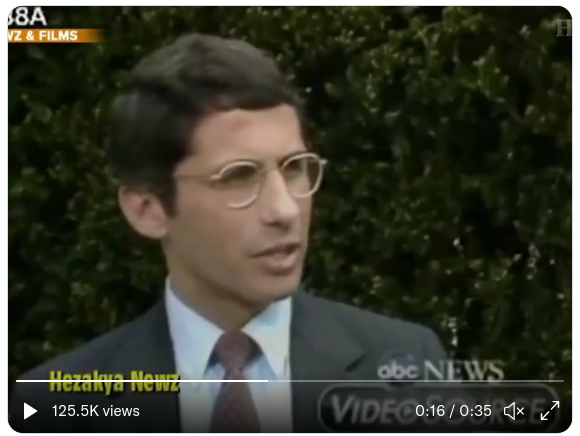 Image: screen grab from the alleged 1983 ABC News interview of Anthony Fauci
In a clip linked above - with you should watch as it is actually rather short - Dr Anthony Fauci, a young but fast-advancing government scientist, hypothesizes that those infected with AIDS could transmit it to children through regular household contact. Best we can tell now, no substantive evidence has ever existed in furtherance of such a hypothesis. In short, best we can tell the esteemed doctor was talking straight out of his ass.
But as it was, it was by one of the leading media channels of the time and doubtlessly contributed to the climate of fear surrounding AIDS and those afflicted with it. And yes, his words had real world consequences - consequences such as people being afraid to even touch AIDS patients, the sufferers being rejected by their families, buried in unmarked graves, etc.
And now we are asked to unquestioningly trust Dr Fauci on COVID-19. Why should we?
References
Kennedy W. Roberts' tweet
9 November 2021
Video Resurfaces of Fauci Warning 'Household Contact' with AIDS Patients Could Put Kids at Risk
Isaac Schorr, National Review, 9 November 2021
Anthony Fauci: a messenger of science or a psychological manipulator?
@borepstein , 18 December 2021
Social media links
Website
Support