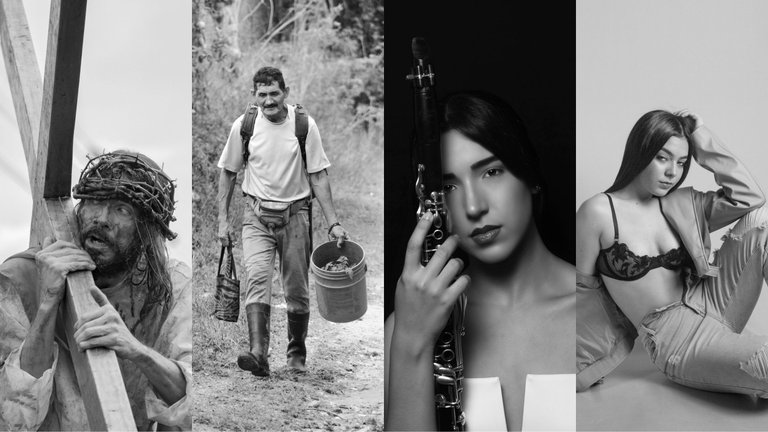 For a long time I have wanted to start sharing with you small selections of portraits of great photographer colleagues who, like me, share their art here in this community.
Each publication that you will see here is a great black and white portrait work done by each one of them, this is my first selection of works that with it I want you to go and read, observe and admire each photograph and that each follower of my blog go through their profile and follow each one of them because they deserve it.
In this first edition I want to share with you four colleagues and two publications of each one that I have liked very much.
Desde hace tiempo he querido empezar a compartir con ustedes pequeñas selecciones de retratos de grandes colegas fotógrafos que como yo comparten su arte aquí en esta comunidad.

Cada publicación que verán aquí es un gran trabajo de retrato en blanco y negro hecho por cada uno de ellos, esta es mi primera selección de trabajos que con ello quiero que vayan y lean, observen y admiren cada fotografía y que cada seguidor de mi blog se pase por su perfil y siga a cada uno de ellos por que se lo merecen.

En esta primera edición quiero compartir con ustedes a cuatro colegas y dos publicaciones de cada uno que me han gustado muchísimo.

Espero disfruten esta selección de grandes trabajos

https://peakd.com/hive-142159/@ejrlopez/monomad-i-took-photographs-of-a-via-crucis-during-holy-week
https://peakd.com/hive-142159/@ejrlopez/monomad-show-you-much-more-of-my-content
https://peakd.com/hive-142159/@jlinaresp/christopher-cristobal-a-brief-encounter-on-the-road-oror-monomad-oror-eng-esp
https://peakd.com/hive-142159/@jlinaresp/five-photos-five-friends-cinco-fotos-cinco-amigos-monomad-eng-esp
https://peakd.com/hive-142159/@abelfotografia/music-at-the-doorway-monomad
https://peakd.com/hive-142159/@abelfotografia/for-the-love-of-portraits
https://peakd.com/hive-142159/@jlphotographyart/vanessa-came-to-be-my-models-companion-and-ended-up-being-a-portrait-model-as-well-or-monomad-challenge-eng-es
https://peakd.com/hive-142159/@jlphotographyart/making-a-photo-book-for-a-model-or-monomad-challenge-eng-es