As promised, today I come to tell you and show you a little bit how was the upgrade of my PC, in the previous post I told you about how I got the components, what they were and some of the outstanding features of them. If you want to read that post I leave it here.
Como lo prometido es deuda hoy vengo a contarles y a mostrar un poco como fue la actualización de mi PC, en el anterior posteo les conté sobre como conseguí los componentes, cuales eran y algunas de las características destacables de los mismos. Si quieren pasar a leer ese post se los dejo por aquí.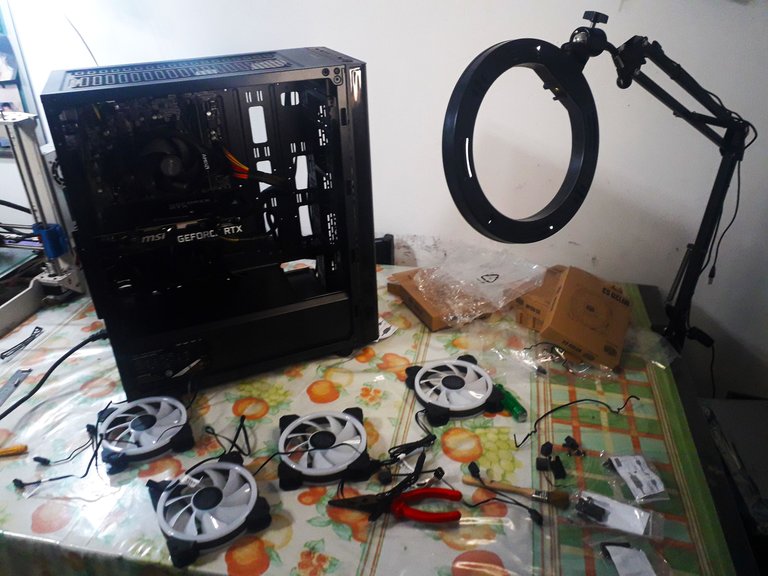 To begin with, I started by taking my PC to a place with good space and lighting to work comfortably and I also wanted to document the process to make this post. I decided to start replacing the power supply so I removed the side covers of the cabinet to have access to the power supply, before disconnecting the cables I took some pictures to have as a reference in case I made a mistake when connecting the cables of the new power supply in place, anyway, this did not help me much because I connected them wrong HAHAHAHAHA but well these are things that happen to people who do not have much experience with the assembly of PCs. Everything I have learned was through trial and error and watching some videos on youtube.
Para empezar, comencé llevando mi PC a un lugar con buen espacio e iluminación para trabajar de forma cómoda y quería también documentar el proceso para hacer este posteo. Decidí empezar reemplazando la fuente así que retire las tapas laterales del gabinete para tener acceso a la fuente de poder, antes de desconectar los cables saque unas fotos para tener de referencia llegado el caso de que cometiera algún error a la hora de conectar los cables de la nueva fuente en su lugar, de todas maneras, esto no me ayudo mucho porque los conecte mal JAJAJA pero bueno son cosas que le pasan a la gente que no tiene tanta experiencia con el armado de PCs. Todo lo que he aprendido fue con prueba y error además de ver algún que otro video en youtube.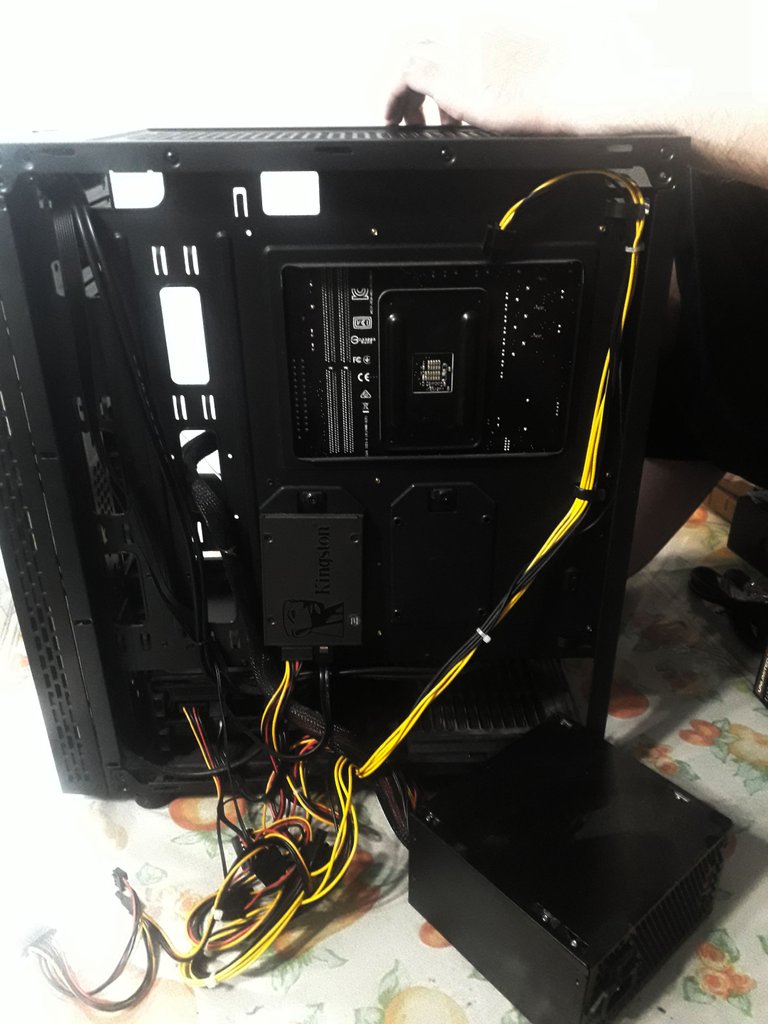 | | | |
| --- | --- | --- |
I placed the power supply fan down so it could take air and cool properly, screwed everything in place and started to arrange and connect the cables, after a few minutes seeing where each cable went I managed to leave everything in place. I did a brief test by turning on the PC and everything seemed to work fine.
Coloque el ventilador de la fuente hacia abajo para que tome aire y pueda refrigerarse correctamente, atornille todo en su lugar y empecé a acomodar y conectar los cables, tras algunos cuantos minutos viendo donde iba cada cable logre dejar todo en su lugar. Hice una breve prueba encendiendo la PC y todo parecía ir bien.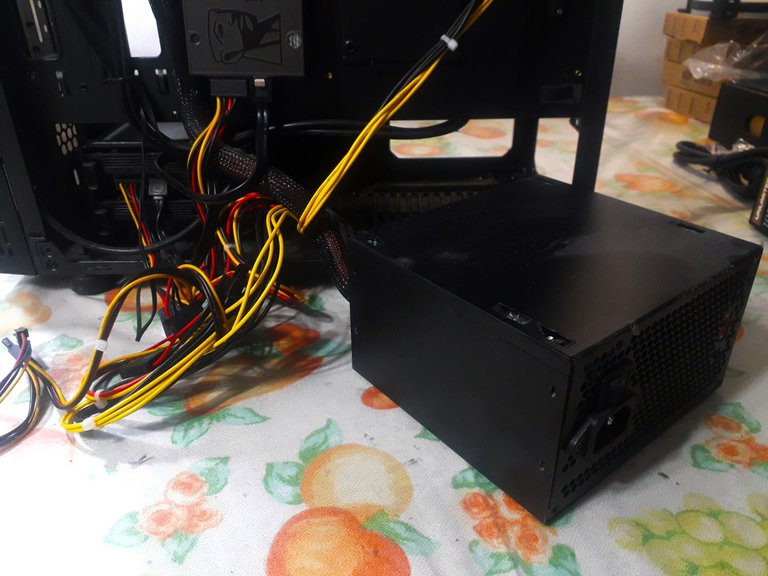 | | | |
| --- | --- | --- |
The next thing was to connect the 3060TI video card to the motherboard port, I had no margin of error since it can only fit in one place. The problem I had at this point was the back plate of the board that did not allow me to place it correctly so I had to unscrew the motherboard and move it until everything fit well, this I tell it quickly, but it took me several minutes because I wanted to do everything carefully so as not to damage any component. I know how I am and sometimes out of frustration I try to solve things by force; generally and especially with technology that never has good results. Once the video card was placed and connected I turned on the PC again to see if the fans started to spin and everything was fine.
Lo siguiente era conectar la tarjeta de video 3060TI al puerto de la placa madre, no tenia margen de error ya que solo puede entrar en un solo lugar. El problema que se me presento en este momento era la chapa trasera de la placa que no me permitía colocarlo de forma correcta así que tuve que destornillar la placa madre y moverla hasta lograr que todo calce bien, esto lo cuento rápidamente, pero me llevo varios minutos debido a que quería hacer todo con cuidado para no dañar ningún componente. Conozco como soy y a veces por frustración intento resolver las cosas por la fuerza; generalmente y en especial con la tecnología eso nunca tiene buenos resultados. Una vez colocada y conectada la placa de video encendí nuevamente la PC para ver si empezaban girar los ventiladores y todo iba bien.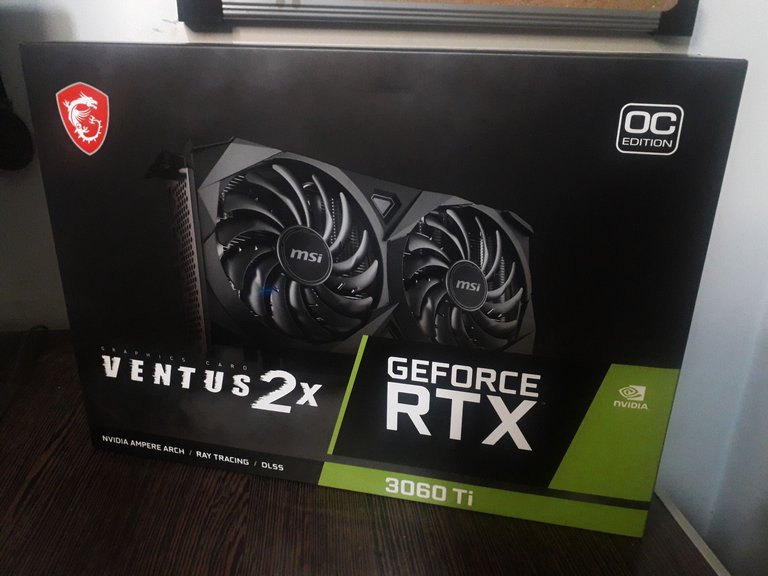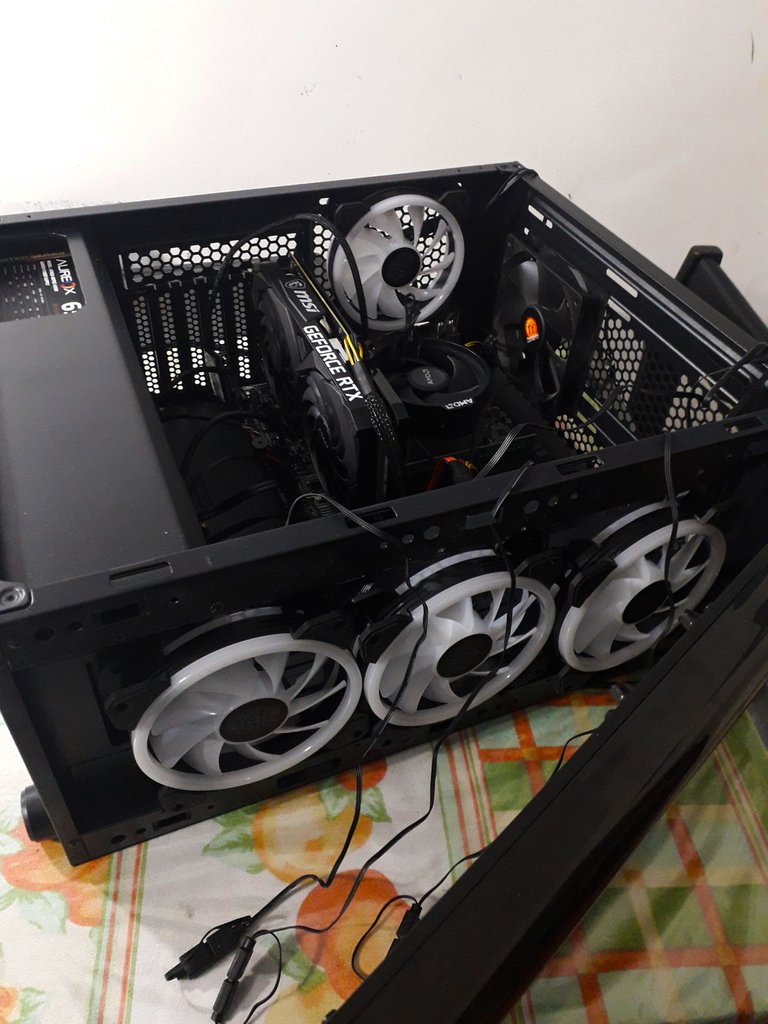 When I wanted to connect the fans I had a big problem, I only had two ports to connect fans, one was for the microprocessor fan and the other to take the heat out of the old power supply I had. In the box they explained how to connect the fans in series, but when I tried to do it I didn't succeed because, going more towards the technical part, connecting fans in series makes that each one you connect needs more power to work than the previous one. I needed to connect them in parallel, but it was not possible.
Cuando quise conectar los ventiladores tuve un gran problema, solo tenia dos puertos para conectar ventiladores, uno era para el ventilador del microprocesador y el otro para sacar el calor de la fuente vieja que tenía. En la caja explicaban como conectar los ventiladores en serie, pero al intentarlo no lo logre ya que, yendo más hacia la parte técnica, conectar ventiladores en serie hace que cada uno que conectes necesite más energía para funcionar que el anterior. Yo necesitaba conectarlos en paralelo, pero no era posible.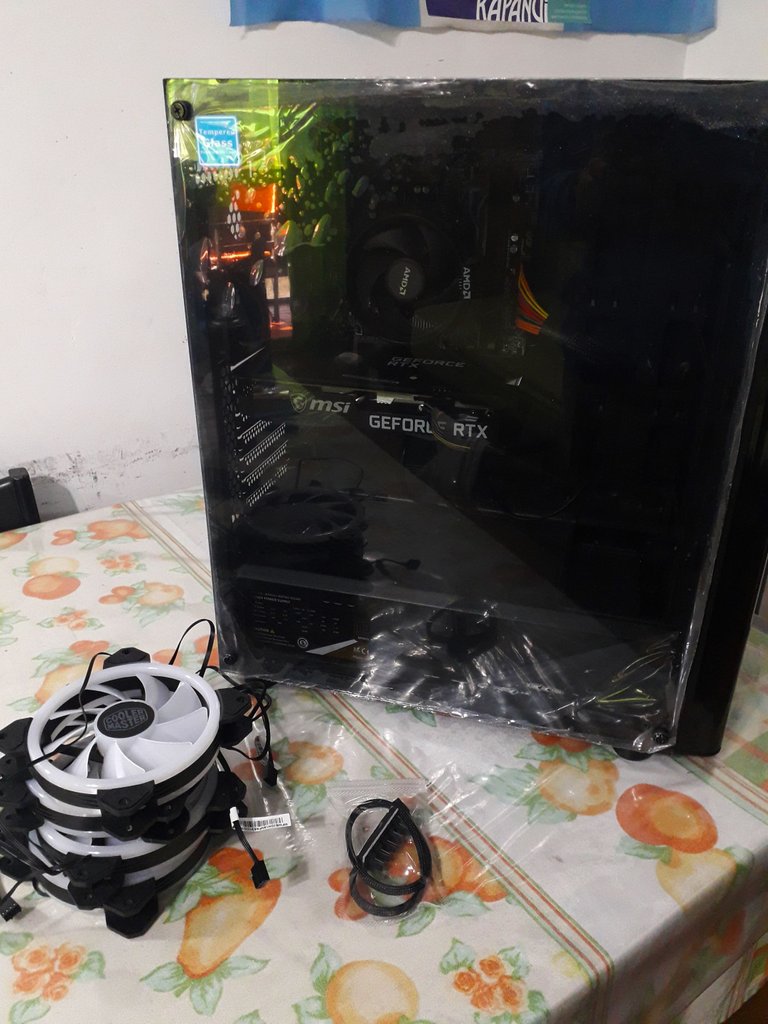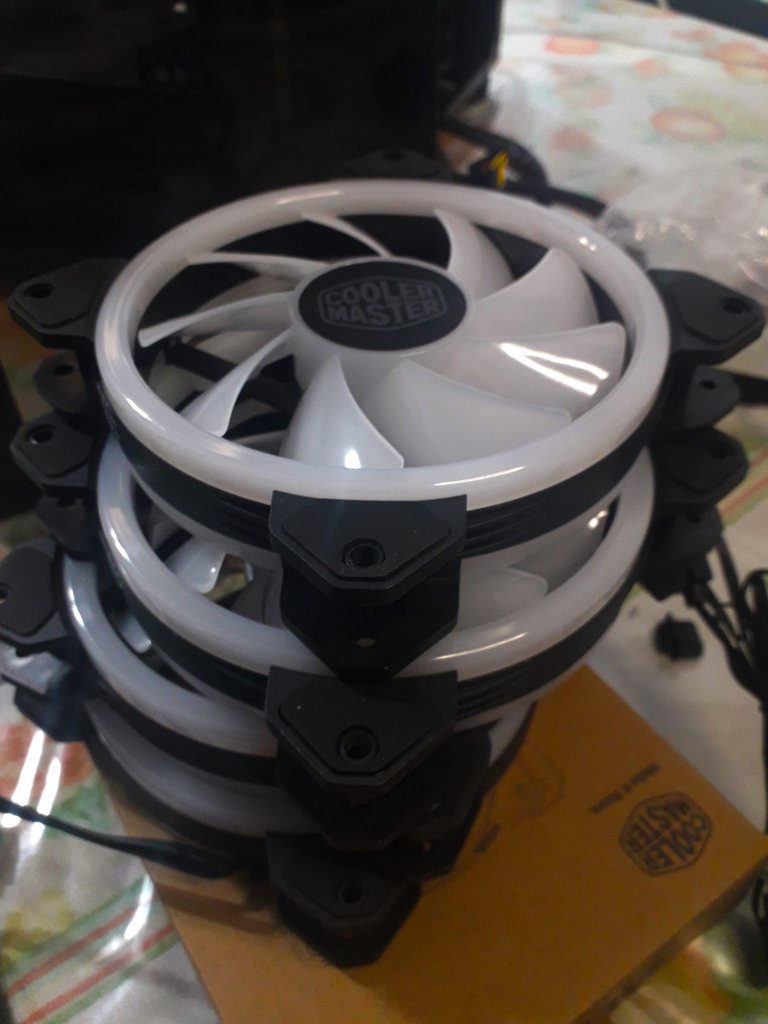 At this point I could not solve anything so I decided to close everything, put my PC to the mains to test the power supply and upgrade the video card. I started to search on the internet how to solve this problem, I had two options... buy a motherboard which I need, but I ran out of money after this investment and the second was to buy a FANHUB, I did not know this device so I searched what was its function and where I could get it.
Para este punto no podía resolver nada así que decidí cerrar todo, colocar mi PC a la red eléctrica para probar la fuente y actualizar la placa de video. Comencé a buscar en internet como resolver este problema, tenia dos opciones… comprar una placa madre lo cual necesito, pero me quede sin dinero luego de esta inversión y la segunda era comprar un FANHUB, no conocía este dispositivo así que busque cuál era su función y donde podía conseguirlo.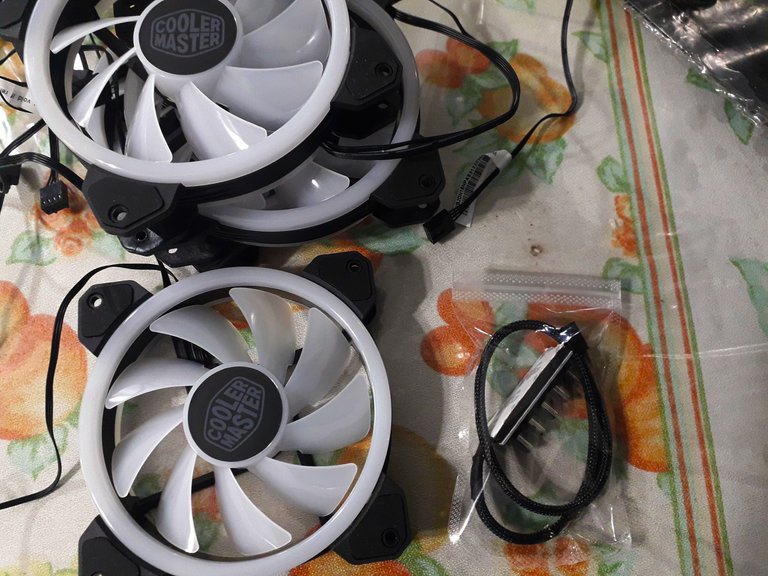 The FANHUB consists of a fan shoe/adapter, with a single port you can get power to connect five fans. I searched the internet and found one near my house for about $500 Argentinean pesos or the equivalent of a little more than 2 dollars, I arrived home and started testing. I connected the fanhub to the fan pin of the power supply and put a single new fan to check if it was going well, I noticed that there were no major complications and connected the rest, to my great happiness it worked perfectly so I started to arrange the cables so that they were as good as possible inside the cabinet.
El FANHUB consiste en una zapatilla/ adaptador para ventiladores, con un solo puerto podés conseguir energía para conectar cinco ventiladores. Busque por internet y conseguir uno cerca de mi casa por unos $500 pesos argentinos o el equivalente a poco más de 2 dólares, llego a mi casa y comencé con las pruebas. Conecte el fanhub al pin del ventilador de la fuente y puse un solo ventilador nuevo para verificar si iba bien, note que no había mayores complicaciones y conecte el resto, para mi gran felicidad funciono perfectamente así que empecé a acomodar los cables para que quedaran lo mejor posible dentro de gabinete.
| | | |
| --- | --- | --- |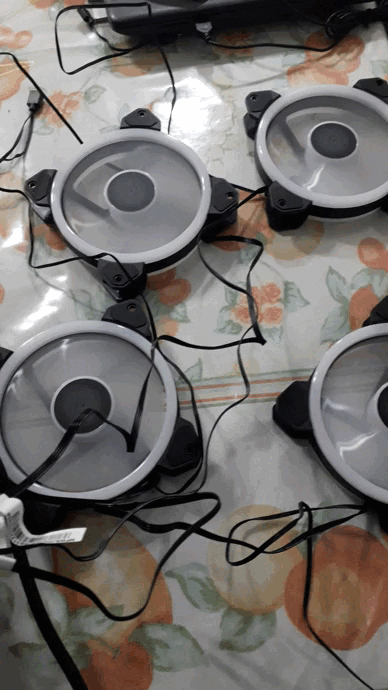 The layout was as follows, three fans at the front of the cabinet to bring in cool air from outside, one fan at the rear and one fan at the top. The idea was to create a horizontal flow stream that brings air in from the front and blows it out the back and top as hot air tends to rise. I took the PC to my room and did some temperature tests by exhausting the video card and the temperature did not go above 70 degrees.
La distribución fue la siguiente, tres ventiladores en la parte delantera del gabinete para traer aire fresco del exterior, un ventilador en la parte trasera y un ventilador en la parte superior. La idea era crear una corriente de flujo horizontal que traiga aire por delante y la expulse por detrás y por arriba ya que el aire caliente tiende a subir. Llevé la PC a mi cuarto e hice unas pruebas de temperatura extenuando la placa de video y la temperatura no pasaba de los 70º grados.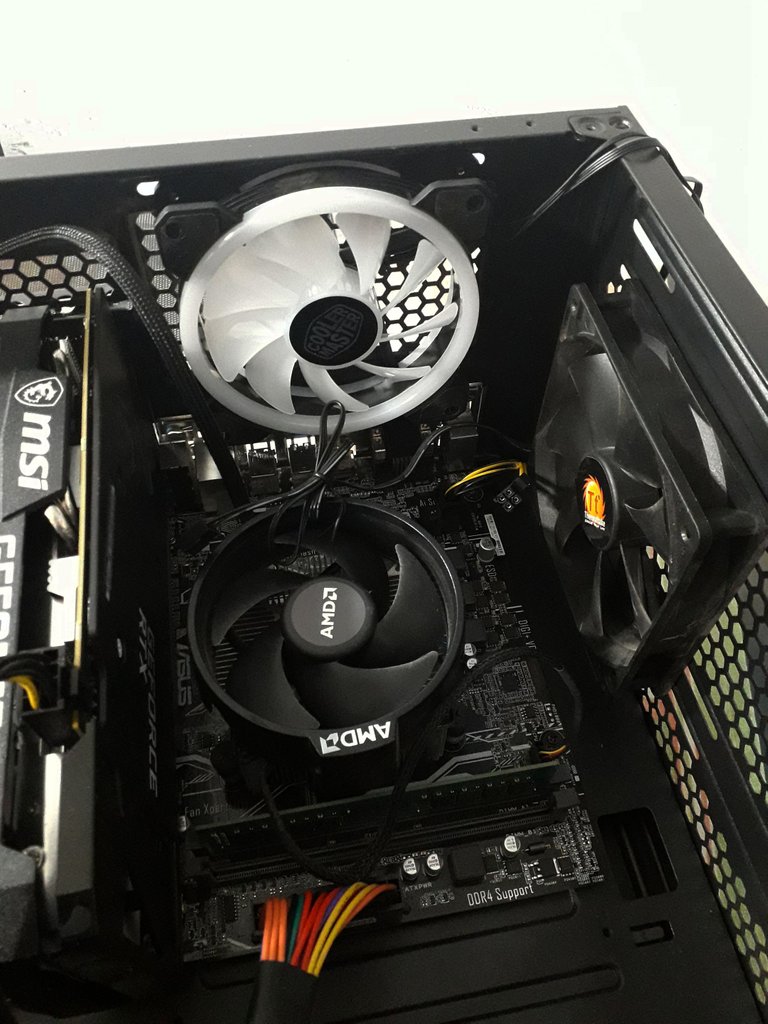 It's been a few weeks now and I haven't had any problems, I've been able to enjoy many games and work with 3D editing and modeling programs perfectly.
Ya han pasado algunas semanas y no he tenido ningún problema, ya pude disfrutar de muchos juegos y trabajar tranquilamente con programas de edición y modelado 3D perfectamente.
I hope my post has been useful for you or you can learn from some of my mistakes. Do you take care of changing your PC components yourself or do you prefer to have a professional do it? I would love you to leave your comments and opinions below.
Espero que mi post te haya sido de utilidad o puedas aprender de alguno de mis errores ¿Vos mismo te encargas de cambiar los componentes de tu PC o preferís que lo haga un profesional? me encantaría que dejaras tu comentario y opiniones aquí abajo.

My 3D printing works @nit_3dprinting
Mis trabajos de impresión 3D @nit_3dprinting
Translated by DeepL
Traducido con DeepL
All images are my own
Todas las imágenes son de mi autoría
My last post The hidden history of Final station [ENG-ESP]
Mi último post The hidden history of Final station [ENG-ESP]