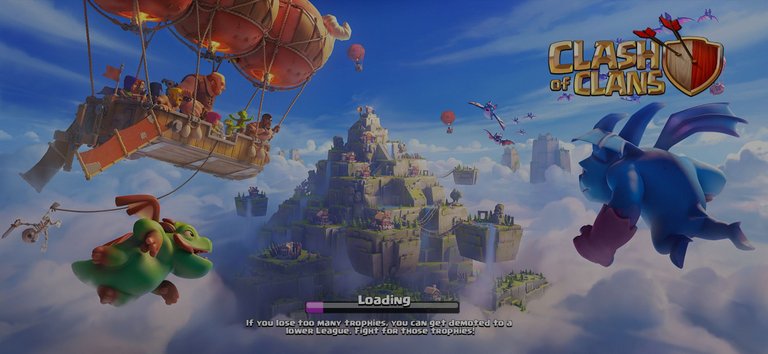 Hello everyone, it's good to be here again and today I won't beat around the bush but will be talking about this harder level which I just got to in my clash of clash war game, for you to be play a game and still love to continuously play that game, there is something that made it so special to that extent. So I remember (3) three days ago when I was playing the game, I was about upgrading my town hall from level 9 nine to the next level which is level ten so there was not enough coin to make the upgrade so I had to go for war to loot more coin and eixir in other to gather enough.
Hola a todos, es bueno estar aquí de nuevo y hoy no me andaré con rodeos, pero hablaré sobre este nivel más difícil al que acabo de llegar en mi juego Choque de Guerra Choque, para que juegues un juego y aún te guste. jugar continuamente ese juego, hay algo que lo hizo tan especial en esa medida. Así que recuerdo (3) hace tres días, cuando estaba jugando, estaba a punto de actualizar mi ayuntamiento del nivel 9 nueve al siguiente nivel, que es el nivel diez, así que no había suficientes monedas para hacer la actualización, así que tuve que irme. para la guerra saquear más monedas y eixir en otros para reunir lo suficiente.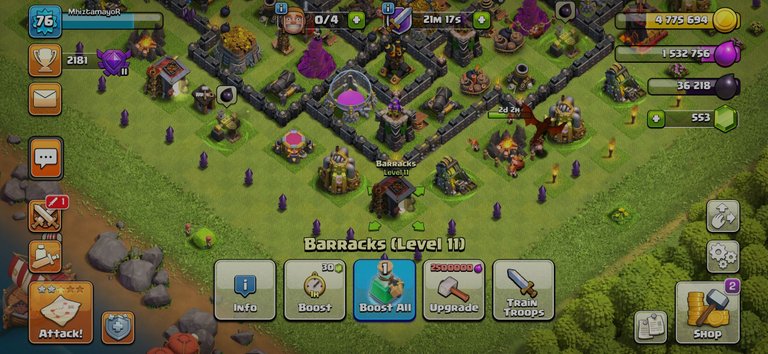 Previous townhall 9
Ayuntamiento anterior 9
Now the townhall upgrade cost 4 million and it will take 3 days to complete the upgrade, and also the upgrade will help me to be able to upgrade other resources which I will be needing to guide my clan and make the security of my clan get stronger also I will be able to have more troops which I will be taking to war.
Ahora, la actualización del ayuntamiento cuesta 4 millones y tomará 3 días completar la actualización, y también la actualización me ayudará a poder actualizar otros recursos que necesitaré para guiar a mi clan y fortalecer la seguridad de mi clan. también podré tener más tropas las cuales iré llevando a la guerra.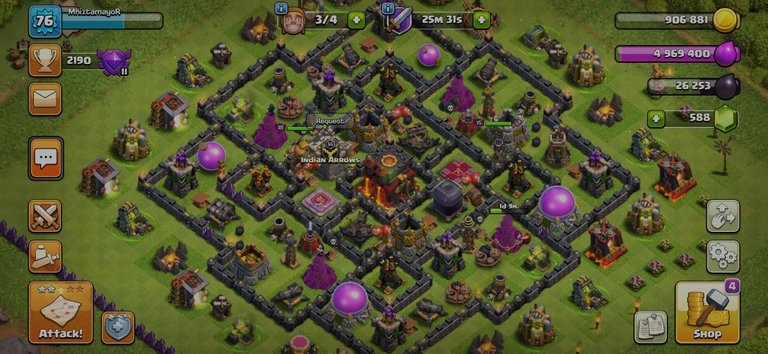 Now at townhall 10
Ahora en el ayuntamiento 10
Guess what the upgrade is complete after three days and now my town hall is ready and other upgrade have been unlocked,which I will be explaining the work which they do next here so check it out and flow along with me.
Adivinen qué actualización se completó después de tres días y ahora mi ayuntamiento está listo y se han desbloqueado otras actualizaciones, que explicaré el trabajo que hacen a continuación aquí, así que échale un vistazo y sigue conmigo.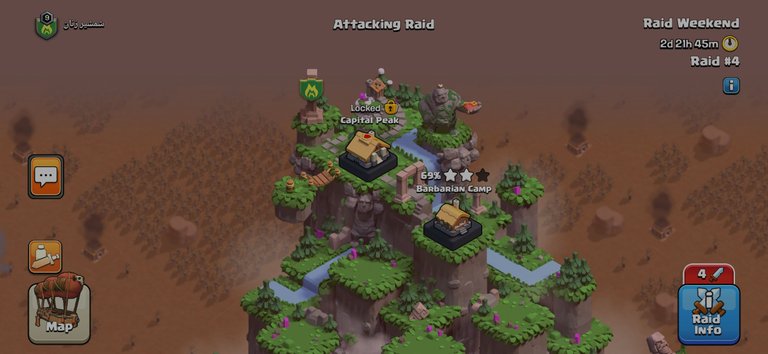 One of the upgrade in the game is a new clan view and this will require another set up of troop, walls and security since it is a new clan view, but before I go into this new clan view let me show you some of the resources and weapon which have been unlocked ft of me as I upgrade the clan to a new level.
Una de las actualizaciones en el juego es una nueva vista de clan y esto requerirá otra configuración de tropas, muros y seguridad ya que es una nueva vista de clan, pero antes de entrar en esta nueva vista de clan, déjame mostrarte algunos de los recursos. y armas que han sido desbloqueadas por mí mientras actualizo el clan a un nuevo nivel.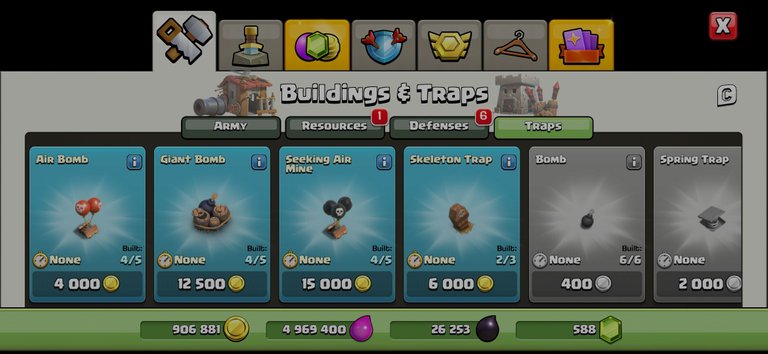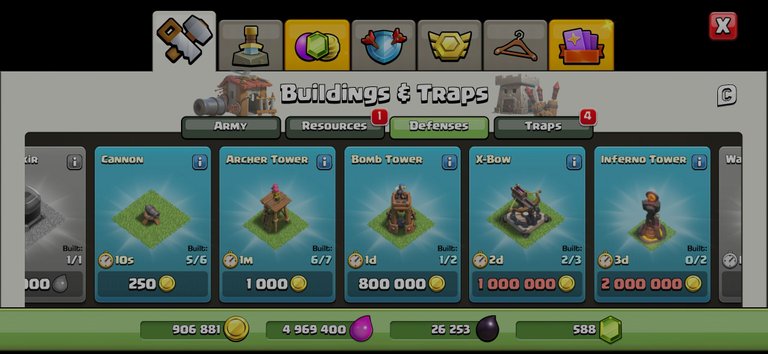 The first one here available to be bought is the air bomb and guess the work which it does, it attack any flying troop like dragon, balloons and prevent them for getting a big damage on the clan, the second trap there is the giant bomb which is invisible to the attacking troop and only come up when they are close to it, it does a lot of damage than ever since it's not just a single bomb. Also the skeleton air mind does same work just like air bomb.
El primero aquí disponible para comprar es la bomba de aire y adivina el trabajo que hace, ataca a cualquier tropa voladora como dragones, globos y evita que causen un gran daño al clan, la segunda trampa allí es la bomba gigante que es invisible para la tropa atacante y solo aparece cuando están cerca de ella, hace mucho más daño que nunca ya que no es solo una bomba. Además, la mente aérea del esqueleto hace el mismo trabajo que la bomba de aire.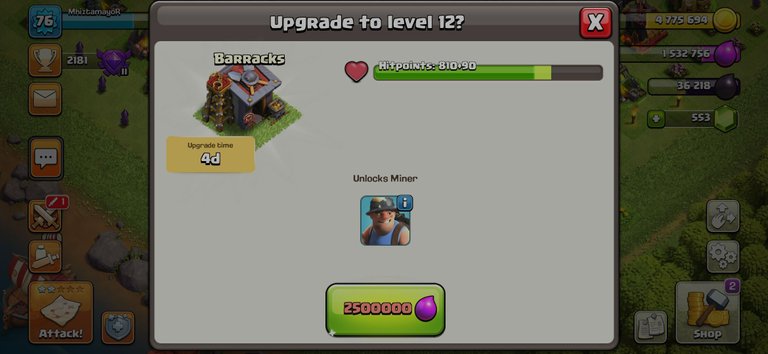 Now moving onto the defense resources which serves as security, the first one here available to be sold out is the cannon, this fire out hot metal and does greater harm when it is upgraded, the archer tower is used to defend against flying objects and also walking object so it as greater advantage over cannon.
Ahora, pasando a los recursos de defensa que sirven como seguridad, el primero aquí disponible para agotarse es el cañón, este dispara metal caliente y hace más daño cuando se actualiza, la torre del arquero se usa para defenderse contra objetos voladores y también objeto ambulante por lo que tiene una mayor ventaja sobre el cañón.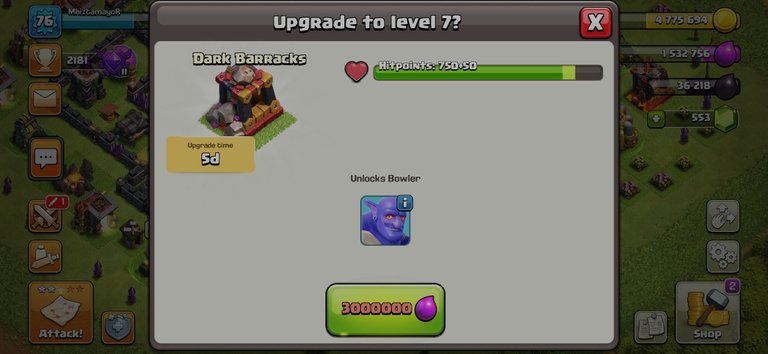 Let me now move to the new troop available to be unlocked and in the barracks, the next trip is Miner, who does a greater job anytime it is time for war also looting of gold and eixir is much faster when they are among the troop.
Permítanme ahora pasar a la nueva tropa disponible para desbloquear y en los cuarteles, el próximo viaje es Miner, que hace un mejor trabajo cada vez que es hora de la guerra, y el saqueo de oro y eixir es mucho más rápido cuando están entre la tropa.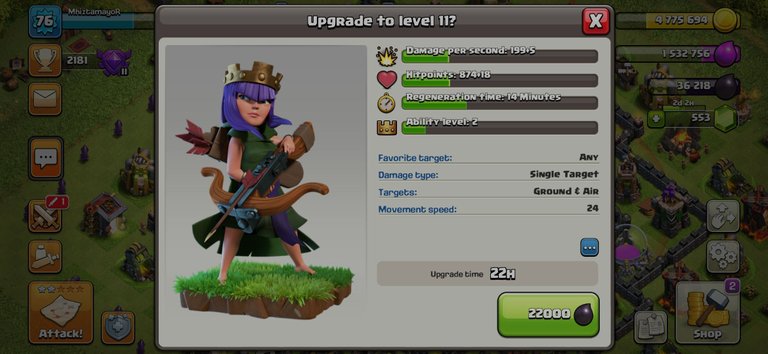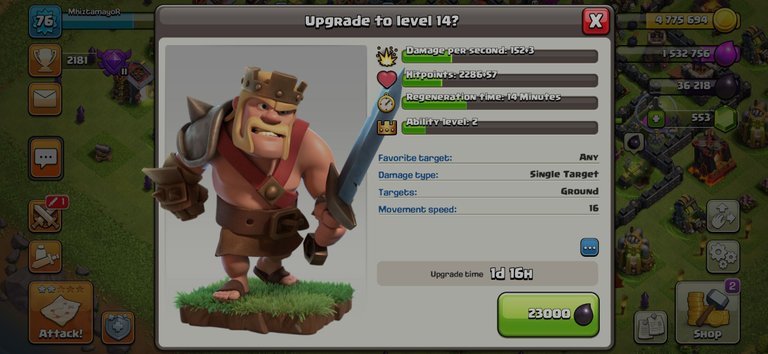 Now this are the super heroes which serves as body guard for the clan anytime there is attack against it, for now I just have two super heroes unlocked and the first one is the BARBARIAN KING which I already upgraded to level 14 and more upgrade is still coming on it, the second super heroes is the ARCHER QUEEN which have this super power to go invisible and still continue destroying for a little while depending on the upgrade and for now I already upgraded to level 11. So I will stop here and continue the journey to enlarge the coast of my clan till another for me here.
Ahora bien, estos son los superhéroes que sirven como guardaespaldas para el clan cada vez que hay un ataque en su contra, por ahora solo tengo dos superhéroes desbloqueados y el primero es el REY BÁRBARO que ya actualicé al nivel 14 y Todavía le esperan más actualizaciones, el segundo superhéroe es ARCHER QUEEN, que tiene este superpoder para volverse invisible y seguir destruyendo por un tiempo dependiendo de la actualización y, por ahora, ya actualicé al nivel 11. Así que me detendré aquí y continuaré el viaje para ensanchar la costa de mi clan hasta otro para mí aquí.