---
Que tal gamers, continuo con la aventura de Aloy por el oeste prohibido en su búsqueda del programa de terraformación para salvar la tierra de esta plaga roja que cada vez mas se apodera de las plantas y ya está empezando afectar a los seres vivos. Esta misión de hoy es principal, en esta ubicación supuestamente se encuentra Sylens, que en la primera entrega de este video juego fue quien ayudo a Aloy a vecen a un inteligencia artificial que buscaba reactivar maquinas que acabaran con la humanidad.
What's up gamers, I continue with Aloy's adventure through the forbidden west in her search for the terraforming program to save the earth from this red plague that increasingly takes over the plants and is already beginning to affect living beings. Today's mission is the main one, in this location is supposedly Sylens, who in the first installment of this video game was the one who helped Aloy to defeat an artificial intelligence that sought to reactivate machines that would end humanity.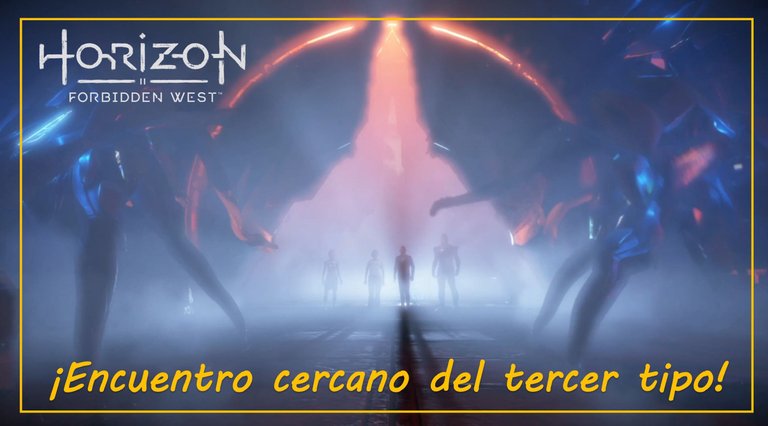 Hasta ahora no se sabe cuales son las verdaderas intenciones de Sylens, por eso Aloy se mantiene desconfiada y alerta, el la engaño una primera vez y parece que todo apunta a que puede volver a ocurrir. En esta ubicación Sylens nos contacta vía holográfica nuevamente para hacernos saber que tomo la unidad de procesamiento de un robot gigante conocido como titan, para colocar en el la inteligencia artificial que Aloy pensaba habían destruido en el primer juego.
So far we don't know what Sylens' true intentions are, that's why Aloy remains suspicious and alert, he deceived her the first time and it seems that everything points to the fact that it could happen again. In this location Sylens contacts us via holographic again to let us know that he took the processing unit of a giant robot known as titan, to place in it the artificial intelligence that Aloy thought had been destroyed in the first game.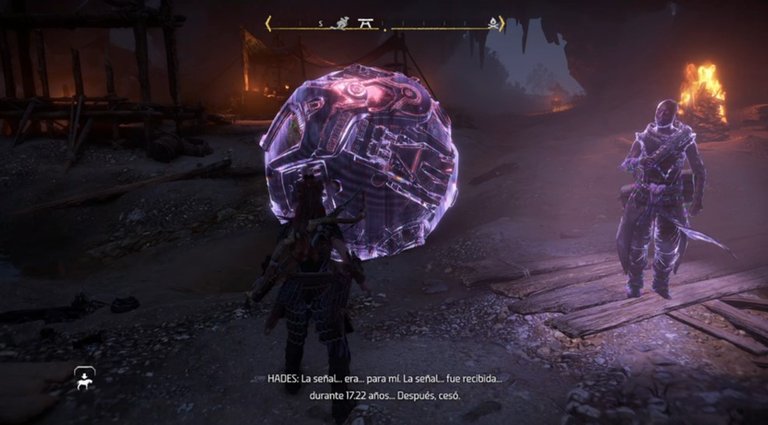 Esta IA se conoce como HADES, y al parecer Sylens la tiene contenida y la utilizo para adquirir nuevo conocimiento que también lo hace deseas una copia del programa de terraformación conocido como GAIA. Quiere trabajar en conjunto con Aloy, ella no confía en el pero no ve otro camino que le conduzca para poder obtener una copia de este programa. Así que decide seguir las instrucciones de Sylens y ver que sucede.
This AI is known as HADES, and apparently Sylens has it contained and used it to acquire new knowledge that also makes him want a copy of the terraforming program known as GAIA. He wants to work together with Aloy, she doesn't trust him but sees no other way that will lead him to be able to obtain a copy of this program. So she decides to follow Sylens' instructions and see what happens.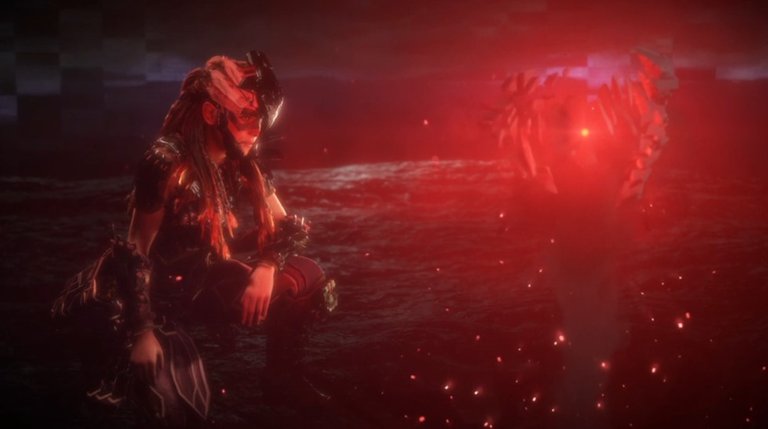 Al alcanzar el punto donde esta el orbe que contiene a HADES, Aloy se dispone a tener una conversación con esta IA enterándose de mucha información de utilidad, pero los detalles mas importantes fueron borrados por Sylens. Para no hacer tan largo el video no deje la conversación, pero puedo resumirles que Aloy se entere que la recuperación del planeta se ha llevado a cabo en 5 ocasiones durante los últimos 1000 años, y que los humanos siempre fracasan porque las maquinas vuelven a destruir el planeta.
Upon reaching the point where the orb containing HADES is, Aloy prepares to have a conversation with this AI and learns a lot of useful information, but the most important details were deleted by Sylens. In order not to make the video so long I don't leave the conversation, but I can summarize that Aloy learns that the recovery of the planet has been carried out 5 times during the last 1000 years, and that the humans always fail because the machines destroy the planet again.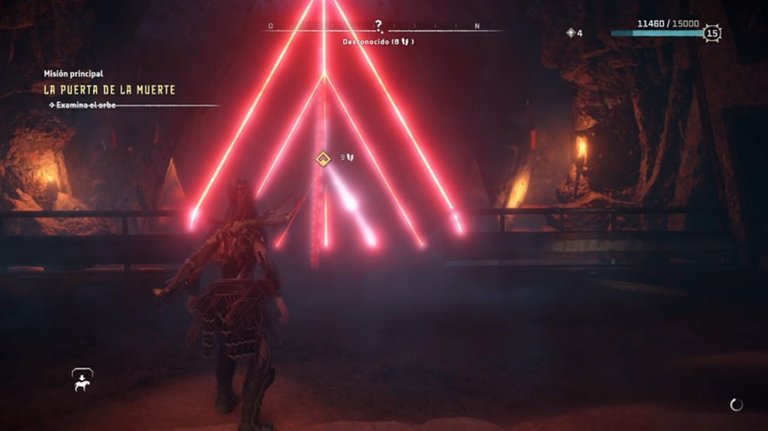 Aloy se dispone junto con Sylens a entrar en la cámara donde supuestamente se encuentra la copia de GAIA, pero aun mantiene un nivel de mucha desconfianza, piensa que es una trampa, pero ella es la única que puede entrar en esa bóveda debido a que es un clon de la creadora de esta sistema que solo se abre con su firma genética. Al entrar al lugar se impresiona con lo grande que es, logra activar la consola y ubica la copia del programa, pero algo inesperado ocurre.
Aloy sets out with Sylens to enter the chamber where the copy of GAIA is supposedly located, but she still maintains a level of great distrust, she thinks it is a trap, but she is the only one who can enter the vault because she is a clone of the creator of this system that only opens with her genetic signature. When she enters the place she is impressed with how big it is, she manages to activate the console and locate the copy of the program, but something unexpected happens.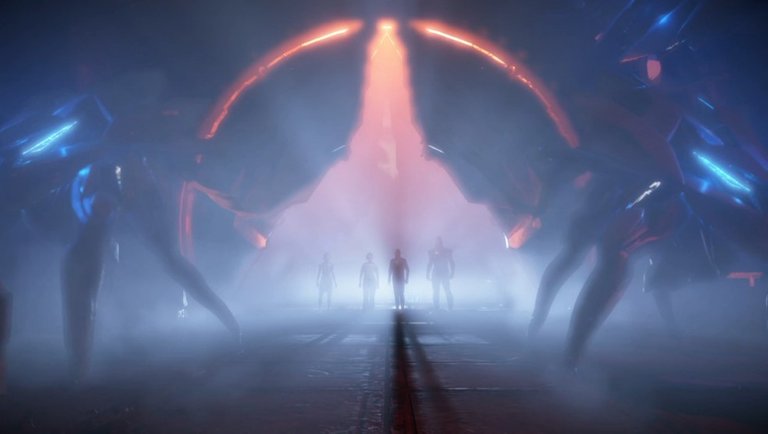 El programa no tiene ni una sola de las funciones subordinadas necesarias para controlar aspectos específicos en la terraformación, para poner un ejemplo, es como solo tener la copia de Windows 10 pero no tienes el Office ni otro programa para usar tu computadora al máximo, solo podrías jugar solitario, sin embargo, logran ubicar una de las subfunciones llamada MINERVA y planean recuperar todas las que puedan para completar a GAIA.
The program does not have a single one of the subordinate functions needed to control specific aspects in the terraforming, to give an example, it is like only having a copy of Windows 10 but not having Office or any other program to use your computer to the fullest, you could only play solitaire, however, they manage to locate one of the sub functions called MINERVA and plan to recover as many as they can to complete GAIA.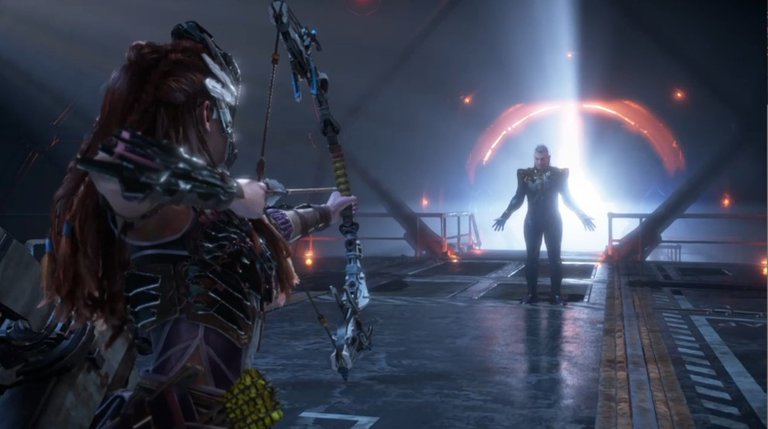 Pero todo da un giro inesperado, se activan las alarmas de intrusos, Sylens le pide a Aloy que se entregue ante estas personas que son muy poderosas y que aparentemente buscan lo mismo que ella, el programa de terraformación, al parecer no pueden ingresar a la bóveda porque no tiene la forma genética como Aloy al ser un clon…. Un momento ¿se esta abriendo la escotilla? ¡Como rayos pudieron hacerlo! ¿Qué es esto, que esta pasando….?
But everything takes an unexpected turn, the intruder alarms are activated, Sylens asks Aloy to surrender herself to these people who are very powerful and who apparently are looking for the same thing as her, the terraforming program, apparently they can't enter the vault because she doesn't have the genetic form like Aloy because she is a clone..... Wait a minute, the hatch is opening? How the hell could they do that! What is this, what's going on ....?
---
---
Videos anteriores si quieres seguir la historia
---
Images y vídeo tomados con la opción de share de PS4
Edición hecha con Wondershare Filmora
---
▶️ 3Speak