Hi hivers - Hola hivers
How is my dear Hive community? I hope very well, I was pleasantly surprised to see that my recommendation for a round of "Show Me A Photo Contest" was heard, so this week we are going to see many birds on the grass in this nice community, that's why I can not avoid participating, so today I show you a friendly domestic duck on grass and some rocks .
¿Cómo se encuentra mi querida comunidad de Hive? espero que muy bien, tuve la grata sorpresa de ver que mi recomendación para una ronda de "Show Me A Photo Contest" fue escuchada, asi que esta semana vamos a ver muchas aves sobre la grama en esta linda comunidad, es por eso que no podia evitar participar, asi que hoy les muestro un amigable pato doméstico sobre grama y un poco de rocas.
---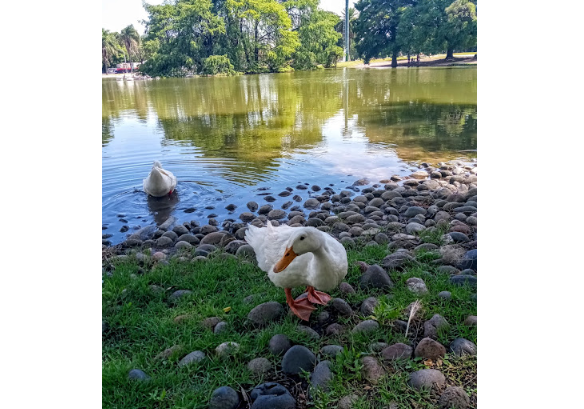 ---
The day I visited the Japanese garden I was in contact with several ducks, but none was photographed on the grass since they spent their time swimming and eating what we tourists give them, some croquettes that they sell on the premises, especially for the consumption of the ducks and koi fish, these animals live in a giant lake that is in the middle of the garden.
Please look at the expression of this cute duck in the photo above he seems to be saying "what's up brother".
El día que visite el jardin japonés estuve en contacto con varios patos, pero ninguno fue fotografiado sobre la grama ya que se la pasaban nadando y comiendo lo que le damos los turistas, unas croquetas que venden en el recinto, especial para el consumo de los patos y los peces koi, estos animales viven en un lago gigante que esta en medio del jardín.
Por favor miren la expresión de este lindo pato en la foto de arriba parece estar diciendo "que onda hermano".
---
Los patos y el alimento del jardín japonés.
Ducks and food from the Japanese garden.
---
That day I was walking with my cousin Rosbe, leaving the Japanese garden, we went to the planetarium, which was closed to the public for vacations, however we took a nice walk through the garden and the lake, it was there where we found these beautiful ducks whites.
Better known as domestic ducks they have that bright white plumage, along with their orange legs and bill, the easiest way to recognize their sex is that the male has the tail feathers up and the female has them down.
Ese dia estaba de paseo con mi prima Rosbe, al salir del jardín japonés, nos dirigimos al planetario, el cual estaba cerrado al público por vacaciones, sin embargo dimos un lindo paseo por el jardín y el lago, fue alli donde encontramos estos preciosos patos blancos.
Mejor conocidos como patos domésticos tienen ese plumaje blanco brillante, junto a sus patas y pico naranja, la forma mas fácil de reconocer su sexo es que el macho tiene las plumas de la cola hacia arriba y la hembra las tiene hacia abajo.
---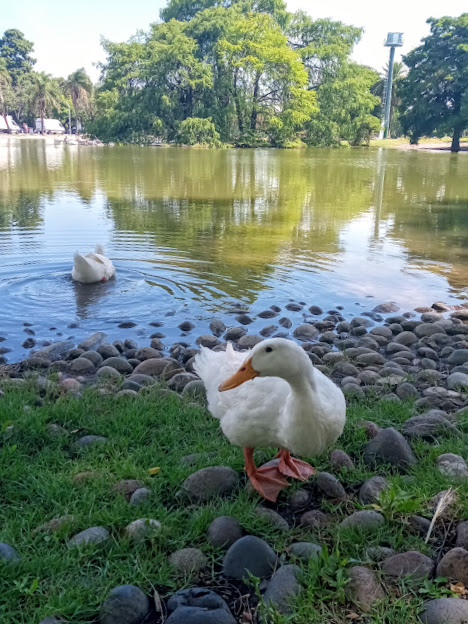 FOTO PARTICIPANTE / PARTICIPANT PHOTO
---
The most normal thing in this species is that they have a certain suspicion towards humans, which occurs with wild species, when they see humans nearby they feel threatened and tend to move away, it is even possible to be attacked if the young are close and the mother feels that they may be the risk.
However, this pair of ducks that I was able to photograph, being in a lake very crowded by humans, seem to have a more domesticated behavior despite living in the wild within these huge parks in the heart of Buenos Aires.
Lo más normal en esta especie es que tengan cierto recelo hacia los humanos, lo cual ocurre con especies salvajes, al ver humanos cerca se sienten amenzados y suelen alejarse, incluso es posible ser atacado si las crías estan cerca y la madre siente que puedan estar el peligro.
Sin embargo esta pareja de patos que pude fotografiar, al estar en un lago muy concurrido por humanos parecen tener un comportamiento mas domesticado a pesar de vivir en la vida silvestre dentro de estos enormes parques en el corazón de Buenos Aires.
---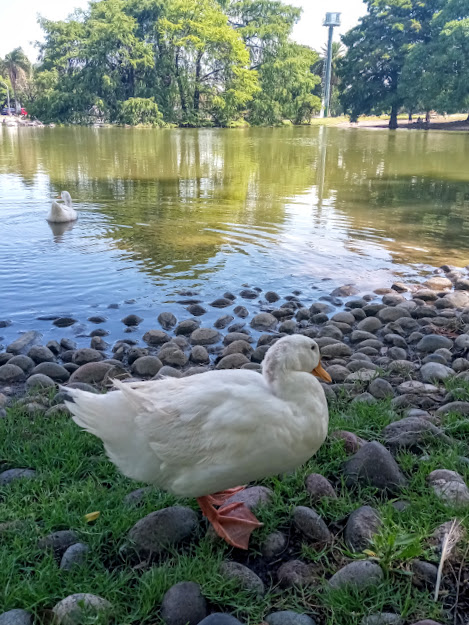 ---
I noticed this because they did not leave quickly while I approached, I think they resisted my presence up to almost a meter away, I shared some food that I had left from the Japanese garden, I think that this behavior of these ducks that seem wild could be conditioned because other humans have fed them before, so they see us as a food source.
Without a doubt, they are a precious species, hopefully one day I will have a very large piece of land to house several animals, I would choose a couple of domestic ducks to give them a home and I would always have them free, so that they can be happy animals.
Esto lo noté porque no se fueron rapido mientras yo me acercaba, creo que resistieron mi precencia hasta casi un metro de distancia, yo compartí algo de alimento que me quedaba del jardín japonés, yo creo que este comportamiento de estos patos que parecen silvestres pudo estar condicionado porque otros humanos los han alimentado antes, asi que nos ven como una fuente de alimentos.
Sin duda alguna son una especie preciosa, ojala algun día yo tenga un terreno muy grande donde albergar varios animales, elegiria un par de patos domesticos para darles un hogar y siempre los tendria libres, para que puedan ser animales felices.
---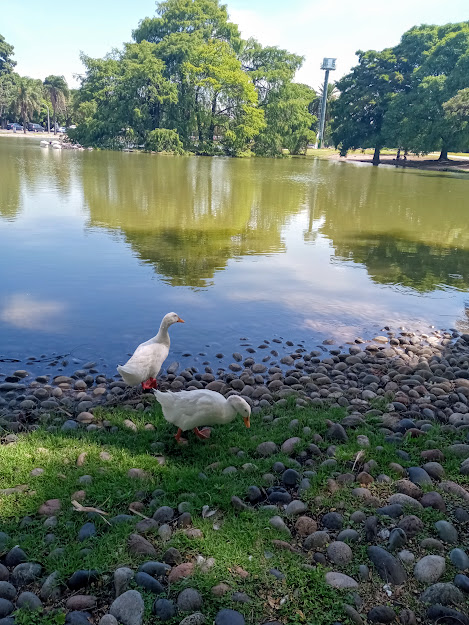 ---
Esto ha sido todo por hoy, si te gusta lo que hago, siente libertad de ayudarme a seguir
This has been all for today, if you like what I do, feel free to help me continue
Δ
https://www.paypal.me/carlisgonz
Δ
El inglés no es mi idioma natal, me ayudo de traductores para realizar estos post
Todas las fotos son de mi propiedad tomadas con Xiaomi redmi 9
English it is not my native language, I help myself with translators to make these posts
All photos are my property taken with Xiaomi redmi 9

Muchas gracias por leer
Ten un bonito y feliz día
Con amor Carla Gonzalez Venezolana en Uruguay
Thanks so much for reading
Have a nice and happy day
With love Carla Gonzalez Venezolana in Uruguay