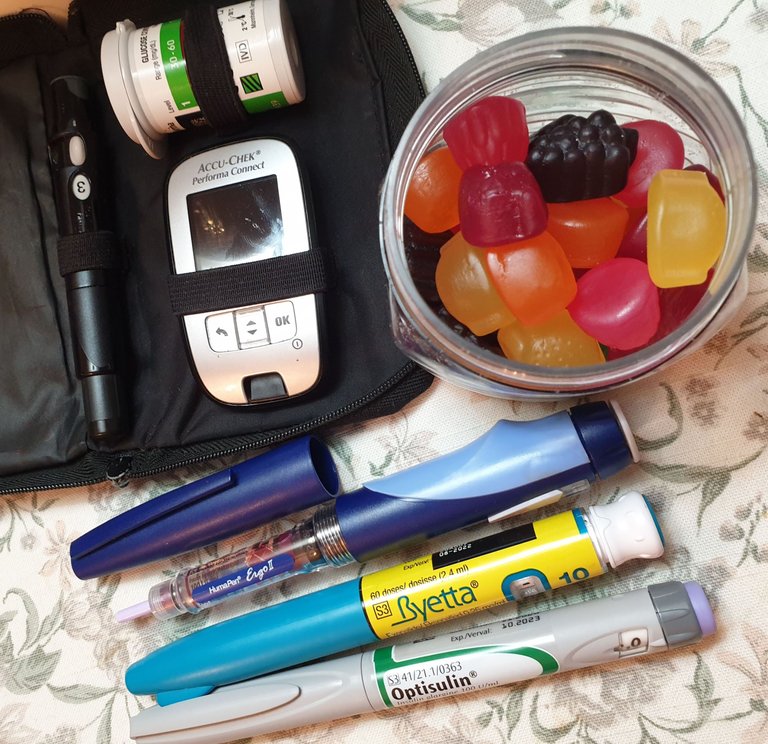 My husband was diagnosed with Diabetes Mellitus, generally referred to as a Type 1 diabetic at the very young age of 8, some 63 years ago when the treatment regime was not as easy as it is today.
He went into a coma at the age of seven, spent around six weeks in hospital and had his eighth birthday there, so it's not surprising that this is not one of his favourite places.
Discovery of Insulin
Even though the wonder of insulin was discovered in 1921, with a Nobel Prize being awarded in 1923, there was much controversy around this discovery.
A Type 1 Diabetic is someone whose body no longer produces any Insulin; therefore their bodies cannot metabolize Carbs; in my simple understanding this hormone turns Carbs into energy for our body's correct functioning.
Hyperglycemia - High Blood Sugar
The Warning Signs of Hyperglycemia
Abnormal thirst and dry mouth
Sweetish odor on breath
Rapid heartbeat
Extreme tiredness
Irritability
What happens when the Type 1 Diabetic is deprived of Insulin or does not use it correctly in conjunction with a healthy diet?
The first stage is high blood sugar.
Their urine becomes highly diluted.
They go into a diabetic coma.
Followed by...
Death from ketosis.
Hypoglycemia - Low Blood Sugar
What happens when an Insulin dependent diabetic misjudges their Insulin dosage or delays/ skips a meal after injecting their Insulin?
The Warning Signs of Hypoglycemia
Extreme confusion
Sweating
Dizziness
Shakiness and anxiety
Extreme hunger
Rapid heartbeat
Extreme tiredness
Irritability
Seizures
What is worse?
A diabetic (Hyperglycemia) coma is way more lethal as it is very difficult to get the patient to emerge from that coma, but a low blood sugar (Hypoglycemic) coma is much easier to control, as a simple glucose injection will have them back to normal within minutes.
However, a Hypoglycemic episode is very scary for those around them because of the disturbing symptoms.
Hubby has to carry sweets or a bottle of fruit juice wherever he goes - hard glucose sweets in the car when driving are easier and must be within easy reach, in his pocket if going into a meeting, otherwise his favourite ones at home are soft jelly sweets, which I also enjoy and sometimes steal from him!
Honey, glucose syrup sachets, juice or a fruit of course would be healthier!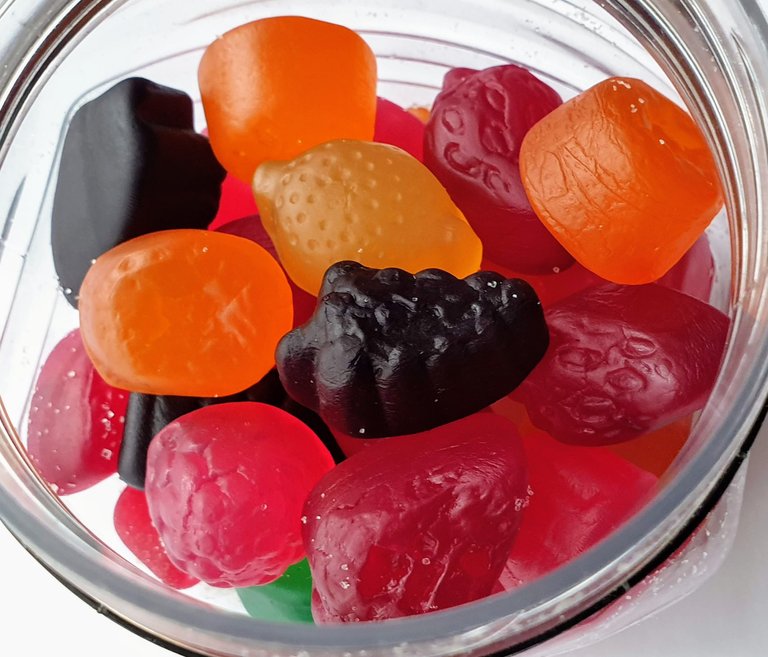 Should you ever see someone you know suddenly behave in this strange manner or you know they're a diabetic, look out for those symptoms and encourage them to test their sugar in order to avoid a possible medical emergency.
Hubby often tells me how he received the book prize for Technical Drawing in school as he was brilliant at it, but when he wrote the final exam, he had a hypoglycemic episode and he failed his best subject in his final year as he could not think straight!
Blood Glucose Testing
Back in the day, blood sugar levels were tested before each meal by holding a glass test tube filled with Benedict solution and ten drops of urine over a Bunsen burner; the colours would change dependent on the amount of glucose in the blood; from blue, green, yellow, orange and red in ascending order; red of course a warning that the sugar is way too high!
Testing methods changed to using Litmus strips, but nowadays there are more modern methods.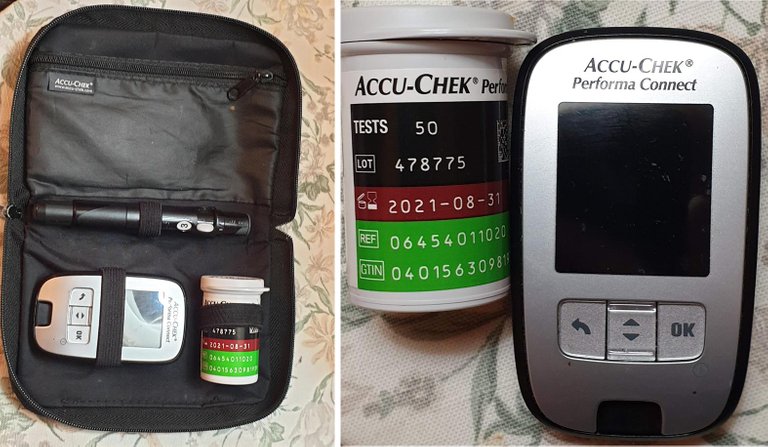 Hubby uses a meter that stores his blood sugar readings which can be downloaded, giving the diabetic specialist an overall view of his control.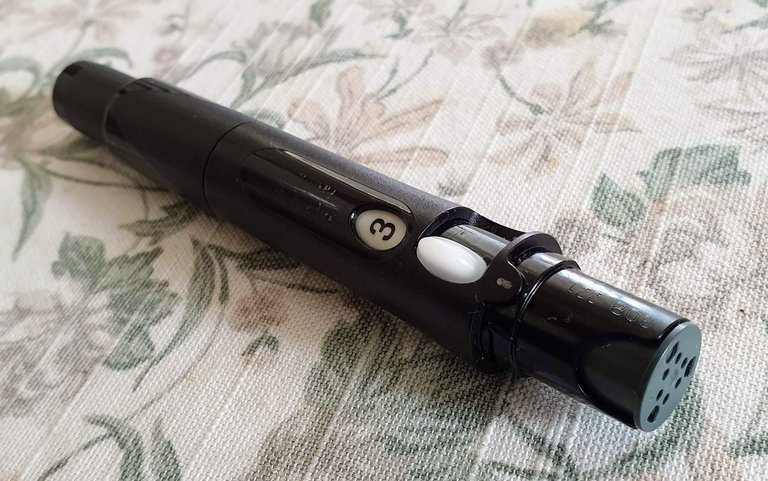 Lancet
He has to prick his finger with a lancet, which has a small, sharp needle that pops out to the length one sets, he then puts a drop of blood on a test strip.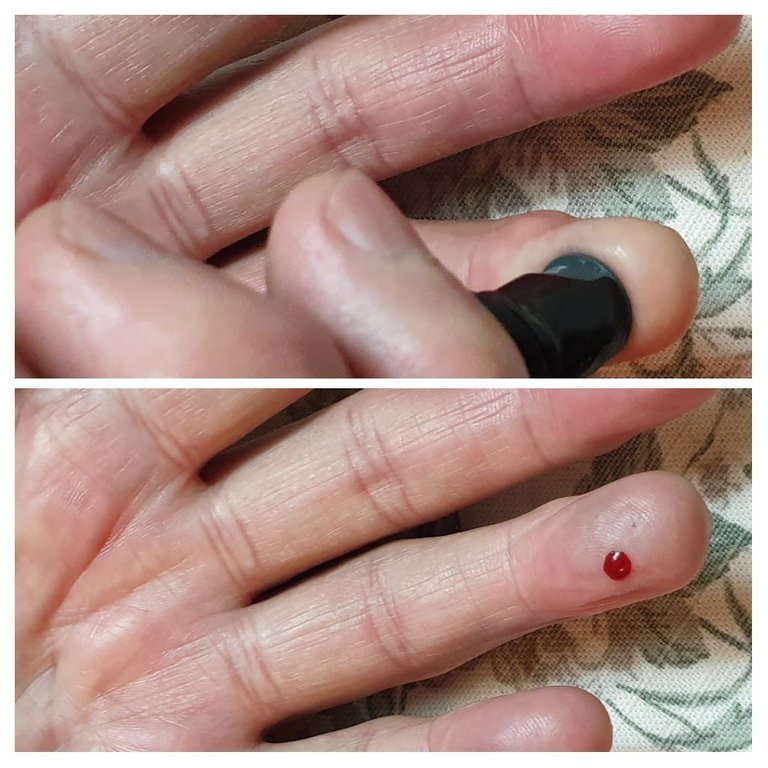 The meter then displays his blood sugar levels so he can calculate how much insulin to use.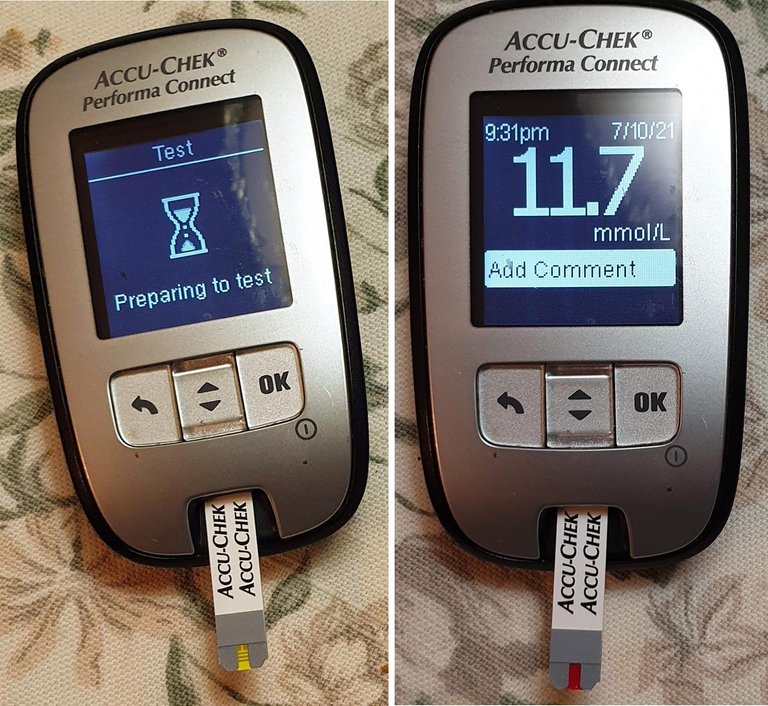 11.7 is not a good reading, so out came the quick-acting Insulin! He very likely cheated and had a sweet treat after supper!
He tests 5-6 times a day. Of course our medical aid limits the number of test strips they will pay for, so we pay out of our own pocket to make up for the shortfall, but thankfully they are not too expensive!
There are more sophisticated systems like this Continuous Glucose Monitoring device. Those are very expensive and mainly used for people who battle to control their diabetes.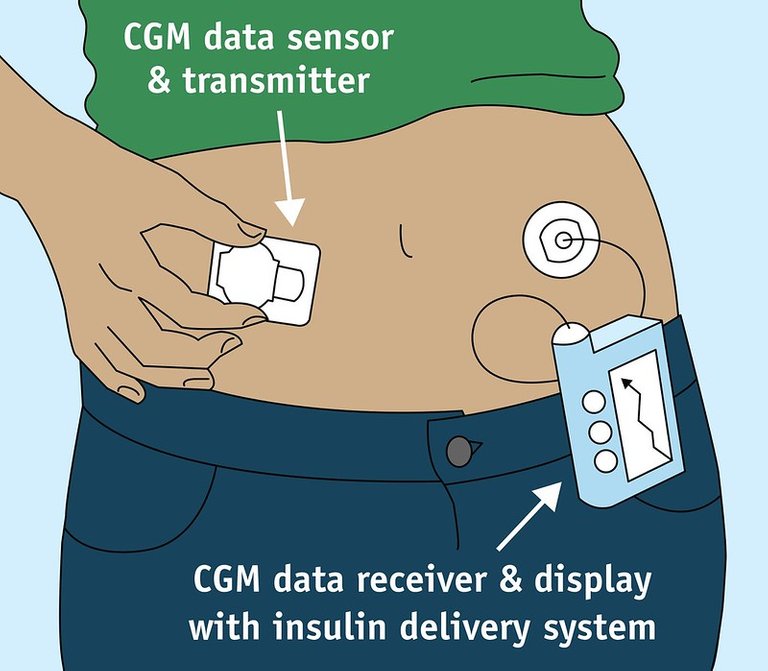 Source
Insulin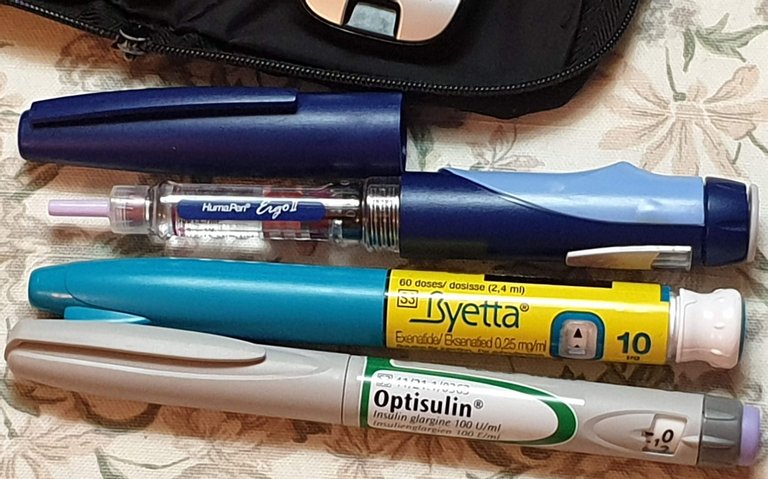 He uses 2 types of insulin, a quick-acting one which he injects before each meal and at bedtime if his sugar is high; long-acting Insulin at bedtime plus Byetta which is a medication for Type 2 diabetics which helps with lowering the sugar levels, but also helps the type 1 use less insulin.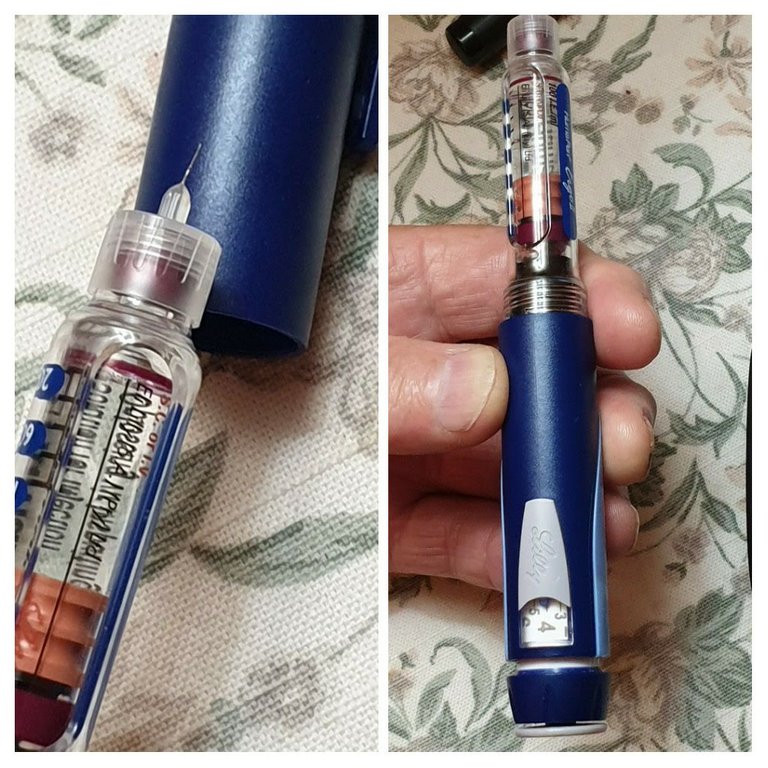 Diabetes types:
Type 1 you've heard all about, but basically their pancreas does not produce any insulin.
A Type 2 diabetic's body does not process Carbs efficiently therefore they have to more careful with their food intake.
Gestational diabetes - we've heard of pregnant women who develop this condition which fortunately normalises after giving birth.
Diabetic Identification
As we've been married for many many moons, I know the importance of recognising a diabetic who may be having a high or a low, as strangers may think the person is intoxicated if they behave strangely.
Hubby should wear his Medic Alert bracelet which would warn medical personnel that he is a type 1 diabetic, in the case of an accident or if he's having a hypo- or hyper-glycemic incident.
He never wore it and I could not even find it to show it to you; nor would he ever consider a cool tattoo like this one!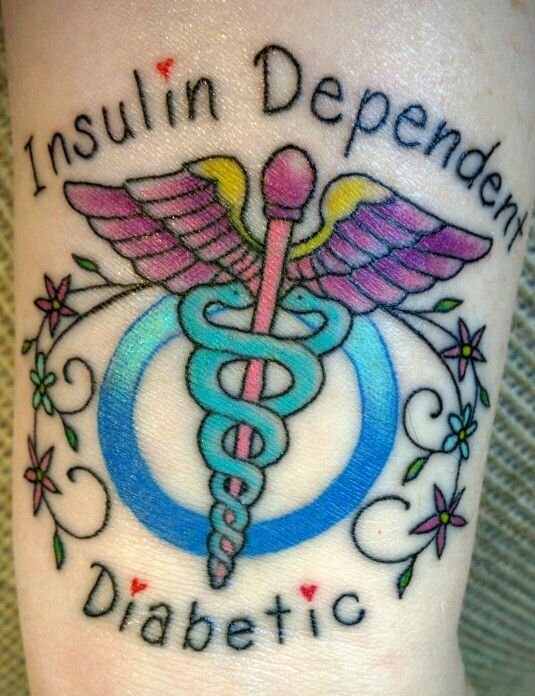 Source
Exercise and diet
Hubby actually is much healthier than many of his peers and I believe it's because we generally try to follow a healthy lifestyle, avoid highly processed food and use fresh ingredients, although we do not go overboard. He does cheat a little at times because he then simply injects a little extra; not too often of course!
He can do this through his shirt when out dining as the needles are super thin nowadays.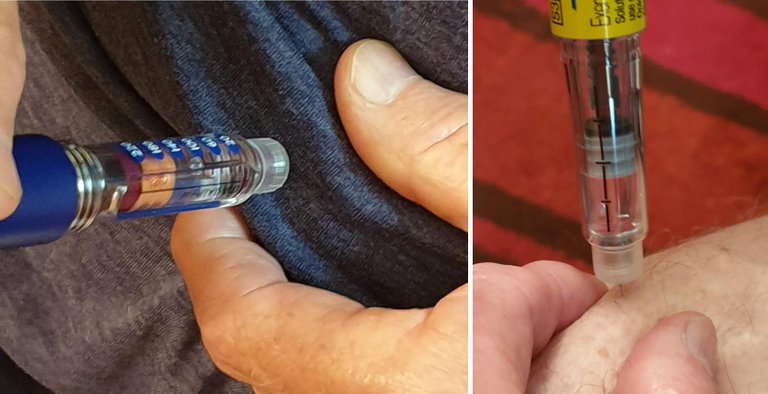 Keeping active and doing some form of regular exercise is the only other thing that helps convert the sugars to energy, so exercise is vital, even if it's just taking regular walks.
Hubby went on a Keto diet a couple of years ago, and although he lost weight, felt great and reduced his Insulin, he had some really bad night-time hypoglycemic episodes, so I stopped his diet as it was too risky and frightening with the extreme lows!
Finally...
In closing, I would like to emphasise to take note of the signs of a hypoglycemic attack, not to assume someone is intoxicated, but could possibly be a diabetic who is having a hypoglycemic episode!
You very well may save someone's life!
November is Diabetes Awareness Month so I'm very early but I do hope this information helps those who are new to this condition, especially our #silverbloggers who are at the age where diabetes can suddenly strike! Banner created by @zord189


Original Content by @lizelle
Thank you for stopping by
Copyright @lizelle – All Rights Reserved


Do you know this Badge?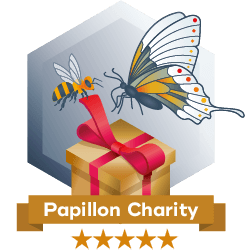 It says "Thank you for partnering with the Papillon Foundation by participating in the
Weekly Hive Charity Giveaway."
Do you want this Badge?
If you like this badge and if you want to help too, you can learn more about @combination and the badge in their blog post:
Some Exciting News! Badge release!


CLICK IMAGE IF YOU WISH TO JOIN SILVER BLOGGERS: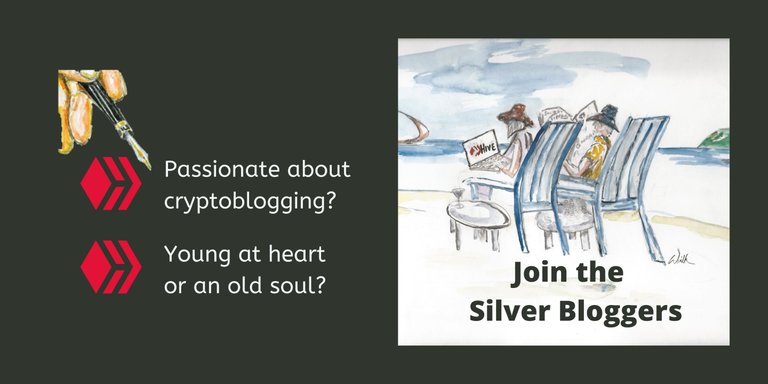 Artwork by @artywink
---

Banner created by @derangedvisions
JOIN Hive using my referral LINK