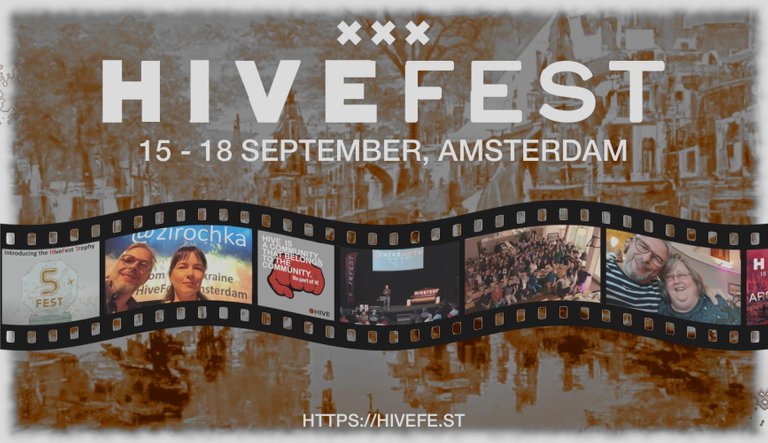 As expected, the fifth "In Real Life" edition of our Worldwide Community Meetup was a blast!
HiveFest⁷ has now been over for a few days. Many of us have finally returned home, sometimes exhausted, sometimes carrying back a small unwanted virus, but all reinvigorated and starry-eyed as this edition has been beyond our expectations and full of multiple emotions.
As for me, I'm just starting to recover, not only from the very few hours I slept during HiveFest but also from nasty angina which I probably caught thanks to the typical Amsterdam weather and which confined me to bed for several days as soon as I got home. Not to mention the inevitable post-HiveFest blues that I'm now familiar with.
But we are decentralization warriors, aren't we? ... so I survived!
And it's now time to share my HiveFest memories with you.
PS1: I first wanted to gather all my memories in a single post, at the risk of breaking the record for the "Longest Blockchain Post" currently held by @smooms. But, as I have so many things to share and as I didn't want to destroy @smooms' pride, I decided to split my memories into several posts.
PS2: You won't see many pictures taken by me on my posts. I tend to use my eyes and brain to engrave memories rather than any other device. The truth is that I'm a photo noob!
(Thank you to @bil.prag for taking such stunning pictures and allowing me to reuse them)
September 15 - Welcome and Opening Drink
Travel and welcome
I arrived quite early in Amsterdam with @crimsonclad, which allowed me to meet @roelandp and my friend @poezio peacefully before the rush later in the afternoon. It also allowed us to squash some bugs that were lying around for the Hivebuzz meetings contest.
For the record, @roelandp forgot to implement the scan feature in the new HiveFest app and when I reminded him about it only 2 days before HiveFest, with his usual phlegm he did the job in a jiffy. Ditto for the addition of the barcode in the app only a few hours before the official opening of HiveFest. Kudos @roelandp, this is coding!
I was greeted by the "volunteer dream team", @minigunner, @artakush, @priyanarc and @blind-spot. Frankly, although this is mostly their very first live HiveFest, these folks have it all figured out! Their welcome was all smiles and joy, in all simplicity.
I was particularly impressed by @blind-spot who, after fleeing the war in Ukraine, having lost almost everything, having to find his bearings in another country, and whose father died only two days before the event, was standing with a welcoming smile and a fierce desire to help everyone. Bro, you have all my respect!
Close encounter
HiveFest day 1 is is often reunion day, where everyone finds the one they haven't seen for a long time hugging each other.
But this year, I was waiting for someone special with some trepidation. I had to meet @zirochka, coming from Kiyv in Ukraine, for the very first time!
Although we have remained in regular contact since her involvement in the NFT for Peace project, we were two perfect strangers to each other apart from many lines of text and photos glimpsed on the chain.
She texted me she was waiting in the lobby of VolksHotel. I went there and saw her looking around, turning to me and meeting my gaze. Then with disconcerting simplicity, we both smiled and hugged each other, like two old friends reuniting, in the most crystal clear way.
If I share this story with you, it's because I consider this moment as my best memory of HiveFest. It shows how much the social dimension of our platform is something that matters, both for the platform itself and for the people who make up our community. And HiveFest is the best catalyst that allows us to reveal the substance of this community made up of people from all over the world.
I will never be grateful enough to @roelandp for initiating this world meetup 7 years ago and allowing me to experience similar moments with many of you!
Opening drinks
How strange it was to be there at the VolksHotel, where it all started in 2016.
The "opening drinks" was therefore a double reunion for me: both that of a place with its ultra trendy, young and dynamic atmosphere, and also that of a group of friends that I hadn't seen for a long time.
The pleasure of meeting again those who had not been able to come to Bangkok but who had come to other editions, and also the joy of meeting newcomers who were participating in their first HiveFest.
However, being now a veteran of the event, I remained cautious and did not party hard from day one. I also knew that a busy day with three presentations was ahead of me. Before midnight, so as not to turn into a pumpkin, I was in my bed.
September 16 - Conference Day 1 - Balls of Steel
I did not sleep much. When you don't want to drink alcohol, it's a very bad idea, to give a try to something you do not know. I drank club-mate all evening, a refreshing soda ... with a lot of caffeine in it.
Even if I was tired, I found myself lying on the bed, staring at the ceiling, rehearsing my presentations, but unable to fall asleep before ... 2 am. I woke up at 4 a.m. because of the noise in the street, fall asleep again at 6 a.m. until the alarm clock rang at 7 a.m.
Shower! Skip breakfast! On my way to the Eye to prepare the presentation material because I was scheduled first on stage with my friend Roeland in the kick-off speech. Fortunately, the air outside was fresh and invigorating.
Oh yes, HiveFest is not for the faint-hearted.
First presentation - Meetings Contest and FiveFest Trophies
This was my most relaxed presentation. But I was not fully relaxed because @roelandp had allocated me only 5 short minutes to present the HiveBuzz Meetings Contest AND to do a trophies distribution.
So to say that I expedited the first part to save as much time as possible for the second one which involved people who were not aware of the surprise I had prepared.
Indeed, while preparing HiveFest I noticed that during the Bangkok edition only 9 people had participated in all the previous editions. As they sometimes had to travel several thousand kilometers to join the party, I thought it was worth celebrating their 5th IRL attendance with something better than a virtual badge: The FiveFest Trophy!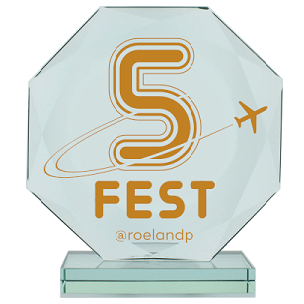 This is how I discreetly inquired to find out who would be present this year to be able to craft a magnificent trophy with their name on it.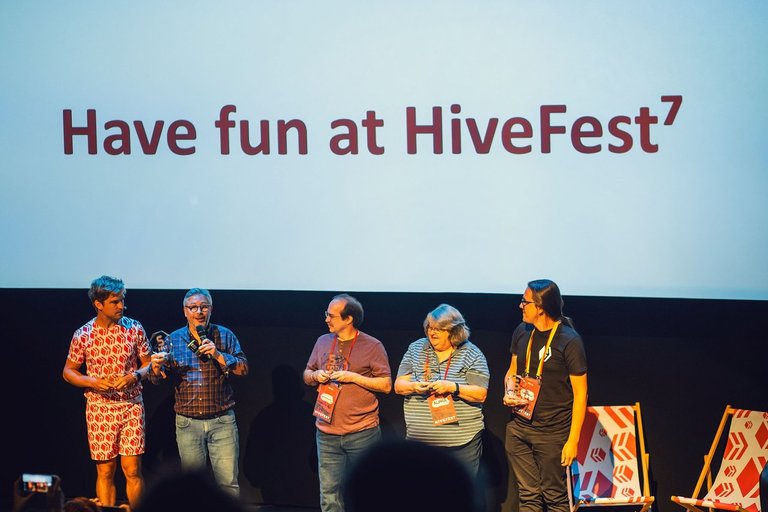 Picture courtesy of @bil.prag
Hehe, they didn't see it coming, not even when I asked them to sit in the front row. Once again, congratulations to @blocktrades, @danea, @gandalf and @roelandp (and @arcange 😬) for their commitment and presence at each edition of the Fest since 2016.
Second presentation - @Zirochka and NFT for Peace
It wasn't an easy task for @zirochka to make the long trip from Kyiv to Amsterdam and share with us her story about the war in Ukraine.
Needless to say, this was the most challenging presentation of the day for me. We had chosen the style of a talk show so that I could support her if the emotion should overwhelm her. It was close to me being the one who needed help as her story was so moving.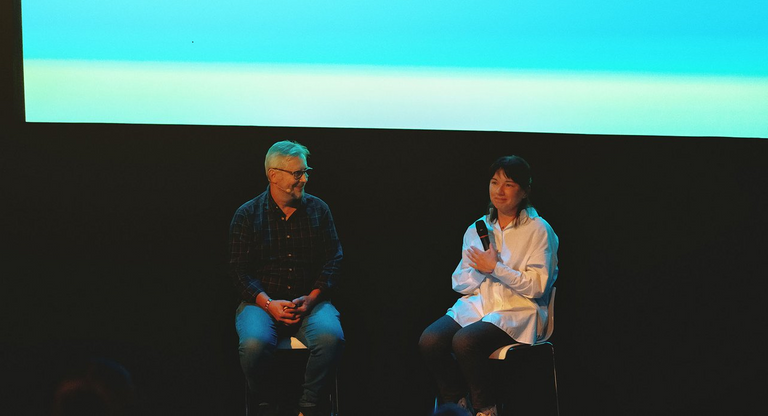 Picture courtesy of @rubencress
A very moving moment... during which the whole audience held their breath (and maybe their tears). Thank you all for the quality of your listening which was very supportive for both of us when on stage!
@zirochka said, "Hive turned out to be something more than a blogging platform, something more real, a community of real possibilities that can cross the world to reach out to change someone's life and maybe even to save lives!"
If you want to help Ukrainian civilians, go to your Hivebuzz board and buy some of the NFTs for Peace. It won't cost you more than a few HIVEs or HBDs, but the impact it can have is well worth it.
Thrid presentation - Marketing for Devs
During the afternoon, I introduced the Marketing Campaign to Developers. The presentation was made by Manon from the Hilarious Agency (@behilarious).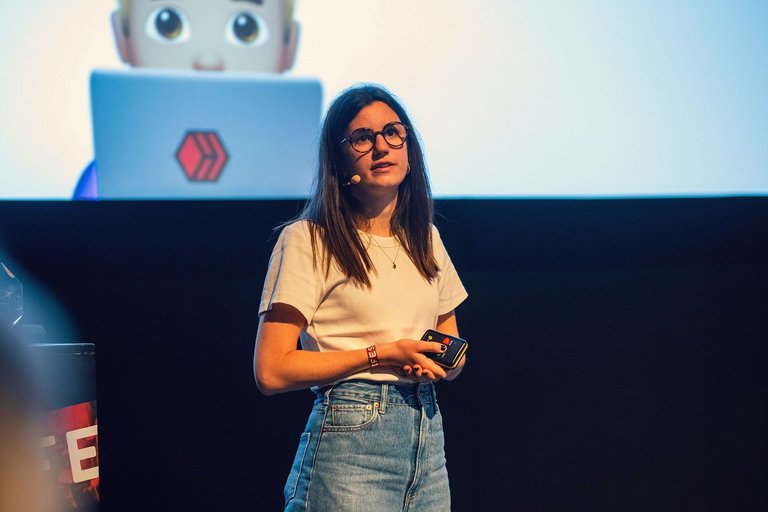 Picture courtesy of @bil.prag
This is a project that I initiated several months ago, the main goal being to replicate the "Splinterlands effect" on our blockchain and its tokens price by doing more promotion amied at application developers.
If you missed their presentation, I invite you to watch it on YouTube.
A proposal is out to fund the Marketing campaign. If you like the work they did up to now and want them to go further, please support the proposal!
MooieBoules - Balls of Steel
After a boat trip where the atmosphere on board was most festive (the captain understood this well and spared us from unnecessarily playing the recorded soundtrack of the guided tour), we arrived at the MooieBoules, a place obviously appreciated by locals who gather there to play pétanque while having a drink and a bite to eat.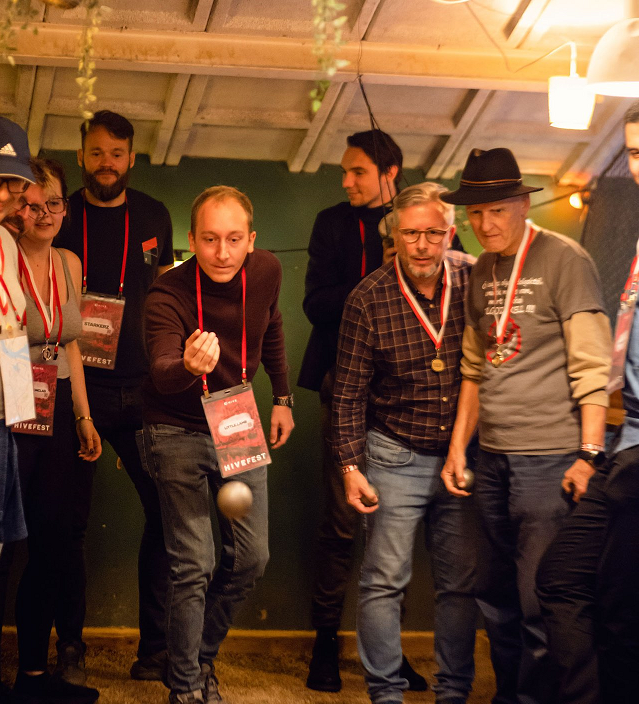 Picture courtesy of @bil.prag
I was on the very best team with @lordbutterfly, @little.lamb and @vcelier!
Unfortunately, the other teams were much luckier than us and we didn't reach the semi-finals. Otherwise, we would have without any doubt won this tournament! As perfect gentlemen, we let them savor their victory. 😇
On the other hand, I didn't manage to stay up until the end because the lack of sleep from the previous night started to kick in. I decided to return to the VolksHotel before the end of the tournament. Thanks to the DACH team for escorting me on the way back.
The night was better, I had started to relax now that 3 of my presentations were done, and I slept a bit more: 4 hours.
To be continued...