---
Hello great musicians at Hive Open Mic!
It's an honour to be here again to share a cover with you all and I'm very grateful to the moderators for always giving their feedbacks to help with my improvement in this community. Making cover videos have become a routine for me and I can't the community enough for helping me find this part of me.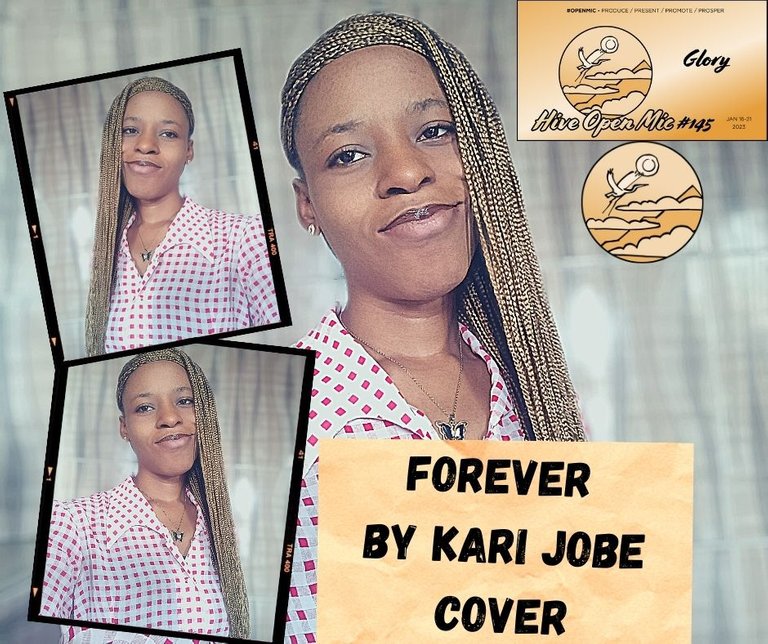 Image is designed with Canva
For this week's theme "Glory" chosen by our amazing spotlight artist @sleemfit I decided to do a cover of the song "Forever" by Kari Jobe, a gospel artist who I've come to enjoy her songs a lot. I once sang this song as an audio Acapella cover for a singing competition which got me the third place so it wasn't a difficult one to do an instrumental cover of it.
The song is all about glorifying God Almighty for His love and His Son who He sent to go through the pain and agony for our sake. I always feel emotional when I just read through the lyrics of this song and I'm hopeful that it would do same to you listeners.
I want to thank our spotlight artist for choosing this theme as it gave me the opportunity to share this song. There were not so many songs that came to mind when I was thinking of what to share for the theme but this came along and I think it is a perfect one for the theme. I added subtitles to the video in hopes that you might sing along with me for the repeated parts.
Your constructive criticism and encouragement for improvement are always welcome, do not fail to share them in the comment section. Here is a bit of the lyrics.
The ground begin to shake
The stone was rolled away
His perfect love could not be overcome
Now death where is your sting
Our resurrected king has rendered you defeated
Forever, he is glorified
Forever, he is lifted high
Forever, He is risen
He is alive
He is alive
Lyrics source

Spanish

¡Hola, grandes músicos de Hive Open Mic!
Es un honor estar aquí nuevamente para compartir una portada con todos ustedes y estoy muy agradecido con los moderadores por darme siempre sus comentarios para ayudarme a mejorar en esta comunidad. Hacer videos de portada se ha convertido en una rutina para mí y no puedo más que la comunidad por ayudarme a encontrar esta parte de mí.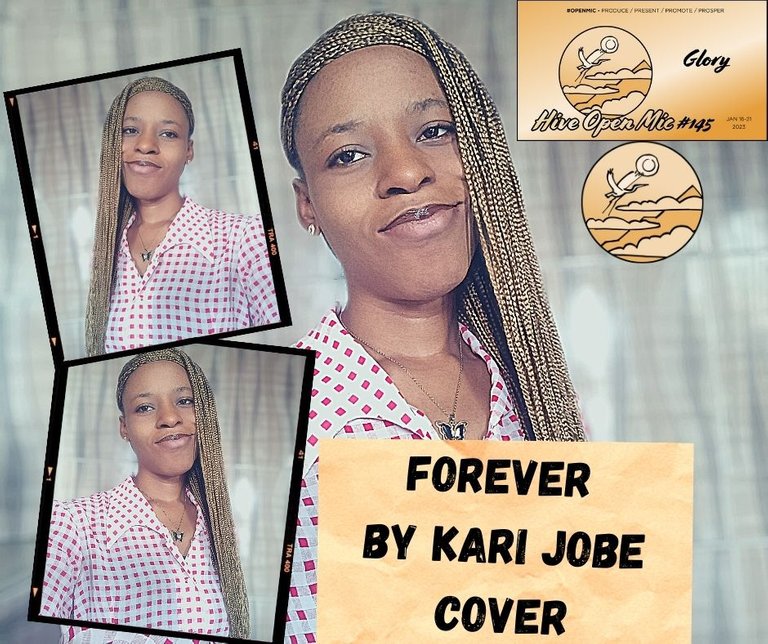 La imagen está diseñada con Canva
Para el tema de esta semana "Glory" elegido por nuestra increíble artista @sleemfit decidí hacer un cover de la canción "Forever" de Kari Jobe, una artista gospel que he venido a disfrutarla muchas canciones. Una vez canté esta canción como una versión de audio Acapella para una competencia de canto que me valió el tercer lugar, por lo que no fue difícil hacer una versión instrumental de ella.
La canción trata de glorificar a Dios Todopoderoso por su amor y por su Hijo, a quien envió para pasar por el dolor y la agonía por nuestro bien. Siempre me emociono cuando acabo de leer la letra de esta canción y tengo la esperanza de que haga lo mismo con ustedes, oyentes.
Quiero agradecer a nuestro artista destacado por elegir este tema, ya que me dio la oportunidad de compartir esta canción. No hubo muchas canciones que me vinieran a la mente cuando estaba pensando en qué compartir para el tema, pero apareció esta y creo que es perfecta para el tema. Agregué subtítulos al video con la esperanza de que puedas cantar conmigo para las partes repetidas.
Vuestras críticas constructivas y ánimos de mejora son siempre bienvenidas, no dejéis de compartirlas en la sección de comentarios. Aquí un poco de la letra.
El suelo comienza a temblar
La piedra fue rodada
Su amor perfecto no pudo ser superado
Ahora muerte donde esta tu aguijón
Nuestro rey resucitado te ha dejado derrotado
Por siempre, él es glorificado
Para siempre, él es elevado
Para siempre, ha resucitado
Él está vivo
Él está vivo
Fuente de la letra
---
▶️ 3Speak