Hello everyone, I'd like to take part in this weekend's engagement concept by @sam.hangout
I'm going for the first topic:
"What is the most spontaneous thing you have ever done?
In case you are wondering what spontaneous means, in simple terms it means, something you do without thinking about it first, so we like to know what that is."
Hive Naija

Source
I've done a lot of spontaneous things in life but sometimes i either forget to take pictures or I don't remember them months or years later especially when asked about "spontaneous things I've done".
Out of the many I'd want to talk on this one. It was back then in 2020, the whole lockdown thing was so serious and this was around early June. I had taken the opportunity of the sit-at-home to learn makeup through YouTube. Lord knows I kept applying and cleaning everything I applied because I wasn't getting it right. Most especially the eyebrows. After a few weeks of constant practice I was beginning to get better even with drawing my brows, concealing very well, contouring too. I bought a shitload of makeup then 😅.
So on Saturday I went to the market and passed by where they were selling clothes and my eye caught a green snake print top. This particular top or pattern was reigning back then but in different colors. I always hated to wear what every other person was wearing because I knew after a few months I wouldn't be able to wear them again, they would've probably "casted". But I overlooked it that day, the pretty top was hanging there looking at me and I said to myself "Besides the green colored pattern isn't that common". I made up my mind to abandon the top if the vendor wouldn't give it to me at a good price. I wasn't even in the mood to haggle. Luckily for me, we both settled at a good price and I bought the top.
The next day being Sunday. I was so bored in the afternoon that I decided to try my makeup again but then I was trying to learn the "Winged eyeliner" look. I had tried previously with the normal black eyeliner but made a few mistakes. That afternoon I decided to be spontaneous by making it green instead to match with my new top. I didn't have a green colored eyeliner but I had an eyeshadow pallete. I improvised by adding a white clay like substance (it has a name but I've forgotten it 😅) to my eyes but in the pattern the eyeliner is supposed to go. This particular cosmetic is applied to your eyelid before applying the eye shadow to make it stick properly. So yes I used that instead and applied the green colored eye shadow on it and used a concealer to clean the excesses.
And guess what? It turned out pretty great. The way I explained this you'd think it took a few minutes but it actually took hours because I was still a learner and I had no idea what I was doing. I just imagined something in my head and tried to recreate it.
After the few hours of struggling with it. I looked at myself in the mirror, satisfied with what I had done. I quickly put my "beautiful impromptu green top" on carefully to avoid smudging the makeup and then put on a black trouser. I had already packed my hair up before I started the makeup so I just brought out a few strands in front. I then begged my younger sister to take the pictures for me 😂. We literally had to follow whatever direction the sun was in just to get good shots.
I hope you like the pictures. This is the finished look.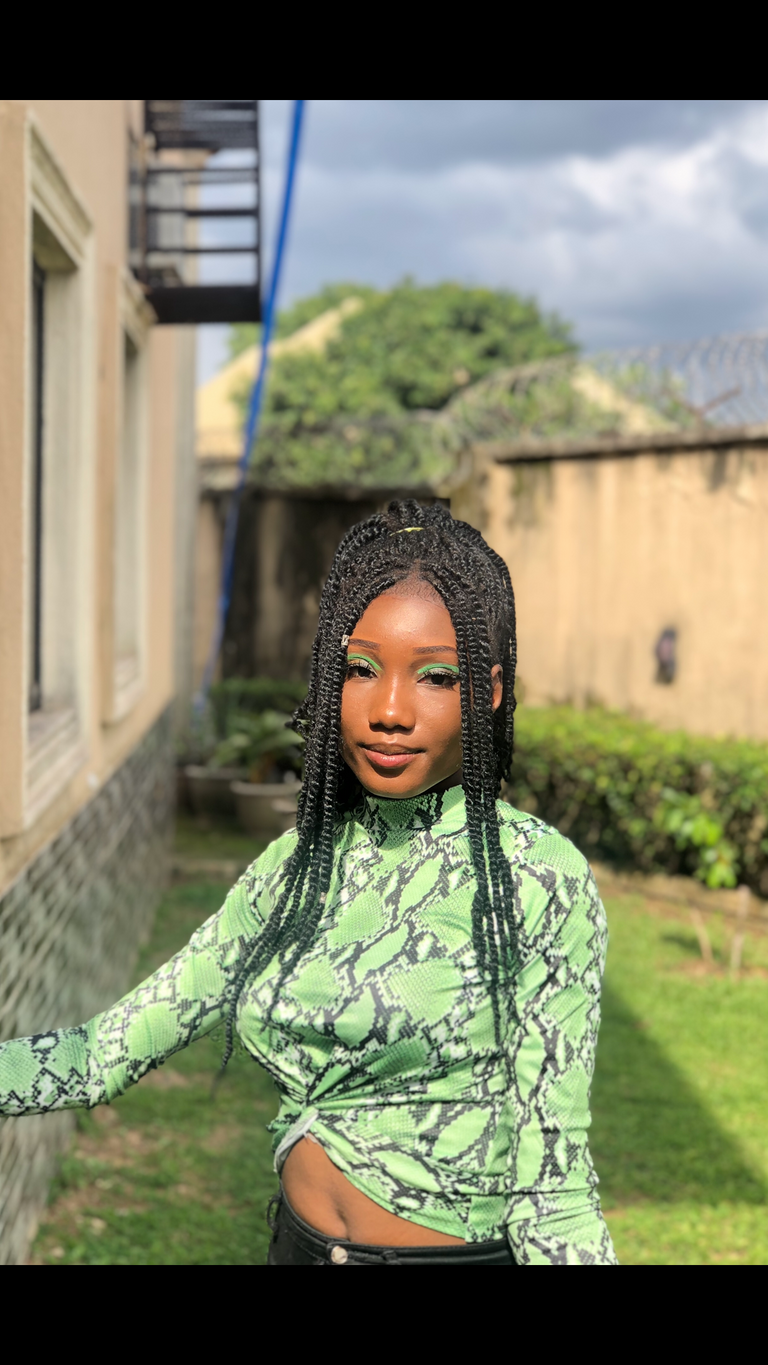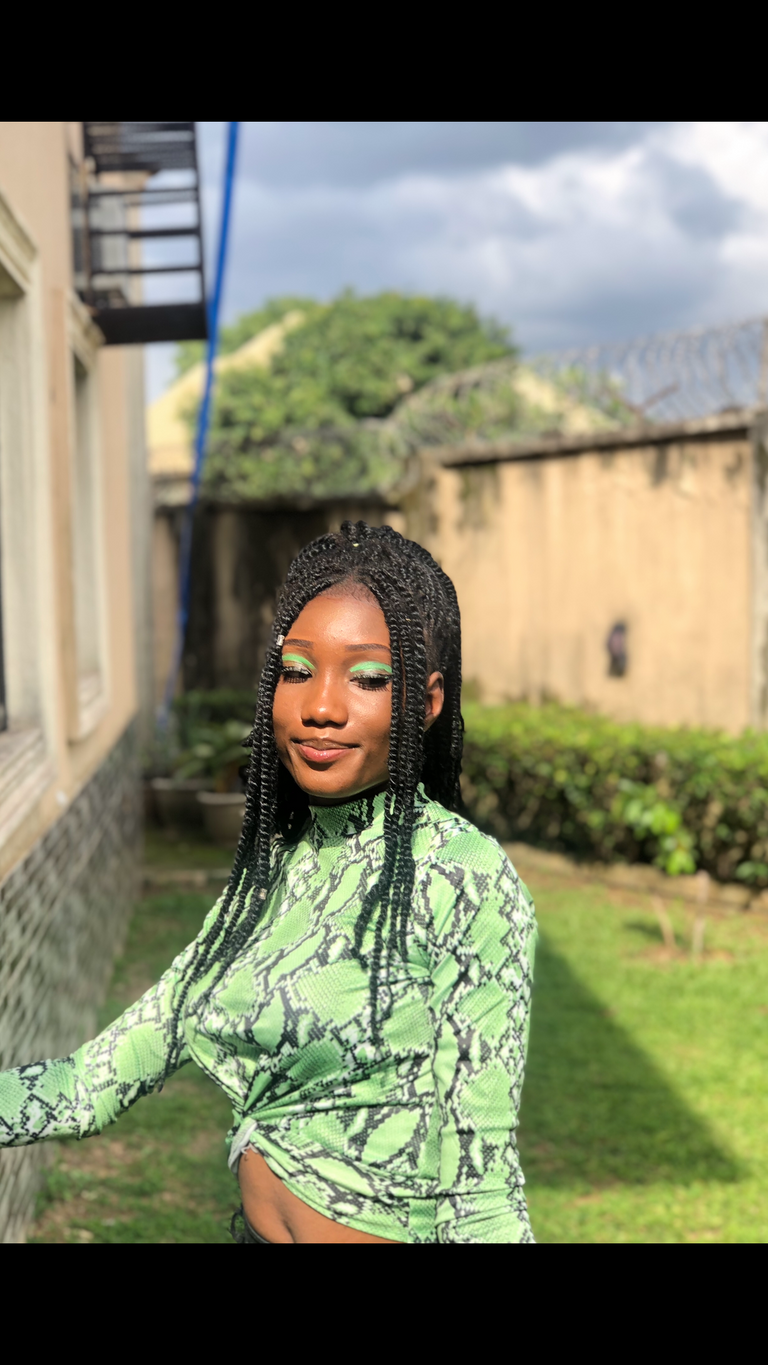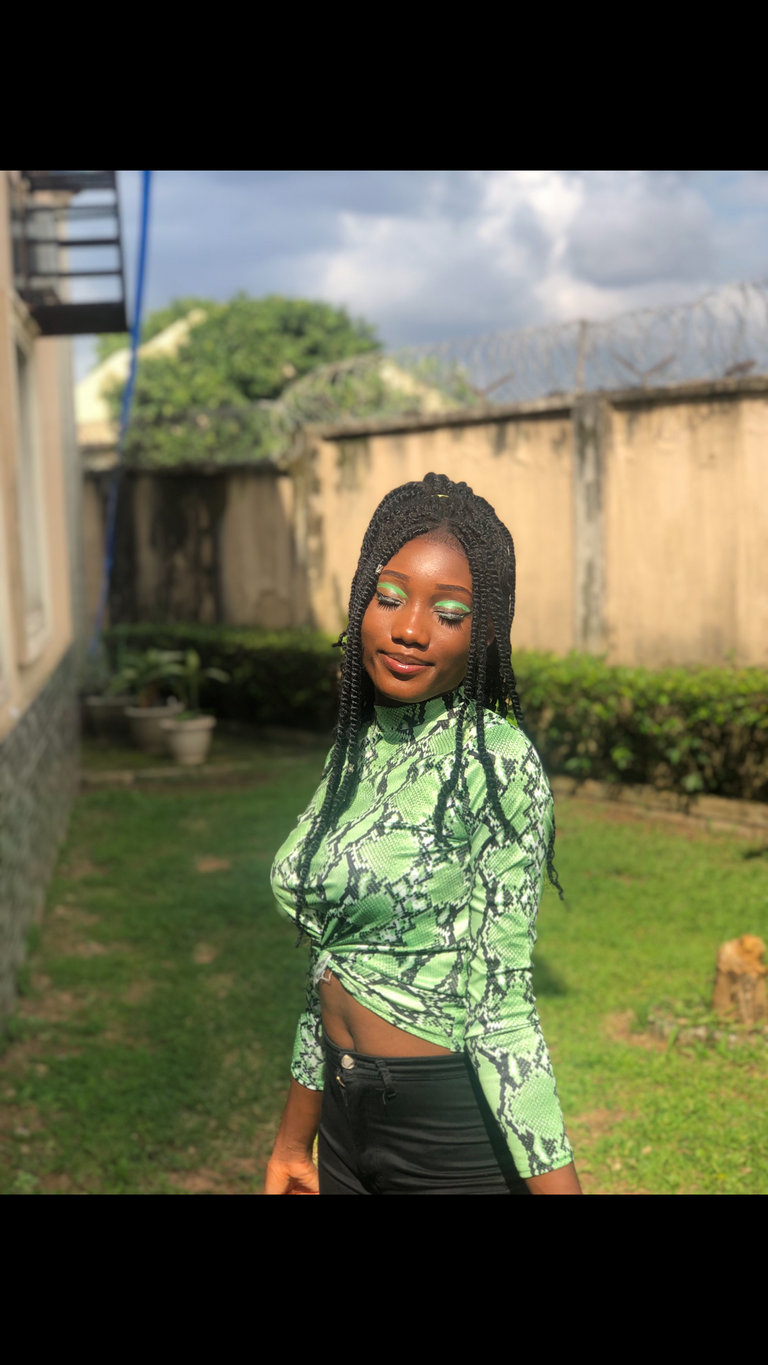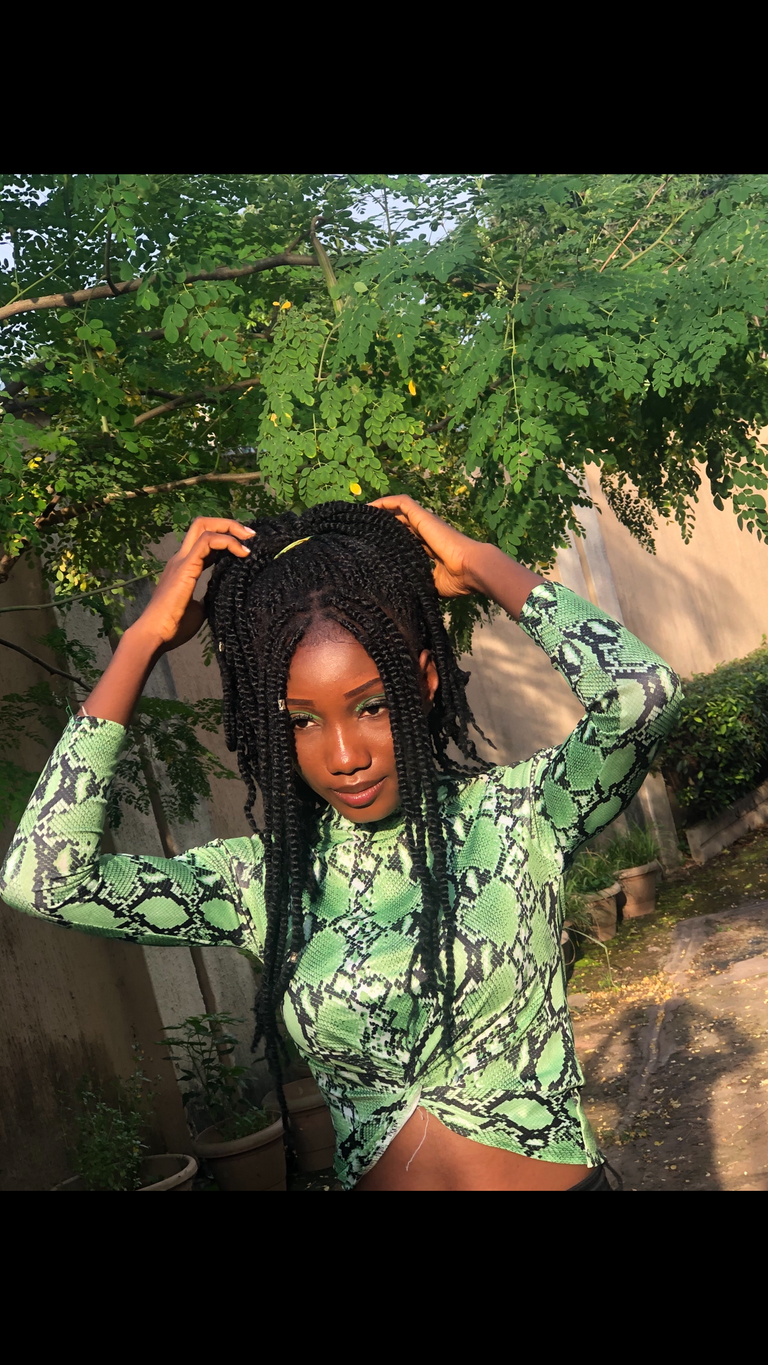 img_3300.png)