A short story about Villa Carpathia
I don't think I should share all the details of the context in which the building that has come to be known as 'Villa Carpathia' was built, but it has quite a symbolic significance for me. I proceeded to build it after a long break from Minecraft. That day, I thought that building blocks in a virtual world would help me calm down my troubled thoughts and drown out the feeling of being completely thoughtless. I felt on that day that there was something wrong with me, that I would achieve nothing. Gradually, however, this mood changed as the build went really well, and by the end I was proud of myself that what I had created looked really good - it allowed me to regain confidence in myself - it has allowed me to recover.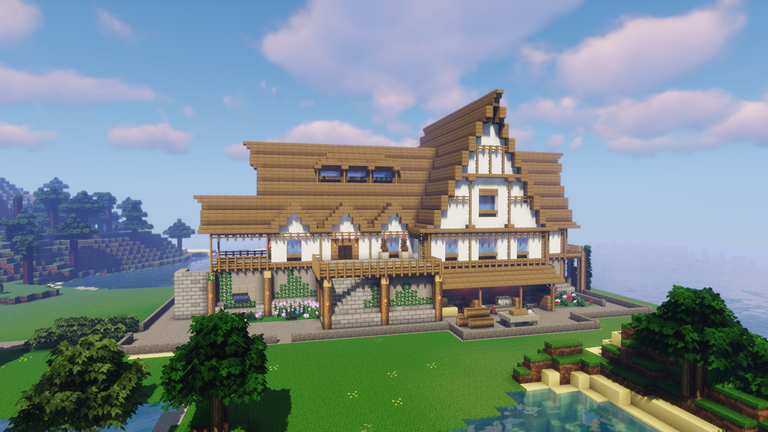 Here is Villa Carpathia - built by me on Christmas Day 2019
Compared to all the great builds published in the aliquam.org community, this house is a small crumble, not even very interesting, but personally I think it's the best, most finished thing I've created in Minecraft, and as the creator of the Hivequam plugin I felt an obligation to publish something :-)
For this publication I have used a ready-made template that I present to new users so that they can learn the basics of markdown - this gives my build a bit of fame, until now anyone who started to create a post using hivequam had to see pictures of Villa Carpathia in a sample formatted post.
| Villa Carpathia looks great during the day... | ...and at night |
| --- | --- |
| | |
| | |
Why "Villa Carpathia"?
It is a long story, those interested in it are invited to use google, with the disclaimer that information about the real "Willa Karpatia", which is only linked to my building by its name, can probably only be found in Polish.
However, it was not me who gave this name, but my build was so named by the viewers of one Polish streaming channel - "JacexDowózWideo". It was on the Jacex server, which existed for about two weeks, that the final version of the Villa was originally created before I even recreated it on Aliquam - the build ended up on the thumbnail of the video, which has been viewed by 13 thousand people so far.
Villa Carpathia appears at 19:45
---
Want to see this and many other Minecraft constructions? Feel free to visit aliquam.org server, where you just need to type /hive open santarius villacarpathia' to see this build or /hive list to enjoy other builds created by our community.