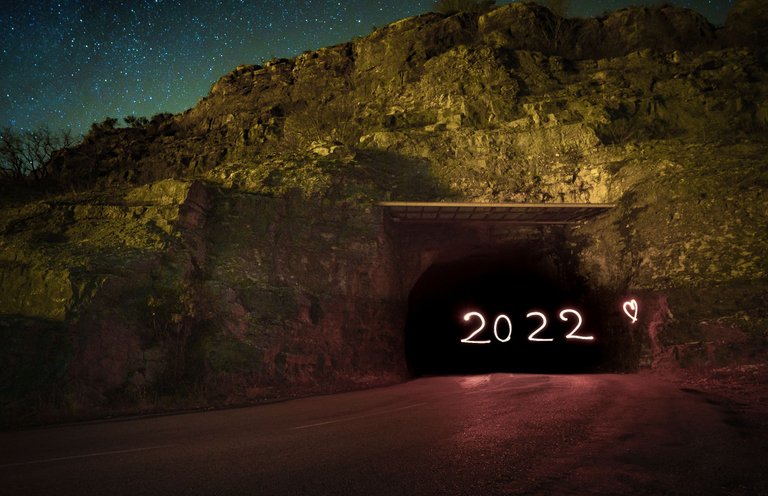 You might have heard "Happy New Year" a hundred times already in the past few days. Now, let me wish you and myself a wonderful 2022 ahead by light painting. It's also a bit too long to write "Happy New Year" with a light source, isn't it? :)
The light paintings in this post were done on the first day of 2022 in front of a dark tunnel in southern France. The first photo is my entry to Qurator's Photo Quest for this week: Goodbye 2021. It's such a fun reflective theme. They ask: "If you could capture your 2021 in a picture, what would it be?"
The past 2021 is a great year for me when I started to take photography more seriously. Before, I mostly shot random pictures during my travels and occasionally did portraits for family and friends for free. Last year, I took on some paid photography gigs and learned a lot from them too. With the money earned, I bought 2 new lenses including the wide-angle one I used in these photos.
Besides, I started to use tripods more often in my shooting. Not using a tripod might sound crazy to some serious photography lovers, but I almost never used one in my past travels, as I had to travel light when traveling a lot and often months for one time. I realized that it also explains why I shot many candid street photos during my travels before the Covid19.
But tripods do provide much more creative possibilities, such as for these light paintings. I used a tripod (a mini one, since it's still traveling) and a headlight in these photos. The shutter speeds ranged from 15 to 30 seconds for exposing both the light painting and the starry sky. It's a total improvisation, and in the mountains at midnight, it's too freezing to experiment for long. Though the quality was not satisfactory, I had so much fun (and fear too, see the reason below ;)).
In 2021, I restarted posting and was inspired and encouraged constantly by many awesome photographers here. Like some other photography enthusiasts, I often feel far from a qualified photographer and never dared to call myself a good one. I appreciate all their support and am glad to see more and more talented ones joining in recently. Looking forward to 2022 to further improve my photography skills and to enjoy the life journey along the way!


这几天大家可能收到很多 "新年快乐" 的祝福了,我就用光绘的方式来个祝愿吧~
开了几天车终于到了稍微暖和点的南法,这里的 "2022" 和其他图案就是新年第一天用头灯在山里一处隧道口比划出的。我用迷你三脚架在附近的一块大石头上固定好相机,调慢门长曝星空和光绘,手机无线控制或按下延迟拍摄后跑去隧道口前画图案就好了。
需要注意的是,画非对称图像时,拍照出来会有镜面效果(见下图),所以要反着画。如果想达到不相连的数字或字母效果,在移动比划时还需要用手盖住连接处的光源。


Here is my first attempt at writing 2022 with the headlight, but I forgot to write in mirrored letters. Also, you need to cover the light source at the connection parts if you want a more clear-cut number or word.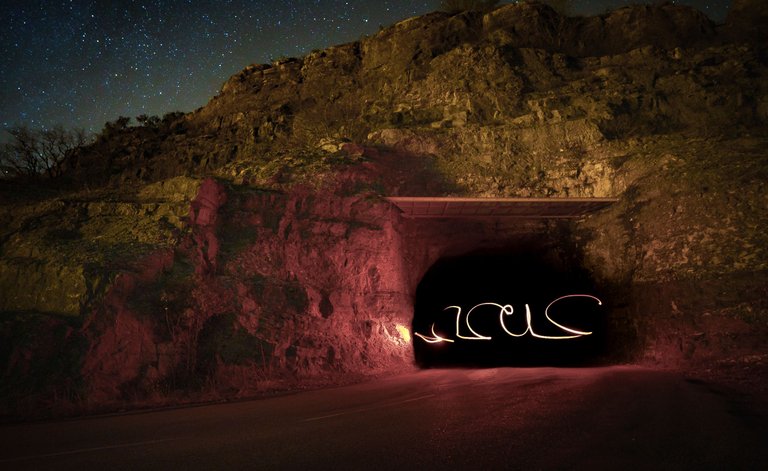 And below are some more failures from earlier tests.
This one is not a floating turtle with a tail, but a car... as I didn't close the loop properly, let's see it as an electrical one being charged? :D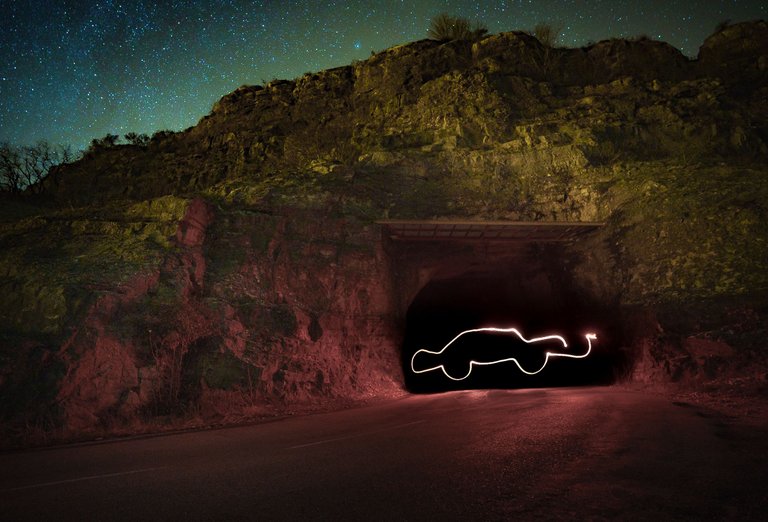 A chill chubby star: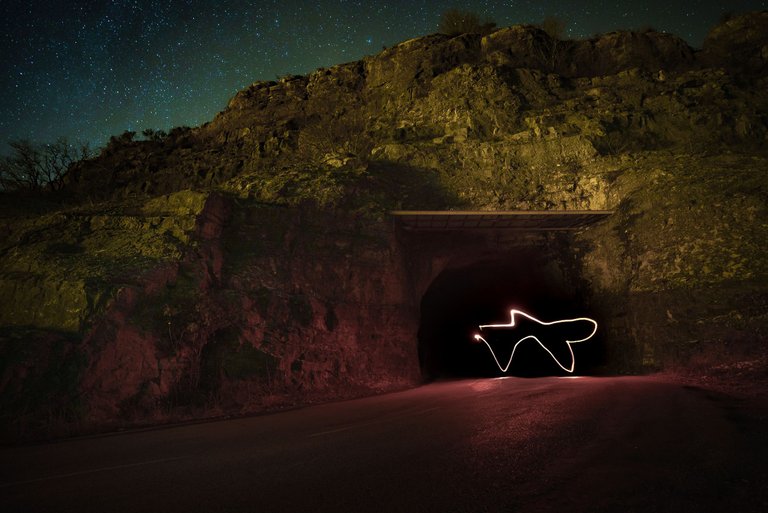 There are nice things about shooting at a tunnel, such as the chance to catch some long-exposed car light trails against the dark background... While it's at times dangerous to do light painting there, like in this situation: I had to run away quickly before I could finish drawing the cute heart when a car was swooshing from behind like Speedy Gonzales: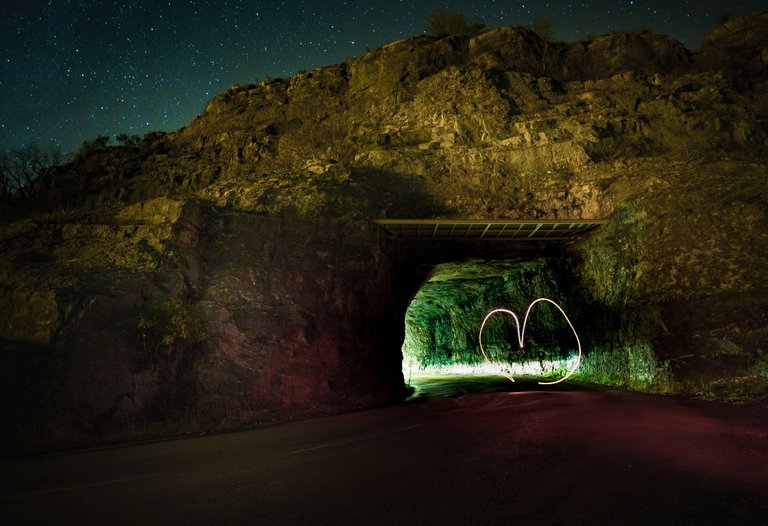 At last, a few better ones: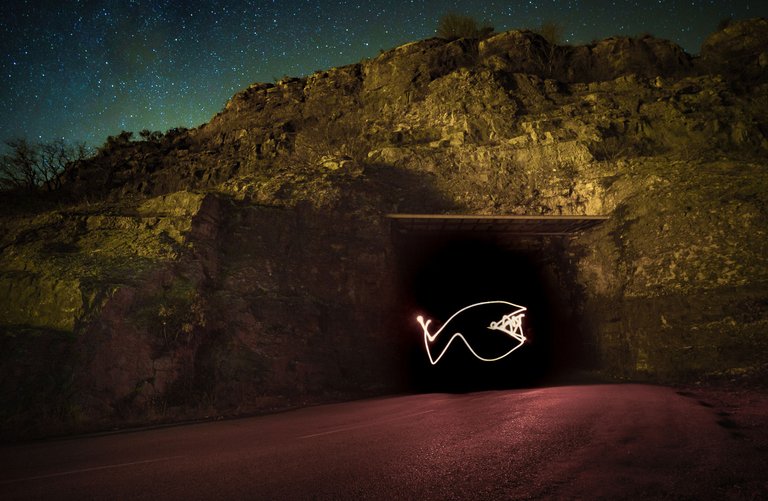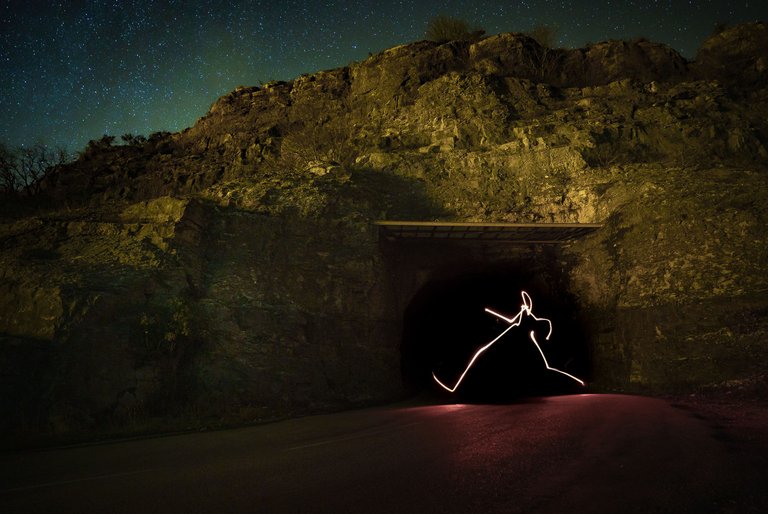 All content by @itchyfeetdonica
图文 by Donica


---