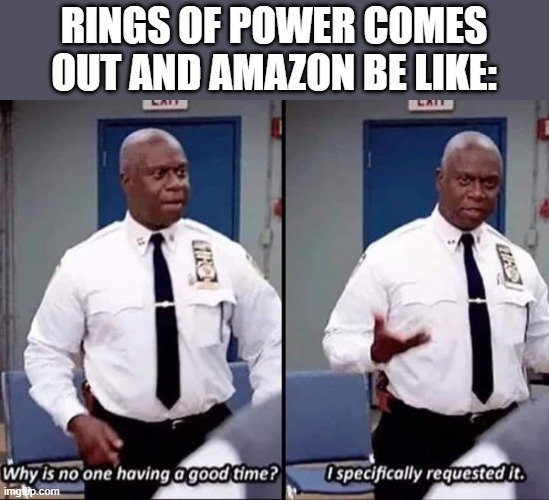 The most expensive TV show ever has finally come out with it's first two episodes and things are not looking great. Unless you are into cave dwelling, I'm sure most of you reading this have heard about "Rings of Power", a show produced by Amazon studious, a subsidiary of Jeff Bezos's giant greed factory. Amazon already has the reputation of an evil mega-corporation that works people into the ground and does anything they can in order to prevent people unionizing in order to not let them even try to fight for better working conditions and wages. It's almost like the company is pulled right out of a dystopia but it makes a buttload of consumers happy while providing a lot of convenience and as long as people consume in comfort then they couldn't care less about corporation doing despicable things to their employees.
In this backdrop we have the long anticipated arrival of the next "Game of Thrones" wanna be, a show that has had more money thrown at it than some small countries GDP. While that sounds like an exaggeration, unfortunately it is not : there are quite a few island states with the GDP smaller than 1 Billion ( yes, with a "B" ) dollars, which is the amount Amazon wants to spend on all 5 projected seasons. But with the first season already costing around the 500 million mark that budged could go higher and higher in upcoming years.
And you would imagine that money would bring in the best actors, directors, producers, screen-writers etc right? Well...no, not at all. If you take a look at the cast it's full of up and coming actors ( and that's being very polite ), while the showrunners have worked on the scrips of such legendary movies as Star Trek Beyond and Jungle Cruise - real iconic movies - if by iconic you mean just something to watch after a hard day at work while being generic and bland enough to put you to sleep quickly so that you can wake up rested tomorrow.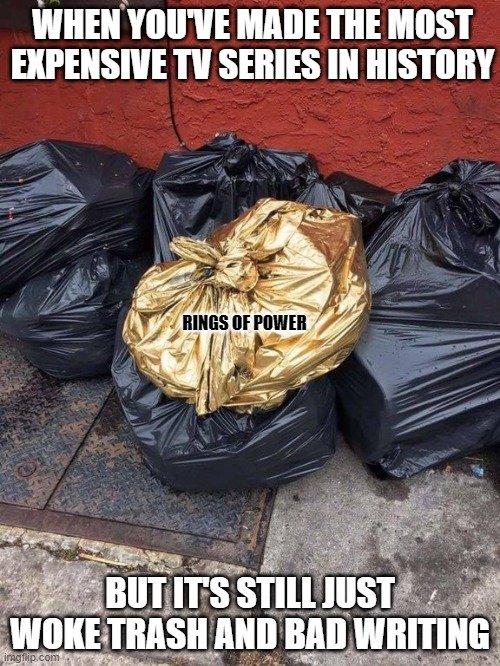 Now, I know what you're thinking: only the first two episodes are out, just give the show a shot and it might turn out fine. But there's a problem with that mindset: the first episodes are supposed to draw you in instead of shunning you away. I didn't have many expectations about the show going in, partly because the controversy surrounding it months before it first aired and partly because this looked more like a vanity project for the big B than a show actually created for the public. Despite being ready for the Rings of Power being a bit shit, it managed to subvert my expectations and surprise me with more shitiness than I could imagine. Most of the main characters are annoying as heck: Guy-ladriel acts like she's constantly grumpy and pissed of at everybody, the rest of the elves are of course more incompetent than the girl-boss elf, with the notable exception of the black elf because diversity, the pseudo hobbits ( they call them harfoots because copy right issues ) make my last brain cells cringe just by thinking about them, and I could go on but I don't want to burst an aneurysm or something. To be honest I haven't come across main characters that were more annoying than these ones in years. It was like a contest to see how unlikable they can make them.
And if you thought that I'm just a salty old clown that doesn't appreciate modern entertainment, there are plenty of people who hate the show as well. Just look at the user reviews and scores on rotten tomatoes and imbd. But Amazon has an evil reputation to uphold and of course they are trying their best to delete and generally obfuscate the negative reviews.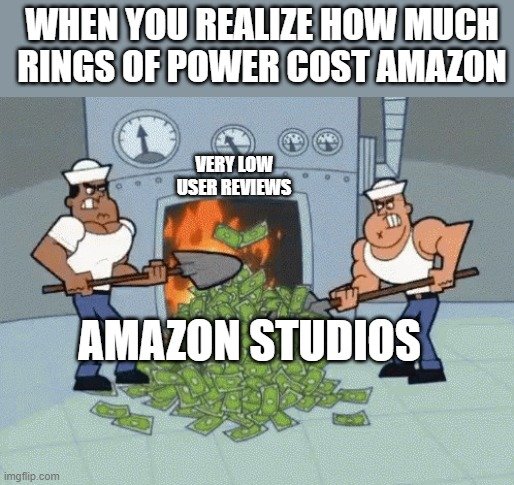 So what does this unfolding PR disaster mean for Amazon studios and the entertainment business in general? I think the corrupt overlords will spin it as a great success with a big number of views while also ignoring the criticism. Privately they won't be in celebratory mood but I doubt they will go so far as cancel the show. At least in part because big B has portrayed himself as directly involved with the show and a "lifelong" Tolkien fan. With infinite wealth comes infinite ego so my bet is that big B will bail the show out of his own pocket if he has to.
If Rings a Power turns out to be a gigantic flop ( like I think it will ), it's possible it could have a ripple effect on the entire TV show industry, especially given the fact TV studious are already tightening their purse. However I expect it's rival show "House of the Dragon" to be the saving grace for this years TV series and prove that money well spent is more important than throwing a buttload of money at a project and hoping it will magically turn into something people like without actually hiring competent people.